Whether you're looking to ease the doldrums of a dreary day or need a laugh, you'll find some of the best comedies on Netflix. Although it isn't many people's favorite right now, thanks to account sharing crackdowns, there's no denying that massive library of movie titles.
However, the list can be overwhelming. As such, we have vetted through them, and let us now take you on a journey into the best comedies on Netflix (in no particular order) as below:
Murder Mystery (2019) – Netflix US, UK, Japan, Canada, Australia, France
Tower Heist (2011) – Netflix US, France
The Nice Guys (2016) – Netflix US, Australia
Bad Boys (1995) – Netflix US, UK, Japan
The Hangover (2009) – Netflix US, Japan, Canada, France
White Chicks (2004) – Netflix UK, Japan, Canada, Australia, France
Grown Ups (2010) – Netflix UK, Australia, France
Ace Ventura: Pet Detective (1994) – Netflix UK, Japan
21 Jump Street (2012) – Netflix US, Canada, France
Men in Black (1997) – Netflix Canada, France
Jumanji: The Next Level (2019) – Netflix Canada, France
We're the Millers (2013) – Netflix Canada, Australia
Hitch (2005) – Netflix Australia, UK
A Knight's Tale (2001) – Netflix France, US
Pitch Perfect 2 (2015) – Netflix France, Japan, Australia
How to Watch Any Comedy Movie on Netflix with a VPN
Using a VPN to stream movies makes perfect sense as it opens up a new world of content. Also, a VPN safeguards your privacy and secures your connections. NordVPN is a trusted and highly-recommended VPN that is easy to use:
Subscribe to a NordVPN plan via their website.
Locate and download the app for your device
Install the app
Run the NordVPN app
Sign in with your username and password
Look for a server location to connect
Launch Netflix
Now that's out of the way, let's dive into our list of best comedies on Netflix.
Read: How to Use a VPN to Change Netflix Region
1. Murder Mystery (2019)
A 2019 flick, Murder Mystery (as you can guess), is about a murder. Strangely enough, this didn't turn up initially as we prepped our list of best comedies on Netflix. The show stars the power duo of Adam Sandler and Jennifer Aniston, well known for their comedic roles. A sequel was released in Q1 2023 despite Murder Mystery receiving mixed reviews from critics.
Murder Mystery is a summer comedy on Netflix that finds both of them at their most charming. Living in New York, Nick (Sandler) is a cop pretending he's a detective while his wife, Audrey (Aniston), is a hairdresser, pining for more romance. They head to their highly-anticipated European honeymoon, where Audrey befriends a suave playboy, Charles Cavendish (Luke Evans).
They find themselves invited to a luxurious yacht party hosted by a billionaire, Charles' uncle, who turns dead, leaving the couple as prime suspects. Nick and Audrey find themselves caught up in a murder investigation on the ride of their lives. Murder Mystery is an old-fashioned comedy with a goofy charm.
Watch Murder Mystery on Netflix.
2. Tower Heist (2011)
Tower Heist is a heist comedy Netflix offers with a star-studded list, including Ben Stiller, Eddie Murphy, Matthew Broderick, and Téa Leoni. The movie garnered praise for the cast. Murphy's performance was singled out, as he displayed a welcome return to the comedic style he is known for.
Tower Heist follows employees of an apartment building. They lost their pensions in the Ponzi scheme of a businessman. Josh Kovaks (Stiller) enlists his childhood friend Slide (Murphy), a petty criminal, and the tower's maid Odessa Montero (Leoni), who has locksmith experience. Mr. Fitzhugh (Broderick) is a bankrupt businessman who embarks on stealing back their money.
Although the script overhaul was overly done, Tower Heist makes for a good-humored comedy with some spectacular moments that tickles you crazy.
Watch Tower Heist on Netflix.
3. The Nice Guys (2016)
The Nice Guys is a 2016 buddy action comedy starring Russell Crowe and Ryan Gosling. The movie premiered with positive reviews from critics for its humor and the chemistry between Crowe and Gosling. The comedy follows private eye Holland March (Gosling) and enforcer for hire Jackson Healy (Crowe) as they investigate the disappearance of a teenage girl (Qualley).
The Nice Guys is all about the bromance of two incompetent private detectives tasked to solve the death of a missing porn actress. They soon discover that they are part of a controversy that leads right up to the top (isn't that what controversy is all about?). Literally 'nice guys', they vow to get to the bottom of the case.
The wacky mayhem continues with more cynical dialogue cracking along. Perhaps, this is what makes The Nice Guys is … nice. All in all, this is an innocent and hilarious pleasure to watch actually.
Watch The Nice Guys on Netflix.
4. Bad Boys (1995)
Directed by Michael Bay (the same director for the Transformers franchise), Bad Boys is a 1995 cop action comedy. Although the movie garnered mixed reviews from critics, it was commercially successful with two sequels. This is not surprising since Bad Boys stars famous TV sitcom actors Martin Lawrence and Will Smith.
Two Miami narcotics detectives, Marcus Burnett (Lawrence) and Mike Lowrey (Smith), are investigating a $100 million seized Mafia heroin case when they get involved with a murder witness, Julie Mott (Téa Leoni). While the action scenes are many and explosive, you can't help but wonder if they were out of control.
The lead actors were likable, and the humorous banter edges on 'cute'. Bad Boys has style and finesse despite the loud music. The nicely-framed shots, testosterone, and adrenaline keep you on the edge of your seat. Netflix, well done; this is a load of laughs.
Watch Bad Boys on Netflix.
5. The Hangover (2009)
The Hangover is a 2009 comedy and the first installment in The Hangover trilogy. The film grossed over $467 million worldwide. The Hangover was a commercial success after winning the Golden Globe Award for Best Motion Picture (Musical or Comedy) and receiving multiple other accolades.
Starring Bradley Cooper, Ed Helms, and Zach Galifianakis, the plot revolves around Phil Wenneck (Cooper), Stu Price (Helms), and Alan Garner (Galifianakis), who arranged a trip to Las Vegas for Doug Billings (Bartha) to celebrate Doug's upcoming marriage. They partied crazy and woke up in a trashed hotel suite, not knowing what happened and with Doug missing.
Nursing a hangover, the guys strive to trace Doug. They meet a horrendous Chinese gangster, Mr. Chow (Ken Jeong), who is uproarious. The trio must find the groom before the wedding date. Bizarrely gripping and hilarious at the same time. As a top scorer on our list of best comedies on Netflix, The Hangover is not to be missed.
Watch The Hangover on Netflix.
---
---
6. White Chicks (2004)
Anyone who's into comedies would have heard of the Wayan brothers. White Chicks stars Shawn Wayans as Kevin Copeland / Brittany Wilson and Marlon Wayans as Marcus Anthony Copeland II / Tiffany Wilson. Although White Chicks received negative reviews, the film did decently well worldwide and became a cult classic.
Kevin and Marcus are two floundering FBI agents who went undercover as women. Their task was to bring the sisters Brittany and Tiffany Wilson to a weekend-long fashion event in The Hamptons. The Wilson girls are the daughters of Wilson Cruiseliners, whom police believe is targeted in a string of high-profile kidnappings.
Disguising using whiteface to protect the girls, Kevin and Marcus transform from black men into white girls. Though hideous looking, they portray romantic spoilt girls. The events that follow are full-blown comedic amidst slices of crude silliness.
Watch White Chicks on Netflix.
7. Grown Ups (2010)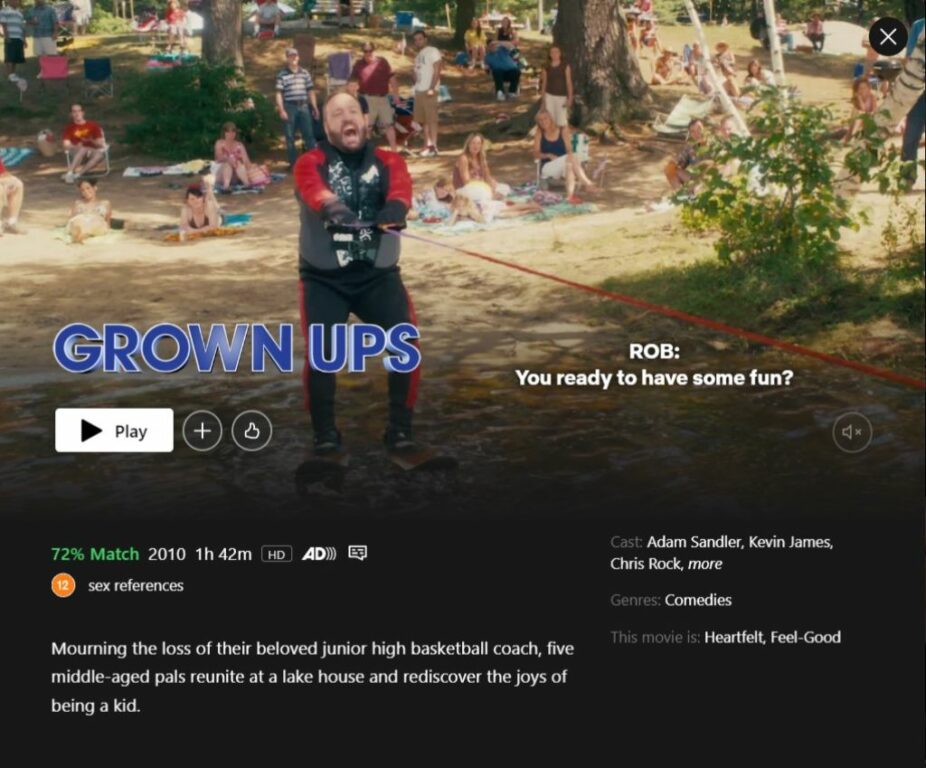 Grown Ups is a 2010 comedy film on Netflix written by Adam Sandler and Fred Wolf. Starring critical darlings including Sandler, Kevin James, Chris Rock, David Spade, Rob Schneider, and Salma Hayek, the comedy did not receive favorable reviews from critics.
However, Grown Ups grossed $271 million and created a sequel, Grown Ups 2, in 2013. Adam Sandler is known for his blockbuster comedies with the usual suspects (Rob Schneider, David Spade, and Kevin James, among others).
The story follows five lifelong friends who reunite decades later for a weekend after learning about the death of their basketball coach – Lenny (Adam Sandler), a Hollywood talent agent, Eric (Kevin James), a former worker at Branchville Lawn Furniture, Kurt (Chris Rock), a stay-at-home dad, Marcus (David Spade), a slacker, and Rob (Rob Schneider), a hippie.
Reigniting old friendships and reliving their glory days, the men realize they aren't as grown up as they thought. The immature shenanigans with the whole gang and their wives and kids only add to the chaos. The lakeside adventure is filled with goofy gags and heartwarming moments, making Grown Ups a worthy watch.
Watch Grown Ups on Netflix.
8. Ace Ventura: Pet Detective (1994)
Ace Ventura: Pet Detective is a 1994 comedy starring Jim Carrey as Ace Ventura, an animal detective. Alongside Courteney Cox, Sean Young, and then-Miami Dolphins quarterback Dan Marino, the movie performed well worldwide and amassed a cult following mainly among male adolescents. This movie spawned the sequel Ace Ventura: When Nature Calls in 1995, launching Jim's career.
Ace Ventura (Jim Carrey) is tasked to resolve the kidnapping case of the Miami Dolphins' mascot Snowflake. Melissa Robinson (Courtney Cox), the woman who hired him, becomes his love interest. What started as a possible simple dolphin stealing turned into something more sinister when Dan Marino was kidnapped during the filming of a commercial.
Jim's comical rubber features and goofy personality shines through in Ace Ventura from start to end. There are moments of hilarious laughter, although some may find intermittent dead screen time in between. That said, Ace Ventura still delivers the expected gags and humor.
Watch Ace Ventura: Pet Detective on Netflix.
9. 21 Jump Street (2012)
21 Jump Street is a cop action comedy film starring Jonah Hill and Channing Tatum. Grossing $201 million worldwide, the comedy received positive reviews from critics, leading to a sequel, 22 Jump Street, in 2014. 21 Jump Street is an adaptation of the 1987–1991 TV series of the same name, featuring Johnny Depp in his breakout role.
21 Jump Street follows police officers Schmidt (Jonah Hill) and Jenko (Channing Tatum), who go undercover and crack down on youth crime. Scarred by bad high school experiences, the duo meets again in the police academy. Schmidt and Jenko are assigned as undercover high school students to infiltrate a new synthetic drug ring and arrest its supplier.
Reliving high school becomes a nightmare for the duo. Amidst some immature action flicks, this comedy can be outrageous with its unique spin on humor. Get your junk food out; you're in for an enjoyable ride in this flick.
Watch The Jump Street on Netflix.
10. Men in Black (1997)
Based on the comic series by Marvel Comics, Men in Black is the first installment in the Men in Black franchise. Starring Tommy Lee Jones and Will Smith in the titular roles, Men in Black grossed over $589.4 million worldwide, becoming the ninth-highest-grossing film of the decade. Receiving critical acclaim for the chemistry of Jones and Smith, the movie was nominated at the 70th Academy Awards, among others.
Spawning Men in Black II in 2002 and Men in Black III in 2012, the story follows Kevin Brown / Agent K (Jones) and James Darrell Edwards III / Agent J (Smith). They investigate criminal incidents related to extraterrestrial lifeforms living in secret on Earth. The deadpan character of Agent K exudes a hilarious twist to the seemingly opposite Agent J.
Together, they are an explosive galactic hoot, messing with audience expectations. The visual jokes are highly executed with some spunky dialogue. Also, the alien-hunting storyline and numerous gags make for a well-tailored sci-fi comedy.
Watch Men in Black on Netflix.
11. Jumanji: The Next Level (2019)
The sequel to Jumanji: Welcome to the Jungle (2017), Jumanji: The Next Level, is another fantasy adventure comedy. With an impressive star lineup of Dwayne Johnson, Jack Black, Kevin Hart, Karen Gillan, Nick Jonas, Awkwafina, Danny Glover, and Danny DeVito, Jumanji: The Next Level became the tenth-highest-grossing film of 2019.
The movie picks up two years later, and the group gets sucked into and trapped in the Jumanji world again. The addition of Eddie (Danny DeVito) and Milo (Danny Glover) gives off an extra nudge to the comedy; they find themselves confused with the exchange of avatars and the introduction of new ones with different skill sets. Having to fight a new villain, they struggle to fight for their lives and save Jumanji from peril.
A new game character, Ming Fleetfoot (Awkwafina), ups the antenna. As expected, the characters shine through their kaleidoscope behaviors, making for ludicrous scenes. Jumanji: The Next Level keeps things light and upbeat amidst bouts of tickling jokes, a winning formula that is well executed.
Watch Jumanji: The Next Level on Netflix.
12. We're the Millers (2013)
Based on a story by Fisher and Faber, We're the Millers stars Jason Sudeikis and Jennifer Aniston as the leads. Despite being nominated for four People's Choice Awards and six MTV Movie Awards, winning two, We're the Millers still received mixed reviews from critics. That said, the comedy was a box-office success.
The story follows a small-time drug dealer David Clark (Jason Sudeikis), who must bring marijuana into the US from Mexico. Under strict instructions from a crime kingpin, David has no choice but to obey. He concocts a way by hiring three dysfunctional misfits to pass off as a squeaky-clean family to thwart suspicions when bringing drugs through an RV.
Rose (Jennifer Aniston) is a lap dancer posing as his wife. With two fake kids, We're the Millers is goofy and light-hearted with some nice gags. Wait for the outtake bloopers over the credits; you won't stop laughing.
Watch We're the Millers on Netflix.
13. Hitch (2005)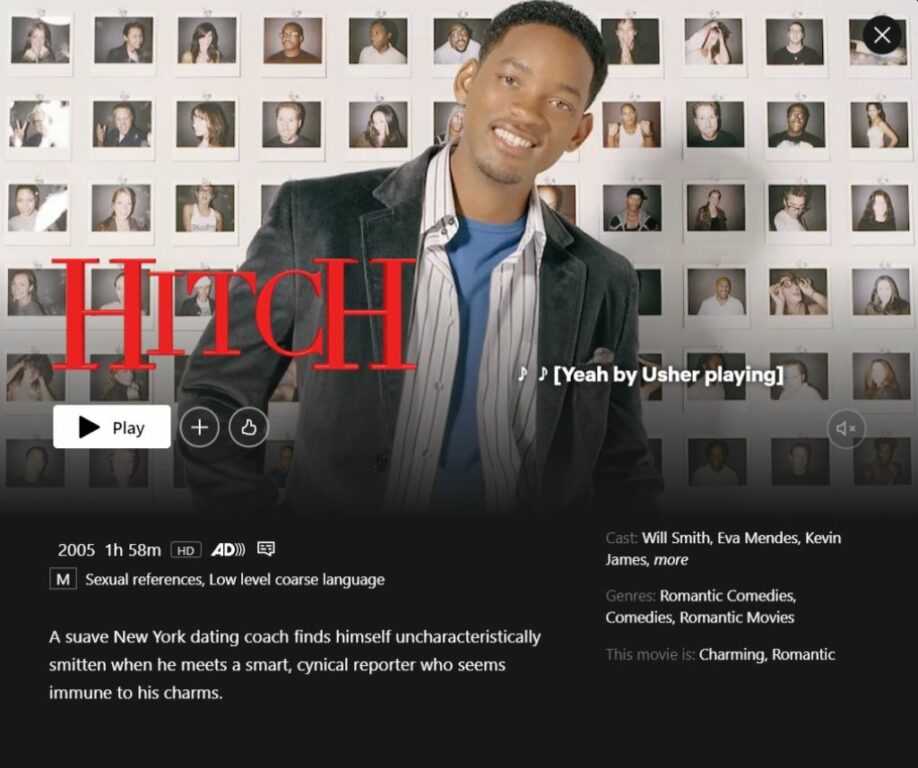 Stylized as HITCH, Hitch is a romantic comedy starring Will Smith, Eva Mendes, Kevin James, and Amber Valletta. A box office hit, Hitch grossed $371.6 million worldwide. Will Smith plays Alex Hitchens, a professional 'date doctor'. Alex makes a living coaching men in the art of wooing women.
Alex is successful in what he does, as many clients enjoy genuine long-term relationships. Albert Brennaman (Kevin James) becomes his client as he seeks Alex's help to woo a celebrity Allegra Cole (Amber Valletta). Smitten by gossip columnist Sara Melas (Eva Mendes), Alex finds himself going nowhere despite his many wooing techniques.
The comedy mixes Hitch's bromance and romance in equal measure. The plot is simple, yet it dwells well on what truly matters for any successful relationship – be yourself. Get hitched by this heart-warming comedy by no means.
Watch Hitch on Netflix.
14. A Knight's Tale (2001)
A Knight's Tale is a medieval comedy starring Heath Ledger as William Thatcher, along with Mark Addy, Paul Bettany, and Shannyn Sossamon. Receiving mixed reviews from critics, the movie grossed $117.5 million and performed well as a period film that connected well with the youth market. William Thatcher is a peasant squire who aspires to higher dreams and aspirations.
With Roland (Mark Addy), William poses as a knight and competes in tournaments. William wins and befriends Edward the Black Prince (James Purefoy) and Geoffrey Chaucer (Paul Bettany). Focusing on the medieval tournament sport of jousting, the duo with Chaucer travels to compete in the jousting competition in the World Wrestling Federation of its day. Little did William know that he would fall for the lovely Jocelyn (Sossamon), a woman out of his reach.
A Knight's Tale pushes the boundaries of class and education based on the good old 'can do' spirit. Despite its 14th-century setting, the movie features many modern pop culture references and music. The bouts of humor are well executed amidst some rather heart-rendering moments.
Watch A Knight's Tale on Netflix.
15. Pitch Perfect 2 (2015)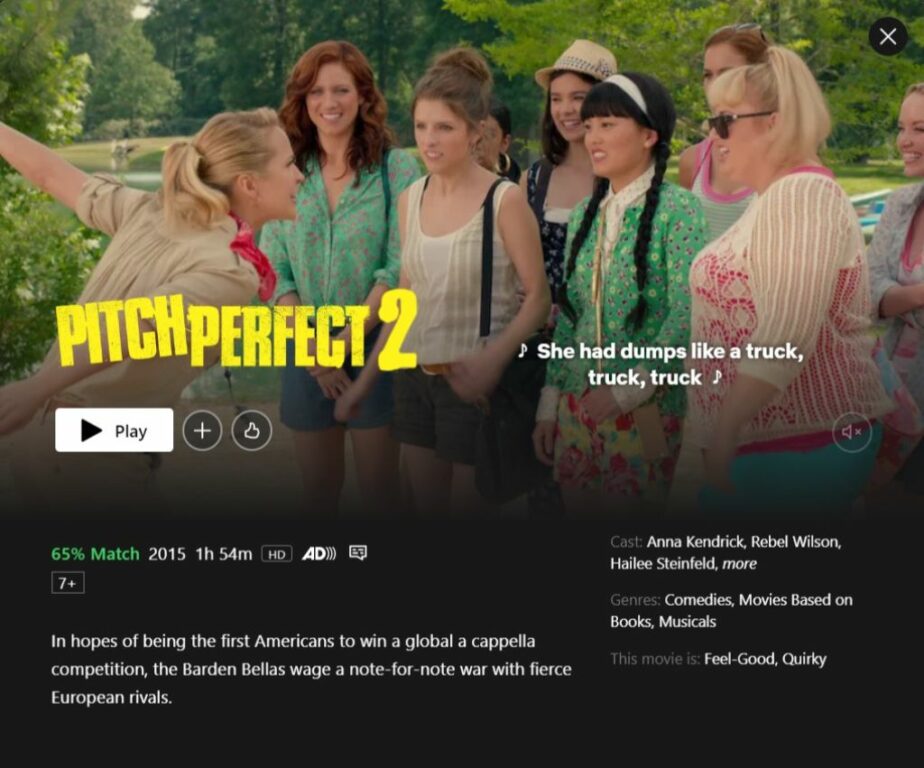 A sequel to the 2012 Pitch Perfect, Pitch Perfect 2 is the second Pitch Perfect film series installment. Pitch Perfect 2 received positive reviews from critics and became the highest-grossing music comedy of all time; this led to another sequel Pitch Perfect 3, released in 2017. Anna Kendrick, Rebel Wilson, Brittany Snow, Skylar Astin, Adam DeVine, and Anna Camp reprise their roles. Hailee Steinfeld joins the cast.
As expected, the comedy revolves around the fictional Barden University Bellas, an all-female a cappella singing group. The group starts with a cappella hit that opens in fine style with the president in the audience. Unfortunately, things deteriorate thanks to a wrecking-ball wardrobe malfunction from Rebel Wilson's Fat Amy.
The Bellas have one shot at redemption at the international finals in Copenhagen. However, witnessing the German team in action gives them more jitters. While some thoroughly enjoy the harmonies throughout the movie, some may find the interweaving narrative disharmonies annoying. Still, Pitch Perfect 2 makes for a modern teen-oriented American comedy.
Watch Pitch Perfect 2 on Netflix
Wrapping Up
I believe the 15 best comedies on Netflix, as listed above in no particular order, will suffice to get you started on laughing while munching on your favorite snacks. Humor is very subjective; what works for others may not for you.
Watch them with an open mind. You need a VPN to unlock the Netflix library in those regions to feast on your favorite comedies. Here's to wishing you a weekend filled with loads of joyful laughter.
Also Read;