You don't have to unreluctantly dig deep into your pockets to subscribe to cable TV to satiate your thirst for anything boxing since there are many free boxing streams you can check out. However, most of them may not be available where you reside due to geo-restrictions. Hence, use a VPN to circumvent this issue and access the free boxing stream.
Boxing has always been popular among most. Although some of you may not find the 'violence' enticing, most appreciate the art and technical skills behind the sport. However, unless you're willing to loosen your pocket strings, you may find catching up with your favorite boxing fights somewhat challenging. Higher-profile boxing matches will be even harder to locate.
Disclaimer: The information contained in this article is for informational purposes. We do not in any way or form condone nor encourage using VPNs to violate copyright or any other laws.
---
1. Boxing Stream Links
Boxing Stream Links is the free alternative by Reddit for you to get into some boxing action. At Boxing Stream Links, you can access Reddit boxing stream links with HD quality to follow your favorite boxers. The interface is sleek and clean, with fights laid out systematically and categorized by 'Yesterday', 'Today', and 'Tomorrow'.
Scroll down and select the boxing match you want, and you will see the Fight Card. The 'About Match' tab contains a brief description of the fight. The relevant stream links will appear around 60 mins before the kick-off. At the bottom of the Boxing Stream Links main page, there are news postings on the latest developments in boxing.
Clicking on the match does give you pop-ups, so make sure you use an ad-blocker to make your streaming experience seamless. For me, I encountered only one pop-up. As such, the pop-ups (to me) were very minimal. Reddit is the highly sought-after platform where sports enthusiasts gather. However, streaming comes with a price; be wise and use a VPN to protect yourself.
2. SportRAR.TV
Although SportRAR.TV focuses on football; they offer streaming links to other games such as tennis, basketball, boxing, and more. The website sports an uncluttered interface which makes for easy navigation. Select the 'Fighting' tab, and see what games are available live. Clicking on the selected game will bring you to another page with the available streaming platforms. The interface is intuitive and easy to understand.
SportRAR.TV is not a pure streaming platform per se, as it is more of a search engine that scouts the internet for live sports streaming content. SportRAR.TV functions as a sports director and aggregates live sports streaming content.
Although SportRAR.TV claims that they offer official and legal football streams and channels, it is best to play it safe and use a VPN to protect your privacy and safeguard your information.
3. Streameast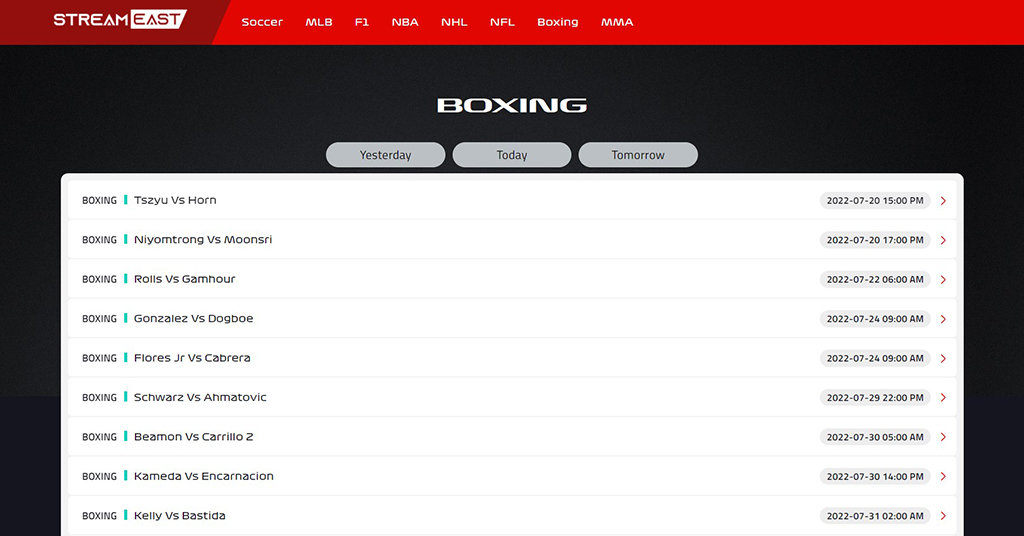 Streameast sports a clear and sleek interface that makes it easy for people to navigate. You will see the fights divided into 'Yesterday', 'Today', and 'Tomorrow'. The ad banners and ad pop-ups are minimal. Once you select the correct match, you will see three tabs – 'Live Streams,' 'Fight Card,' and 'About.' It is as simple as you can get. The streaming links only appear 60 minutes before the fight. You will need to check back within the hour of the match time.
Streameast covers other sports as well. Feel free to check them out. However, like other free streaming sites, Streameast (although they use SSL) may not be safe for streaming per se. Not only are there legal aspects to consider, but the security aspects can be in question. Therefore, remember to use a VPN with an ad-blocker to secure and make your streaming experience more pleasant.
4. Box.Live
Box.Live is an aggregator website that is dedicated to boxing only. Scroll downwards to give you an overview of the matches, arranged by dates. Each fight comes with its respective available streaming platforms. They do state if the links are free or not. In a way, Box.Live does offer a complete picture of the boxing streaming links available for a match.
You can register with Box.Live for free to follow your fighters and any contests, obtain notifications on anything noteworthy, and enjoy fewer ads. Catch the match results and fighters' rankings at the right panel. Also, there is a lot of the latest boxing news that may interest you. At the top, there is an option for you to even place bets.
Scroll further down, and you will reach a section where you can find the upcoming fights. There is a disclaimer at the bottom on the accuracy of information provided and that Box.Live has secured permission for all licensed media. That said, turn on your VPN for peace of mind when streaming.
5. Team USA Boxing
The United States Olympic & Paralympic Committee (USIPC) manages the Team USA Boxing site and has its base in Colorado, the United States. Founded in 1894, they are responsible for supporting and empowering America's athletes. Team USA Boxing focuses on USA boxing and its growth in the US. You can sign up as a member and give donations to support the Amateur Boxing programs throughout the US.
There are six tabs that you can explore on the main page. Clicking the 'Ring' tabs will bring you to any live boxing matches. Depending on your internet speed, the video quality will be in HD or SD. You can adjust the video quality manually by clicking the 'gear' on the video player.
---
Also, Read;
---
Boxing Schedule 2022 / 2023
| | | |
| --- | --- | --- |
| Date | Match | Time |
| 27 Aug 2022 | Jose Pedraza vs Richard Commey | Prelims – 6:30 p.m ETMain Card – 10:30 p.m. ET |
| 27 Aug 2022 | KSI vs Swarmz & Pineda: 2 Fight 1 Night | 2:00 p.m. ET |
| 30 Aug 2022 | Petchmanee CP Freshmart vs Tsubasa Koura | 6:00 a.m. ET |
| 3 Sept 2022 | Liam Smith vs Hassan Mwakinyo | 4:00 p.m. ET |
| 3 Sept 2022 | Juan Francisco Estrada vs Argi Cortes | 10:00 p.m. ET |
| 4 Sept 2022 | Andy Ruiz Jr. vs Luis Ortiz | 10 p.m. ET |
| 8 Sept 2022 | Yokasta Valle vs Thi Thu Nhi Nguyen | 9:00 PM EST |
| 9 Sept 2022 | Joseph Adorno vs Hugo Alberto Roldan | 9:00 PM EST |
| 10 Sept 2022 | Claressa Shields vs Savannah Marshal | 2 p.m. ET |
| 16 Sept 2022 | Denzel Bentley vs Marcus Morrison | 4:00 p.m. ET |
| 16 Sept 2022 | Arslanbek makhmudov vs Carlos Takam | 8:00 p.m. ET |
| Sept 17, 2022 | Canelo Alvarez vs Gennadiy Golovkin | 8 p.m. ET |
| Sept 2022 | Floyd Mayweather vs Mikuru Asakura | – |
| 23 Sept 2022 | Shakur Stevenson vs Robson Conceicao | 10 p.m. ET |
| 24 Sept 2022 | Joe Joyce vs Joseph Parker | 3:00 p.m. ET |
| 8 Oct 2022 | Sebastian Fundora vs Carlos Ocampo | 10:00 p.m. ET |
| 8 Oct 2022 | Chris Eubank Jr. vs Conor Benn | – |
| 15 Oct 2022 | Deontay Wilder vs Robert Helenius | 8:00 p.m. ET |
| 15 Oct 2022 | Devin Haney vs George Kambosos Jr. | 10:00 p.m. ET |
| 15 Oct 2022 | JoJo Diaz vs William Zepeda | 10:00 p.m. ET |
| 20 Oct 2022 | Floyd Schofield vs Daniel Rosas | 8:00 p.m. ET |
| 29 Oct 2022 | Vasiliy Lomachenko vs Jamaine Ortiz | 9:00 p.m. ET |
| 5 Nov 2022 | Joseph Diaz vs William Zepeda | 10:00 p.m. ET |
| 5 Nov 2022 | Dmitry Bivol vs Gilberto Ramirez | |
| 28 Jan 2023 | Jermell Charlo vs Tim Tszyu | – |
---
A Little Bit About Boxing
Boxing is typically a physical combat sport that means 'fist fight.' The fighter earns points in several timed rounds in a 'ring.'
The winner is decided by the accumulated points or by knocking out an opponent. A referee stays in the ring with the fighters and coordinates the match. The judges outside the ring determine the winner.
The fighters usually wear boxing gloves and other protective equipment. Boxing has evolved through time in different geographical areas and also cultures. However, the core that involves two fighters in a fistfight remains.
US Boxing
Boxing came to the US in the 1830s. In the early 20th century, fighting for money gained momentum. Unfortunately, back then, boxing usually came tied with a negative connotation – associated with gambling and corruption. As such, it was made illegal. However, as time progressed, more boxing matches were broadcasted on TV, which caused boxing to soar in popularity.
In the mid-1960s, boxing surged with fighters like Muhammad Ali and continued to enjoy the spotlight with boxers like Sugar Ray Leonard and Mike Tyson. Although boxing, on the whole, is still popular, many are now gravitating toward Mixed Martial Arts (MMA) instead.
Types of Boxing
There are several types of boxing:
Kickboxing – involves strikes with the legs and feet with punching with the arms and fists. Kickboxing originated from the East and has incorporated certain parts of martial arts, such as karate.
Muay Thai – Thai boxing includes strikes with the fists, elbows, knees, and shins.
Shadow boxing – for technique practices and warm-up exercises. You throw punches in the air without a target.
Fitness boxing – is used for fitness purposes, and there is no contact between the fighters.
---
Use a VPN to Watch The Best Free Boxing Streams
It is common just when you're all geared up to watch your favorite boxing matches, only to be utterly disappointed that the streaming links cannot play in your region. Due to distribution rights, boxing matches are only available in certain countries. You must be in these regions with access rights to access the boxing matches.
Hence, the need for VPNs arises. VPNs are essential to getting you access to otherwise geo-blocked sites. They replace your actual IP with that of another country that has access rights. Then, the streaming site will believe you are coming in from the said country and allow you access.
So, if you're in Vietnam and want to watch a US-only boxing match, you must activate your VPN and connect to the country with access rights (in this case, the US). Then, head over to the boxing streaming site. Also, a VPN encrypts your communication to safeguard your data/information against hackers; your privacy and security are intact.
Here's how to watch boxing through a VPN:
Go for a trusted and reputable VPN. After all, this is your first line of defense in keeping you safe when online:
Sign up for a VPN (check out NordVPN, it is trusted and abides by its verified zero-logs policy)
Look for the app of your chosen platform and download it
Install the app
Launch the app
Look for the country with access rights
Connect to a server in that country
Head over to the streaming site
---
Conclusion
If you're a thrill seeker, hunting for boxing fights is a no-brainer. You want to cheer for your favorite boxer attempting for a knockout. But if you're dead set against spending money, look no further, as the above is a list of free boxing stream sites that will surely satisfy your craving for punching action.
However, these free boxing stream sites may not be available in your region. Using a VPN to unlock access to these geo-blocked streaming sites. VPNs also ensure your privacy and secure your information so you can enjoy your matches with peace of mind.