It's hard not to get addicted to some movie genres. Movies about the triads, mafia, or other organized crime, for example. It's just as well that I'm a fan since we can find some of the best gangster movies on Netflix.
There is a touch of allure in gangster movies that reels in viewers. It could be a rebellious curiosity, the posh and lavish lifestyles the characters lead, or the dominance and getting-away-with-everything attitude that captivates.
The release of Godfather has catapulted the mob genre to be one of the most successful and popular among viewers. Whether gritty, gory or even goofy, Netflix has a solid range of gangster flicks.
Sit back and relax as you navigate the world of gangsters through shocking plots and twists of deceit while binge-watching the must-watch gangster movies on Netflix.
The Godfather (1972) – Netflix Italy
American Gangster (2007) – Netflix Malaysia, Italy
The Irishman (2019) (UK) – Netflix Italy, Canada, Japan, US
The Gentlemen (2020) – Netflix UK, Canada, Japan, US
Road to Perdition (2002) – Netflix Canada, US
Goodfellas (1990) – Netflix Canada
The Departed (2006) – Netflix UK, Japan
Donnie Brasco (1997) – Netflix UK, Canada, Japan
Gun City (2018) – Netflix Italy, Japan, US
Triple Frontier (2019) – Netflix UK, Canada, Japan, US
How to Watch Any Gangster Movie on Netflix with a VPN
Use Surfshark for Netflix
Surfshark offers you the best bang-for-buck to view Netflix, with high speeds and unlimited device connections.
Surfshark comes to mind whenever I think of VPN; this is not surprising, given that Surfshark is a good, trusted, and reliable VPN service with global server coverage. Armed with all the right security features, you won't need to worry about the safety of your data.
Here's how it works;
Subscribe to Surfshark
Download the Surfshark app and install it.
Launch the app and log in
Connect to a Sufshark server in the Netflix region you need
Launch Netflix and watch the gangster movie you want
---
With that out of the way, here's the down low of the 10 must-watch gangster movies on Netflix;
1. The Godfather (1972)
Perhaps the film that pioneered the other later gangster movies, The Godfather is based on Mario Puzo's best-selling 1969 novel of the same title. With an A-lister star lineup (Marlon Brando, Al Pacino, James Caan, Robert Duvall, and Diane Keaton), The Godfather is the first installment in The Godfather trilogy and won Best Picture, Best Actor (Brando), and Best Adapted Screenplay (for Puzo and Coppola) at the 45th Academy Awards.
The movie is set from 1945 to 1955 and is about the Corleone family under the patriarch Vito Corleone (Brando). Watch as the story unravels the transformation of the youngest son, Michael (Pacino), from a reluctant family outsider to a ruthless mafia boss due to tragic events that fell upon the family.
The intriguing storyline of The Godfather, with the perfect mix of characters, is mesmerizing. Regarded as one of the masterpieces ever made by viewers and critics alike, The Godfather stamps as a landmark of the gangster genre.
2. American Gangster (2007)
Fictionally based on the criminal career of Frank Lucas, a gangster from North Carolina who smuggled heroin into the US on American service planes returning from the Vietnam War, American Gangster stars reputable actors such as Denzel Washington, Russell Crowe, and Josh Brolin. Most film critics praised the film.
Set in 1968, Frank Lucas (Washington), the right-hand man of Harlem mob boss Ellsworth "Bumpy" Johnson entered the heroin trade, buying from Thailand and smuggling into the US through returning Vietnam War servicemen. His heroin racket flourished, catapulting Frank to Harlem's top crime lord. However, Newark detective and aspiring lawyer Richie Roberts (Crowe) leads a special task force to target major local drug suppliers, targeting Frank.
Despite taking too much creative license with the story, American Gangster was nominated for 21 awards, including two Oscar nominations for Best Art Direction and Best Supporting Actress. The film won three awards, including a Screen Actors Guild Award for Outstanding Performance by a Female Actor in a Supporting Role. American Gangster is a worthy watch for anyone looking for some intense gangster action.
3. The Irishman (2019)
Based on the 2004 nonfiction book 'I Heard You Paint Houses' by Charles Brandt, The Irishman, directed by Martin Scorsese, stars Robert De Niro, Al Pacino, and Joe Pesci. The film runs almost three and a half hours and is the longest and most expensive film of Scorsese's career.
The film begins with an elderly Irish-American World War II veteran Frank Sheeran (De Niro), recounting his time as a hitman for the Italian-American Mafia. He reminisces where it all began, a truck driver's rise to become a top hitman where he gets involved with mobster Russell Bufalino (Pesci) and his crime family.
The film received universal critical acclaim and was nominated for ten awards at the 92nd Academy Awards. Praises flowed in for the performances of De Niro, Pacino, and Pesci. Despite the unusually long film running, the mafia film makes up for it with the thrills of a mobster film infused with a great storyline and fabulous actors.
4. The Gentlemen (2020)
Directed by Guy Ritchie, a master of the British crime drama, The Gentlemen focuses on an American cannabis wholesaler in England. The film stars Matthew McConaughey, Henry Golding, Colin Farrell, and Hugh Grant. A commercial success, the film has led to a spin-off television series in development at Netflix.
Pearson (McConaughey) won a Rhodes Scholarship to Oxford University, where he began selling marijuana to fellow students. He decided to drop out and built his criminal empire through violence. He then wants to retire, looking to sell his business. Unfortunately, this caused chaos leading to a chain of blackmail and schemes to undermine him.
The movie garnered generally positive reviews from critics. If you enjoy movies by Guy Ritchie, The Gentlemen is not to be missed as it is indeed one of the best gangster films on Netflix.
5. Road to Perdition (2002)
From the graphic novel of the same name written by Max Allan Collins, Road to Perdition is set in 1931. Starring A-listers like Tom Hanks, Paul Newman, Jude Law, and Daniel Craig, the story begins during the Great Depression and explores the father-son relationship when seeking vengeance.
Michael Sullivan (Hanks) was raised by Irish Mob boss, John Rooney (Newman). He soon becomes Rooney's fearsome enforcer. Rooney loves Sullivan like his biological son, even more so than his son Connor (Craig). Betrayed by Connor, who killed his wife and younger son, both Sullivan and his elder son, Michael, flee only to make plans to avenge his family.
Road to Perdition was well received by critics and earned five Academy Awards nominations, including Best Supporting Actor. A crime thriller at heart, this movie grabs you from the start and becomes increasingly intense as the story progresses. After all, the thought-provoking plot and tense atmosphere did not disappoint.
6. Goodfellas (1990)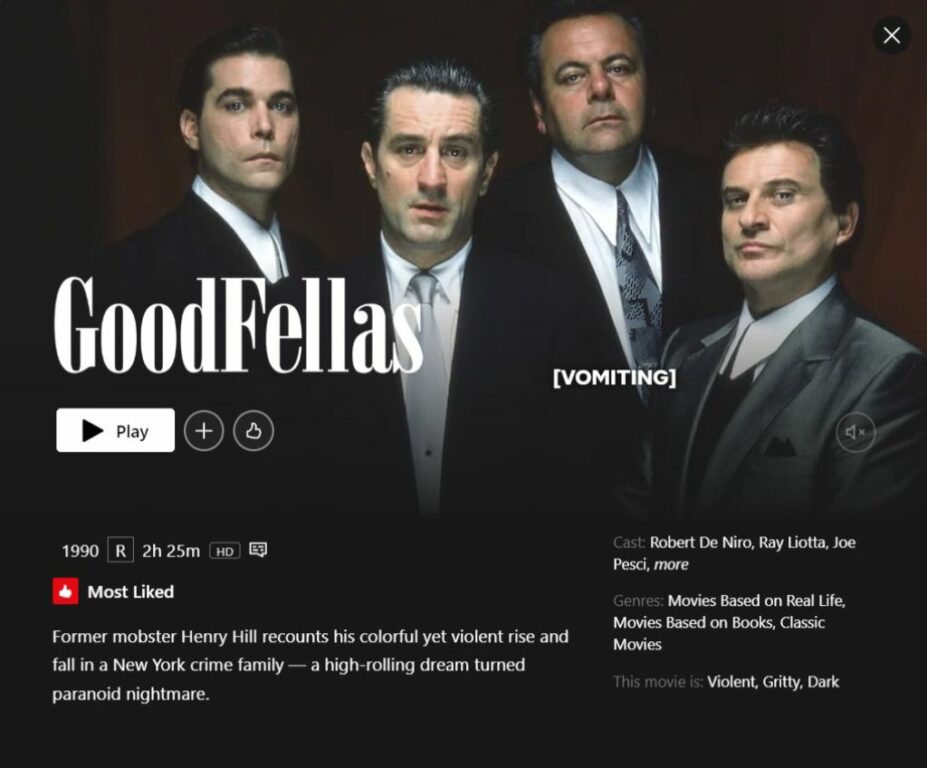 Goodfellas is adapted from the 1985 nonfiction book Wiseguy by Pileggi. Directed by Scorsese, the film stars Robert De Niro, Ray Liotta, Joe Pesci, Lorraine Bracco, and Paul Sorvino. Goodfellas was regarded as one of the greatest gangster films ever made.
The movie narrates the rise and fall of Henry Hill (Liotta) and his friends and family from 1955 to 1980. When young, Henry was enamored by the criminal life and Mafia presence in his neighborhood in Brooklyn. He worked his way from a petty criminal to a big-time mobster. Soon, Henry becomes a cocaine addict, which leads to his eventual downfall. The plot reels you in from the start until the end, even when nothing else matters to Henry.
Goodfellas received widespread critical acclaim to the extent it was named the year's best film by various critics' groups. The film was also nominated for six Academy Awards, with Pesci winning Best Supporting Actor. The film also won five awards from the British Academy of Film and Television Arts.
7. The Departed (2006)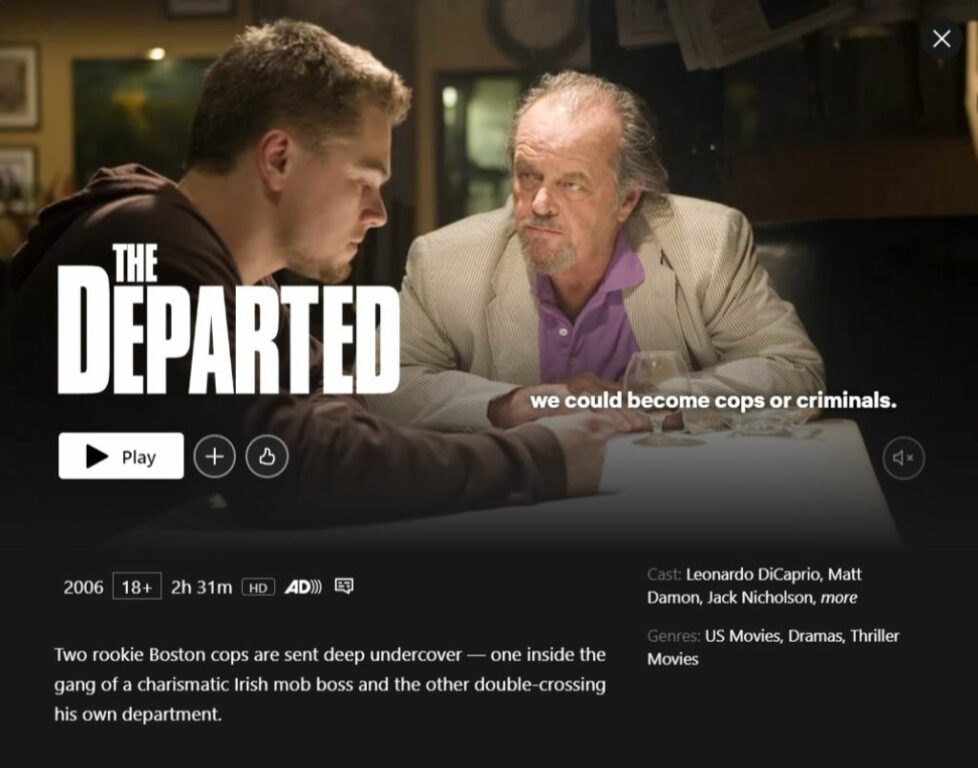 Like many others on this list, The Departed was directed by Martin Scorsese and is both a remake of the 2002 Hong Kong film Infernal Affairs and loosely based on the real-life Boston Winter Hill Gang. The film offers a star-studded cast, including Leonardo DiCaprio, Matt Damon, Jack Nicholson, Mark Wahlberg, Martin Sheen, and Alec Baldwin.
The film takes a spin on the usual gangster movie with an Irish Mob boss Frank Costello (Nicholson), placing Colin Sullivan (Damon) as a spy within the State Police with an undercover state trooper Billy Costigan (DiCaprio), to infiltrate Costello's crew instead. Things become heated up when both sides become aware of the situation.
The Departed won several accolades, including four Oscars at the 79th Academy Awards, six nominations at the 64th Golden Globe Awards and the 60th British Academy Film Awards, and two nominations at the 13th Screen Actors Guild Awards. With a good mix of captivating twists, suspense, and tension, The Departed never gets old, no matter how many times you watch it.
8. Donnie Brasco (1997)
Based on the 1988 nonfiction book Donnie Brasco: My Undercover Life in the Mafia by Joseph D. Pistone and Richard Woodley, Donnie Brasco stars both Al Pacino and Johnny Depp. The movie loosely follows the true story of Pistone (Depp), an FBI undercover agent who infiltrated the Bonanno crime family during the 1970s.
Using the alias Donnie Brasco, a jewel thief from Florida, Brasco maneuvered up the ranks into the inner circle of an aging Mafia hitman, Lefty Ruggiero (Pacino). As his cover deepens, the lines blur for Brasco, along with his relationship with Ruggiero.
Donnie Brasco was a box office success and received good reviews from critics. Nominated for an Academy Award for Best Adapted Screenplay, the film is another edge-of-your-seat gangster plot that thickens with an unforgettable ending.
9. Gun City (2018)
Gun City, aka La sombra de la ley in Spanish, is a Spanish-French thriller film set in 1921 Barcelona. Starring Luis Tosar, Michelle Jenner, Vicente Romero, and Jaime Lorente, the story explores an anarchist struggle and police brutality.
The story unfolds with detectives tracking down anarchists who hijacked a military train. The lines become blurred, as the detectives' methods of getting information become questionable. They resort to violence, and increasingly brutal methods, including murder.
Unlike the rest on this list, Gun City may seem lackluster. However, those who are into historical gangster flicks may like this Spanish outing. A gripping thriller indeed, although a slow boil at the beginning, this film sports excellent performances against a fascinating political backdrop.
10. Triple Frontier (2019)
Based on a story by Boal, Triple Frontier is more of an action-adventure film starring Ben Affleck, Oscar Isaac, and Charlie Hunnam. Receiving generally favorable reviews from critics when released by Netflix, Triple Frontier is about a group of former US Army Delta Force operators who reunite to plan a heist of a crime lord.
Private military advisor Santiago "Pope" Garcia (Isaac) recruited his fellow ex-Delta Force operators to seize a load of bounty under the pretense of working for the government. Pope then convinced the team to steal the money for themselves. Redfly's (Affleck) greed for money became costly, unleashing undesired consequences.
Unlike the usual mafia and mobster flicks, Triple Frontier is more of a tight thriller about camaraderie, loyalty, and desperation. Aside from providing a rather sobering view of the American military and the war on drugs, the movie grips you until the end.
Only a VPN Lets You Access All the Best Gangster Movies on Netflix
If you're craving to ride the dangerous world of mobsters, check out the list of ten must-watch gangster movies on Netflix as above. There are other worthy gangster movies on Netflix as well. However, I wanted to whet your appetite with the above list before you try other great titles on Netflix.
Also, Read;