Kdramas (Korean dramas) have taken the world by storm, with shows gaining critical acclaim and endless buzz globally. If you're a Netflix fan like me and seeking the best KDramas on Netflix, be warned that availability varies by region.
Still, Netflix impresses in its massive Kdrama catalog. From thrillers, horrors, paranormals, and heartwarming romances, to period dramas, get ready for the ride of your life.
15 Best Kdramas on Netflix List
Alchemy of Souls (2022) – Netflix Malaysia, South Korea, US, Canada, UK, Japan
Good Manager (2017) – Netflix Malaysia, UK
Extraordinary Attorney Woo (2022) – Netflix Malaysia, South Korea, US, Canada, UK, Japan
Vincenzo (2021) – Netflix Japan, South Korea, US, Canada, UK, Japan
Under the Queen's Umbrella (2022) – Netflix Malaysia, South Korea, US, Canada, UK, Japan
Guardian (2016) – Netflix Malaysia, South Korea, Japan
Hotel del Luna (2019) – Netflix Malaysia, South Korea, US, Canada, UK
My Love From the Star (2013) – Netflix Malaysia, South Korea, UK
Mr. Queen (2020) – Netflix Malaysia, South Korea, US, Canada, UK
Healer (2015) – Netflix Australia, Japan, UK
Taxi Driver (2021) – Netflix Malaysia, UK,
The Fiery Priest (2019) – Netflix Malaysia, UK
Hot Stove League (2019) – Netflix Malaysia, UK, Japan
Dr. Romantic (2016) – Netflix UK, Japan
It's Okay to not be Okay (2020) – Netflix Malaysia, South Korea, US, Canada, UK, Japan
Stream Netflix With NordVPN
NordVPN helps you unlock all Netflix regions, giving you access to a new world of streaming content. Try now with a 30-day money-back guarantee!
So, without further ado, here are our picks for the 15 best KDramas on Netflix. Remember, if any of the links below don't work for you, you need a VPN to change your Netflix region.
1. Alchemy of Souls (2022)
Written by the Hong sisters, well-known South Korean television screenwriters, Alchemy of Souls (환혼) is split between Part 1 and Part 2 (Alchemy of Souls: Light and Shadow). Alchemy of Souls is a fantasy TV show revolving around the lives of mages. Some mages use the forbidden soul-swapping magic (alchemy of souls) to achieve eternal lives by hopping bodies in the name of greed and power.
Jang Uk (Lee Jae-wook), born of the forbidden soul-swapping magic, is forbidden to practice magic. He doesn't understand why. Jang Uk then meets Mu-Deok (Jung So-min). Mu-Deok is Nak-su, a powerful warrior's soul trapped in the body of Jin Bu-yeon, the heiress of Jinyowon (unknown to many).
Hiding as Jang Uk's servant, Mu-Deok secretly teaches him how to fight, and they fall in love. Part 2 begins with Jang Uk returning from the dead due to the powerful Ice Stone inside his body. He then meets the mysterious Jin Bu-yeon (Go Youn-jung), who bears the face of Nak-su. If you're into action, mystery, intrigue, and romance all into one plot, look no further than Alchemy of Souls.
Watch Alchemy of Souls on Netflix.
2. Good Manager (2017)
Good Manager (김과장) started strong with top ratings and soared during its run. With positive reviews, viewers especially took to the punchy and satirical lines about corrupted corporation owners. Many relate to the Kdrama's message – the realities of work-life.
Kim Sung-ryong (Namkoong Min) is a Certified Public Accountant, yet he manages money for gangs. He coincidentally lands the chief in an accounting department job in TQ Group. Little did Kim Sung-ryong know that the 'luxurious' TQ Group was decaying and bleeding on the inside. What started as an intention to embezzle money from the company turns into fighting for his employees' fundamental rights.
With a group of his faithful colleagues, Kim Sung-ryong fights against corruption in the company. The multifaceted performance of Namkoong Min propelled Good Manager to an above-average office crime comedy. Good Manager entertains in its witty way.
Watch Good Manager on Netflix.
3. Extraordinary Attorney Woo (2022)
Extraordinary Attorney Woo (이상한 변호사 우영우) received an audience of eager nods. Hence, Extraordinary Attorney Woo is confirmed for Season 2 in 2024. Extraordinary Attorney Woo follows a female rookie attorney with autism, Woo Young-woo (Park Eun-bin).
Having graduated at the top of her law school class at Seoul National University, Woo Young-woo cannot find a job despite being a prodigy. No law firm will hire Woo Young-woo due to her autism. She finally gets hired by Hanbada, a large Seoul law firm, through her father's connections. People see her as neurotic, odd, and awkward. However, she proves her metal through the cases, earning respect from her supervising lawyer, Jung Myung-seok (Kang Ki-young), and others.
Woo Young-woo unknowingly touches the heart of her legal support staff, Lee Jun-ho (Kang Tae-oh). Perhaps what intrigues is Woo Young-woo's obsession with whales and other marine mammals. She often compares and analogizes her life with the lives and characteristics of whales and dolphins.
Watch Extraordinary Attorney Woo on Netflix.
4. Vincenzo (2021)
Vincenzo (빈센조), led by famed actor Song Joong-ki, is popular among international viewers. Vincenzo ranked in the top five of the most-viewed Kdramas on Netflix on the Forbes list in 2021. The story unfolds with Park Joo-hyung (Song Joong-ki), being adopted by the head of the Cassano family.
Aka 'Vincenzo Cassano', Park Joo-hyung becomes a Korean Italian mafia consigliere to the family. However, when the head dies, Vincenzo is hunted by the new leader of the Cassano Family. Vincenzo flees to South Korea, where he hid gold under an old apartment building (Geumga Plaza). However, a corrupt conglomerate, Babel Group, wants to take over the building.
Aside from dealing with Babel Group, Vincenzo needs to contend with the tenants at Geumga Plaza. They are quirky at best, and each with their own story. Vincenzo must use his skills and join forces with Hong Cha-Young (Jeon Yeo-been) and the other tenants to fight the Babel Group, led by Jang Jun-woo (Ok Taec-yeon). Although some scenes of Vincenzo are grossly violent, this Kdrama is engrossing as a hilarious ensemble comedy.
Watch Vincenzo on Netflix.
5. Under the Queen's Umbrella (2022)
Under the Queen's Umbrella (슈룹) raked in high TV viewership ratings, with the last episode registered at almost 17% nationwide. Set in a fictional period within the Joseon dynasty, Under the Queen's Umbrella is led by Queen Im Hwa-ryeong ( Kim Hye-soo). The queen is to act with grace and dignity but struggles given her troublemaker princes.
When the crown prince, Queen Im Hwa-ryeong's eldest son, suddenly dies, the queen finds herself in an intense succession battle. Forced into playing a dangerous chess game with her mother-in-law, the Queen Dowager (Kim Hae-sook), and the officials, Queen Im Hwa-ryeong has to use her wits to hold onto power to save her remaining sons.
If you are a fan of a juicy historical drama about people pitting against each other for the throne, Under the Queen's Umbrella is for you. What makes the show appealing is that unlike Queen Dowager, her son, King Yi Ho (Choi Won-young), is fair and reasonable, which is helpful for the queen.
Watch Under the Queen's Umbrella on Netflix.
6. Guardian (2016)
Guardian: The Lonely and Great God ( 쓸쓸하고 찬란하神 – 도깨비) secured numerous awards at the 53rd Baeksang Arts Awards. Kim Shin (Gong Yoo) has waited years for the human bride to end his immortal life. Framed as a traitor and killed by the young king, Wang Yeo (Kim Min-jae), Kim Shin is cursed to be Goblin and stay immortal forever (punished for the soldiers he killed).
Ji Eun-tak (Kim Go-eun) is a cheerful and hopeful girl despite her tragic life. She is the Goblin's bride and is to remove the invisible sword (only she can see it) to end Kim Shin's life. Ji Eun-tak accidentally summons the Goblin, and their fates entwine. By chance, a Grim Reaper (Lee Dong-wook) rents a room in Kim Shin's house.
Sunny (Yoo In-na) runs a chicken store where Ji Eun-tak works part-time. Soon, the lives of Kim Shin, the Grim Reaper, Ji Eun-tak, and Sunny interweave deeper. Soon, they realize that they are connected with deep-rooted pasts and relations.
Watch Guardian on Netflix.
7. Hotel del Luna (2019)
Written by the famous Hong sisters, Hotel del Luna ( 호텔 델루나) is one of the highest-rated Kdramas in cable television history. Led by Lee Ji-eun, famously known as IU, she plays the lead role of Jang Man-wol, the owner of Hotel del Luna. Jang Man-wol is punished for a sin committed over a millennium ago. As such, her soul is bound to Hotel del Luna, catering to the dead.
Unlike any other hotel, Hotel del Luna is not visible during the daytime, and ghosts can see it. The staff and clients are ghosts with unfinished business. The hotel is a temporary stop for the ghosts before moving on to the afterlife. That said, only the hotel's general manager is a human; he needs to handle real-world matters.
Due to a deal made in the past, Gu Chan-sung (Yeo Jin-goo), a sincere, level-headed perfectionist, has to work as the general manager of Hotel del Luna. Gu Chan-sung discovers many deep-seated mysteries and secrets behind the hotel and its owner. Be amazed at Jang Man-wol's sense of fashion and style. However, be cautious, as some scenes are scary and ghostly.
Watch Hotel del Luna on Netflix.
8. My Love From the Star (2013)
My Love from the Star (별에서 온 그대) is credited for the global Korean wave. The series garnered widespread popularity with an average nationwide television viewership rating of 24%. My Love from the Star also performed well in the 50th Baeksang Arts Awards. My Love from the Star follows an extraterrestrial alien, Do Min-joon (Kim Soo-hyun), who arrived on Earth during the Joseon Dynasty.
Do Min-joon misses his return trip to his home planet to save a girl from falling off a cliff. Do Min-joon looks perfect as a human, does not grow old, and has enhanced abilities (vision, hearing, and speed). When Do Min-joon is about to return home, Cheon Song-yi (Jun Ji-hyun), a famous Hallyu actress, moves in next door.
Her childhood friend, Yoo Se-mi (Yoo In-na), rises in fame. Yoo Se-mi has jealousy from their younger days towards Cheon Song-yi. Do Min-joon finds himself entangled in Cheon Song-yi's life. Saving Cheon Song-yi multiple times from Lee Jae-kyung (Shin Sung-rok), Do Min-joon risks his exposure.
Watch My Love From the Star on Netflix.
9. Mr. Queen (2020)
Based on the Chinese web series Go Princess Go, Mr. Queen (철인왕후) reached a nationwide rating of nearly 18% for its last episode. Despite the controversies, Mr. Queen raked in over 4 million viewers. Mr. Queen is about Queen Cheorin with the soul of a modern-day man inside her body.
In the modern age, Jang Bong-hwan (Choi Jin-hyuk) is a free-spirited womanizer in a near-death experience. He then wakes up in the body of Kim So-yong as Queen Cheorin (Shin Hye-sun) in the Joseon period. Her husband, King Cheoljong (Kim Jung-hyun), is a gentle and wise king. However, King Cheoljong hides behind a 'stupid' front while the true power is wielded by Queen Sunwon (Bae Jong-ok).
As time progresses, Jang Bong-hwan, in the queen's body, realizes that King Cheoljong has secrets. He sides with the king to battle Queen Sunwon and her younger brother, Kim Jwa-Geun (Kim Tae-Woo). What makes Mr. Queen outstanding are the many hilarious scenes when Shin Hye-sun, as the queen, behaves like a man. What superb acting.
Watch Mr. Queen on Netflix.
10. Healer (2015)
Healer (힐러) propelled Ji Chang-wook outside of Korea to stardom. The international fanbase was undeniable as Healer swept the seas by storm. The Kdrama on Netflix points to a decades-old incident of five friends who ran an illegal pro-democracy broadcasting station. They challenged the odds to bring the truth out into the open.
An illegal 'night courier' bearing the alias 'Healer', Seo Jung-hu (Ji Chang-wook) has top-notch fighting skills. He aims to gather as much money as possible to buy an island. He takes on any task except when it comes to murder. With his trusty sidekick, Jo Min-ja, Hacker Ahjumma (Kim Mi-kyung), a former detective specializing in cyber crimes, they are renowned in the field.
However, things change after his client, Kim Mun-ho (Yoo Ji-tae), orders Healer to find and protect a girl named Chae Young-shin (Park Min-young). Chae Young-shin is a reporter from a second-rate tabloid news website. Together, the three uncover the truth about the decades-old incident of five friends in the past and reveal the truth.
Watch Healer on Netflix.
11. Taxi Driver (2021)
Based on the webtoon The Deluxe Taxi (Red Cage) by Carlos and Lee Jae-jin, Taxi Driver (모범택시) is an enactment of actual real-life happenings. Despite some disturbing scenes, Taxi Driver received praise from viewers for its performances, script, and storylines. Inspired by real-life heinous crimes committed in Korea, many viewers relate to this Kdrama on Netflix.
Kim Do-gi (Lee Je-hoon) suffers from trauma when he returns home as a Korea Military Academy graduate, only to find his mother murdered at home. The sentencing of the serial killer was not fair and heavy enough. Kim Do-gi soon realizes the law was not on his side; criminals get scot-free only to repeat crimes.
Jang Sung-chul (Kim Eui-sung), the CEO of Rainbow Taxi Company and Director of Blue Bird Foundation, recruits Kim Do-gi as a taxi driver for his company. Rainbow Taxi Company offers a 'revenge-call' service to those desperately needing help. Kim Do-gi and his co-workers, Ahn Go-eun (Pyo Ye-jin), Choi Kyung-goo (Jang Hyuk-jin), and Park Jin-eon (Bae Yoo-ram), work towards helping those who seek justice. Two seasons are running.
Watch Taxi Driver on Netflix.
12. The Fiery Priest (2019)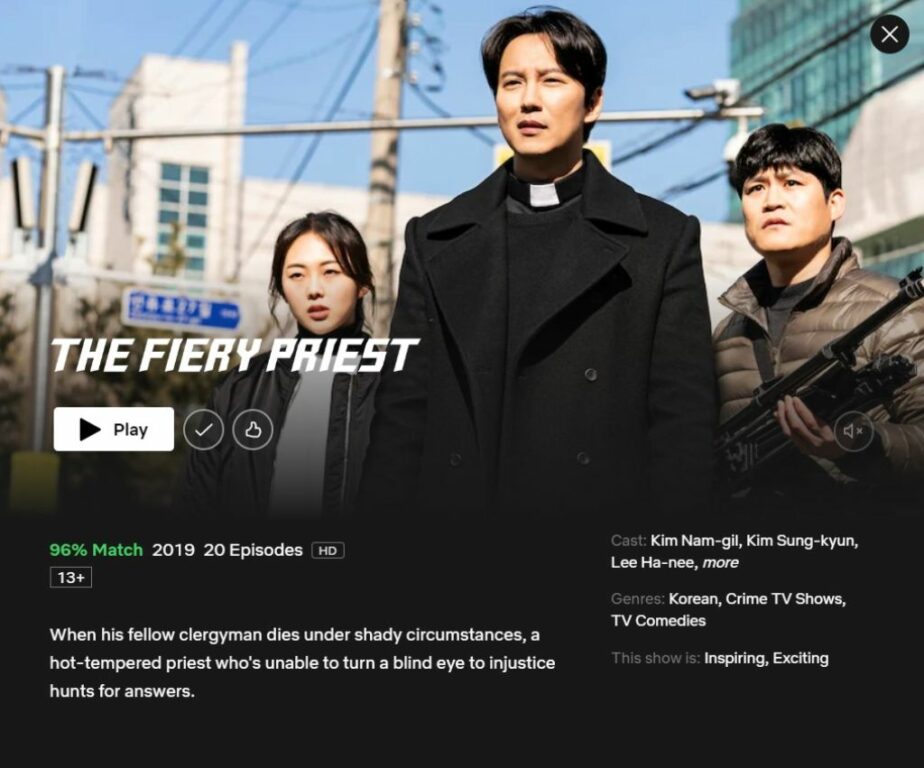 The Fiery Priest (열혈사제) is a huge success and one of the most popular dramas in 2019. The action comedy-drama won multiple accolades. Kim Hae-il (Kim Nam-gil) shot to fame with his excellent portrayal of a Catholic priest with anger management issues.
Unlike priests, as we know them, Kim Hae-il has a bad temper and can be rude. He can turn spiteful and struggles to keep his feelings in check. Despite this, Kim Hae-il is a kind-hearted and just man. He lashes out, especially in the face of injustice. However, as an ex-NIS agent with a past, Kim Hae-il suffers from trauma.
Following the mysterious death of a senior Catholic priest, Kim Hae-il does everything he can to bring the culprits before the law. Park Kyung-sun (Lee Hanee), a corrupt prosecutor, turns good and sides with Kim Hae-il. With Goo Dae-young (Kim Sung-kyun) and Seo Seung-ah (Keum Sae-rok), Kim Hae-il and Park Kyung-sun fight together to bring down the villains.
Watch The Fiery Priest on Netflix.
13. Hot Stove League (2019)
Hot Stove League (스토브리그) is no stranger to acclaim and awards. This Kdrama on Netflix won Best Drama at the 56th Baeksang Arts Awards, and Namkoong Min took his first Grand Prize (Daesang) at the 28th SBS Drama Awards. Baek Seung-soo (Namkoong Min) is the newly appointed general manager of the professional baseball team Dreams.
Dreams used to soar high in the league but have been at the bottom for four consecutive years. Baek Seung-soo has experience in winning championships in sports other than baseball. Baek Seung-soo is looked down upon since he has no experience in baseball, much less managing a baseball team. The team, including Lee Se-young (Park Eun-bin), the operations manager, finds it hard to respect Baek Seung-soo as the leader.
Facing pressure from Kwon Kyeong-min (Oh Jung-se), the team's president, to shut down Dreams, Baek Seung-soo struggles to turn the team around. With shrinking budgets, infighting among the coaching staff, and stubborn team members, Baek Seung-soo maneuvers to create a championship-winning team.
Watch Hot Stove League on Netflix.
14. Dr. Romantic (2016)
Dr. Romantic (낭만닥터 김사부) is an explosive series with a recording of more than 20% in ratings. The Kdrama received nods and high praises for the lead actor Han Suk-kyu's performance as Kim Sa-bu (Teacher Kim) / Boo Yong-joo. Three seasons are in, with the third season expected to air at the end of April 2023.
Dr. Romantic begins with Boo Yong-joo (Han Suk-kyu), a triple-board certified surgeon who used to work at Seoul's top medical center, Geosan University Hospital. Nicknamed 'Hand of God', Boo Yong-joo disappears from the medical scene due to an unfortunate incident in Geosan University Hospital. Holding a new name Kim Sa-bu, Boo Yong-joo starts afresh in a small hospital named Doldam.
It is at this fateful hospital that Boo Yong-joo meets young doctors, including Kang Dong-joo (Yoo Yeon-seok), Yoon Seo-jeong (Seo Hyun-jin) in Season 1, and Seo Woo-jin (Ahn Hyo-seop) and Cha Eun-jae (Lee Sung-kyung) in Season 2. Their lives intertwine as each finds the value in life and the true meaning behind a 'good' doctor. I would say that Dr.Romantic is perhaps one of the best Kdramas on Netflix.
Watch Dr. Romantic on Netflix.
15. It's Okay to not be Okay (2020)
Although It's Okay to Not Be Okay (사이코지만 괜찮아) generated only an average nationwide viewership rating, the Kdrama on Netflix became the most popular show in South Korea. Led by the Hallyu star, Kim Soo-hyun as Moon Gang-tae and the mysteriously elegant and beautiful Seo Yea-ji as Ko Moon-young, it is no surprise that the series received praise for the acting.
It's Okay to Not Be Okay also won numerous accolades in Baeksang Arts Awards, APAN Star Awards, Asia Artist Awards, and others. It's Okay to Not Be Okay follows Moon Gang-tae (Kim Soo-hyun) caring for his older brother Moon Sang-tae (Oh Jung-se), who is autistic. They had to keep moving because Moon Sang-tae witnessed their mother's murder in their hometown. However, circumstances lead Moon Gang-tae back to their hometown and work at the OK Psychiatric Hospital.
Meanwhile, Ko Moon-young (Seo Yea-ji), an antisocial children's book writer, obsesses on Moon Gang-tae. She follows Moon Gang-tae wherever he goes. Soon, the trio unravels secrets and heals each other to move forward.
Although It's Okay to Not Be Okay portrays the dark aspects of trauma, abuse, and the autism spectrum, this Kdrama on Netflix shines in the special relationship between the two brothers.
Watch It's Okay to not be Okay on Netflix.
Wrapping Up On Our Best KDramas on Netflix List
There you have it, the 15 best Kdramas on Netflix. Aside from this list, there are many other noteworthy Kdramas available to stream on Netflix. You need to know which region the Kdramas are available on Netflix.
Then, connect to a Virtual Private Network (VPN) to unlock the Netflix library in those regions. Happy binge-watching Kdramas on Netflix this weekend!
Also Read;