Email is a very common form of communication today and it's important that you know yours is secure. One of the ways of securing email is by making use of an email provider that can offer encrypted emails. This helps protect the contents of your emails which may contain sensitive information from being accessible to others or unintended recipients.
Best Encrypted Email Services
1. PrivateMail
Website: https://www.privatemail.com
Price: From $8.95/mo
PrivateMail comes from one of the best sources possible – a VPN service provider, TorGuard. Because of this they have secured the service with industry-leading encryption standards or algorithms such as AES, RSA, and OpenPGP.
There isn't just secure email here either as an account with PrivateMail comes with Cloud storage space and excellent supporting features. Dedicated email clients for iOS, Android, and Windows give it the agility that users need today.
Pros
AES-256 Encryption
Custom email profiles
Multi-platform
Cons
Limited Cloud app support
2. ProtonMail
Website: https://protonmail.com
Price: from $0 (Free accounts available)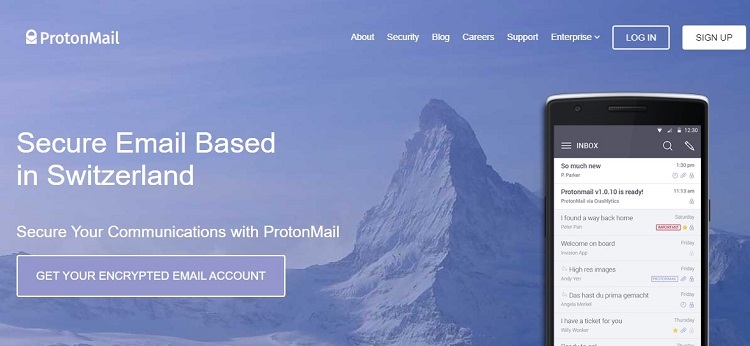 One of the best email encrypted email providers is ProtonMail. It is an alternative mailbox that is web-based and used for sending and receiving secure and protected communications with the help of PGP. It Moreover, you can even self-destruct messages using ProtonMail.
Free accounts on this provider are available, but do come with some limitations. You only get 150 messages in a day and 500MB of storage. The lowest tier pricing will cost you around $4 per month and increases your emails limit to 1,000 emails in a day and up to 5GB of email storage. Lastly, you can use the business account which costs around $6.25 and offers unlimited services.
Pros:
Free accounts available
Based on open-source PGP
Easy to send and receive encrypted emails
Cons:
Poor customer services
Most accounts comes with limitations
3. CounterMail
Website: https://countermail.com
Price: from $3.29/mo
Another great email encryption service that is highly secure as well as easy to use is CounterMail. It is a Sweden-based email encryption service. This email encryption service offers maximum privacy and security without any long warning lists and limitations. You can use it freely with email services like Hotmail and Gmail. It comes with both free accounts as a well premium account.
With this service you gain encryption capabilities for your email account from anywhere in the world. Your email account will remain anonymous and encrypted. The service works automatically as well as transparently. CounterMail works on OpenPGP with 4096-bit encryption keys.
Pros:
Includes a password manager
Highly secure forms
Supports Bitcoin payments as well
Doesn't store encryption keys
Cons:
Impossible to recover account once password is lost
Has some security issues
4. Hushmail
Website: https://www.hushmail.com
Price: from $4.17/mo
Hushmail is most prominent due to its several first-rate security features more than anything else. It provides a free platform for email services while offering basic yet secure email communications. Although the lack of additional high-end features leaves a lot to be desired, Hushmail is still a fine choice when looking for email encryption.
As an added security measure, Hushmail will scan any incoming mails for potential threats such as viruses or worms. A spam filter will sort out your inbox for only concerned emails. You can manually choose which contacts you trust and wish to receive emails from while blacklisting other senders that you do not trust.
It also lets you block certain email addresses and domain names that you want to mute. One of the admirable perks that Hushmail offers is that it won't spam you with ads at all. However, a major disadvantage linked with Hushmail is that you must sign in to your account at least once every three week or your account gets deactivated. Also, it lacks a spell checker which can be annoying.
Pros:
Has extra security features
No ads in inbox or pop-ups
Can block selected email addresses
Free service
Cons:
Account deactivated if not used in three weeks
No spell-checker
5. Mailfence
Website: https://mailfence.com
Price: From $0 (Free accounts available)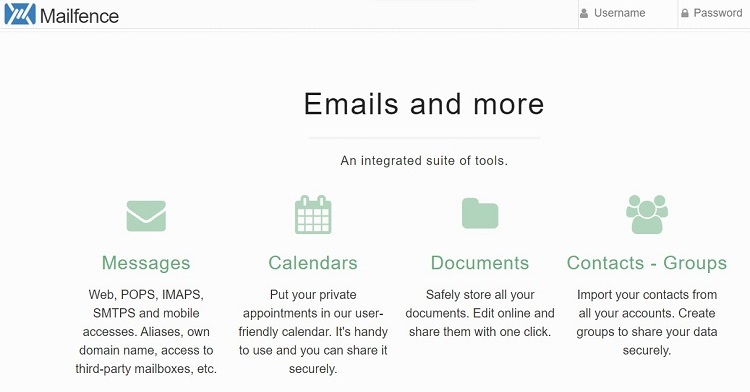 Mailfence is among the top providers of secure and efficient email services. It provides its users with end-to-end email encryption and digital signing that is compatible with almost every major email service providers. You have access to both encrypted emails and signed messages.
Apart from security and email encryption, Mailfence offers a complete suite for an email services and various tools including calendar, groups, contacts, file sharing, document storage and more. It also lets you synchronize your email account with smartphones and computers both.
Mailfence can also hides your IP address from every email you send. As a result, it prevents anyone from tracing your location. Moreover, you don't have to provide your name when signing up for an account.
Pros
Superior privacy keeper
Extra features for better convenience
Immune to location tracking
Cons
Limited features on free plans
Mailfence collects all your email-related data
6. Runbox
Website: https://runbox.com
Price: From $1.66/mo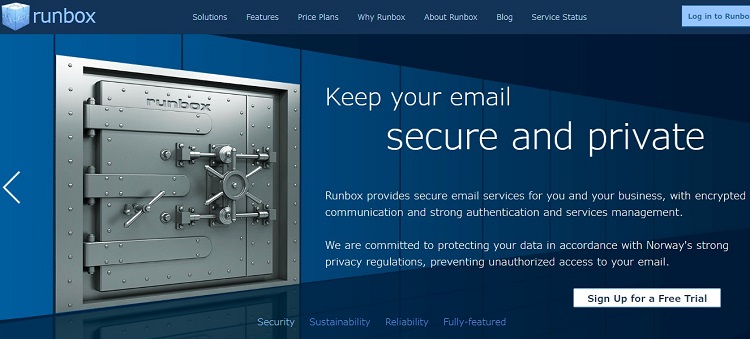 RunBox is an email service based in Norway launched in 2000. It offers pretty basic yet efficient services. You can begin using RunBox after providing rudimentary account information such as contact and password. Moreover, RunBox allows use of your own domain name – up to five domains.
RunBox uses TLS/SSL technology for email encryption that ensures the safety and privacy of data when in transit. However, you won't be getting integrated end-to-end email encryption. You will need to install a separate extension to do so. Also, you'll have to provide your real name and other information when signing up which might not be desirable for privacy-conscious folks.
Pros
Easily manageable
Prevents surveillance
Secure email encryption
Cons
Lacks additional business features
Lacks integrated end-to-end encryption
7. StartMail
Website: https://www.startmail.com
Price: From $0 (Free accounts available)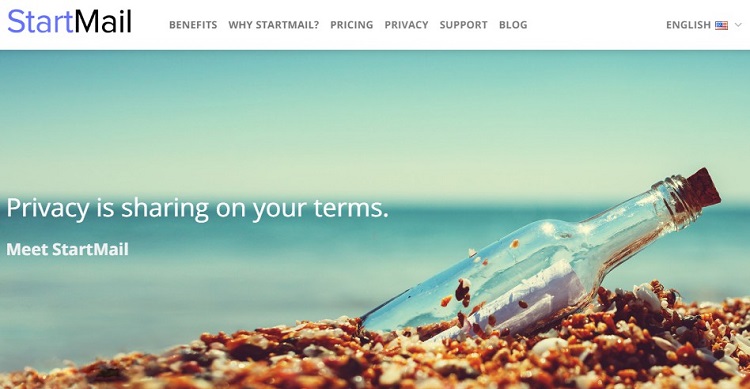 StartMail is an email service provider that claims to keep your data and conversations secured and protected. It comes with the latest encryption protocols that ensure your emails are not accessible to third parties in any way. Consequently, it protects you from unwanted intrusion, spam and external surveillance.
StartMail blesses you with a vast 10GB storage to save all your private and sensitive intrusion that you wish to protect. Another highly cherished function it features is a temporary email address. It allows you to create a temporary email address when you wish to use it.
There is no bulky software installation necessary when using StartMail – it's all web-based. You can use your domain names and create a custom email address. As you might have guessed, StartMail's high-end features are available in the paid version although there is a free trial you can make use of.
Pros
Efficient email encryption
Allows temporary email address
Extensive storage space
No setup required
Cons
No additional plug-ins needed
Lacks an archive function
8. Tutanota
Website: https://tutanota.com
Price: From $0 (Free accounts available)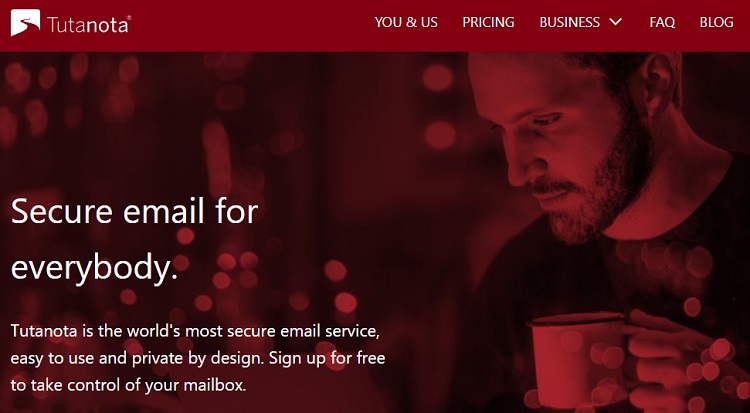 Tutanota is a secure email service provider that offers an ad-free experience and automated encryption of all the emails in the mailbox. It is compatible with both android and iOS devices. It's pretty basic to install and use which belies its security capabilities. Tutanota aims to put an end to privacy breaks and mass surveillance by third-parties with the help of its efficient encryption.
It won't ask for any contact or phone number when signing up unlike many other email service providers. Moreover, apart from the mailbox, Tutanota also encrypts your entire address book. All emails are end-to-end encrypted where the email receiver needs to unlock the email with a password. Tutanota will also protect your email account from tracking.
Pros
Free storage
Entirely encrypted
Open-source apps and clients
Cons
Lacks auto-respond
Limited storage space (1GB)
9. Kolab Now
Website: https://kolabnow.com
Price: From $4.43/mo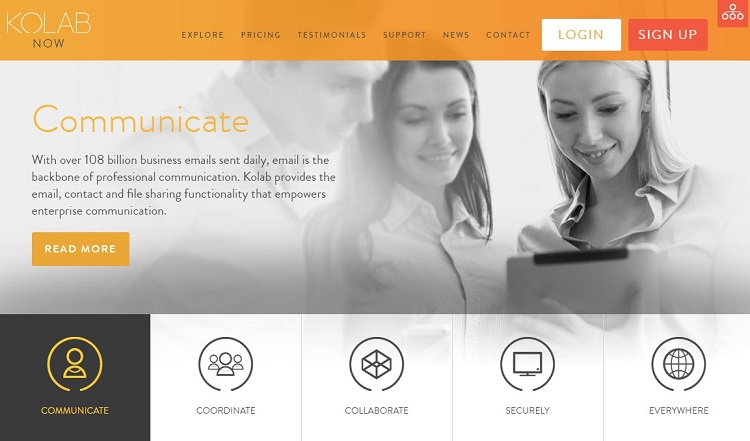 Kolab Now is a Swiss-based email service provider that acts as an alternative to insecure and privacy-invading email internet services like Gmail, Yahoo. Kolab Now has a strict policy on privacy that ensures that user emails are protected and not accessible to any external parties. For the same reason, Kolab Now is widely thought to be a secure and trusted email service provider.
Kolab Now also provides a complete suite of tools comprising of calendar, address books, office programs, file editors and much more. All your information and settings can be synchronized with your other devices as well.
All the services and applications related to Kolab Now are open-source and using it is an ad-free experience. However, you might be disappointed to know that Kolab Now does not feature email encryption that misses the most vital part of privacy. Also, as compared to other paid email services, Kolab Now is generally felt to be pricier.
Pros
Proven protection of privacy
Open-source applications
Various added features
Cons
Lacks email encryption
Pricey
---
How does Encryption Work?
Email encryption usually works via a system which supports the exchange of unique 'keys' between senders and recipients. There are two types of keys; public and private.
Both keys are generated by software, but a public key is made accessible to anyone via a general directory or source. This key is meant for encryption and can be used by anyone. The private key is the counterpart of the key system and is not meant for distribution. When an email is received from a sender that is encrypted using a public key, your private key is then used to decrypt it.
Using this key system, the entire exchange of email remains completely secure. A very popular example of this key system is Pretty Good Privacy (PGP).
PGP is a widely used standard which ensures the protection of your privacy by keeping a strict check on the security of every email you sent or receive. It uses the public and a private key system where each user has passcodes to encrypt or decrypt email.
Limitations of Email Encryption
Because security is the foremost consideration when trying to encrypt emails there are some drawbacks. These are usually on the user side of things, since there is more to learn and manage in order to keep your emails safe.
User convenience
Using email encryption might not be so simple for novices to Internet security. Unlike other standard email services that are easy and straightforward to use, encrypted emailing requires some relatively complex configuration and the exchanging of passcodes other contacts.
This can be at times both troublesome and confusing. Moreover, there are some software compatibility issues related to email encryption as well that might need to be addressed.
Not entirely secure
Everything you do over the internet does leave at least a little trace of you behind. Email encryption is no exception to this rule. Although your emails are protected, the header description of each email still suggests the recipient's identity. Moreover, email encryption providers also save some information of the user to an extent that is allowed by their privacy policy.
Conclusion: Stay Safer With a VPN Instead
Email encryption is a vital part of secure communicators that many people don't really take very seriously. Despite the increase in cyberthreats and other online dangers, the sheer volume of users that make up free email ecosystems is huge.
While secure emails may be important it only comprises one portion of your online privacy and security. By using a VPN service, you can ensure that not just your emails but all your Internet traffic is encrypted – no matter where you are.
VPNs can be installed on many types of devices and are able to comprehensively guard your safety and privacy at home or on the go. HideMyTraffic regularly tests and keeps you updated on the Best VPN Deals each month.
VPNs Encrypt ALL Internet Traffic, Not Just Emails