If you've been looking for somewhere to stream UFC live fights then search no further. There is no doubt that modern technology has given us lots of pleasure in life, and watching sports without cable television is one of those.
Mixed Martial Arts (MMA) fans will doubtless have heard of the Ultimate Fighting Championship (UFC). UFC fight fans can watch these exciting matches from almost anywhere; if they know where to look. Truth be told, most sites will be behind a paywall. However, there are also some places to watch free UFC fights.
---
Best Sites to Live Stream UFC Fights Tonight
1. Sky Sports
Sky Sports is highly popular for all the right reasons; it is an excellent platform to live stream all your favorite sports games. Not only does it have UFC fights, but it also has many other popular games such as football, cricket, rugby, F1, golf, NFL, NBA, boxing, racing, and many more.
You'll be able to watch UFC fights live and, most important of all, for free! Having said this, you'll still need an account to watch, though. Also, the ads on this platform are limited, and the live streaming channels are many, which is excellent.
On top of these UFC live stream fights, there is also sports news and more. Many have raved about how interactive the interface is.
2. ESPN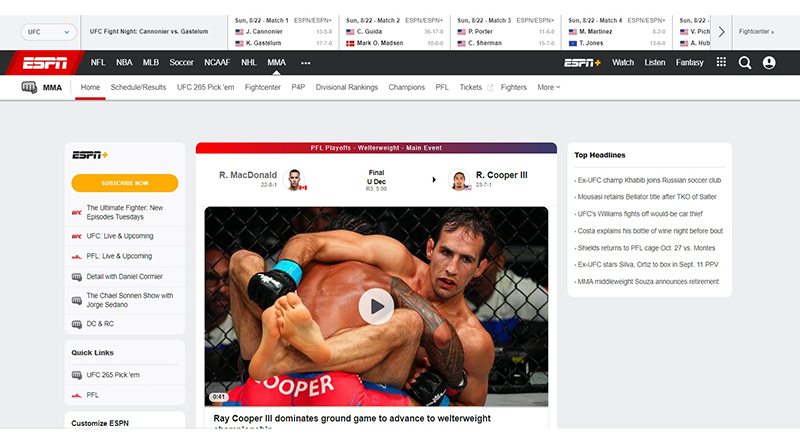 ESPN is an exceptionally well-known name when it comes to anything of the sports nature, including MMA. Although ESPN offers many sports live streams for free, some require you to sign up and pay. The streams are all of high quality and cover tons of games which include several MMA events.
Signing up to the ESPN Plus plan gives you access to stream UFC's second-tier events, UFC Fight Nights, which usually features up-and-coming local fighters. In short, you'll get a goldmine for on-demand MMA content.
You will also be able to stream live anytime, anywhere via connected devices such as Roku, Fire TV, Xfinity, Samsung, Xbox, Playstation, Apple, and smart devices.
---
---
3. Reddit
You'd be surprised that Reddit can help you access UFC fights and also other sports streaming content as well. This is because since it is a trendy social news platform in the first place, many sports enthusiasts would post UFC links there.
Also, some sites stream sports that will share their link on Reddit to increase their outreach. Reddit is surprisingly one of the best places to find unofficial free streams for any sport. You'll be able to find several Reddit communities dedicated to each sport.
The streaming quality given by such links is usually of excellent quality as the users highly recommend it. However, be cautious as there is still a risk that you could click on harmful links. Thankfully, Reddit users upvote or downvote posts, so bad links get revealed reasonably quickly. 
4. Mama HD
Mama HD has reaped much praise from its users as it is a great free platform for many to tune into MMA and other sports alike. You'll be treated with top-notch quality content. Also, Mama HD gives you the flexibility to engage with like-minded fans of UFC to enjoy a more interactive session while watching the game.
The platform is super easy to use, and when the UFC streams are aplenty. That said, you might run into some issues where the streams could go offline, and the chats become unreliable, but this doesn't happen often. You can also check out schedules and video highlights of different games that have taken place during the day.
Also, the in-depth coverage of each event gives you a detailed description which helps furnish especially the newbies, with all the necessary information. It is no wonder that Mama HD is a favorite among many.
5. First Row Sports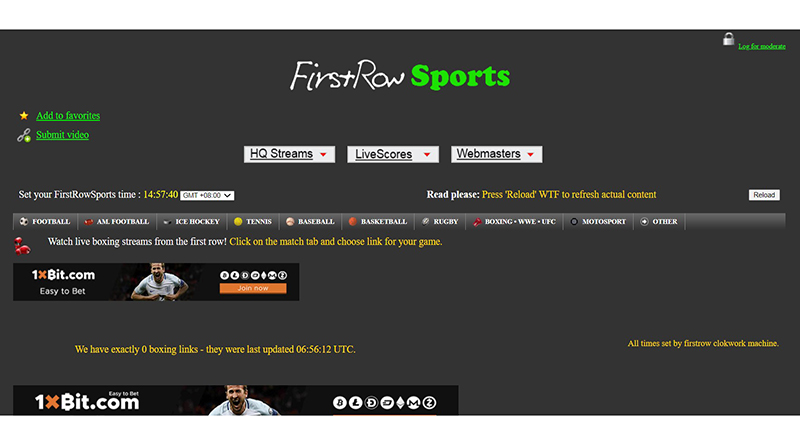 First Row Sports is another site that provides free UFC streams and other sports without requiring you to sign up and log in. It is a very straightforward platform, and searching for the event you want is simple. You can easily access multiple live sports streaming matches.
That said, be cautious, though, as First Row Sports is filled with invasive ads that you'll likely encounter with every single click. Do not click on any of these ads as they may be linked to malicious content. So, always use an Adblocker. This will protect you against such dangerous links.
You'd be glad to know that new games are added all the time, so the chances of you getting the latest streams are high. Also, you can access this site from both desktop and any mobile device on Android and iOS.
6. FromHOTs
FromHots is a free third-party site that does not host its content but provides quality links to multiple live sports streaming, including UFC. Just find the sports streaming link you want and follow it to the website itself. It is effortless to use. Bear in mind that although FromHots is a free service that lets you watch UFC streams, some linked websites may require a subscription to view the sports streams.
Also, you may experience invasive ads with links to dangerous sites along the way, so use an Adblocker. FromHOTs is popular because it's not just restricted to being a directory of sports channels linking you to third-party websites; they do so for movies and TV channels as well. They offer highlights and IPTV channels for which they redirect you to quality sites.
There have been good reviews on its quality content coverage and links to live stream content. This is worth checking out.
---
---
Stream UFC Fights Live Safely from Anywhere
Whether you're an avid fan of UFC fight games or just watch them occasionally, the first thing that comes to mind is how and where you go to access such games. You'd be glad to know that you can go to MMA streaming sites, which are one of the best ways to catch up on your favorite games.
Some sites provide the live streams for free with some pay-per-view content (PPVs) as well. That lets you watch on the go, anytime, anywhere. Even travel won't be a problem, much less an inflexible work schedule.
However, many of these sports streaming websites are not available in certain countries and come with certain limitations. Geo-restriction is usually the first hurdle you need to overcome, so you'll need to use a Virtual Private Network (VPN) to access such geo-blocked websites.
Once your VPN is on, you will have access to any content online, no matter where you are in the world. What's more, your traffic is encrypted, and your privacy is also protected. You need to go for a trusted and reputable VPN. Then connect to a VPN server located in the country of the sports streaming site, and it'll seem like you are connecting from that very country.
The VPN is essential to bypass such geo-restrictions and also to protect yourself. Especially when it comes to free sports streaming sites, you need a VPN to protect your privacy and add that extra layer of security.
---
Best UFC Fights of All Time
Ask fans of the Ultimate Fighting Championship (UFC) what are the best UFC streams of all time and you're going to get a lot of different answers. While UFC fans agree that certain fighters like Anderson Silva and George St-Pierre were among the best to ever step into the octagon, there is little consensus on what were their best fights.
There are many factors that go into determining the greatest UFC fights ever, such as who won the fight (or if it was a draw), how much action took place in the fight, and how much interest was generated from fans watching it.
The following list includes some of the most entertaining UFC fights in recent years (circa 2020 to 2021), but there have been hundreds of great UFC bouts since the promotion launched in 1993. Feel free to add your favorite UFC fights to this list.
Here's the list of top UFC fights in recent times:
UFC 258: Kamaru Usman vs. Gilbert Burns
UFC Fight Night: Joaquin Buckley vs. Alessio Di Chirico
UFC Fight Night: Jim Miller vs. Bobby Green
UFC Fight Night: Cory Sandhagen vs. Frankie Edgar
UFC 257: Dustin Poirier vs. Conor McGregor
The UFC holds events approximately every two weeks, with a total of roughly 30 events each year. This means there are a lot of fights to choose from, and trying to select the best ones is no easy task.
---
UFC Past Fights Schedule
| | |
| --- | --- |
| UFC Past Match Event | Date |
| UFC 272: Covington vs. Masvidal | 6 March 2022 |
| UFC Fight Night: Santos vs. Ankalaev | 12 March 2022 |
| UFC Fight Night: Volkov vs. Aspinall | 19 March 2022 |
| UFC Fight Night: Blaydes vs. Daukaus | 27 March 2022 |
| UFC 273: Volkanovski vs. The Korean Zombie | 10 April 2022 |
| UFC Fight Night: Luque vs. Muhammad 2 | 17 April 2022 |
| UFC Fight Night: Lemos vs. Andrade | 24 April 2022 |
| UFC Fight Night: 4/30 | 1 May 2022 |
UFC Upcoming Fights Schedule
| | |
| --- | --- |
| UFC Upcoming Match Event | Date |
| UFC 275: Teixeira vs. Prochazka | 12 June 2022 |
| UFC Fight Night: Kattar vs. Emmett | 19 June 2022 |
| UFC Fight Night: Tsarukyan vs. Gamrot | 26 June 2022 |
| UFC 276: Adesanya vs. Cannonier | 3 July 2022 |
| UFC Fight Night: Dos Anjos vs. Fiziev | 10 July 2022 |
| UFC Fight Night: Ortega vs. Rodriguez | 17 July 2022 |
| UFC Fight Night: Blaydes vs. Aspinall | 23 July 2022 |
| UFC 277: Pena vs. Nunes 2 | 31 July 2022 |
| UFC Fight Night: Santos vs. Hill | 7 August 2022 |
---
Conclusion
Fighting styles have evolved in every culture and through time. Martial arts was linked with Asia, wrestling with ancient Greece, and amateur boxing in England. The UFC came into the picture to standardize a means of letting people fight to find the champion. The above list contains the platforms you can look into whenever you want to satisfy your itch for UFC streams.
Unfortunately, the many better-quality streaming channels may not stream in your country. This is where VPNs come to play.
They are required to bypass such geo-restrictions, and you need a VPN to protect yourself if you connect to a website that has copyright infringement issues. You'll be able to watch any of your favorite sports and support your team by watching their matches live, with no disruptions.
---
Also Read: