All eyes are on the defending champion Gujrat Titans; they are to kick off the Indian Premier League (IPL). If you're not residing in India or traveling, no worries. Technological advancement has made the world smaller. You can now watch live IPL cricket streaming without cable TV and on the go.
Cricket is the most popular sport in India and a crucial part of Indian culture. Top players (Sachin Tendulkar, Sourav Ganguly, Virat Kohli, MS Dhoni, and Rohit Sharma) attained celebrity status and were elevated to influential figures in the country.
Established in 2008 by the Board of Control for Cricket in India (BCCI), the Indian Premier League (IPL) is now at a fever pitch. The 2023 IPL is the sixteenth season and will run from 1st April to 4th June. It is also known as TATA IPL 2023. There will be ten teams in IPL 2023 with 74 league matches.
1. Willow (Sling TV)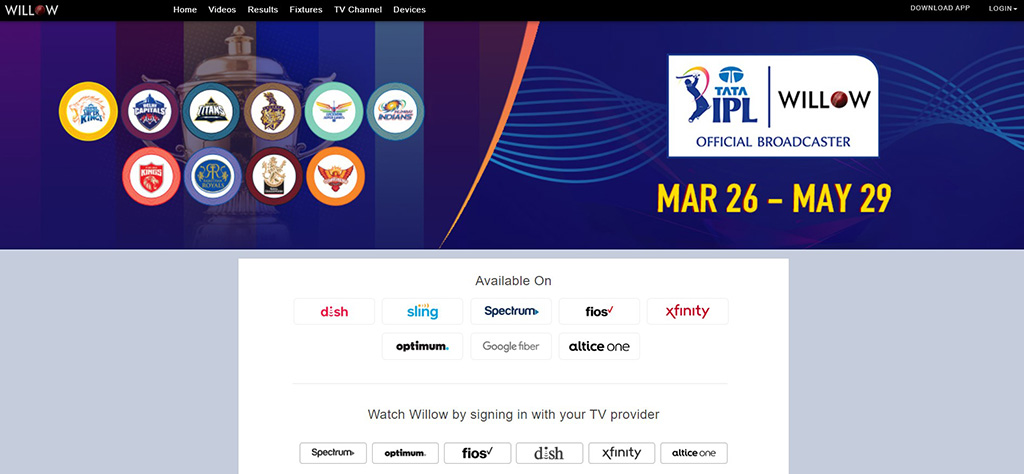 Launched in 2010, Willow is an American pay TV sports channel dedicated to overseas cricket games and events. Both live and recorded matches are available. They are the official broadcaster of many cricket boards, including the Indian Premier League (IPL).
Willow offers a viewing experience via live HD-quality streaming. You watch the matches, interactive video scorecards, and statistics across devices, namely desktops, mobile devices, Apple TV, Roku, Samsung, Amazon Fire TV, Xbox One, Android TV, Chromecast, and Google TV.
Catch the IPL games via the Willow channel by signing in to your TV provider in the US. To date, Willow's satellite, cable, and IPTV affiliates are DISHTV, Sling TV, FIOS, Spectrum, Xfinity, Optimum, GoogleFiber, and Altice One. The pricing for Sling TV with Willow varies depending on the packages. That said, the Willow Cricket Monthly is at a promotional price now at $7 for the first month.
You'll have to have a subscription with a US TV provider and subscribe to the Willow channel to get live IPL cricket streaming. Hence, connect to a US server to enjoy access if you do not reside in the US.
Visit Willow TV
2. Kayo Sports
Kayo Sports, a newbie to the media scene, was launched in 2018. Foxtel owns Kayo Sports, an over-the-top video streaming subscription service in Australia. You get sports live and on-demand from Fox Sports, ESPN, beIN Sports, and Racing.com. 
Given their upbeat and nifty features, such as facilitating watching on the go via multiple devices and SplitView, a unique feature that allows watching several streams at a time, it is no wonder that Kayo Sports has garnered a massive following.
You can catch up on live IPL cricket streaming here at Kayo Sports. Three monthly subscriptions range from $25/month, $27.50/month, and $35/month. They differ only in the number of simultaneous streams available. All plans afford you HD-quality streams and unlimited access. You can try their 7-day free trial first before committing to any. 
However, to enjoy Kayo Sports, you'll have to connect to a server in Australia if you're not residing there.
Visit Kayo Sports
3. Yupp TV
Established in 2006, YuppTV is an over-the-top (OTT) content provider mainly for South Asian content. They offer over 250 TV channels, 5000 movies, and 100 TV Shows in 14 languages, which is pretty impressive.
YuppTV supports multiple devices (connected TVs, set-top boxes, desktops, mobile devices, and more). They offer Live TV and Catch-Up TV with YuppFlix, a movie-on-demand streaming service. YuppTV commits to adding new content every day.
Also, YuppTV Originals expands its offering to entice the audience. Cricket fans can enjoy live IPL matches through YuppTV mobile app. The app is multilingual (English, Telugu, Tamil, Hindi, Bengali, Sinhalese, Kannada, Malayalam, Punjabi, Marathi, Gujarati, Oriya, and Urdu), which appeals.
YuppTV has secured live IPL cricket streaming rights in over 100 countries. If you do not reside in these countries, you'll have to connect to a VPN server in any one of these locations. You can try connecting to an Indian server to gain access to YuppTV. The packages differ depending on your location of residence. Australia offers two packages which vary depending on the committed duration.
Visit YuppTV
4. ESPN+
Anyone knows that ESPN equals sports, and ESPN+ is an add-on to ESPN's core networks. Owned by Disney Media and Entertainment Distribution, in partnership with ESPN Inc., ESPN+ features everything you can think of regarding sports. They have more than 24.3 million subscribers as of October 2022.
ESPN+ is a niche streaming service for sports and watching live TV. You get live events, on-demand content, and original programming too. Ad-free and compatible with various devices, including smart TVs, gaming consoles, mobile devices, and desktops, ESPN+ can satisfy your thirst for everything cricket.
You'll find the IPL games on ESPN+ in English and Hindi. Also, other cricket matches in New Zealand Cricket, Cricket West Indies, and more are available. ESPN+ Originals features top names in sports, such as Peyton Manning, Tom Brady, and more.
With ESPN+, you stream live, rewind, or replay on up to three devices simultaneously. Streams are all HD quality. You can sign up for an ESPN+ package with a monthly or yearly subscription. If you're not in the US, connect to any server in the US to enjoy access.
Visit ESPN+
5. Jiocinema
In 2016, JioCinema came into being. It is an Indian subscription video-on-demand and over-the-top streaming service owned by Viacom 18, a subsidiary of TV18. JioCinema boasts a massive library of content ranging from films, television shows, web series, music videos, and documentaries to sports.
Watch IPL games via the JioCinema app, which supports iOS, Android, and Samsung Tizen devices. Available in HD quality, the streaming is in 11 languages (English, Hindi, Bengali, Tamil, Bhojpuri, Kannada, and others). You'll need to sign up and log in to access the matches. The features are aplenty, which include resume watching, adding games to your Watch List, autoplay, and more.
There's also Chromecast support, Picture-in-Picture mode, customized viewing experience with adjustable playback speed and brightness. Also, the JioCinema player automatically adjusts itself to your available internet speed. News has it that you can stream IPL matches live for free via the JioCinema app, which fans clapped with glee. Hence, connect to a server in India to enjoy access.
Visit JioCinema
Stream IPL Matches Safely from Anywhere
You could either be a hard-core IPL fan or thinking of exploring something different altogether. Either way, you want to know the best sites to stream IPL matches. There are official sites, but these are usually not free. You can also check out other free streaming sites to satiate everything IPL.
However, they are usually laden with ads, a hotbed for malware, and the focus of hackers. After all, wouldn't you be willing to risk it, especially for freebies? Also, you may often find streaming sites unavailable from where you are. Geo-restrictions come into play due to varying distribution rights of the said content depending on regions.
Hence, to safely enjoy your IPL matches online from anywhere, you need a Virtual Private Network (VPN). A VPN is an essential service when you stream. It hides your IP with that of another (the VPN server).
Your point of origin becomes masked, and the streaming site believes you're coming in from a location with access. As such, your privacy and anonymity are assured, and nobody can trace you, a crucial factor when streaming. After all, streaming comes with many gray areas, including the legality aspect.
Also, a VPN encrypts your communication channel, so your information is safe from nefarious eyes. Simply put, you use a VPN to access geo-blocked websites and stream safely.
Using a VPN to Watch IPL Live Streams Online
NordVPN Unlocks IPL Streams
Try it Now With a 30-day Money-back Guarantee
You need to know the region to which the streaming site allows access. Then connect to a VPN server in that region. You will dupe the streaming site into believing you are from a location with access rights. It is THAT simple.
Step 1 – Register for a Trusted VPN Service
Go for a reputable and trusted VPN that offers good coverage of servers in the regions where IPL games are available. I recommend NordVPN. They are a reliable VPN service with an impressive network of servers to help bypass VPN detection. Also, its strict zero-log policy ensures you'll never have to worry about your data ever being stored.
Step 2 – Install the VPN on Your Device
Once you've signed up, download the VPN app for your device. You should be able to find it on the VPN's website. Once downloaded, run the installer and follow the step-by-step instructions until complete.
Step 3 – Connect to the VPN Server with Access
Launch the VPN. Upon successful login, search the VPN server of the country where the streaming service allows access. For example, if you want to watch IPL games through Kayo Sports in Australia, you look for an Australian server. Connect to any VPN server in Australia.
Step 4 – Launch Your Streaming Service
Head towards the streaming website or launch the app on your device. Search for IPL matches and enjoy!
Wrapping Up – Which IPL Streaming Service to Use?
Anyone who's into cricket would be looking out for the upcoming IPL games this April. Eyes are on all ten teams as they battle out a total of 74 matches. Given the hit the IPL matches took by the pandemic, it is understandable that cricket fans are at a fever pitch waiting in anticipation to cheer for their favorite teams.
However, don't be hasty to jump into any streaming site just yet. Remember to have your VPN running to facilitate safe viewing with no disruptions while cheering for your top cricket teams.