It's that time of year again! Baseball is back, and it never really went away for many of us. Whether you're a die-hard baseball fan or a casual enthusiast who only tunes in for the playoffs, there are plenty of ways to watch your favorite teams play ball on any device. You can watch all the MLB streams for free with the right service providers.
Of course, no matter what services you use to watch MLB streams, they'll still be subject to blackout rules—so if your local team is playing at home that night, even the best streaming service might not be able to show it to you.
1. Buffstreams MLB
Buffstreams provides a dedicated streaming channel for MLB fans, rightly so since it's one of the most popular sports leagues. The service compiles an updated list of multiple MLB live streams from which you can choose.
Best of all, Buffstreams is free, and you can watch all matches without paying a cent. No more pricey cable TV just to catch your favorite games. Streams are available in HD quality but prepare for an ad-driven service. They have to pay the bills somehow!
I somehow found almost every single game on the MLB live baseball stream. I won't say that all streams were of the highest quality, and some even froze, but if you are willing to sort through a few buffering streams, it is entirely possible to watch all the baseball you want for free.
Visit Buffstreams MLB
2. Sportsurge MLB Streams
Sport surge MLB Streams is a free streaming site that provides access to all MLB season games. Here you can watch teams ranging from the Phillies to the Dodgers and White Sox anytime. Well, at least during the season.
Offering high-quality live streams, Sportsurge does open the field to more than just MLB. Sports fans can watch hockey, soccer, formula 1, and other sports on this website. No registration is necessary; hop on the page and click a link.
Visit Sportsurge MLB Streams
3. MLBStreams – MLBShow (Reddit MLB Streams)
RedditStreams is a community of Reddit users who want to watch live streams of MLB games. They've pooled efforts to bring a collection of links to MLB streams in one place. You can watch MLB live streams in HD quality easily.
The RedditStreams community has many passionate fans following their favorite teams throughout the season. You can use any links even if you aren't a Reddit member. Game links are free, but you'll likely face ads.
Don't worry if you get confused by the name of this website. It's just a way of them catching as many visitors as possible. You can call it whatever you want, including MLB Streams, Live MLB Streams, or anything else – so long as you can watch the game, right?
Visit MLB Show
4. Redditstreams MLB Streams
Yes, I'm aware that Redditstreams MLB Streams is a strange name for a website, but that's how it goes. The channel is a branch of Redditstreams, hence the need to add "MLB Streams" at the end. The source itself is just a massive collection of dedicated sports streams.
On the MLB Streams page, you won't find anything fancy. Just a massive table of all upcoming MLB Games with essential information like time, teams, and a link to watch the game. The table is in chronological order, but there's a search box you can use to find a specific game.
The site boasts such a clean interface that you'd think it was official. The coloring is well-done, featuring team logos and easily recognizable branding. Redditstreams MLB Streams is an excellent example of a good streaming site that can help you find the live games you want to see.
Visit Redditstreams MLB Steams
5. Sportshub MLB Streams
You'll find this MLB Stream page a little strange since the title on the page says Buffstreams. At the same time, it looks different from the Buffstreams MLB website listed earlier. In any case, Sportshub MLB Streams is yet another collection of links to upcoming MLB games.
The site is basic enough that it's easily navigable. It also covers other sports, including NHL, golf, motorsports, etc. The link I've provided below will bring you directly to their MLB page, so all you'll see is a collection of upcoming games. Click any game to watch that stream.
Visit Sportshub MLB Streams
MLB.TV – Best Paid Option for viewing MLB
If the free streams above don't quite work for you then consider MLB.TV. This channel is the official streaming service of Major League Baseball, and it's available on all major devices. The service costs $114.99 annually, but you can sign up for a 7-day free trial before committing to anything.
MLB.TV is the official streaming service of Major League Baseball (MLB). It is a subscription-based platform that allows fans to watch live and on-demand MLB games online. With MLB.TV, you can access a wide range of MLB games throughout the regular season, including out-of-market games that may not be available on local television networks.
MLB.TV has more games than any other site or app: over 1,000 live games during the regular season, Spring Training, postseason, and World Series games, as well as highlights from previous seasons that are available on-demand! You can watch them all in HD quality without ads on your favorite device (computer, mobile device, or tablet).
Watch Official MLB Live Streams in Full HD Glory.
How to Watch MLB Games Without Cable
Fortunately, several methods allow you to catch all the action without the need for cable TV. Cable subscriptions are expensive and not accessible to everyone. If you're looking to watch MLB games without cable, here are some options;
Over-the-Air (OTA) Antenna
An OTA antenna is one of the simplest and most cost-effective ways to access MLB games. OTA antennas allow you to receive local broadcast signals for free, including games aired on local network channels.
Connecting an OTA antenna to your TV allows you to enjoy live MLB games without subscription fees. Check your local network coverage and optimize antenna placement for the best reception.
Sports Streaming Platforms
There are sports streaming platforms like ESPN+ and fuboTV that offer live MLB games as part of their channel lineup. These platforms cater to sports enthusiasts, providing access to various sports channels and events.
Subscribing to a sports streaming platform can give you access to MLB games and additional sports content and features.
Mobile Apps and Websites
Official league apps, such as the MLB At Bat app, and team-specific apps often offer live MLB streaming options. These apps can be downloaded on your mobile devices, providing a convenient way to watch MLB games on the go.
Additionally, certain websites may offer free or low-cost streaming options for MLB games. However, it's essential to verify the legality and reliability of these sources.
Social Media Platforms and Online Communities
Social media platforms like Twitter and Facebook can be valuable sources for live game updates, highlights, and discussions. Following official MLB accounts and team pages on these platforms can keep you informed and engaged with the latest MLB action.
Online communities and forums that share MLB game streams may also provide options for watching games without cable. However, exercise caution when using these sources and be mindful of the legality and reliability of the streams shared within these communities.
Current MLB Power Rankings
The MLB Power Rankings are going to be dynamic. Here's a snapshot of the current MLB Power Ranking top ten to give you an idea of where we are in the season. So far, we know the big four haven't changed much but instead shuffled around.
Relax, those whose teams are elsewhere on the list. The ball is round, and nothing is over until the final innings. That's just part of the MLB experience.
Los Angeles Dodgers (LW: 2)
New York Yankees (LW: 1)
New York Mets (LW: 4)
Houston Astros (LW: 3)
San Diego Padres (LW: 8)
Milwaukee Brewers (LW: 7)
Los Angeles Angels (LW: 5)
Minnesota Twins (LW: 11)
San Francisco Giants (LW: 6)
St. Louis Cardinals (LW: 10)
Get the Latest MLB Stream Schedules and Updates on Gameday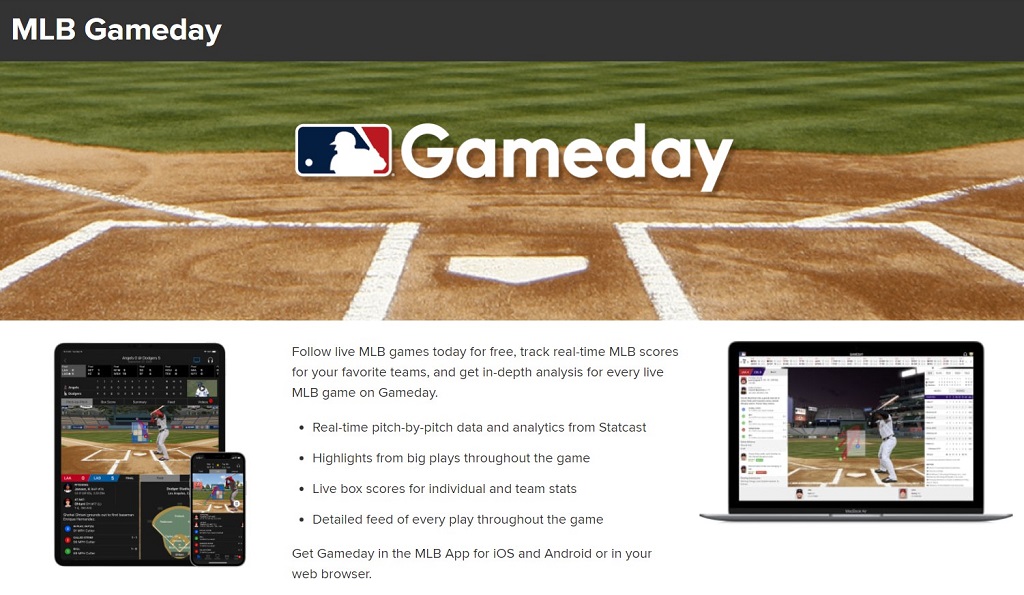 f you're the type of person who likes to spend time each day on their favorite teams, the MLB Gameday app is for you. You won't have to rely on another website for information about your favorite team because it's all right there in the app.
So as long as there's an internet connection and you have a few minutes to spare, go ahead and download MLB Gameday to start following your favorite team's game in real time. And if you haven't done so already, be sure to download the best sports scorekeeping app while you're at it so that you don't miss anything when following those games yourself.
With MLB Gameday, you can tune into live footage from baseball diamonds country-wide. And if you'd rather watch a particular team play, you can get feeds for all 30 teams—both home games and away—simply by entering in the team name.
The MLB Gameday app has a few quirks, but the positives outweigh the negatives. The simple and efficient design should make basic at-the-game functionality readily available.
Get the MLB GameDay App from Google Play or the Apple App Store.
Where to See MLB Streams for Free?
Nowadays, it seems like everyone is looking to find a way to stream their favorite shows or sporting events. Unsurprisingly, MLB fans would start looking into the idea of watching their teams' live streams.
But before you think of getting deep into the world of MLB streaming sites, there are a few things you need to know. Free and paid options are available, the latter of which includes official channels. However, these are usually expensive.
The alternative would be free MLB stream channels like those on this list. While free, these can vary in quality. You'll also have to put up with a barrage of ads. Ad blockers generally won't work with these streaming platforms.
Are MLB Streams Safe?
Watch All MLB Games With NordVPN
NordVPN offers unparalleled MLB access with over 5,000 servers worldwide. Access all MLB streaming sites with blazing-fast speeds anytime.
Streaming sites are generally a safe way to watch MLB without cable. However, it never hurts to protect yourself with the right tools. These include Internet security applications or even a VPN. Internet safety is a serious topic, and you should be vigilant when browsing the internet.
If you're looking for a good VPN for MLB streaming, I recommend NordVPN. It's easy to use, doesn't cost a bomb, and works seamlessly with almost everything online. It even includes threat protection to protect you as you surf the web.
You can check out my NordVPN review for more information or simply head to the NordVPN website to grab a subscription.
Conclusion
That's it! Check out our list of the best sites to watch MLB live streams, and you'll be able to enjoy your favorite teams again in no time. As with any online streaming site, ensure you have a good antivirus solution installed ahead of time just in case something goes wrong.
One thing to note is that some of these sites might not work outside the United States, so if you are an international fan looking for games on different platforms or channels, we recommend using VPNs instead.