Torrenting or Peer-to-Peer file sharing involves downloading files from other users' devices instead of via a central server. There are a couple of things needed for this to happen. The first is a source of torrent files, and the second is reliable torrent clients.
Many have found snail-paced speeds to be majorly frustrating to sit through when transferring files from or to a host server. This scenario is a big part of why torrent clients come into the picture. It's a much more efficient way to share files.
---
5 Best Torrent Clients
Here are several good torrent clients which you can explore; each distinguishes itself from the others with unique features:
1. uTorrent (our Top Torrent Client Pick)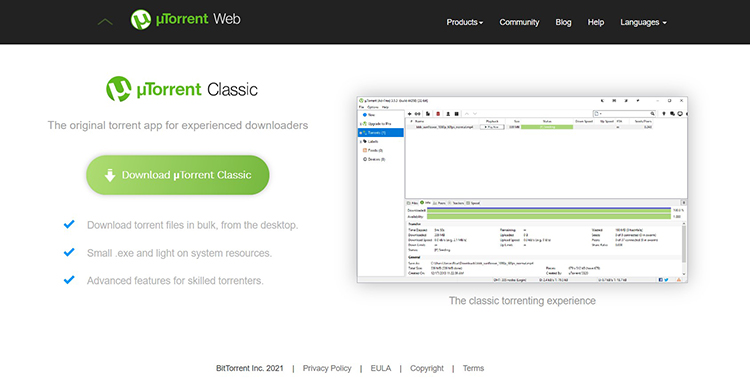 uTorrent, aka µTorrent, is BitTorrent one of the most prominent names in the P2P world. It has been around since 2005 and dominates with a near-70% market share. Incredibly lightweight, uTorrent is available on multiple platforms, including Windows, macOS, Linux, and Android.
During installation, you need to pay attention to each step and opt out of any software you don't want to install.
Why Choose uTorrent
uTorrent is a full-featured torrent client despite being lightweight. It has a built-in torrent search engine, can be tweaked to set caps on transfer limits, bandwidth, and handles as many torrents concurrently as your router and device can manage.
The uTorrent interface is also relatively simple, and even beginners should find this easily manageable. It features file prioritization, scheduled downloads, streaming, media player, third-party plugins, remote access, automatic downloads, and more.
While the free version should do the job for most users, you can upgrade to the paid plans to remove ads and any distractions, along with enjoying higher security features.
uTorrent did have its share of issues with security, though (then again, who doesn't?). Hackers managed to control critical functions and spy on user downloads. When scan tested with over 70 antivirus scanners and URL/domain blacklisting services, it was flagged in 18 and returned a worryingly high number of warnings.
That said, patches are streamlined and frequent enough to keep uTorrent relatively safer for use.
Visit the uTorrent site.
2. BitTorrent
BitTorrent is a rebranded version of uTorrent. There are some differences between them, with BitTorrent offering web-based seeding, commenting, and reviewing. Those who don't like using uTorrent, gravitate towards BitTorrent. It supports Windows, Mac, and Android.
Why Choose BitTorrent
BitTorrent offers a clean interface and similar features as many counterparts; acceptance of magnet links, private torrents, encrypted connections, and remote control via a web user interface. The drag-and-drop download model is convenient, and even so, you can prioritize torrent files, download specific files within torrents, play media, and more.
Its built-in search tool requires a little setup to ensure you're complying with the local laws. Once done, you won't need to visit the torrent sites to find your downloads. You can also tweak its settings to schedule downloads, limit bandwidth usage, put a cap on download and upload speeds, and manage paired devices.
BitTorrent is considered safe to use but less transparent than open-source rivals. Test have pit it against over 70 antivirus scanners and URL/domain blacklisting services, and BitTorrent flagged four warnings.
You can opt to use the free version, but that comes with some (not-so) annoying ads. Paid licenses aren't expensive, though, and those remove ads and offer better security features. In general, there aren't any real drawbacks to this torrent client. It's a solid option for both amateur and advanced users.
Visit the BitTorrent site.
3. qBittorrent
qBittorrent strikes the right balance between being a lightweight as well as a fully functional torrent client. It is open-source and is free. Yes, you won't have to put up with any annoying or malware-hiding ads.
What's more, is that it's not only simple to use; it is filled to the brim with tons of advanced features and customized setting options. It supports Windows, macOS, Linux, and FreeBSD.
Why Choose qBittorrent
Armed with the usual built-in search engine, media player, and supporting private torrents, proxies, and encrypted connections, qBittorrent features simultaneous search for multiple files at once, search by category or download sequentially to save time. It also has a lock to prevent unauthorized access to the software.
You can set preferences, schedule your download list, and essentially let the tool run on auto-pilot as it finds and helps you download the files you desire. Unfortunately, you won't find any plugins as you do with others. But then and again, plugins are meant more for experienced users.
Since qBittorrent is open source, the chance of it being laden with malware is minimal. Although it registered a single flagged threat after running through over 70 antivirus scanners and URL/domain blacklisting services, this single threat was confirmed to be a false positive, which could be ignored.
So, if you're looking for a cross-platform torrent client that covers the essentials without getting overly complicated, qBittorrent is the closest open source, junk-free equivalent to its rivals.
Visit the qBittorrent site.
4. Deluge
Deluge is known as the champion of lightweight torrent clients. It is a pretty much stripped-back application yet is fully functional for users who know what they're doing. However, even though newbies can use it out of the box, it takes time to get the hang of this.
If you're an expert torrenting user, you'll love Deluge for all its customization capability that comes via a range of useful plugins. In addition, it supports Windows, macOS, and Linux.
Why Choose Deluge
Despite Deluge being lean and quite the bare-bones software, it packs a powerful performance punch. You can still simply drag-and-drop a torrent file onto its interface, and it will begin to download. If you need more advanced customizability, there's a modular plugin system.
You can get notifications, IP blocklists, stats, schedulers, extractors, and more with plugins. Nothing that doesn't come with many other clients, but having the option of not using them is awesome.
Deluge can be integrated with Chrome and Firefox, supporting scheduled downloads. Also, it sports a robust encryption mechanism, the ability to discover peers locally and set global and per-torrent bandwidth limits. Deluge can function well as a desktop client, but it can run as a service as well.
The fact that Deluge is an open-source client promotes transparency and thus has good levels of security. For example, running the Deluge client against over 70 antivirus scanners and URL/domain blacklisting services registered an all-clean.
If you're into a customizable client that can be as lean or powerful as you want it to be, Deluge is indeed a versatile free torrent client which can be the right one for you.
Visit the Deluge site.
5. Vuze
Vuze (formerly Azureus) claims to be a powerful BitTorrent client designed to prioritize simplicity. Its down-to-earth basic interface exemplifies this. It supports Windows, macOS, Linux and Android.
Like uTorrent, you need to be careful during the installation since you might end up with bundled software. You'll also be required to set up the software according to your needs; fret not, as every feature has extensive notes for assistance.
Why Choose Vuze
Vuze can be as simple or complex as you want it to be. On the whole, it is a powerful torrent client which includes a crucial integrated search option, bandwidth limiting, IP filtering, support for magnet links, remote control, etc.
This duality is where Vuze shines – its attractive and intuitive interface slices through the jargon and allows the more advanced features to be accessible to newbies, unlike most others. Also, fitted with built-in access to various chat rooms and forums, Vuze provides a community platform for you to get to know others.
There are two flavors of Vuze available; the stripped-back Vuze Free and the fully-fledged Vuze Plus. The former comes laden with ads, but you can opt to upgrade to Vuze Plus to enjoy an ad-free service with integrated virus protection, along with a built-in media player to preview their files while being downloaded.
Vuze is not open-source software, hence challenging to gauge on safety. The results came out as all clean when checked against over 70 antivirus scanners and URL/domain blacklisting services.
All in all, Vuze is a robust torrent client that gives you an impressive torrenting experience with a nice and sleek interface. Definitely a serious contender as a powerful torrent client.
Visit the Vuze site.
---
Before Downloading and using a Torrent Client
Before grabbing your chosen torrent client, be aware that caution is necessary when torrenting. Even torrent clients have been hijacked and distributed with malware in the past. Therefore, the best choice to download them is via the official site.
Meanwhile, some companies and governments frown on torrenting since some users distribute copyright or other restricted content. As a result, there have been numerous incidents of crackdowns, fines, and other inconveniences involved in torrenting.
Some countries have also blocked P2P, while some Internet Service Providers (ISPs) throttle your connection when they detect you're downloading torrents. For a stress-free torrenting experience, choose a safe torrent client and pair it with a robust Virtual Private Network (VPS) service.
VPNs are privacy and security tools that help you mask your device origin, block trackers, circumvent throttling and censorship, and more. They are especially for torrenting in countries where P2P is blocked or otherwise prohibited.
If you aren't sure about this topic, here are some articles that can help;
---
Conclusion
Torrenting has inherited much notoriety because of its association with piracy. However, this is quite an unfair conclusion, as torrenting can be incredibly useful to obtain large files from the internet in a short period. The list above contains the recommended torrent clients that can help you do so, irrespective of the file size.
Be cautious, though. While torrenting itself is legal in most parts of the world, it's easy for you to fall into all sorts of traps inadvertently; torrenting can be dangerous. So, always use a safe torrent client (on this list) along with a trusted and good VPN; you'll be able to seed risk-free and without worrying about your security.
---
Also read;