The holiday season is one of the most popular times to shop online. People seek the best deals and get the most value for their hard-earned money. But with so many options, finding what you're looking for in a sea of products that all look alike can be a challenge. 
Luckily, we've compiled this list of the top VPN deals during Black Friday this year. We've selected our favorite VPNs from each category: price, features, and user experience – then compared them against each other to find out which ones are truly worth your time and money! So check out our list below:
Note: The average Black Friday discount for products is 20%. That makes most VPN Black Friday Deals an excellent choice, anytime!
VPN Black Friday Deals for 2023
NordVPN Black Friday – Coming Soon
ExpressVPN – Coming Soon
Surfshark – Coming Soon
CyberGhost – Coming Soon
IPVanish – Coming Soon
AtlasVPN – Coming Soon
ProtonVPN – Coming Soon
Disclosure: HideMyTraffic is a user-sponsored website. We may earn a small commission when you purchase via links on this site. However, it will not increase the price you pay and, in fact, may provide you with better prices.
NordVPN Black Friday Deal
NordVPN is always a top favorite in the Black Friday season. This year they've kept up with tradition and are giving aware three months free on their one or three-year plans. Including a hefty discount, you're getting NordVPN at a steal!
The NordVPN Black Friday Deal
Save 45% off the one-year plan and get three extra months free
Save 55% off the three-year plan and get three extra months free
The deal is live NOW!
Why Choose NordVPN?
NordVPN is a great provider for staying secure online and bypassing geographic restrictions on various sites. They're one of the few that can unlock almost all Netflix regions. The brand has been around for quite some time and is one of the top VPN brands.
Each Black Friday, NordVPN offers special deals to punters, and this year is the same. That lowers your average monthly fee to $3.69 for top savings. Remember that NordLynx offers a more private WireGuard experience and that NordVPN speeds are top-notch. It's well worth signing up for their Black Friday offer!
NordVPN Key Features
NordLynx protocol
Over 3,000 servers
TOR Over VPN
Threat Protection
Excellent streaming support
ExpressVPN Black Friday Deal
The ExpressVPN Black Friday sale is the perfect chance to enhance your online security. Invest in a one-year plan, and you can save up to 49% off regular prices. Not only that but they add three extra months to your plan as well. Get yourself a gift this season; you'll be glad you did.
The ExpressVPN Black Friday Offer
Get three months free for every 12-month subscription
Save 49% off your ExpressVPN subscription
The deal is live NOW!
Why Choose ExpressVPN?
ExpressVPN is a high-performing service with excellent, high-speed servers. It covers all the basics when it comes to unblocking streaming websites and services, and it also has plenty of features for security-minded users to appreciate.
One of the main reasons we love ExpressVPN is because of its highly stable performance. Regardless of which server you connect to, you'll certainly be assured of a consistent speed. That's something not many competitors can boast.
ExpressVPN Key Features
Lightway protocol
Servers in 94 countries
TrustedServer technology
Split tunneling
Private DNS
Surfshark Black Friday Deal
If you're looking for a VPN this Black Friday, Surfshark offers a doozy deal. New customers can expect a price slash of up to 82% of their regular listing. That means you'll pay barely over $2/mo. To sweeten the deal, they are even offering an extra two months added to your plan.
The Surfshark VPN Black Friday Offer
Save up to 82% off regular prices
Get an extra two months added for FREE
The deal is live NOW!
Why Choose Surfshark?
In addition to being fast, secure, and easy to use, Surfshark is reliable and committed to customer service. It's my go-to choice when I want to access the Netflix US region media library (it also works for other Netflix regions).
Once considered green as grass to the VPN scene, Surfshakr today has proven its worth. With over 3,200 servers in 100 countries, you'll never have to worry about slow servers or being unable to unblock specific websites again!
Surfshark VPN Key Features
Supports WireGuard protocol
Connect unlimited devices
RAM-only servers
SmartDNS
Strict no-logs policy
CyberGhost VPN Black Friday Deal
CyberGhost is offering an 84% price slash this Black Friday. That's one of the steepest discounts available for 2022. However, it doesn't stop there. If you sign up for the two-year plan they'll add an extra four month to your subscription for free!
The CyberGhost VPN Black Friday Offer
84% Discount
Get 4 months free on the 2-year plan
The deal is live NOW!
Why Choose CyberGhost?
CyberGhost is one of the most popular VPN providers on the market. One of the chief reasons we love this brand is due to its transparent policies when it comes to privacy and security. The company doesn't log any of your activity or personal information and keeps no records of your online activities.
Another benefit of using CyberGhost is its strong encryption which helps keep all your traffic safe from hackers and snoopers alike. The service uses AES 256-bit encryption with SHA256 authentication, which is one of the most secure methods available today for protecting data on the web.
CyberGhost VPN Key Features
Supports WireGuard
Over 9,300 servers are available
45-day money-back guarantee
Available on all devices
Industry-leading encryption
IPVanish Black Friday Deal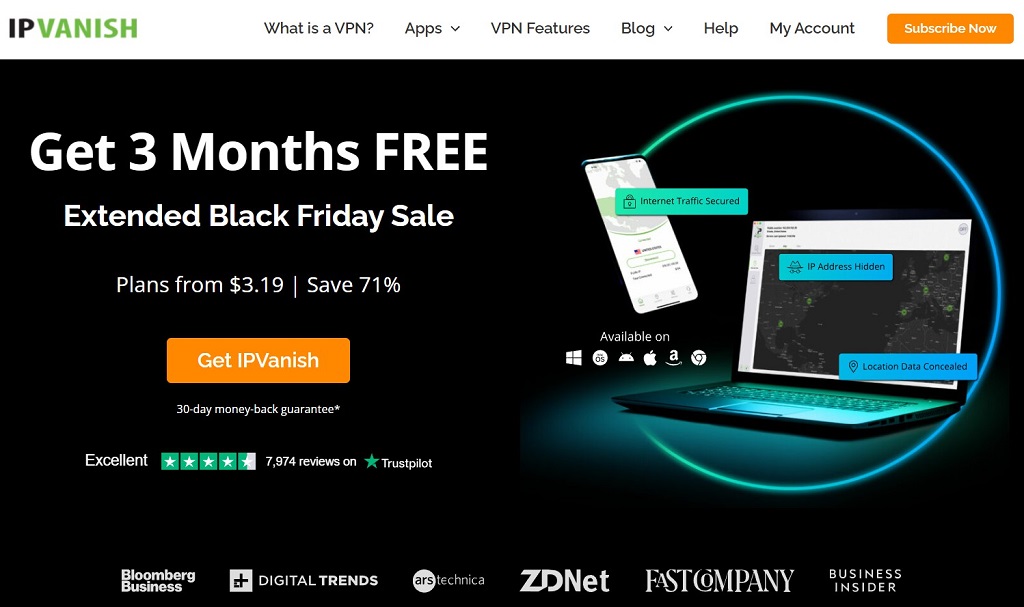 IPVanish offers a 71% discount for Black Friday 2022. The deal is only valid for their annual plan, but they're throwing in a free three-month bonus. That means you get a total subscription period of 15 months!
The IPVanish Black Friday Offer
71% discount
Free 3-month add-on to the annual plan
The deal is live NOW!
Why Choose IPVanish?
For those needing a VPN this Black Friday, the IPVanish deal is pretty good. You don't need to sign up for a four or five-year plan to take advantage of their offer. Paying for 12 months and getting a 15-month subscription sounds sweet to us.
The company is an industry veteran and has proven reliable (with occasional minor hiccups). They provide a reasonably fast, secure, and private service. There's the usual no-logging policy and other privacy tools as well.
IPVanish may not be the cheapest available, but it's a reasonable price, given you don't need to sign up for an overly long period.
IPVanish Key Features
2,000+ servers in 75+ locations
Over 40,000 IP addresses
Works with Netflix, Hulu, and more
One-click connection
Connect unlimited devices
AtlasVPN Black Friday Deal
As the new kid on the blocks, it can be hard to get ahead. That's probably why AtlasVPN offers such an incredible VPN Black Friday deal this year. Not only do you get 85% off, but they're adding six months to your subscription period for free!
The AtlasVPN Black Friday Offer
85% discount
Free 6-month add-on to the 3-year plan
The deal is live NOW!
Why Choose AtlasVPN?
AtlasVPN only emerged somewhat recently, but it's managed to stun us with a jaw-dropping performance. Thanks to WireGuard, this VPN brand can perform neck-and-neck with many top brands currently in the market.
The company was recently bought by Nord Security, and it currently seems to be their "value" arm. With Black Friday prices at AtlasVPN of under $2/mo, it's a deal that is seriously hard to beat anywhere. Oh, and keep in mind, speeds here are breakneck.
Remember, though, that AtlasVPN isn't as feature-packed as the competition yet. If you want a VPN with everything, including the kitchen sink, look elsewhere.
AtlasVPN Key Features
Supports WireGuard
Streaming-optimized servers
Unlimited device connections
Built-in ad blocker
Email protection features
ProtonVPN Black Friday Deal
The ProtonVPN Black Friday offer includes a 50% discount on its 24-month package, and you also get a free 6-month add-on. Shorter-term subscribers only get a 40% discount and three extra months.
The ProtonVPN Black Friday Offer
50% discount
Free 6-month add-on to the 2-year plan
The deal is live NOW!
Why Choose ProtonVPN?
ProtonVPN is a secure VPN service that has been around since 2014. The company is based in Switzerland, known for having some of the strongest privacy laws in the world. ProtonVPN has a strict no-logging policy, which means they don't keep any logs of your activity.
With ProtonVPN, you can easily access blocked websites and services like Netflix, Hulu, Pandora, or Spotify at work or school. It uses state-of-the-art encryption algorithms that make it impossible for anyone else to read your data. No one can track what websites you visit or intercept your online communications.
There's a free version of ProtonVPN available, but the limited bandwidth means that a paid plan is worth the price. Of course, Black Friday is also the best time to sign up for the best ProtonVPN prices.
ProtonVPN Key Features
Strict no-logs policy
High-speed servers
Based in Switzerland
Secure Core architecture
Uses VPN accelerator technologies
Choosing the Best VPN Black Friday Deal
While price is undoubtedly a top attraction for a VPN Black Friday deal, don't forget that the main objective is the same. You must find a VPN brand that suits your needs. The essentials should also be in place, including;
Speed and Reliability
There's no point in a VPN being the safest in the world if it's as slow as a turtle. Given today's advanced tech, there are few reasons why a VPN can't offer incredible speeds. That's especially true once you factor in the availability of WireGuard.
Privacy and Security
Once you know a VPN performs well, it's time to consider the basics. A VPN's level of privacy and security is the sum of various features. That includes things like encryption level supported, no-logs policies, kill switches, and dozens of other things.
Customer Support
Even if you know how to use a VPN, you can be assured that customer support will come in handy. Reputable VPN brands often have staff standing by to answer your questions at any time of day, seven days a week. Also, keep a lookout for things like a good help section on their website.
Money-back Policy
Most VPNs will offer a 30-day money-back guarantee. That means you can cancel it within 30 days of subscribing, and they should return your money. Some VPNs will even extend this policy past 30 days. CyberGhost, for example, has a 45-day money-back guarantee.
Feature Support
Not all VPNs will offer the same level of features. For example, if you want to carry out P2P / Torrenting, look for a VPN that will allow this on all of their servers. Some restrict certain activities to specific servers, which can be very annoying.
Are You Ready to Grab Your VPN Black Friday Deal?
If you're looking for new ways to protect your internet privacy at a discount, this is an excellent opportunity to take advantage of that. Whether your reasons for doing so are personal or professional, a VPN can help maintain your anonymity and keep your information safe and secure.
If you're looking to save money on your next VPN purchase, we hope this VPN Black Friday deal guide has helped you find the best offers. If you have any questions about our Black Friday and Cyber Monday VPNs or want more information about how to choose a VPN, don't hesitate to contact us!
---
Also Read;