YouTube is a household name when it comes to the media industry. However, its boatload of ads is a significant downside for viewers. You can opt for a premium YouTube subscription that omits ads for a price, but YouTube ad blockers are more cost-effective.
There are free and paid ad blockers (still cheaper than a YouTube Premium subscription). These tools are nifty to stop ad interruptions that disrupt your viewing experience. Although some ads are legit, many are not with hidden trackers and malicious code. You want to avoid such malvertising.
YouTube Ad blockers safeguard your privacy by stopping third-party trackers in targeted ads.
Block Ads With NordVPN
NordVPN offers Threat Protection that blocks ads, suspicious domains, and other cyber threats. Try NordVPN now with a 30-day money-back guarantee.
You won't stop using YouTube because of the annoying ads. Hence, use ad blockers to combat such privacy-eroding ads for a better and safer viewing experience. Here are the eight best YouTube ad blockers:
1. uBlock Origin (Chrome, Chromium, Edge, Opera, Firefox, and Safari)
uBlock Origin is one of the best YouTube ad blockers around. It was initially the uBlock extension in mid-2014 for Chrome and Opera. Then, it expanded to other browsers under 'uBlock Origin'. The uBlock Origin Firefox extension garnered over 5 million active users, and over 10 million active users for its Chrome extension.
The uBlock Origin extension is an open-source ad content blocker. It is a lightweight, cross-platform, and wide-spectrum browser extension that is CPU-friendly and memory-friendly. As such, your web pages load faster. uBlock Origin filters and blocks content using Adblock Plus's filter syntax (uBlock Origin filter lists, EasyList (ads), EasyPrivacy (tracking), and Peter Lowe's Ad server list (ads and tracking).
Also, there's the dynamic filtering of scripts and iframes, dynamic URL filtering feature, strict domain blocking, cosmetic filtering, blocking remote fonts, and JavaScript disabling. Aside from multiple advertising block lists, uBlock Origin blocks malware as well. uBlock Origin is best for both novice and advanced users. If you're an advanced user, you'll find granular levels of content control in uBlock Origin.
I find uBlock Origin a gem of a YouTube ad blocker as it comes jam-packed with all necessary blocking and filtering features, including malware protection.
Pricing
uBlock Origin is not monetized, and volunteers actively maintain the block lists. As such, use this resource-efficient and browser-based uBlock Origin at no cost.
2. AdBlock Plus (Chrome, Firefox, Safari, Opera, Edge, Android, and iOS)
Developed by Wladimir Palant's Eyeo GmbH, a German software company, Adblock Plus (ABP) is an open-source browser extension licensed under GPLv3 for content filtering and ad blocking. Adblock Plus is also available as an Android and iOS app.
My many years of experience with ad blockers led me to pick Adblock Plus as one of the most balanced YouTube ad blockers. It's lightweight and provides just the right balance of features without feeling overwhelming.
Adblock Plus blocks video ads, pop-ups, flashing banners, and more, so your web pages load faster, and you enjoy a better viewing experience. It also stops trackers and blocks malware and social media icon tracking. All you need to do is select what is acceptable when browsing the web through filter lists (rules that dictate what elements to block in your browser). Select from built-in, externally maintained, or custom make your filter lists.
Also, add additional tracking and malware filter lists in your Adblock Plus to enhance your protection. They claim not to collect user data. Adblock Plus gets revenue from the Acceptable Ads initiative (managed by an independent committee), which outlines the strict criteria for non-intrusive ads.
As an Adblock Plus user, you choose to display ads certified as part of the Acceptable Ads initiative or to disable the feature and browse free of ads. The purpose of this initiative was to allow content producers to receive monetization for their work. Although this attracted controversy, the company saw this initiative as a means to be fair to all stakeholders.
Pricing
Adblock Plus is free since it is open source. However, consider the Adblock Plus Premium plan if you need more powerful features to block additional annoyances, such as floating videos, newsletter pop-ups, and other distractions.
3. TOTALAdBlock (Android, iOS, Chrome, Firefox, Edge, Opera)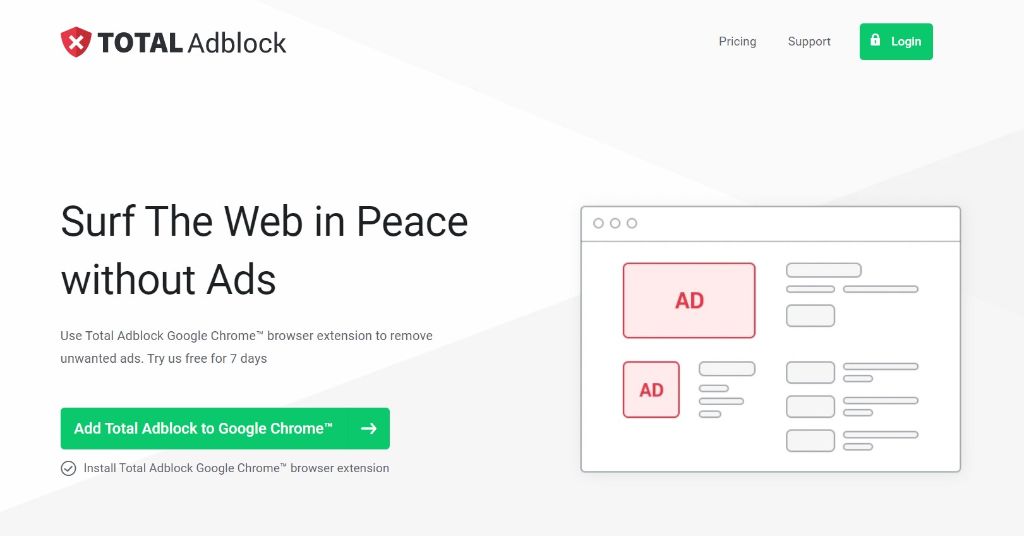 TOTALAdblock has a free and paid ad blocker as a browser extension and a mobile app. They claim to immediately stop unwanted ads, notifications, pop-ups, malicious websites, and intrusive trackers. Blocking ads improves your browser's speed, and blocking third-party trackers prevents people from following you online.
Just install the TOTALAdblock browser extension, login, and you will not see the ads on YouTube. However, on mobile devices, TOTALAdblock cannot remove the ads within the YouTube app. Instead, you'll have to play the video within the TOTALAdblock app to block the ads on YouTube or watch the video through your web browser with TOTALAdblock enabled.
The blocking level depends on the platform, device, and settings. Blocking requests are configured through filters that recognize blocked URLs and scripts associated with advertising networks. Also, TOTALAdblock hides ads and pop-ups preloaded on the page. Like Adblock Plus, TOTALAdblock enables 'Acceptable Ads', should you wish to manage your good list of websites.
Despite claiming not to store or log your data, TOTALAdblock collects your IP address on initial installation for free trial access. Only when you wish to subscribe to their premium plan will you be required to provide some personal and payment details.
Pricing
Although they have a free plan with limited features, TOTALAdblock offers a premium plan with the works (remove unwanted browser notifications, block unlimited ads, and have award-winning antivirus protection). There is a 7-day free trial.
4. AdGuard Ad Blocker (Windows, Mac, Android, iOS, Safari)
Founded in 2009, AdGuard is one of the leaders in ad-blocking software. With over 30 million users, AdGuard claims not to share your information and will only collect strictly necessary data to run their websites and apps. Unlike most other providers with browser-based ad blockers, AdGuard Ad Blocker is available as a standalone app for major platforms, both desktop and mobile.
Since they are not browser extensions, AdGuard Ad Blocker is more powerful as it can block ads independently and more efficiently. If you're using multiple browsers, you'll have to install the respective extensions for each of the browsers. Also, blocking ads in specific apps is not possible with browser extensions. However, you can block ads (banners, pop-ups, video ads, and more) in browsers and apps through the AdGuard Ad Blocker app.
AdGuard Ad Blocker is also available as a browser extension for the more popular browsers. Hence, the choices are varied. AdGuard Ad Blocker protects you from online tracking to ensure your digital privacy. Also, avoid phishing, malicious websites, and annoying web elements through AdGuard Ad Blocker. As such, you save on traffic bandwidth, and page loading becomes speedier.
AdGuard Ad Blocker shines in its parental control feature. Perform configurations to block and shield your children from inappropriate and adult content. AdGuard Ad Blocker is a capable YouTube ad blocker, especially if your kids are hanging on YouTube endlessly.
Pricing
They offer free versions for Android and iOS, but the functions are limited. Also, the browser extensions are free. There's a trial for full functionality (Windows/Mac – 14-day trial, Android – 7-day trial). Look into purchasing their licenses which differ by the number of devices.
5. Ghostery (Chrome, Firefox, Safari, Opera, Edge)
Released in 2010, Ghostery is an open-source privacy and security-related browser extension and mobile browser app. There are several products in the Ghostery Privacy Suite (Tracker & Ad Blocker, Private Browser, Private Search, Tracker Analytics, and Privacy Digest). The Ghostery Tracker & Ad Blocker browser extension blocks ads (based on configurable settings) and third-party tracking scripts, including JavaScript 'trackers'.
Ads are blocked based on community-managed ad-blocking lists and do not require any user-generated data. Ghostery takes a heuristic approach to real-time, algorithmic tracking protection in their Anti-Tracking feature. Instead of blocking all requests upfront, Ghostery monitors and strips out any personally identifiable information. Hence, if anything is amiss, the Anti-Tracking would have removed your personal information, anonymizing the communication.
You can find powerful tracker analytics through Ghostery's data-rich reports. Ghostery's 'Never-Consent' automatically selects the optimal privacy settings for you. To date, Ghostery has a proprietary library of more than 5000 trackers from over 3000 companies in the monthly updated database at WhoTracks.Me, an entity owned by Ghostery.
Also, the Ad-Blocking module runs on popular open-source filter lists. Ghostery collects your name and email address when you sign up. However, they claim not to share your data with third parties.
Pricing
Ghostery is free; no account to use the Ghostery Tracker & Ad Blocker. They receive donations from users enrolled in the Contributor program.
6. AdBlocker Ultimate (Chrome, Firefox, Opera, Edge, Windows, Android, iOS)
AdBlocker Ultimate has gained traction with over 30 million monthly users. It is a privacy protection suite for your devices, including desktop and mobile. AdBlocker Ultimate's free browser extension blocks ads, disable tracking, and blocks domains known to spread malware. Like AdGuard, AdBlocker Ultimate is now a standalone app for Windows, iOS, and Android platforms.
They guarantee system-wide malware and privacy protection against ads, pop-ups, online trackers, and phishing websites. You can create your lists of 'acceptable ads'. Unlike others, they do not whitelist websites and advertisers to show you unwanted ads. That said, they allow you to switch on ads for websites you consider safe.
You'll find AdBlocker Ultimate a capable ad blocker for YouTube as it uses various techniques to block pesky ads, safeguarding you from trackers and activity analyzers. The Ghost mode helps you be invisible online and access advanced anti-tracker features. There are also several extensive filters with protection against all ad types, YouTube commercials, pop-ups, pop-unders, and more.
Also, utilize AdBlocker Ultimate's advanced ad-blocking capabilities across the whole device, not just your browser, to enjoy system-level protection. You'll find your devices functioning better and faster. They claim that any data collected is for the optimal functionality of their products.
Pricing
The two paid plans differ by the number of devices. Also, the 30-day money-back guarantee is comforting.
7. AdBlocker For Youtube (Chrome)
If you're looking for a browser extension just for Chrome, consider AdBlock for YouTube. It is a decent content-filtering and ad-blocking browser extension that automatically skips ads on YouTube. AdBlock for YouTube enhances your video streaming experience on YouTube by blocking all types of ads (skippable, non-skippable ads, pop-ups, overlay ads, bumper ads, and more).
AdBlock for YouTube prevents page elements, including banners, ad clips, and pre-roll ads, from appearing. Also, it can block ads on external sites that load YouTube. This extension reduces bandwidth usage, thus boosting the loading speeds.
AdBlock for YouTube works on ad-blocking filter lists that block external ad URLs on YouTube. All in all, AdBlock for YouTube is good for those who regularly stream videos on YouTube.
Pricing
AdBlock for YouTube is a free browser extension for Chrome.
8. Fair Adblocker (Chrome, Firefox, Edge)
Stands Fair AdBlocker browser extension is a lightweight ad blocker tool. It blocks all kinds of ads (YouTube ads, autoplay video ads, banners, expanding ads, interstitial page ads, overlay ads, Facebook ads, Webmail ads, Search ads, and more). Fair AdBlocker also prevents pop-up ads and pop-unders anywhere you click on the page.
Aside from blocking annoying ads, Fair AdBlocker protects against malware and tracking, including Facebook and YouTube. You no longer have to worry about companies profiling you. Also, configure the ad types you want to see or whitelist the acceptable websites. Enjoy improved speeds with less bandwidth usage.
With Fair AdBlocker, you can avoid fraudulent and phishing websites. The parental control function hides inappropriate and adult content from your children when watching YouTube. Fair AdBlocker utilizes intelligent algorithms to identify and block ads, malware, and pop-ups instead of huge resource-intensive lists. They claim not to collect specific data on browsing patterns or the details of the sites you visit.
Pricing
Stands Fair AdBlocker is free; they survive on donations to develop and improve the product.
Wrapping Up With the Best YouTube Ad Blockers
Using the best YouTube ad blockers is crucial to affording a seamless watching experience on YouTube. Like it or not, ads will never disappear; they are here to stay. Hence, adopt a trusted and reliable YouTube ad blocker to keep you and your data safe while binge-watching your favorite videos on YouTube.
Also Read;