Forgetting passwords happens. However, rest easy, as the steps to change your Spotify password are as easy as a breeze.
Anyone who's into music would know Spotify, a digital music, podcast, and video service. With Spotify, you enjoy access to loads of songs and other content from creators across the globe. You can run Spotify across many devices, including desktops, mobile devices, speakers, TVs, and cars. Take music on the go.
Protect Your Passwords With NordPass
NordPass is a secure password manager that's free to use. Get more features at anytime with a premium upgrade.
In the grand scheme of the universe, forgetting your Spotify password is not a huge deal. However, like the idiom, 'music makes the world go round', commuting or working in silence hardly inspires. The music doesn't have to stop because you got locked out of your Spotify account.
How to Change the Password to a Spotify Account
You can only change your password via Spotify's website, not through the mobile apps. You'll have to launch your browser on your mobile phone and head to the Spotify website.
Provided you can remember your existing password, you can change your Spotify password via the following steps:
Step 1: Head to the Spotify website
You can open the Spotify website with your web browser.
Step 2: Log in to Your Spotify Account
Key in your login credentials or log in via the method you used to sign up for your Spotify account.
Step 3: Upon Successful Login
Having logged in, you'll see Spotify's main page.
Step 4: Go to Your Profile
Head to your profile at the top right corner and click it. You'll see a drop-down list.
Step 5: Go to Your Account
Go to the drop-down list on your profile on the main page. Click 'Account'. Scroll down, and you'll see your profile details.
Step 6: Go to "Change Password"
Focus on the left panel of your profile page and click 'Change password'. Then key in your current and new passwords. Finally, click the green button 'Set new password'. Your password will be updated and changed.
How to Reset Your Spotify Password
If you have forgotten your Spotify password, you'll have to opt for this method to reset your Spotify password.
There are two ways to do so:
1. Reset Link
Go to the Password Reset page. You'll need your Spotify username or email address to proceed. Take note to use the email address that you registered with your Spotify account. If the email does not work, try another until you get the correct email address on your Spotify account. Remember, several ways to sign up to Spotify – email, phone number, Facebook, Apple, or Google.
Once you enter the relevant information, click 'Send'. You will receive an email from Spotify with your username and a reset password link. Ensure the email's authenticity by checking the sender and looking for possible signs of fraud. Once verified, click the reset password link and enter your new password. Save the changes.
If all fails, you may need to create a new account and start afresh.
2. Login Page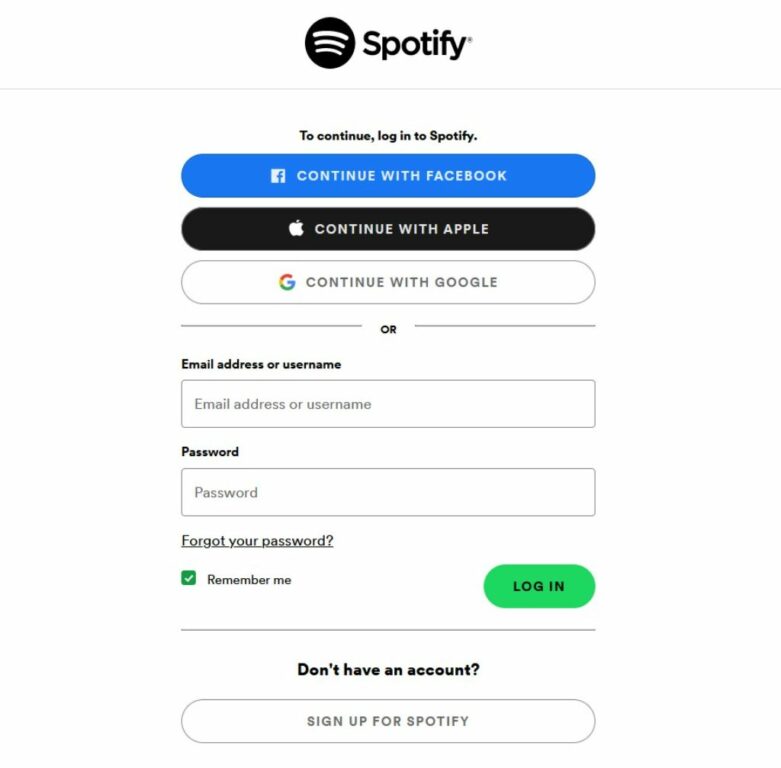 Click the 'Forgot your password' link on the Spotify login page. You will see the same 'Reset Password' page as above. Follow through with the same steps until you have confirmed your new password.
Why Can't I Change/Reset my Spotify Password?
As long as you have your Spotify account's email address/ username and existing password, you can change or reset your Spotify password. However, if you run into issues, check out the following:
Check Spotify's Service
Spotify sometimes suddenly logs you out, and no matter how many times you try, you fail to get in. While it is understandable that you decide to attempt changing your password, don't. Instead, verify if there is a Spotify service-wide issue affecting your account.
Scour Google and check Spotify's social media channels for any updates. If there is an issue at Spotify's end, there's nothing you can do but wait until everything gets sorted out.
Don't Give Up
You may have entered the wrong current password when changing your Spotify password. Typo happens, so please check and try again. Maybe the password reset link does not work, or you receive no email from Spotify. There could be a glitch in the system. Hence, request for a new reset password link and try again.
Try Another Email
If you get an error message from Spotify that you entered the wrong username or email address, try others. As mentioned, several ways are available to sign up to Spotify, so try to recall if you have used any of these options.
Use Another Browser
If clicking the password reset link does not work after several times, look into your browser. Consider turning off your browser extensions (privacy extensions and ad blockers), and try again. Or you can copy and paste the password reset link into another browser and try again.
Contact Spotify Support
Do not despair, as you can contact the Spotify support team. Although they do not have phone contact, they are reachable via @SpotifyCares on Twitter, SpotifyCares Facebook page, or message them. They have an active Spotify Community that can help you too.
Can't Log in Via Facebook?
Spotify allows you to log in to your Spotify account with your Facebook account. Doing so makes it easy to find your friends on Spotify and displays your Facebook name and picture in the app. If you cannot log in through Facebook, you'll need to create a Spotify password to log in with your email address instead.
Go to the Password Reset page. Once you see the password reset page, enter your Facebook email address. Click 'Send'. Check your email for an email from Spotify with a link to reset your password. Click the reset password link and enter your new password. Save the changes, and you now log in through your Facebook email address and the new password.
How to Keep Your Spotify Password Safe
Like it or not, everything is online, which translates into keeping numerous passwords to gain access to our various digital accounts. Spotify is one of the many services we use online.
Here are some tips to help keep your Spotify password safe:
Create virtually-uncrackable passwords:

At least 16 characters.
Combination of uppercase and lowercase letters, symbols, numbers, and special characters.
No consecutive and repeated letters/numbers

No publicly available personal information that is easy to guess in your password
Regularly check your password through password strength checkers
Do not use one password across the board. While this makes it super easy for us to remember, unfortunately, it makes it even easier for hackers to hack into our accounts.
Activate 2-step verification for an additional layer of security to your Spotify for Artists account. You need to enter the code from your authenticator app after your password. Take note that this feature is only available for some Spotify for Artists users.
Use a secure password manager to manage and lock away your passwords. These password managers function as a 'safe' for your passwords. You can easily access your passwords from the password manager within seconds.
Do not share your passwords with others.
Do not write down passwords and paste them anywhere for easy access.
Habitually change your passwords.
Wrapping Up
Your passwords are keys to unlocking your accounts. Hence, remember them well and keep them safe. However, to err is human. As such, if you forget your Spotify password or want to change it for security reasons, the above are the steps to guide you. The steps to change and reset your Spotify password is straightforward and minimal. Go ahead and try it.
Also Read;