Although ExpressVPN doesn't offer a free trial, they provide the next best thing – a 30-day money-back guarantee.  Here's how you can get your ExpressVPN free trial (and eventually cancel it if you wish.)
ExpressVPN is one of the top brands in the VPN industry. They are a reputable and trusted VPN service provider. However, the somewhat high cost of subscription may turn away many users. If you're wondering whether it's worth the price – here's a chance to try ExpressVPN for free.
Getting Your ExpressVPN Free Trial
While ExpressVPN provides a 7-day free trial via their mobile app, desktop users can opt for ExpressVPN's risk-free 30-day money-back guarantee. Although the latter is not a 100% free trial, you can still try out ExpressVPN without risking your money.
Let's take a look at how you can get your ExpressVPN free trial:
ExpressVPN 7-day Free Trial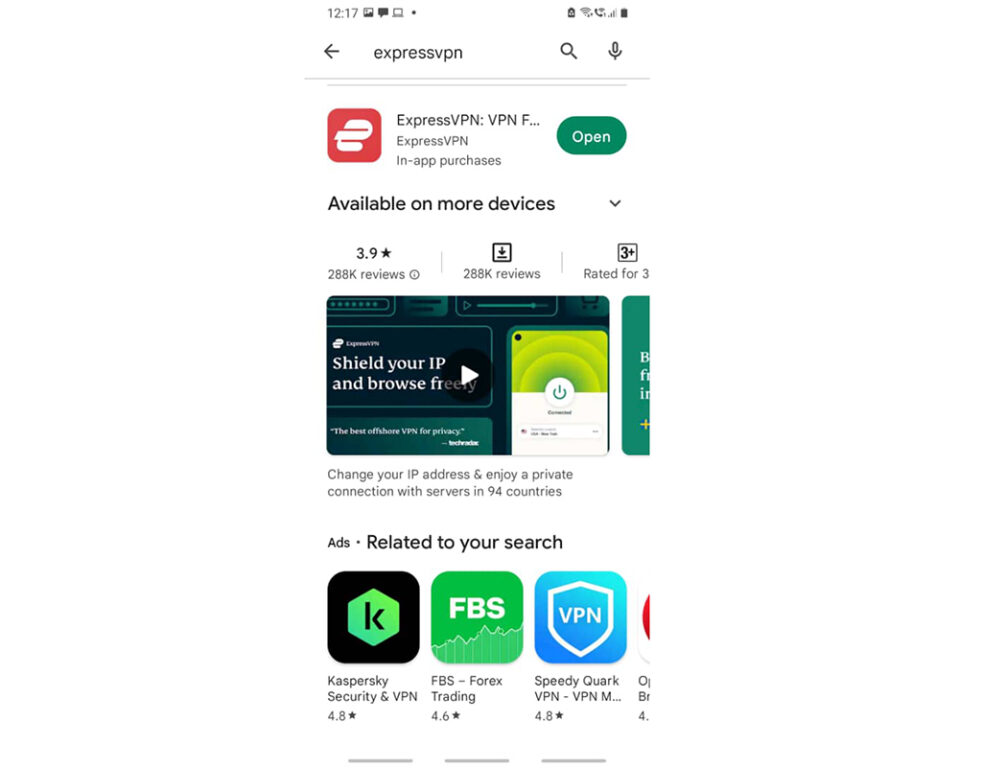 ExpressVPN's 7-day free trial is only available via the Apple App Store and Google Play Store. It is a 100% free 7-day trial on iOS and Android devices; the steps for both platforms are similar:
1. Download and Install the ExpressVPN app
Locate the ExpressVPN app in either Google Play or the App Store and download it. Upon download completion, launch the ExpressVPN app.
2. Begin your 7-Day Free Trial
Tap "Start Free Trial."
3. Choose Your Plan
At this point, you select a plan. Rest easy, as you won't be charged until after your trial ends. Then, the plan you opt for now will be the subscription that will come into effect if you continue with ExpressVPN.
4. Complete the Setup
You will need to follow through with the rest of the configuration settings until completion.
5. Test Out ExpressVPN
You're good to go. Test out ExpressVPN for seven days straight. Explore its reliability, speeds, security, streaming abilities, and more. A helpful tool to test your speed with ExpressVPN is Speedtest.net.
Connect to an ExpressVPNs server, load the Speedtest website, and hit the "GO" button. The website will test your speed, which will give you an idea of ExpressVPN's speed.
Try ExpressVPN Now
Cancel within 30 days, and you can get a 100% refund on your ExpressVPN subscription. Try it now, risk-free!
ExpressVPN 30-day Money-back Guarantee
ExpressVPN considers its risk-free 30-day money-back guarantee better than a free trial. You have complete access to all features and enjoy their 24/7 live chat support. The only caveat to this method is that you pay for a subscription upfront.
However, you cancel within 30 days to get a full refund. Hence, you get to try out ExpressVPN for 30 days straight for free. The steps are straightforward and fast, within five minutes:
1. Place an Order
Go to the ExpressVPN Order page and select the plan that suits you best. The long-term plan is the cheapest. If you're unsure, you can go for 1 month.
2. Key In Your Details
Once you have decided on a plan, input your email address and payment details. If you're uncomfortable using your credit card, you can pay via PayPal, Bitcoin, or others. However, some payment methods, like credit cards, may incur a recurring payment schedule. 
Don't worry, it is easy to cancel the plan through ExpressVPN's 24/7 live chat support. Just remember to do so within 30 days if you decide not to continue with them. Once your sign-up is successfully processed, you will get your activation code. Then proceed to download the ExpressVPN app of your platform choice. 
3. Activate ExpressVPN
Upon successful installation, launch the app. Input the provided ExpressVPN activation code or use your email address. Either way activates ExpressVPN automatically.
4. Configure ExpressVPN
Proceed to set up your ExpressVPN by choosing your ExpressVPN launch options upon startup.
Then opt for whether you wish to share diagnostic information with ExpressVPN.
5. Enjoy Using ExpressVPN
Feel free to test out ExpressVPN for 30 days risk-free. Explore ExpressVPN's connectivity when streaming, browsing, and even torrenting. The duration of 30 days should suffice to give you a good idea of ExpressVPN's prowess as a VPN service.
How To Cancel Your ExpressVPN Free Trial
As you can see, the two risk-free methods above give you the means to try out ExpressVPN for free. The difference between the two is in their tryout period, and while the latter requires you to pay upfront, the former does not.
However, for whatever reason, if you decide that ExpressVPN is not for you, you can cancel your subscription. Doing so will let you get a full refund.
Cancel ExpressVPN's 7-day Free Trial
You must cancel your trial if you don't want to incur charges after seven days. You can manage your trial subscription within your phone's settings. Here's how you can do it on iOS or Android;
For iOS users
Go to "Settings" on your phone.
Tap your Apple ID.
Look for "Subscriptions" and tap it.
Locate your ExpressVPN subscription.
Explore their plans if you wish to continue or choose "Cancel Free Trial" so you won't be charged.
For Android users
Locate Google Play Store on your phone.
Look for your profile icon in the top right corner and tap it.
Tap "Payments and subscriptions."
Tap "Subscriptions."
Look for your ExpressVPN subscription.
Manage your ExpressVPN trial here. Hit "Cancel subscription" to avoid being charged.
Cancel ExpressVPN Within the 30-day Money-back Guarantee Period
Canceling and getting the full refund back is simple within the money-back period of 30 days. Contact their customer service via email or the 24/7 live chat feature. The quickest would be through their 24/7 live chat. They may ask for your feedback or reason, but you are not obligated to answer.
Remember to end your subscription within 30 days to stop your plan from auto-renewing. Once you have requested the cancellation, customer service will initiate the refund process. The whole process can take up to seven business days. So, keep checking your account for the full payment.
Why You Should Try the ExpressVPN Free Trial
Touted as a VPN industry leader, ExpressVPN has always been a watertight VPN with its strict no-logging policy (independent audits by Cure53 and PwC) and advanced features. They are in the privacy-friendly British Virgin Islands (outside the 5/9/14 Eyes Alliances).
With ExpressVPN, you get top-notch security standards, including 256-bit AES encryption, automatic kill switch, DNS, and IPv6 leak protection. Also, its split tunneling feature allows you to choose the traffic that goes through the VPN. ExpressVPN engineered its superfast Lightway protocol to enable a speedier and more secure VPN experience. 
The service offers access to over 3,000 servers across 94 countries, and you'll have no problems overcoming geo-restrictions. ExpressVPN regularly refreshes its IP addresses, enabling you to avoid detection by streaming services like Netflix easily. 
Besides, you get reliable connections and blazing speeds with their 10Gbps global servers. Hence, you can confidently enjoy hassle-free streaming, torrenting, gaming, and browsing.
ExpressVPN supports many platforms and devices. That includes Windows, Mac, Linux, Chromebook computers, Android, iOS, Kindle Fire, Nook HD mobile devices, Amazon Fire TV, Fire TV Stick, Android TV systems, and some Wi-Fi router models.
Final Thoughts – Is the ExpressVPN Free Trial Helpful?
For a reputable and trusted VPN service, ExpressVPN does well by providing a free trial and a 30-day money-back guarantee. Most of you may find the free trial too short to get a detailed shot at trying out ExpressVPN.
Hence, confidently sign up for any plan to enjoy their 30-day money-back guarantee; you have more time to test ExpressVPN to your heart's content. Many have tried and obtained their money back once you cancel the subscription within 30 days.
Finally, you can use the free trial to test ExpressVPN's features at no cost.
Frequently Asked Questions About the ExpressVPN Free Trial
Does ExpressVPN offer a free trial?
Yes. ExpressVPN offers a 7-day free trial, but it is only available on iOS and Android devices. They offer a 30-days money-back guarantee. However, you have to sign up for a plan and pay upfront. If you cancel within 30 days, you will get your refund.
How do I get the 7-day free trial on ExpressVPN?
You will need to download and install the ExpressVPN app from either Google Play or the App Store. Begin your 7-day free trial by selecting the plan, then complete the setup. Follow the detailed steps above. You will need to cancel the trial before seven days are up to avoid being charged.
How do I get 3 months of free ExpressVPN?
ExpressVPN regularly offers promotions. As of now, they are offering 49% off its 12-months plan. You will also enjoy an additional three months free of ExpressVPN. You will be billed once for 15 months (including the three free months). Subsequently, the billing will revert to once every 12 months.
Which VPN provides a free trial?
Most premium VPN services offer VPN free trials or no-questions-asked money-back guarantees, which are similar. Examples include ExpressVPN, NordVPN, and Surfshark, which offer a 30-day money-back guarantee and a free 7-day trial for Android users. 
How can I get ExpressVPN for 1 month free?
You must sign up for an ExpressVPN plan on any device. As long as you request a refund within 30 days, you'll get your money back thanks to their iron-clad money-back guarantee.  Hence, this becomes a free one-month trial.
Also Read;