With a stunning name like FastestVPN, one can hardly help feeling both awed and skeptical at the same time. Our FastestVPN Review gives this Cayman Islands-based service provider a thorough spin through our review process so see what makes it tick.
We were very excited at the prospect of a fast VPN service provider emerging that is based out of a good country for VPN providers to be based in. Can it live up to its name and banish the doubts in our minds? Let's find out.
Strong Security and Identity Protection
Cayman Islands-based VPN
One of the first things we look out for in a VPN is the country it is based in. Different countries have different regulations regarding data retention, and this affects one of the core aspects of VPN services.
A good place for a VPN service provider to be based out of would be like where FastestVPN is. The Cayman Islands has no prescribed data retention period, and this means that technically the company can keep true to its no-logs policy.
High-grade Encryption and Security
FastestVPN combines a good mix of protocols such as L2TP, SSTP, and TCP/UDP with 256-bit encryption. This is about as good as it gets nowadays for a consumer VPN to offer and is likely to be very secure.
FastestVPN offers a choice of IKEv2, L2TP, PPTP, and OpenVPN (both TCP and UDP)
There is also a side benefit of having a NAT firewall which helps block incoming traffic which may be harmful. Combine that with a kill switch and viola – you have everything you need that any VPN provider should be offering.
One thing that did disappoint was that there was no mention of the possibility of a double VPN, nor could we find any related setting in the app.
Safe from DNS and WebRTC Leaks
DNS and WebRTC leaks have become more prevalent suddenly and we're guessing that this could be since VPNs are becoming popular and coming under increased scrutiny. We are happy to report that FastestVPN doesn't suffer from either.
DNS Leaks mean that your VPN service provider isn't doing its job properly and that your real IP could be exposed (even intermittently) to the public.
---
Connectivity and Availability
Up to 10 Simultaneous Connections
Not only does FastestVPN allow you to connect to its service with up to ten devices at the same time, it also can be installed on many platforms. Naturally, mainstream platforms such as Windows, MacOS and mobile operating systems are supported. However, they go one step further by offering extensive support for android boxes and the Amazon Fire Stick.
They seem to also be heavily invested in the Kodi app, which is immensely popular for streaming movies from various sources.
Available in 30 Countries
When we first reviewed FastestVPN over a year ago, they were present in 23 countries. Today, that network has grown to include a few more for a total of 30. If you visit their site the claim will be 31. For some strange reason, they include a US Netflix server as another country to make up the count.
However, most key countries are covered as well as most of the major continents. The only real glaring gap we can see is the complete lack of a presence in Africa, but to be honest that market is mostly restricted to only a few areas.
New App Design found in Updated FastestVPN Review
One of the new selling points we were shown on the updated FasterVPN was a sleeker, more streamlined app. While we certainly agree that it looks good, there doesn't seem to be anything that really stands out.
App interfaces should be intuitive, but unless you work for FastestVPN, you might be baffled by the list of shortcut icons on the left navigation bar as well.
---
FastestVPN Review Shows Greatly Improved Speeds
FastestVPN makes a bold statemtn with its name and we're happy that over time they have improved their performance remarkably. We did notice a little instability in the app when switching protocols and servers, but just small glitches.
As always, we want to remind you that it is an unfortunate fact of life that any VPN connection will likely slow down your Internet speed. There are many factors to consider when speed testing a VPN – it isn't just about the speed that the provider can support.
Some of the other things that affect your speed include your actual line speed, the encryption used, distance from the VPN server and the specifications of your own device.
Smart Connect Isn't Really
The first thing we tried in our updated speed test of FastestVPN was their Smart Connect option. In our experience, VPNs that have this option normally simply connect you to the nearest server with the lowest load at the time.
FastestVPN was a little unusual in that it seemed to connect to various places around the world (we got a mix of Serbia, Germany, and the UK). This led to some links that are quite far away and resulted in high latency. Speeds on those connections were usually fine though.
US Server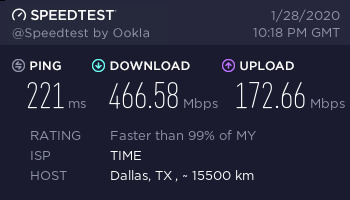 The US is as far away from our physical location as can be – literally across the world. This usually makes it the worst location for us to connect to. In the most recent speed tests, FastestVPN has increased its speeds here immensely.
Europe Server (UK)
As with their US server, FastestVPN has also managed to up the speeds available on their EU offerings as well. What we are observing in general are speed bumps of up to almost twice what their initial offerings clocked in at.
Africa Server
For this review there was no test from an Africa-based server because FastestVPN doesn't seem to have a presence there. This is one small drawback of using a VPN provider that has limited country locations.
Asia Server (Singapore)
The closest to us physically, Singapore almost always without fail delivers the best speed results for us. What is of even greater note here is that FastestVPN manages to eke out speeds just past the 200Mbps line. For a shared service VPN provider, this is about the highest speeds you'll be seeing.
Australia Server
As with speeds on the Singapore test, Australia performed remarkably well also. These numbers contrast very highly against what we observed over a year ago so far. Again, close to 200Mbs isn't something to be taken lightly in a commercial shared VPN line provider.
FastestVPN Review Speed Test Final Thoughts & Conclusion
When we were asked to refresh our thoughts on FastestVPN there was some initial skepticism. This was in part a small bias stemming from the name of the provider and our relatively lackluster initial results.
Nevertheless, we felt we owed it to you, our readers to ensure you get the latest and most accurate data possible. Thankfully, FastestVPN has bucked up its service in a big way. Speed is one of the biggest challenges for them to achieve and this time round they have done superbly.
---
Support is There – But Just the Basics
On their support page, FastestVPN has a few options that include a mundane FAQ containing information like why you need a VPN and so on. You will also find tutorial on how to setup FastestVPN on various devices – and this list is extensive.
Interestingly, they have an entire section devoted to installing FastestVPN on Kodi – the preferred media steaming app for most android TV boxes. There is a long list of options on how to do a setup with Kodi on various devices.
There is also a live chat option, which can assist in some ways – I tested them out and their response is quick (within 15 seconds). Unfortunately, the chat script seems a little buggy and on occasion gets lost, e.g. if you refresh the page or such.
If your issue is more extensive you can also email details to them. There is no call-in line or ticketing system here.
Overall, we feel that the support system could be more effective, but it certainly isn't the worst we've seen so far. A more comprehensive knowledge base would be useful, for example.
FastestVPN Tolerates P2P

As you can see from the download rates above, Torrenting / P2P was fine on FastestVPN. Speeds were great and the downloads went smoothly.
There is a caveat though. Again, referring to their FAQ, FastestVPN supports P2P on almost all servers BUT some servers are not recommended for P2P such as Australia, Hong Kong, Singapore, South Korea and India. Normally this wouldn't be so much of a problem, but for a VPN service provider with servers in only 30-odd countries, that's cutting the numbers down by a fair bit.
FastestVPN now Works With Netflix US
When they first launched, FastestVPN wasn't able to support Netflix. Today they do even if it is only for US region content. Let's face it, that's where all the good stuff is anyways. However it should be noted that the Netflix VPN server only appears if you're using the OpenVPN protocol.
If you plan on using anything else regularly, you'll have to switch to OpenVPN to watch Netflix.
Unfortunately, streaming happiness doesn't extend past Netflix US and a retest of the BBC's iPlayer showed it still doesn't work. For brits away from home that might be sad, but I'm not sure there is anything there really worth using a VPN to get to for anyway.
There is no official word about the BBC's iPlayer but a quick test showed that this will not work as well even when connecting to a UK server. We suspect that FastestVPN doesn't actively try to get their banned IPs whitelisted and so it gets caught out by geolocation restricted services.
If your objective is simply to watch YouTube while on a VPN account, then that is fine since all the download speeds that FastestVPN offers should be sufficient for you to easily stream even 4k videos there.
---
FastestVPN Review on Pricing and Plans
As with all VPN service providers, FastestVPN doesn't like folks that try to sign on for a one-month plan and cranks their rates up high as a way of discouragement. It is kind of obligatory and all of the providers do this, so we won't comment further on the one-month plans.
However, it is once you get past that pricing segment that eyebrows will raise. If you're looking at an annual plan, the price drops steeply down to $2.49 per month – and continues dropping. For a three-year plan the price goes down to $1.11 per month.
These are unbelievable prices, but considering how much they have improved the service over time it is interesting that prices have remained the same. Still, I would be a little wary of signing up with any service provider for a period longer than 2 or 3 years at a go.
Important Note: FastestVPN only has a 15-day money-back guarantee. This means a shorter than usual time for you to assess it for your own use. Most service providers will give you a standard 30 days.
---
FastestVPN Review Verdict: Much Improved in 2020
When we first reviewed FastestVPN they were a fair service provider that couldn't really live up to their name. Since then they have been busy beavers and adding on more servers, including more countries, and beefing up their anti-VPN safeguards.
While their performance might not yet hit the top bar they are certainly on the way to making waves. What we like most about them is that they didn't simply introduce a service and let it lie there collecting money – they improved it.
FastestVPN offers an excellent opportunity to get into the VPN scene and benefit from security and anonymity for a fraction of the price that most VPN service provides would charge. 83 cents a month on a five-year plan or $1.11 per month on a three-year plan really is hard to beat.
FastestVPN Review Summary
Pros
Strong encryption
Multi-platform apps
Decent P2P performance
Cons
Slow US server speeds
Limited network
Summary
FastestVPN has gone through a series of updates and has slowly improved over time. For the time being, it remains as a fair to middling player that offers a reasonable service at a great price.