NordVPN is one of the biggest consumer VPN brands in the market today. They are an encryption powerhouse known for their beginner-friendly solutions and strict no-logs policy. However, are you aware that you can get a NordVPN Free Trial?
Based in Panama, they cover a vast network of over 5,300 servers across 60 countries. The supported platforms are aplenty; there is a NordVPN application for almost all devices. They also offer tons of other supporting features.
We've reviewed NordVPN extensively and if it sounds like your cup of tea, take advantage of their 30-day money-back guarantee, which is essentially a NordVPN Free Trial.
---
How the NordVPN Free Trial Works
NordVPN offers a generous 30-day money-back guarantee for Windows and Mac. They call this a risk-free NordVPN Trial for 30 days. This means that within these 30 days, you'll have access to one of the fastest VPNs available, without any data caps or feature limitations.
NordVPN requires you to pay in advance. That said, you can get a full refund as long as you cancel within the 30-day period. Simply put, this essentially makes NordVPN's 30-day money-back guarantee, a month of free trial usage, for you.
---
---
Get Your NordVPN Free Trial for 30 Days
Getting signed up for a NordVPN Free Trial is simple. It only takes a few steps to complete the process:
1. Sign Up on Their Website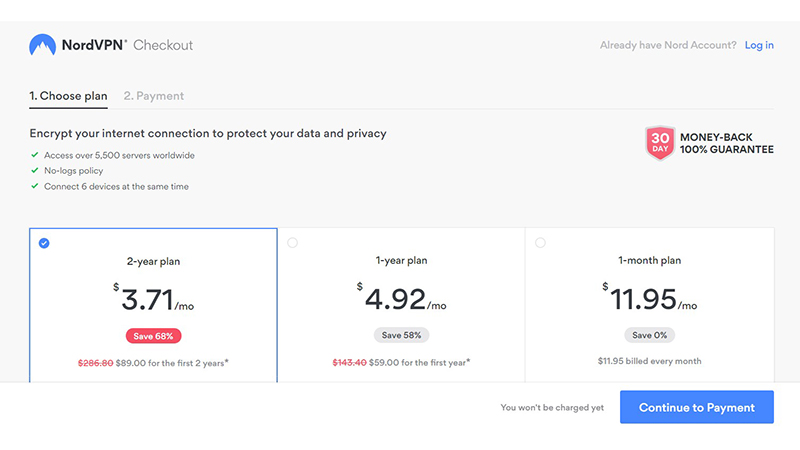 Head to the NordVPN site and click the "Get NordVPN" button on the top right-hand corner. You'll be asked to choose a subscription plan. Ideally, choose their 2-year plan since that will give you the most significant discount if you want to keep using it after the 30-day period.
2. Checkout your NordVPN Plan
You will then be brought to the Payment page, as shown above. Select your preferred payment method – NordVPN accepts multiple payment options, including major credit cards, Google Pay, and more. However, note that PayPal isn't available anymore.
You'll then be required to fill in your details to create your NordVPN account. You will need the account to sign in to NordVPN later, so it's unavoidable.
Once your account has been created, check your email Inbox for any incoming emails from NordVPN. Upon receiving this email, click "Set Password and Activate Account." This is to create your login password and activate your new account.
3. Download the NordVPN App
Your next step is to use your account details and sign in to your account on the NordVPN website. This will allow you to download the app to start using it. Select the app for the platform you need, then run the installation program.
Once the NordVPN app has been successfully installed, launch it. You'll need to log in with your newly created login credentials (email & password). Upon successful login, you can do a quick connect by clicking the "Quick Connect" button or manually selecting a server to connect to.
Congrats! Your NordVPN free trial has begun.
---
How to Cancel the NordVPN Free Trial
Remember, you are entitled to a full refund on your NordVPN Free Trial if you request one within the first 30 days of your purchase. NordVPN will refund 100% of the amount back, but it can take around 2-5 days to get this processed.
To do so, you'll need to go to their support page and look for the chat bubble at the bottom right corner.
Click the chat bubble, and the NordVPN chatbot will appear. Type in a message informing them that you would like a refund. You will then need to state the payment method you used to sign up. Note that they'll ask for a reason why you want to cancel the service – it doesn't really matter what you tell them.
Once all this is done, you will receive a confirmation email that your free trial has been canceled.
The NordVPN 30-day Money-Back Guarantee is Better Than a Free Trial
Although some of you may scowl at the fact that this isn't a full-fledged free trial with no payment required upfront, the thing is, a money-back guarantee is better. This is because free trials are generally limited, as they give you only a certain number of features to test.
Also, restrictions apply during your free trial, which includes a reduced number of servers, data caps, and even speed throttling. Some free trials even offer limited security with no automatic kill switches in place. This puts you at risk. Additionally, they usually don't give you enough time to do the test which can be frustrating.
In short, you won't be able to thoroughly test the whole service. With this money-back guarantee option, you can test NordVPN's service without any limits for a whole month! This translates to you being able to thoroughly test all the service offers. Isn't this much better?
---
Why Choose a Free Trial With NordVPN
NordVPN is a household name when it comes to VPNs, so the fact that its brand name alone holds a certain amount of authority, helps.
Based in a 'Safe' Zone
NordVPN is based in Panama and is considered 'safe' with little or no data retention laws. This speaks volumes regarding giving you peace of mind regarding your data. Remember that most VPNs firmly state that they do not log your data and activities. However, this holds no value if they are based in countries with laws demanding data retention.
Strict No Logging Policy
We use a VPN to protect our identity and online activities. However, if the VPN provider does not live up to your expectations and 'sells' your data, you're being deceived into believing otherwise.
NordVPN was found to abide by a strict no-logs policy; they don't keep records concerning you at all. This means that in the event that the authorities want something from NordVPN, they have nothing to hand over.
Server Obfuscation
There are cases where you are not allowed to use a VPN due to firewall restrictions. This usually refers to country-wide bans on VPN services. NordVPN offers a solution to this by providing obfuscated servers.
Using such servers can fool networks into thinking that the VPN traffic consists of simple and normal data streams, therefore allowing you to bypass such firewall restrictions. That said, only do so when necessary.
Top Notch Security
Safety comes first alongside anonymity. NordVPN deploys tons of comprehensive features to secure your data.
Military-grade AES-256 Encryption
The data your device sends or receives is encrypted to ensure that it isn't decipherable by outsiders. The 256-bit encryption is considered secure and uncrackable, at this point of time. So as far as you and I are concerned, it is sufficient to say that this is currently the premium standard.
Double VPN Increases Security
For those of you who require much higher security, you can use the double VPN feature which NordVPN offers. You'll connect to one VPN server first, and then your connection is sent to another. All this occurs before heading out to whatever end destination you want. As such, your actual IP changes twice, and the encryption is also doubled.
CyberSec Blocks Ads
CyberSec, a unique value-added service by NordVPN, is an Internet Security defense mechanism, helping to block certain suspicious websites and protecting you from Malware. Also, it prevents you from falling victim to being a part of a BotNet. Last but not least, CyberSec can help block some Ads too.
Kill Switch
When the connection to the VPN server is lost, you become exposed and vulnerable. The kill switch is a useful feature when this happens.
NordVPN offers this feature. Upon sensing an Internet connection drop, the kill switch immediately terminates your Internet connection, so you're safe. You can opt to use a separate App Kill switch instead. This will cut off only the specified applications and not the whole connection.
Vast Platform Support
NordVPN literally has multiple apps for use on almost any existing platform. It supports Android, Windows, macOS, iOS (iPhone/iPad), Linux, and Android TV. They also have extensions available for Chrome and Firefox. You can also use NordVPN on smart/ connected devices; the list is available on their site.
Excellent Speed
The speeds you get are highly dependent on many factors which include your own Internet line speed, the chosen VPN server location, the networking equipment, and also on how powerful your device is. Needless to say, once the distance increases, the line speed drops.
Yet despite all this, NordVPN managed to work smoothly and offer consistently decent speeds.
No Issues with Streaming & Torrenting
There are some services like Netflix that dislike its users using VPNs. They geo-restrict their offered content due to copyright measures and to combat piracy. However, many opt for VPNs to circumvent this. NordVPN worked exceptionally well regarding Netflix and the UK's BBC iPlayer.
Torrent downloads with NordVPN were swift and smooth. Also, NordVPN is equipped with dedicated P2P servers for you to torrent.
---
Conclusion
As you can see, signing up for the NordVPN 30-day money-back guarantee allows you to enjoy the full service completely risk-free. Albeit, technically speaking, it's not a NordVPN Free Trial (you need to pay upfront) but you are sure to get back the total amount as long as you apply to cancel the service within the 30 days period.
Furthermore, you have a whole month to do your testing; best of all, there are no limits and restrictions placed on you. Tempted? Go for it!
---
NordVPN Free Trial FAQ
Isn't it better to use a free VPN instead of NordVPN's money-back guarantee?
No, not really. Many free VPN services are untrustworthy, with some even collecting your data to sell to third parties. While there are some safe free VPNs, using a money-back guarantee to test a trusted service fully like NordVPN is the safer and better option.
Can I get this NordVPN Free Trial without a credit card?
Yes, you can opt to pay via other channels such as Google Pay, UnionPay, and various cryptocurrencies such as Bitcoin. Whatever it is, you'll still need to purchase a subscription. That said, before your 30-day refund period ends, you can claim a full refund and get your money back.
Is the NordVPN Free Trial safe?
Yes, it is. NordVPN is a reputable brand that's been serving customers around the globe for some time now. Many subscribers are happy with the product, and most have had no cause to complain about their billing practices so far.
Is NordVPN free?
No, NordVPN is a commercial service that costs $3.99 per month for its two-year plan. However, you get a 30-day money-back guarantee if you sign up for the service. That is essentially a 30-day free trial of NordVPN.
Also Read;