Google Maps is excellent but not a good choice for the privacy-conscious. If you're leery of having a map app sharing your data willy-nilly, there are many Google Maps alternatives you can consider.
Nobody likes getting lost, especially in a foreign place. Not only do you waste precious time, but your 'fun' holiday plans are ruined as everybody's moods turn sour. Fortunately, navigation apps are abundant; these tools provide real-time navigational directions.
They serve as your guide to help you reach your destination. Thanks to them, you can confidently travel to places you've never been. Here are some of our top picks;
Try ExpressVPN
Your digital privacy is always at risk. Use ExpressVPN now for a safer and more anonymous Internet experience.
1. Apple Maps (Our Favorite Google Maps Alternative)
Apple Maps, launched in 2012, is a free web mapping service developed by Apple for all their iOS, iPadOS, macOS, and watchOS devices. In the beginning, Apple Maps was criticized for its many inaccuracies, but Apple has rectified and improved the tool since then. Apple Maps is available in more than 200 regions around the world.
Why Apple Maps?
Apple Maps is a distinguished and notable web mapping and navigation tool with fancy features that most people like. The 'Detailed City Experiences' is 3D with detailed elevation, neighborhoods, buildings, trees, and road features like pedestrian crossings and turning lanes in the day and dark modes.
Explore the cities via an interactive 3D street-level experience and a seamless 360‑degree view; 'Look Around' gives you a more accurate picture of your destination. The 'Flyover' affords photo‑realistic, immersive 3D views of selected areas.
Tap 'Explore Guides' to access around 1,000 curated Guides; save those you want. Curated Guides are automatically updated; you'll always have the latest data. 'CarPlay' helps you keep your eyes on the road rather than on your device through intelligent suggestions based on your stored data.
If you're tech-savvy, you can integrate Maps into your products via MapKit and MapKit JS (interactive maps). Apple Maps stand out in its data protection and privacy measures. It does not track you as there is no sign-in (no link to your Apple ID). Also, any personalized information is based on constantly changing random identifiers.
Apple Maps is stunning for its beautiful design and robust features. Also, it respects your data privacy, a notable feature that most navigation apps lack. However, it is exclusive to Apple devices only. Way to go for a Google Maps alternative, eh?
Pros
Quality interface design
Strong privacy-centric design
No targeted ads
Fancy features
Integration kits available
Cons
Gathers your data
Supports Apple devices only
Cannot use offline
2. OsmAnd
OsmAnd stands for OSM Automated Navigation Directions. It is open-source and mobile-only software for map-viewing, editing, and track-recording. Launched in 2010, OsmAnd supports both Android and iOS devices. Since it is open-source, OsmAnd is free. That said, paid services with extended functionalities (unlimited map downloads and more) are available.
Why OsmAnd?
The main menu is sleek, with easy access to everything essential – profile configuration, personal data, global settings, search, navigation, and other features. Based on the OpenStreetMap (OSM) database for online and offline use, there are also routing and navigation features, with visual and voice guidance. That said, OsmAnd is an independent app that makes an admirable Google Maps alternative.
You can store the maps on the device for offline use; this is a plus point as you save on connection costs and won't get anxious in a no-internet area. Maps are updated once a month; you'll get hourly map updates via the OsmAnd Live feature.
You can invoke Points of Interest (POI) and show different overlays like touring/navigation GPS Exchange (GPX) tracks and additional maps with high customization capability. You'll get traffic warnings, like exceeding the speed limit, stop signs, pedestrian crosswalks, and more. There's also automatic rerouting if you deviate from the route.
Although OsmAnd claims to aggregate non-personal data, which cannot identify a user, their privacy policy states that maps downloaded data ties to the UUID (Unique User Identifier), which contains the IP address, the download date and time, and the list of downloaded regions. Also, screen data links to the UUID. However, if the map is installed manually, OsmAnd does not collect data.
That said, since OsmAnd is a freemium software and you pay for the premium version, chances are, they won't sell your data to survive; this is encouraging. OsmAnd is still a capable navigation app with all the right features online and offline for cars, bikes, and pedestrians alike.
Pros
Free
Offline and online features
OsmAnd Live – hourly map updates
Recording trip
Offline navigation
Hiking maps
GDPR compliant
3. HERE WeGo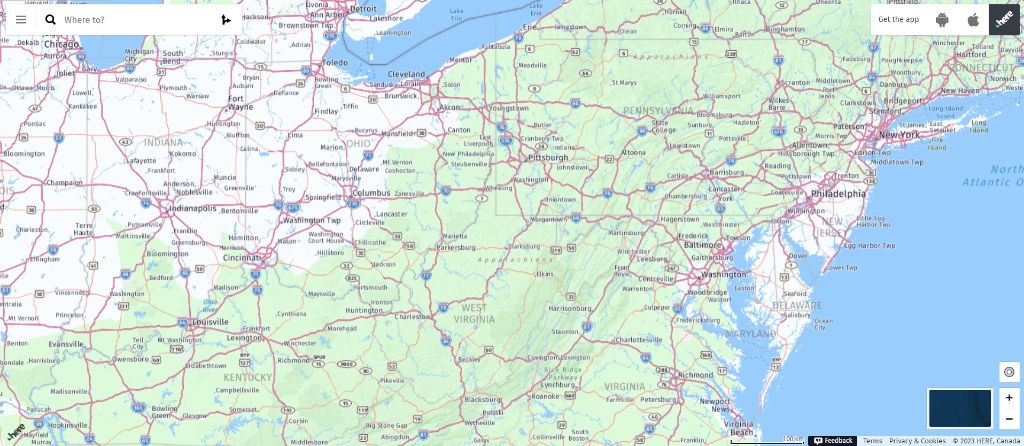 Released in 2012, HERE WeGo is a web mapping and navigation service developed by Nokia. HERE Technologies took over the running of HERE WeGo, and the tool is now available on Android, iOS, Windows, and others. HERE WeGo is the default maps service provider for Amazon Fire tablets and smartphones.
A limited plan is available with 1000 free daily HERE Location Services requests, community support, and admin tools for User & App Management, Groups, and Billing (no credit card required during registration). There is a flexible base plan that you pay as you need. Once you exceed the free tier, you will be charged.
Why HERE WeGo?
With over 170 million vehicles using the HERE map data, you won't go wrong with HERE WeGo. The high-quality maps are updated every two/three months; these industry-leading 2D/3D maps are powered by loads of data sources and have over 1,000 attributes. You access data on demand in a digital duplicate of reality, making navigation realistic. Dynamic maps afford dynamic data such as hazard alerts and variable speed signs.
Advanced Driver Assistance Systems (ADAS) maps enable you to see beyond sensors with location data sources. HERE WeGo offers an extensive range of location services, including HERE Routing, Geocoding & Search, Map Rendering, Positioning, and Tour Planning. Also, you get turn-by-turn navigation, real-time traffic updates, public transportation information, and POI search.
HERE WeGo excels in its low-code/no-code development tools. You can build highly customized software via their HERE SDK, Live Sense SDK, Anonymizer, Marketplace, Workplace, and Studio. Or integrate the needed functions into your application with these APIs.
HERE WeGo uses random identifiers about your Location Data, so no personal identifiers are involved. However, they claim to possibly collect certain information (mobile device type, IP address, time zone, and others). That said, they promise not to share your location data with others without your consent.
However, I still feel uncomfortable that they may share my device-specific advertising ID for location-based advertising purposes. HERE WeGo still excels in its development tools.
Pros
Free tier available
Wide range of platform support
Powerful 2D/3D maps
Comprehensive navigation features
Low-code/no-code development tools.
Provide real-time traffic data
GDPR compliant
Cons
Gathers data
Has targeted ads
4. OpenStreetMap
In 2004, OpenStreetMap was released as an open initiative to create and provide free geographic data. It is a community-driven navigation and mapping system maintained by volunteers. OpenStreetMap is under the Open Database License. Hence, many use OpenStreetMap to make electronic maps, turn-by-turn navigation, and data visualization.
Why OpenStreetMap?
The OpenStreetMap website is an online map, geodata search engine, and editor. The contributors are diverse, from enthusiast mappers, Geographic Information Systems (GIS) professionals, and engineers to humanitarians mapping disaster-affected areas. Hence, you get comprehensive and better mapping data. OpenStreetMap supports desktops but is accessible via Android, iOS, and hardware devices through other apps.
The good thing about OpenStreetMap is its open data; this means you can freely use the data as long as you credit OpenStreetMap and its contributors. Many other navigation apps are based on OpenStreetMap data. And, yes, you can edit the maps and leave a note. It is that flexible. As such, everyone gets the latest information. Also, you can use OpenStreetMap offline, which is a bonus point.
OpenStreetMap's privacy policy states that they gather your information, including your IP address. However, this data is removed after 180 days. Overall, OpenStreetMap is more privacy-friendly when compared to Google Maps, which is a plus point on their part. They also employ measures to reduce your privacy-related information exposure. There are no ads either.
Although OpenStreetMap lacks fancy features, OpenStreetMap is still an easy-to-use tool that is helpful when you need quick directions for driving, cycling, and walking.
Pros
Open data
No targeted ads
Privacy-friendly
Comprehensive self-help guides
Worldwide volunteer network
Can use offline
GDPR compliant
Cons
Gathers your data
For desktop only
5. Bing Maps
Originally Live Search Maps and launched in 2005, Bing Maps is a web mapping service that is part of Microsoft's Bing suite of search engines. Using Bing's search engine, Bing Maps enables you to plan your route, attain directions, and find points of interest along your travel route.
There is a free and paid version. The paid version is available via flexible pricing plans for smaller organizations and larger enterprises. Bing Maps support Windows, iOS, and Android devices.
Why Bing Maps?
Bing Maps is flexible in its platforms and operating systems support (browsers, mobile devices, client, and server applications). If you're a developer, you can use the V8 Web Control to code for phones, tablets, and desktops via the Universal Windows Platform.
Aside from 3D maps, aerial views, street views, traffic conditions, local search, public transit routes, and schedules, you get real-time traffic for the latest information. You can also configure right down to detail when planning your route. Using 'Streetside' allows you to explore locations and landmarks in a realistic experience as if you were driving or walking down the street.
You can create a list of places and make them private. They will not be searchable, but you can share the web addresses. Download the maps and use them offline; the maps will be updated when online. However, this feature is limited to Windows 10 apps only. Although some say that Google Maps offers better quality satellite and aerial images with more features, Bing Maps makes for an easy application for users looking for POI.
Microsoft is known for its strict privacy compliance. Also, your data is encrypted at rest and in transit via encryption protocols (TLS/SSL, IPSec, AES). Many may still prefer Google Maps due to its superior images. However, Bing Maps is a close competitor with better security and privacy.
Pros
Easy use for POIs
Strong encryption
Download maps to use offline
Privacy centric
Streetside feature
Flexible and strong integration options
Cons
Gathers some data
Images may be inferior
Why Choose a Google Maps Alternative?
Google Maps is undoubtedly one of the most popular navigation apps due to its robust location-based mapping services and handy features. It is the reason paper maps are extinct. Looking for popular spots in town or need a sushi restaurant nearby, Google Maps is here to help you out.
Unfortunately, Google profiles you; they are notorious for gathering data about you and tracking you. Simply put, Google KNOWS you. Hence, Google Maps is no exception. Each time you use the Google app, your timestamp goes to Google. As such, Google knows where you've been or intend to go. Armed with such information, Google serves you targeted ads.
Although Google Maps is powerful with convenient navigation methods, you should think twice before launching Google Maps.
Using Navigation Apps
Navigation apps have become a daily part of life. If you drive or move around often, it is hard to live without one. However, your information gets out whenever you use a navigation app. Even though the apps are GDPR-compliant, it does not alter the fact that they collect and store your data.
However, you can reduce the risks if you opt for more offline navigation rather than online. Even then, you are still not perfectly private and secure, but at least the risks are mitigated.
Some tips can help you spot a more privacy-friendly navigation app:
Read the app's privacy policy.
If the app collects your data, look for points that mention the gathering of non-personal identifier data.
Sharing of mapping information is not mandated.
No targeted advertising.
There Are Always More Google Maps Alternatives
Understandably, Google Maps is the first choice for most. However, if you dig further, you'll realize that other similar or even better navigation apps offer more privacy and security. The above is a list of Google Maps alternatives, although not 100% secure and private, suffice to meet your navigation needs, balancing well with privacy.
Of course, using your navigation map with a Virtual Private Network (VPN) certainly boosts your privacy and security. Hence, confidently take each navigation app above for a spin with a reputable VPN. You may even find one of them a superior Google Maps replacement.