Surfshark is no stranger in the VPN world as it is widely known as one of the top VPN providers. There are two ways to test it out for yourself for free. Find out how to get a Surfshark free trial with this handy guide below.
With countless VPN services available, figuring out which works best for you can be tricky. Other than reading reviews of other people's experiences, one of the best ways to know whether the VPN suits your needs and requirements would be to try it out.
Does Surfshark Offer a Free Trial?
Surfshark offers a 7-day free trial for new customers who use their mobile app. That free trial isn't valid for desktop users. However, there's something similar in the form of Surfshark's 30-day refund instead. The refund means you'll need to sign up for a Surfshark subscription plan, but you will get your money back if you cancel within 30 days.
Either way, you get access without risking your money. Here's some more information on how these two options work:
1. 7-day Free Trial 
The 7-day free trial is the "traditional" way of testing their service for free. Surfshark lets you try their VPN service for seven days at zero cost. The 7-day free trial is only available via the Apple App Store and Google Play Store. 
Therefore, you can only sign up for the free trial on selected platforms, including iOS, Android, and macOS. Although limited to these platforms, you can use it on multiple devices. For example, you may want Surfshark on your iPhone and iPad simultaneously.
Once you've signed up for your free trial, it applies across all devices. You can download the desktop app and use it for the free trial.
2. 30-day Money-back Guarantee
If you prefer to install Surfshark on other devices and use the free trial, you can consider the 30-day money-back guarantee method. Though this isn't a straightforward free trial method, as you need to pay a certain fee upon signing up, you will still enjoy a "free trial" of the VPN services for 30 days before getting a full refund. 
Those unsatisfied who don't wish to continue the subscription must cancel within these 30 days. You won't get your money back if you don't cancel (or fail to cancel within the 30-day window). To learn how to do this, jump to the "How to Cancel Your Surfshark Free Trial" section.
How to Get Your Surfshark Free Trial (2 Methods)
1) Getting The Surfshark 7-day Free Trial 
Step 1: Install the Surfshark App from the App Store (or Google Play Store)
Using your preferred device, search for the Surfshark app and install it. Android users can also download the APK file from the Surfshark website.
Step 2: Get your Surfshark free trial
Once you've installed the app, tap the icon on your device to launch Surfshark. You should be able to see the Start Free Trial option upon opening it. 
Step 3: Create your account & choose your plan
You will need to create an account with your email address and password. After that, you need to choose a subscription plan. For the 7-day free trial, you should select the 12-month option.
Step 4: Choose your payment option
You can choose your desired payment option; however, Surfshark will not deduct any funds for the first seven days. After seven days, if you wish to continue the subscription, it will charge your card. With that, you're now on the Surfshark 7-day free trial. You can now use the Surfshark VPN by clicking Connect. 
2) Using Surfshark's 30-day Money-back Guarantee
Step 1: Sign up for a Surfshark account
Open your web browser and head to the Surfshark website. Click Get Surfshark VPN, and then you'll need to select your preferred plan. The longer the subscription period, the lower the price per month.
Step 2: Enter your email address
To create an account, you must provide Surfshark with details like your email address. That account and password will be your credentials for the service.
Step 3: Select your payment method
Next, you'll need to choose a payment method. Surfshark accepts payment via credit card, PayPal, Google Pay, Amazon Pay, and cryptocurrencies. Some of these options may not be available, depending on your location.
When you've paid, you can start using your Surfshark account. As you can see, the difference between this method and the 7-day free trial is that you need to pay upfront here.
Remember to cancel your subscription within 30 days to qualify for a refund. If not, you won't get your money back. 
How To Cancel Your Surfshark Free Trial
Canceling the 7-day Free Trial
After the 7-day free trial, Surfshark automatically moves you to the susbcip[tion plan chosen when you signed up. When that happens, it will also charge your payment method, deducing the plan's cost.
If you no longer want to use Surfshark, you must cancel the plan before the 7th day. Here's how to cancel the Surfshark 7-day free trial on your Android or iOS phone:
For iOS Users
Step 1: Go to your iOS Settings.
Step 2: Click Apple ID -> Subscriptions. Scroll down until you find 'Surfshark VPN'.
Step 3: Click Surfshark VPN -> Cancel Free Trial. Your subscription will only stop once your free trial ends. Hence, you will not be charged after seven days. 
For Android Users
Step 1: Open your Google Play Store app and click your Google account located at the top right.
Step 2: Click Payments and Subscriptions -> Subscriptions 
Step 3: Find and click Surfshark VPN -> Cancel Subscription. You can use the free trial right up to the 7th day.
Canceling Surfshark Within the 30-day Money-back Guarantee Period
If you opt for the 30-day money-back guarantee, you can get a full refund anytime within 30 days. You can opt for two ways to get a refund:
Option 1. Email Surfshark customer support at [email protected] and let them know you're canceling and would like a refund.
Option 2. Cancel the plat via Surfshark's website. Click Support on the bottom right corner and type Refund in the search bar if you use the latter option. You can also request a cancellation and refund via live agent by clicking on Live Chat found at the bottom right.
Why Get a Surfshark Free Trial
Surfshark is one of my favorite VPN brands and other are many reasons to take it for a spin. For one, the Surfshark Free Trial gives you full access to having an actual paid account. That means you get to experience every single premium feature for free. Below are some of the key features:
1. Ample number of servers. They offer more than 3,200 servers within 65 countries. It is safe to say they provide global coverage, including Europe, Africa, and Asia. You will not have trouble locating a fast server no matter where you are.
2. Great for torrent downloads. Surfshark supports torrent downloads on all of its servers. You can use any torrent apps, including Torrentz3, uTorrent, BitTorrent, etc., on a safe, fast, and secure level. All your data will not be stored permanently in the servers as well.
3. Safe & Secure VPN. Surfshark runs on AES-256 encryption, known as the strongest cipher in the world. Aside from that, the authentication protocol is based on the SHA-512 encryption.
Surfshark also offers a tool called Incogni, which protects your online information by contacting online data brokers to remove them from the databases. This results in a decrease in spam calls or emails, and ads.
4. Extremely fast servers. As Surfshark values fast servers, every server consists of high bandwidth to cater to many users. Therefore, you won't encounter slow servers while downloading or uploading.
5. Allow streaming for any geo-blocked sites. You will not have any problem streaming from sites with geo-blocked content, such as Netflix, BBC iPlayer, or HBO Now. If you are always watching movies and TV series, you can stream them easily and experience no lag.
6. Can be used across all devices. Surfshark works on most platforms, such as iOS and Windows. You can even use it on gaming devices like Xbox or PlayStation.
7. Has an integrated antivirus tool. Surfshark also has its antivirus program, which is as good as "big name" antivirus brands like Bitdefender and Avast.
8. Various tunneling protocol options. Surfshark offers most standard VPN protocols, such as OpenVPN (TCP/UDP) and IKEv2. However, the real jewel is WireGuard since it's brand new and so fast you won't believe the speed. I get close to my full line speed of 500Mbs when using WireGuard on Surfshark.
You can see my Surfshark speed test result here.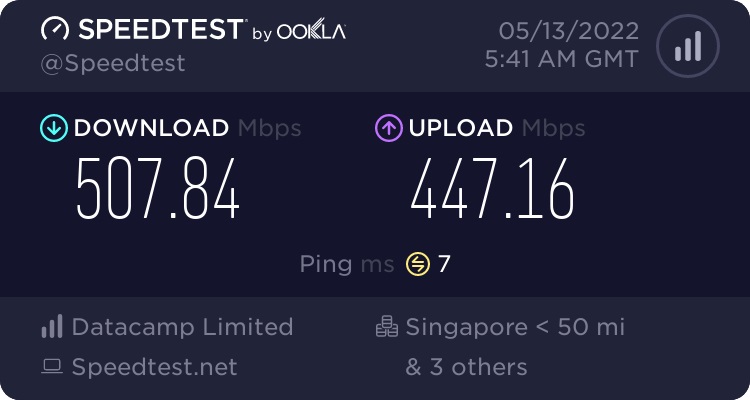 You can read my complete Surfshark Review here.
Conclusion
For a fast VPN service, Surfshark does justice by offering a free trial deal without any consequences involved. Besides, if you opt for the 30-day money-back guarantee, rest assured you will get your money back. So essentially, you will not risk anything when signing up for the Surfshark free trial – be it the 7-day or money-back guarantee way.
Frequently Asked Questions
---
[crp]
Also Read;