Netflix is one of my main go-to platforms, no matter what movie genre I'm after. In this case, it was something a bit spooky, so I hit up some of the best Vampire Movies on Netflix. Whether you're looking for something gory or to grab some quick laughs, there's something for everyone.
The craving for a great vampire flick will always be there, no matter what time of the year. It need not be the chilly temperatures laced with the aroma of pumpkin in the air that spooks us into the creatures of the night. Let's admit it. There's just something about vampires that delivers that chill and horror that thrills.
Maybe, the playing field of these bloodsuckers is so vast that it opens to all forms of interpretation, giving rise to a scope of narrative ideas. However, not all deliver. Few go beyond the general vampire genre without sacrificing great storytelling.
How to Watch Any Vampire Movie on Netflix with a VPN
Get a Bite of NordVPN
NordVPN unlocks all Netflix regions quickly for one low price
By right, you won't require a VPN to watch any shows you want. However, due to different distribution rights on the movies in varied regions, you may not be able to access them from where you are; this is where a VPN comes into the picture.
A VPN helps bypass such geo-restrictions put in place by Netflix by masking your IP with another.
I recommend NordVPN since it's a trusted and reliable VPN service with global server coverage and all the right security features. Being in the privacy-friendly Panama, you won't have to worry about data retention laws. Their verified strict no-logs policy ensures your data is never stored.
Step 1. Sign Up for NordVPN
At NordVPN, you'll find three pricing plans with different features. Each plan also comes at different prices based on the subscription length. The longer you subscribe, the lower the monthly price.
All plans come with a 30-day money-back guarantee, something you may want to take advantage of before committing to any.
Step 2. Download the app and Install
NordVPN supports various platforms; you can run it on a Windows PC, Mac, or almost anything else. Find the app for the platform of your choice, then download and run the installer. Follow the on-screen instructions to complete the process.
Step 3. Log in
Check your email for your login credentials. Launch NordVPN and log in with those credentials.
Step 4. Select and Connect to a Region
Both Netflix US and Japan are said to contain the most content. Hence, search for a server located in the US or Japan. Connect to it. However, each vampire movie on this list can be found in various regions. Check the list above to know which server you should connect to.
Step 5. Launch Netflix
Once your VPN connects successfully to a server in the US or Japan, head to your browser and launch Netflix. Enjoy everything about vampires on Netflix and anything else in their library.
Now that's out of the way, here's my pick of the top 10 vampire movies on Netflix;
1. Twilight – Breaking Dawn Part 2 (2012)
I believe this movie needs no introduction. Being a global mega-hit, the Twilight Saga has garnered die-hard fans that separated themselves under the Edward or Jacob camps. Girls swoon at the sight of muscular werewolf boys or the more elegant and slender vampires.
Based on the Twilight books by Stephenie Meyer, the movie series grossed over $3.4 billion worldwide from 2008 to 2012. I singled out Twilight – Breaking Dawn Part 2 due to the epic and engaging battle at the end. The Twilight Breaking Dawn Part 2 is the sequel to The Twilight Saga: Breaking Dawn – Part 1 and the fifth installment in the film series.
The movie tells of the romance tale between Bella ( Kristen Stewart), who was turned into a vampire by Edward (Robert Pattinson) after giving birth to Renesmee. The epic battle at the end over their daughter showed the alliance between the enemies (werewolves and vampires) to fight off the Volturi.
Although Twilight Breaking Dawn Part 2 received mixed reviews from critics, it still is a good watch for great entertainment. My top pick as the top vampire movie on Netflix.
2. Underworld (2003)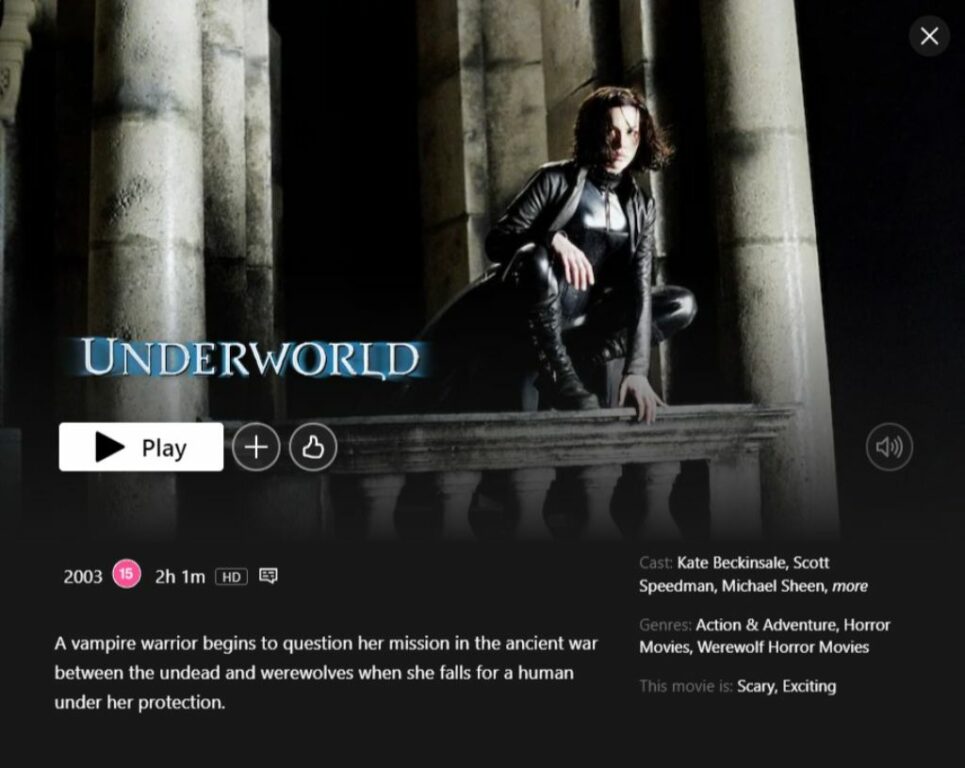 Underworld is a series of dark fantasy action movies that follows a deep-seated war between vampires (Death Dealers) and werewolves (Lycans). Selene (Kate Beckinsale) is an elite vampire warrior based on the Marvel Comics character. She soon finds herself entangled with Michael Corvin (Scott Speedman), a human hunted by the Lycans.
Selene shadows Michael and protects him. However, a werewolf manages to attack Michael, and things turn awry. Selene must decide between loyalty to her people and emotions.
Underworld kickstarted a series of movies – Underworld: Evolution (2006), Underworld: Rise of the Lycans (2009), Underworld: Awakening (2012), and Underworld: Blood Wars (2016/2017). Unfortunately, the Underworld series garnered less-than-stellar reviews from critics.
The series amassed a following and grossed a total of $539 million. Underworld remains an interesting watch, especially if you're a vampire and werewolf lore fan.
3. Blade (1998)
Based on the Marvel Comics superhero of the same name, Blade marks the first installment of the Blade franchise. Despite mixed reviews, the Blade series captured a cult following that earned two more movies, Blade II (2002) and Blade: Trinity (2004). Blade was a commercial success and became Marvel's first successful film.
Back in 1998, when vampire movies were scarce, Blade stamped a lasting impression on viewers. Although this movie is not suitable for kids, those of you who are not faint of heart will enjoy watching Wesley Snipes portray the cult hero Blade.
While Blade's mother was in labor, she was bitten by a vampire, rendering him immune to being turned into a vampire. A Dhampir who is a human with vampire strengths inheriting none of the weaknesses, Blade fights to end all vampire existence. The action scenes are intense, almost non-stop slashing, kicking, hacking off, and shooting. Blade is an exhilarating watch.
4. Van Helsing (2004)
Van Helsing is a tribute to the Universal Horror Monster films from the 1930s and 1940s and is partially based on novels by Bram Stoker and Mary Shelley. Inspired by the Dutch vampire hunter Abraham Van Helsing, Count Dracula, Frankenstein's monster, Duergar, Mr. Hyde, and werewolves, Van Helsing does not disappoint.
An action horror flick set in Transylvania, Anna Valerious (Kate Beckinsale) is a 19th-century gothic princess from a family famed for fighting supernatural beings. She calls upon Van Helsing (Hugh Jackman), a monster hunter, to battle Count Dracula who has entranced a vicious creature, allying with a monster.
The film grossed $300 million worldwide, which surely qualifies it as one of the best vampire movies on Netflix. Despite receiving mostly negative reviews, you'll still find Van Helsing the perfect popcorn movie because of its enjoyable action scenes with dazzling characters to keep you on the edge of your seat.
5. Bram Stoker's Dracula (1992)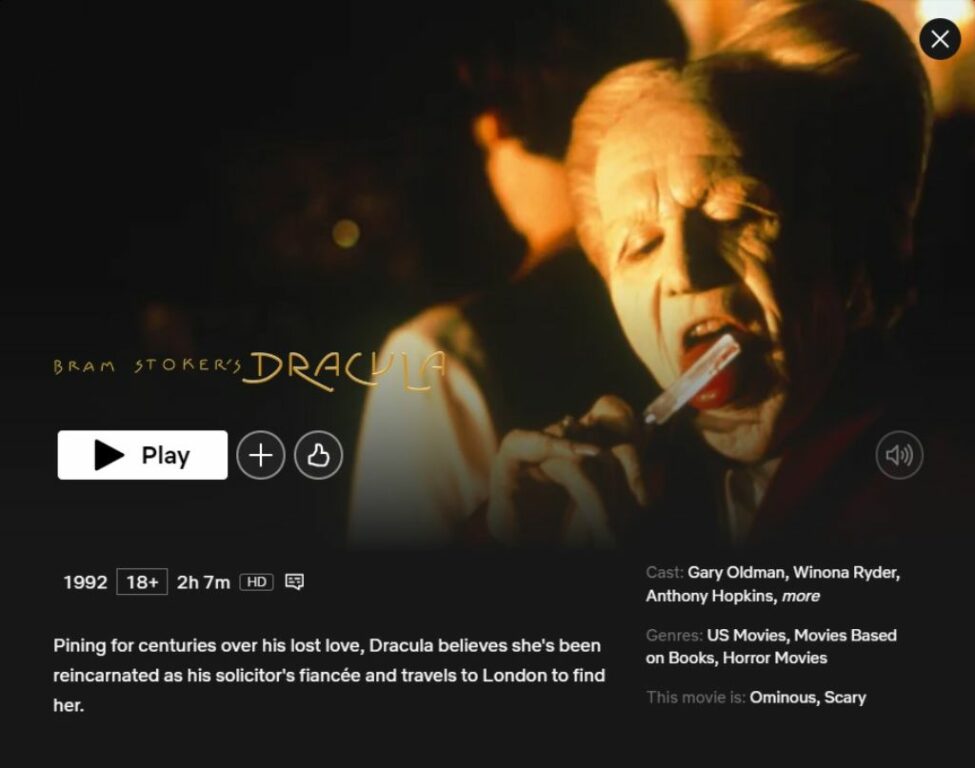 Perhaps the movie that launched all future undead films is Bram Stoker's Dracula. A 1992 American Gothic horror film based on the 1897 novel Dracula by Bram Stoker, Bram Stoker's Dracula secured four Academy Award nominations – Best Art Direction, Best Costume Design, Best Sound Editing, and Best Makeup. The movie won in all categories except Best Art Direction.
Vlad Dracula (Gary Oldman) returns to find Elisabeta, his wife, dead. She committed suicide after his enemies falsely reported his death. Vlad became enraged when he discovered his wife's soul was condemned to Hell for committing suicide. He then drove his sword into the chapel's stone cross, drank the blood, and turned into a vampire.
He then meets Jonathan (Keanu Reeves) and believes his fiancée Mina Murray (Winona Ryder), is the reincarnation of Elisabeta. Bram Stoker's Dracula garnered positive reviews and grossed $215 million.
A good vampire movie as you witness how Vlad devises his way of getting back Elisabeta.
6. Dracula Untold (2014)
Dracula Untold is an American action horror movie, a reboot of the Dracula film series. It takes a different spin from the storyline of Bram Stoker's 1897 novel. Dracula Untold follows the story of the historical figure Vlad III 'the Impaler' Drăculea (Luke Evans) and his monster alter ego, Dracula.
The story begins in the 15th century when Vlad Drăculea is the Prince of Wallachia and Transylvania. As a child, he trained to be the most feared warrior. One day, an inhumanly fast and strong creature attacked him in the cave. Vlad barely escaped. He then learned that the beast was a vampire.
Later, the Ottoman contingent arrives and demands tribute payment, wanting Vlad's son in addition. Given no choice, Vlad seeks help from the vampire. He drinks the vampire's blood and temporarily inherits the powers of a vampire.
However, if he drinks human blood within three days, he will forever be a vampire. Dracula Untold is a good action flick about vampires with a different spin to it.
7. Day Shift (2022)
If you have had enough of all the gore and intense story plots, check out Day Shift. One of the latest supernatural action comedy films on Netflix, Day Shift revolves around Bud Jablonski (Jamie Foxx), a blue-collar father whose pool-cleaning job is a front for a vampire hunter. Each time he kills a vampire, he sells the fangs at a pawn shop.
However, what he gets isn't enough to fund his debts and his daughter's needs. Bud has no choice but to return to the vampire hunting union. Released on Netflix on August 12, 2022, the film has received mixed reviews from critics. Some called Day Shift the best horror comedy of 2022, while others gave moderate comments.
That said, Day Shift brings fresh bits of the vampire legend with freaky fight skills. Laced with laughter, you'll find just the right amount to whet your appetite for a tickly vampire binge-watch.
8. Priest (2011)
Priest is an action horror film loosely based on the Korean comic of the same name by Hyung Min-woo. The story begins with a centuries-long war between humans and vampires. Despite the vampires' vulnerability to sunlight, they were impossible to defeat until a group of elite warriors, the Priests, came into being.
A veteran warrior Priest (Paul Bettany) lives in obscurity among the humans in walled-in dystopian cities governed by the Church. Priest vows never to venture beyond the walls. However, he breaks his promise when he learns that vampires have abducted his niece. He then sets out against all odds to rescue her before she turns into a vampire.
Despite negative reviews, Priest is a decent live adaptation of the series of Korean graphic comics in a post-apocalyptic world in a war between vampires and humans. The concept is enticing and could have captivated more if it had a longer runtime.
9. Dark Shadows (2012)
Dark Shadows, a Tim Burton dark fantasy film, features a star-studded cast of Johnny Depp, Michelle Pfeiffer, Helena Bonham Carter, and Eva Green. Barnabas Collins (Johnny Depp) comes from a wealthy family. His life turns insane when he spurns the advances of his servant and a witch, Angelique.
She curses Barnabas to eternal suffering as a vampire and all he loves to die. After two centuries of slumber, Barnabas was freed and returned to his ancestral home. Uniting with his dysfunctional descendants, he grapples with the modern world. Then Maggie Evans appears at his doorstep for the governess position and bears an uncanny resemblance to Josette, his fiancée who died due to the curse.
Meanwhile, Angelique appears. He must protect Maggie and his family. If you're looking for an intriguing watch with ghoulish makeup and gothic costumes with tinges of humor, Dark Shadows fits the bill for its visual style with light comedy.
As a nominee for one of the top vampire movies on Netflix, I was a bit edgy about this, but it made the cut.
10. Cirque du Freak: The Vampire's Assistant (2009)
Cirque du Freak: The Vampire's Assistant is loosely based on the Vampire Blood trilogy (book series The Saga of Darren Shan) by author Darren Shan. The story begins with two teenagers, Darren Shan and Steve Leonard. Curiosity caused them to sneak out at night to attend the Cirque du Freak show.
Steve catches a glimpse of one of the troupe's members, Larten Crepsley, and recognizes him as a vampire. Steve wants to be a vampire, but Crepsley claims his blood tastes evil. At the same time, Darren steals Crepsley's spider, Madam Octa. However, things turned chaotic when Madam Octa bit Steve on the cheek, who succumbed to her deadly venom in the hospital.
Darren had no choice but to beg Crepsley for help. Crepsley agrees if Darren becomes a half-vampire and his assistant. Meanwhile, Steve was offered to become a Vampaneze (vampires who murder their victims for blood, unlike Crepsley).
Although Cirque du Freak: The Vampire's Assistant was not a commercial success, it still manages an intriguing plot with many twists. It caught my attention long enough to clinch the last spot on my best vampire movies on Netflix list.
Wrapping Up
If you're craving supernatural vampire action flicks this weekend, you've come to the right place. Check out the above list of must-watch vampire movies on Netflix, and you'll have a super jolly fun binge-watch on everything undead this weekend with your family.
Just remember that Netflix limits access to titles depending on where you're located. If you try to find a vampire flick listed above and it's not there, use a VPN to swap to a region where it's available. Cheers!
If you like this series of Netflix Vampire titles, check out our other Best of Netflix lists;