Earlier in 2018, NordVPN did their own take on WireGuard, a new potential standard for VPN protocols which has shown extremely impressive initial results. NordVPN worked to modify WireGuard slightly and the result was introduced as NordLynx.
NordLynx was at first only available as sort of a trial run, integrated with NordVPN's Linux app. Now, however, they've made it a general rollout to all NordVPN platforms across the board – albeit with a caution that overall, WireGuard is still generally experimental.
Having tested WireGuard before, I have to say that it was impressive, but I still felt that it has a pretty long way to go. Just as I had installed a Linux VM to test NordLynx, out came the update for the NordVPN Windows app.
---
What is NordLynx?
NordLynx is the new proprietary VPN protocol developed by NordVPN. It leverages the WireGuard protocol, a modern and high-speed VPN technology. NordVPN uses it for its VPN apps on desktop and mobile platforms.
---
How NordLynx Works
Try NordLynx with NordVPN
NordLynx is one of the fastest and most secure VPN protocols currently available. Try it today with NordVPN's 30-day money-back guarantee.
NordLynx makes use of the WireGuard foundation and couples it with another segment developed by NordVPN, their custom double Network Address Translation (NAT) system. This extra add-on fixes the issue of having to store user data on servers since IP addresses can be assigned dynamically.
One of the key benefits of NordLynx is that it uses the latest in cryptographic technology, including the ChaCha20 encryption algorithm and the Poly1305 authentication algorithm, to provide strong encryption and authentication of VPN traffic. This helps to ensure that user data is kept safe from prying eyes and other threats while using the VPN.
At first, I was quite skeptical of this since it essentially meant adding more overhead to what was designed as a lightweight protocol. However, the double NAT system seems to be highly efficient and only tasked with one job – to create a pair of local network interfaces for each user.
That's right – create on the fly. This implies that the interfaces are virtual and no records need to be maintained at all. NordVPN says that the first interface is responsible for assigning a local IP (the same one) to all users on a server.
The second kicks in when the secure tunnel is created and that is when the dynamic NAT engages. These second IPs are assigned on active sessions and will be destroyed after the connection is severed, leaving no trace of the user.
NordLynx Speed is Simply Stunning
The speed of NordLynx can vary depending on several factors such as the user's internet speed, location, distance from the VPN server, and server load. However, in general, NordLynx is known for providing fast VPN speeds.
Let's take a look at the speed test in various stages. The first iteration would be a barebones run sans VPN to a local server. Based on a 500 Mbps fiber line, this would normally get me close to max speeds.
Next, what I did was to run the same speed test while connecting to a server slightly farther away to show some slight potential impact on the line caused by distance. I normally prefer to connect to a Singapore server since the country has a very strong infrastructure.
As you can see, connecting further away means a slight drop in speeds as well as a bump in latency (ping). This is normal, and the further away the server is, the higher the drop is likely to be, even without a VPN active.
Now let's do a comparison if I turn on NordVPN and test it with both OpenVPN and WireGuard. The speed difference will stun you.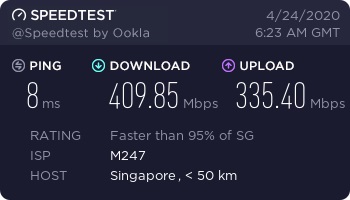 For those curious to see how it performs on servers that are a long distance away, I re-ran the tests to a US server – on the opposite side of the world from where I am.
As you can see in both sets of performance data, the difference is stupendous. The NordLyn protocol has simply blown the competition away. There is virtually no discernible performance impact at all while connecting using NordLynx.
The biggest difference aside from speed here is that it simply works by having a NordVPN application on your device – No more digging around for third-party applications and hunting for various configuration files.
Note: Those who've tried WireGuard will understand my gripe. Since it isn't mainstream, putting the bits together can be a bit of a pain (although not overly difficult). It's just not very user-friendly at the moment.
---
Why Not Simply Use WireGuard?
OpenVPN has been a proven force in terms of use for VPNs and in fact, it is still being improved on now. However, WireGuard is something new and its simplicity means that it runs with potentially much lower overhead than OpenVPN.
Unfortunately, WireGuard's development has been a bit slow. That hasn't stopped some VPN providers from rolling it out with limited access to customers though. Still, adoption has not been widespread due to concerns that it is still experimental.
NordVPN decided to speed things up a little and took WireGuard and slapped it into their own application frame with enhancement. According to NordVPN, although the protocol is simple to implement, its security still remains under debate.
Most of the conversations about the protocol have come around to a common sticking point of how it doesn't assign IP addresses dynamically for those connecting to servers. This trait is something that is part of the core concept of what VPNs do.
If IP addresses aren't assigned dynamically, the implication is that some user data needs to be stored on servers for it to work – a point simply unacceptable for any self-respecting VPN service provider.
With that in mind, the concept of NordLynx came to be.
---
Getting and Using NordLynx
If you're already a NordVPN customer (if not, get an account with them now!) then all you need to do is launch your app and let it get updated on its own. When the update is ready, you need to;
Open the Settings menu
Under 'Auto Connect' disable the option to choose VPN protocol and the server automatically
Under VPN Protocol, select NordLynx
Once that's done, just connect to any of the servers as you normally would and watch your NordVPN speeds fly.
Note: Although NordVPN says that this is an across-the-board rollout on its apps, it has also mentioned that they will be doing the rollout gradually to groups of customers. I suspect though that most of you with NordVPN accounts will already have noted a ready update in your apps.
---
Final Thoughts: Is NordLynx Really Good?
At the moment, I'm very stunned at the performance of NordLynx. Although I have yet to test it in great depth, the initial results are highly promising and I look forward to putting it through its paces.
I dare say that at this point in time, for those who've been unhappy with VPN speeds in general – this is the solution you need. The best part of all is that NordVPN prices are very reasonable and you can sign up for their two-year plan for as little as $3.99 per month.
This is definitely my go-to VPN at the current point in time, no questions about it.
---