NordPass is one of the recent players in the industry after launching a few years ago in 2019. Aside from being known for creating one of the best VPNs (NordVPN), they also decided to make a password manager.
After having good experiences so far with other password managers, I decided to give NordPass a try too. Below, I've listed the pros and cons of NordPass alongside the pricing plans and a brief comparison among other password managers.
---
---
Pros of NordPass: Reasons To Love NordPass
1. Easy-to-use User Interface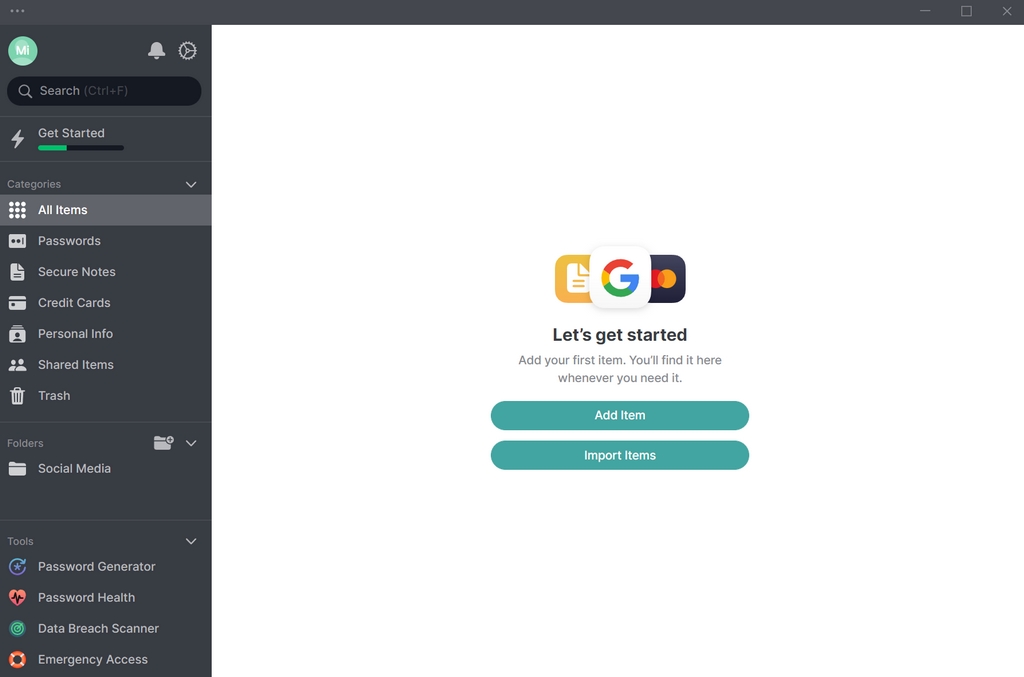 Upon opening the app, the user interface is straightforward and aesthetically pleasing to the eyes. The menu options can be found on the left sidebar and are divided based on three main sections: Categories, Folders, and Tools. In other words, you could say the design is minimalistic.
When adding a new item, you'll be required to fill up a form. The forms to fill up when adding your passwords are simple to understand and can be done in less than five minutes.
2. Offers multi-factor authentication
If you're the type of person that prefers to have extra layers of security, NordPass offers multi-factor authentication (MFA) so that strangers are not able to log in to your NordPass account. You'll need to manually enable it on your 'Settings'.
Once you've enabled it, you'll be redirected to the web browser and the page with two choices will appear: either enable your multi-factor authentication app with an Authenticator app or a Security key. The overall process takes less than three minutes.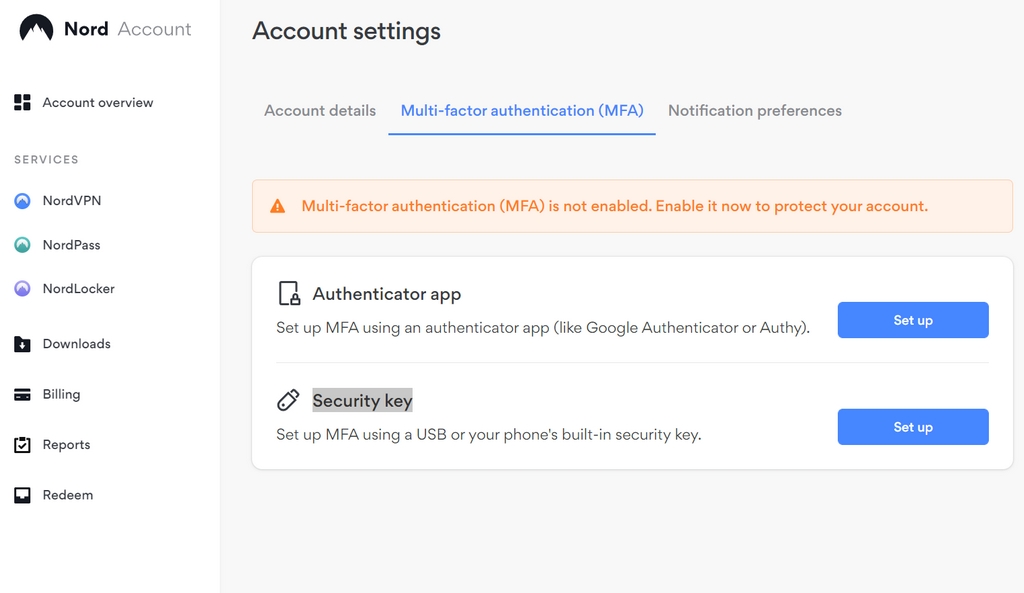 3. Has tight security features
3.1 XChaCha20 encryption
NordPass uses XChaCha20 encryption instead of the usual AES-256 encryption that other password managers use. For the uninitiated, the XChaCha20 is known to be faster than the AES-256. This also ensures no one else has access to your passwords other than yourself.
3.2 Biometric Authentication
Aside from that, NordPass also offers biometric authentication where you can use your face or fingerprint instead of your master password to unlock your account. Of course, this only applies if your device supports biometric functions.
3.3 Data Breach Scanner
NordPass recently added this security feature by checking whether there has been any data breach based on the email you've used to create your account. Though at the moment checking for more email addresses is not yet available, your account's email address would be sufficient.
4. Can easily import your data from various sources
NordPass offers the ability to import data from your browser or other password managers within just one click. All you need to do is upload the .CSV file and you're good to go.
What impressed me is how they even included a link to the tutorial on how to get the .CSV file from the respective password managers.
5. Able to sync across multiple devices
The Premium NordPass plan lets you connect up to 6 devices at the same time. This ensures all of your data is automatically synced across all devices instantly.
However, the free version of NordPass only allows you to use one device at a time. That means you'll be automatically logged out once you've switched to another device.
6. Able to check the overall health of your passwords
This feature is not unique as most top password managers would offer the same thing. Despite that, it's worth mentioning as it's crucial for us to know how strong our passwords are. NordPass comes with the Password Health feature where it'll identify which passwords are too easy, the ones that have been re-used, and if your passwords are too old.
On the report screen, it'll include the respective website URLs where your passwords are vulnerable. This makes it easier for you to change your password.
---
Recommended Reading;
---
Cons of NordPass: Reasons To Dislike NordPass
1. Limited free plan
In comparison with other password managers, NordPass's free plan is considered quite limited. For instance, you can't freely share access to your passwords with others. With LastPass, you're able to do so on their free plan. However, you can receive a shared password with others (if they have a premium account).
Besides that, you can't use NordPass across multiple devices – only one at a time.
2. Can't change the passwords using the NordPass app
NordPass requires you to log in directly to the website page in order to change your password. Several other password managers such as LastPass make it more convenient for you to change passwords easily.
I personally find it a hassle having to login into my account through the website just to change my password.
NordPass Pricing Plans
NordPass offers two types of plans which are: personal and business.
NordPass Pricing for Personal Plans
The main features of the available plans under Personal are:
| | | | |
| --- | --- | --- | --- |
| Features | Free | Premium (from $1.19/month) | Family (from $4.99/month) |
| No. of Accounts | 1 | 1 | 6 |
| No. of Password | Unlimited | Unlimited | Unlimited |
| No. of Devices logged simultaneously | 1 | 6 | 6 (per user) |
| Multi-factor Authentication (MFA) | Yes | Yes | Yes |
| Password Health | No | Yes | Yes |
| Data Breach Scanner | No | Yes | Yes |
| Sharing of Access for Passwords | No | Yes | Yes |
NordPass Pricing for Business Plans
The main features of the available plans under Business are:
| | | |
| --- | --- | --- |
| Features | Business (from $3.59/month) | Family (Price subject to custom terms) |
| No. of Accounts | Up to 250 | Unlimited |
| Password Storage | Unlimited | Unlimited |
| Sharing of Access for Passwords | Yes | Yes |
| Multi-factor Authentication (MFA) | Yes | Yes |
| Password Health | Yes | Yes |
| Data Breach Scanner | Yes | Yes |
| 24/7 Customer Service | Yes | Yes |
---
Alternatives to NordPass
NordPass vs LastPass
One key difference between NordPass and LastPass is that the former has two separate passwords – one to log in to your account, and another as your master password. As for the latter, it only requires one password for both.
LastPass also offers the feature to change your passwords on the app but NordPass requires you to change the passwords on the respective website page.
LastPass free plan allows users to share access to passwords but NordPass doesn't. This feature is only available in the Premium, Family, or Business plans. If you intend to use NordPass for business, then you would be much happier with NordPass as it allows up to 250 users for a cheaper price whereas LastPass only allows up to 50 users.
Other than that, NordPass's two-factor authentication remains the same no matter what plan you're on. However, LastPass doesn't offer the same feature – it depends on the particular plan you're using.
NordPass vs DashLane
Both NordPass and DashLane enable importing data from browsers and other password managers with ease. You are required to upload the respective .CSV files and you're done. Another similar feature is that both include a password generator, with NordPass allowing up to 60 characters whereas DashLane allows 12, 28, or 4-character passwords.
In terms of security, DashLane uses the standard AES-256 encryption whereas NordPass uses the XChacha20 encryption. Another key difference is that DashLane has stricter rules upon setting up your account and master password compared to NordPass.
DashLane offers unlimited password sharing as well, but it's not included in their free plan like NordPass. You can only share up to 5 accounts on their free plan.
Aside from that, DashLane has the feature of automatically changing your password via the app but NordPass doesn't offer this feature.
DashLane also only allows up to 50 passwords under their free plan whereas NordPass allows unlimited data storage for their free plan.
NordPass vs 1Password
NordPass and 1Password features are quite similar, but of course, there are some differences. For instance, 1Password has a 'Travel Mode' feature which removes all of your stored data on your device. So while traveling, if other people were to use your phone, they won't be able to automatically log in to your accounts. NordPass doesn't have this particular feature.
Other than that, 1Password allows users to sync with their Dropbox or iCloud accounts while NordPass does not.
In terms of pricing and plans, NordPass gains a point here as they have a free plan. 1Password only offers paid plans. However, as for syncing devices, NordPass only allows up to 6 devices while 1Password offers unlimited devices.
Verdict: Should you give NordPass a go?
It's safe to say that NordPass is a safe and secure password manager. The free plan is worth the try too if you're not looking to spend money on a subscription plan. However, I'd like to note that NordPass's free plan isn't the best around compared to other close competitors.
I would say NordPass paid plans are worth it because of the simple user interface that's easy on the eyes as well. You won't get confused if you're using it for the first time as it's easy to find what you're looking for.
But if you have far too many passwords saved and frequently change them, you might not like how it doesn't allow you to change them via the app itself. I find that extremely inconvenient which is enough to turn my head away from NordPass.
---
Review Box 0
nordpass
" style="background-image: url(https://hidemytraffic.b-cdn.net/storage/2022/06/
nordpass
-hero.jpg);" >
Pros
Excellent security
Easy to use
Data imports are possible
Multi-device sync
Checks password health
Free version available
Cons
Free plan is slightly limited
Can't change passwords in-app
Summary
I would say
NordPass
paid plans are worth it because of the simple user interface that's easy on the eyes as well. The free plan is worth the try too if you're not looking to spend money on a subscription plan.