ProtonVPN is a Swiss-headquartered Virtual Private Network (VPN) service provider. Founded in 2014 in CERN, they first started out with a secure email service called ProtonMail. Based on an aim to helping keep activists and journalists safe, they then branched out into the VPN business.
The cause was a noble one and today, ProtonVPN has close to 800 secure servers in 50 countries around the globe. Anchoring these are three key locations in Switzerland, Iceland, and Sweden.
How Secure is ProtonVPN?
The very essence of a VPNs service is its ability to keep its users safe through the combination of secure communications protocols, private servers, and the use of data encryption. In this regard, ProtonVPN does a fairly good job of things.
Secure Core Servers
As mentioned above, ProtonVPN has three key locations – these are countries in which they have designated as the core of their operations. Each location houses a cluster of servers that are securely housed in very safe locations.
Aside from the usual technological safeguards, ProtonVPN makes use of underground vaults to keep their servers protected. The Swiss data centre is housed in an underground former army fallout shelter, in fact, with all equipment in or out of these locations managed by them alone.
There is one pint of contention about this since Sweden, one of the core locations, is in 14 eyes jurisdiction. However, to date no complaints have been filed against ProtonVPN for any breach of privacy against its users.
High Encryption for Users
ProtonVPN encrypts all data transmitted to and from its servers on their VPN network using the highest encryption rates possible. They make use of 256-bit encryption and do not allow their users to downgrade this for better performance.
ProtonVPN Supports Tor Over VPN
For the paranoid or simply those who prefer to use the Tor Browser, ProtonVPN supports this natively. There is no need to make any adjustments to your connection in order for your Tor Browser to work as it usually does.
Strict No Logs Policy
As with all top VPN providers, ProtonVPN does not keep logs. These are files that register the connection and usage details of users, which are not desirable in a VPN service. In areas where there may be disputes and VPN service providers are forced by law to hand over user logs, it always helps if there are none to be handed over.
---
ProtonVPN Shows Some Speed Advantages
Despite this being a very popular line item, to be honest, speed isn't really a primary focus for VPNs. Users should be able to enjoy a decent usage experience while their VPN is active. Thankfully, ProtonVPN does offer some relatively good speeds.
As always, we start out test with a baseline speed to show our current estimate connection speed. This will set expectations as to how well a VPN server performance, relatively. Our theoretical line speed in 500Mbps, which over wireless gets us between 250Mbps to 400Mbps usually for a local test server in Malaysia.
Baseline Speed Test
On this occasion we only managed to hit 256Mbps, which although poor, is still a significant rate for downloads.
ProtonVPN US Speed Test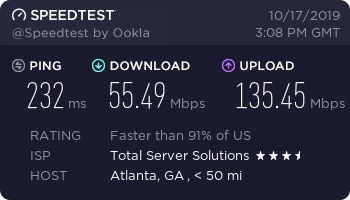 Although the US is quite far from Malaysia it's always been a country of focus for us since we love to access US-based content. For example Netflix. A 203ms ping is quite good considering the distance – without a VPN we normally get about 180ms, so that's a tiny addition to overhead.
Speed wise, 62Mbps may not be great but it's more than enough to download quickly and stream media smoothly.
ProtonVPN EU Speed Test
In the EU, ping increased while speeds dropped for some reason. Our guess is that ProtonVPN's strength in the region has resulted in more congested servers in that zone. Still, the speed is acceptable and defiantly useable.
ProtonVPN Australia Speed Test
In a surprising turn, ProtonVPN encountered a performance drop in Australia. This is disturbing as Australia is quite close to our location, physically. The results build on concerns that ProtonVPN doesn't place much focus on the APAC region in general, aside from the next test which is Singapore.
ProtonVPN Singapore Speed Test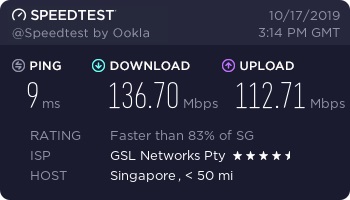 Given its proximity to Malaysia, our speed tests on Singapore VPN servers are usually excellent. To achieve a speed of 136Mbps from this key location is actually not all that great. We have seen much better. Still, in terms of usability there is no problem.
ProtonVPN South Africa Speed Test
Where most VPN service providers fail to shine, ProtonVPN turned up impressive – for their Africa coverage. We have seen many VPN providers fall flat in Africa, some resulting in barely useable speeds. For ProtonVPN to achieve 73Mbps here is nothing short of stunning.
ProtonVPN Speed Test Final Thoughts
While we can't say that ProtonVPN performed consistently, there is enough evidence to show that there are obviously some areas in which their service excels. This can be a great thing for those whoa re not fussy about what servers they connect to.
For those who want to sign up with a country / server in mind, it would be better to sign up for a trial account and test those location speeds carefully before you opt in. Aside from that, for a shared VPN service, ProtonVPN does do a good job in speed performance.
Do also note that ProtonVPN has what they call a 'Secure Core' mode, which means they route your connection through two different VPN servers – the first of which is one of their secure core data centres in either Switzerland, Norway, or Sweden. This method helps make your connection even more secure.
---
Can You Torrent on ProtonVPN?
We love to torrent and that's simply a fact of life. Even with Netflix, iFlix, iBBC, Amazon Prime, and Hulu, there's nothing we like better than having the freedom to simply see samples of everything that's available via torrent.
The problem with Torrenting on ProtonVPN is that they restrict P2P activities to certain servers only. This can make it slightly annoying for users who want to use specific servers close to them but also wish to torrent at the same time.
There are only a handful of P2P-capable server locations around the world (albeit in strategic locations). Technically – yes, you can torrent on these servers, but the restriction can be annoying.
---
Netflix and Media Streaming
With decent speeds, media streaming shouldn't be a problem over ProtonVPN shouldn't be an issue. Unfortunately, in our key test which usually focuses on Netflix, ProtonVPN was quite buggy. There were quite a few occasions when we simply couldn't connect to Netflix – which meant that ProtonVPN managed to get itself detected and blocked by them.
Other times, streaming would be fine for a couple of hours and then we would encounter degraded streaming performance before being kicked off. When contacted about the issues, ProtonVPN wasn't entirely helpful and simply asked us to 'keep trying various servers until the connection worked'.
---
ProtonVPN Usage Experience
While we liked the general feel of using ProtonVPN and technical speed results seemed decent, we can't quite say the same about the overall user experience. Where we mentioned the customer service attitude towards Netflix, this was unfortunately their standard response for all other issues as well.
After connecting and reconnecting multiple times just to get things done – there was a general sense of frustration. We can only imagine how we would feel if this were to be extended over a longer period – hair-rippingly frustrating.
Even worse was the fact that many websites we tried to access blocked ProtonVPN from accessing them. To date, this is one of the highest blockage rates we have encountered when using a VPN service and it was not fun in the least bit.
Incidentally, to get in touch with ProtonVPN you will need to email them. That is the only way to get in touch with customer service.
---
Pricing and Options
One of the areas where ProtonVPN does things differently is in the area of pricing. Most VPN providers have a monthly or extended plan available at two price points. ProtonVPN extends the concept a little further and breaks down their plans slightly more.
The first thing is they have a free option – limited in usage and speed, but it is a viable option for both users who can't afford a better plan or are seeking a modicum of use only, perhaps to test the service. This moves up several tiers, each extending functionality a little more – for a little more in price.
In case you're curious, we tested ProtonVPN on their 'Plus' plan – so the speed tests would be more accurate for most users.
---
Verdict: Is ProtonVPN Worth the Money?
The problem with ProtonVPN is that there is such a distinction between actual usage experience versus technical performance. If we went by the numbers, ProtonVPN did perform reasonably well, and offers functionality in some core areas like streaming and P2P.
What conflicts us is that it doesn't really do so particularly well. Take the case of the intermittent Netflix performance or blocked websites, or even the limited P2P servers for example. It's enough for them to say they can do it, but not well enough to give us a stress-free experience.
Nevertheless, ProtonVPN has a good concept and their variable pricing means you might be able to snap a good deal with their service depending on your needs.
ProtonVPN Review
Pros
Tiered pricing
No Logging
Strong encryption
P2P servers available
Cons
Spotty Netflix performance
Erratic speeds
Poor customer service
Summary
Thankfully, ProtonVPN comes in variable pricing tiers because if we were to pay top dollar for the service 'as is' it would drive us nuts. However, speeds are decent and it does make a strong case for security, so overall, not a bad choice.