RARBG is one of the most popular sources of torrent files today. Started more than a decade ago, it allows users to download torrent files and has magnet links as well to make the process easier. As with other torrent sites, RARBG hasn't been immune to legal prosecution.
Due to this, it has from time to time had to make use of RARBG proxy or RARBG mirror sites to make sure it was continually available to users. The site is also blocked in several countries at an ISP level, so you may need to use a proxy or VPN simply to access the site.
Before continuing, be aware that not all mirror sites are legit. This is especially true for mirrors for sites like RARBG, The Pirate Bay, and other torrent sources.
P2P with NordVPN
NordVPN offers dedicated P2P servers to speed up your torrent file downloads
---
Best RARBG Proxy and Mirror Site List 2022 (Complete List)
Disclaimer: HideMyTraffic neither condones nor encourages the sharing, seeding, distributing, downloading, or peering of copyrighted material. Breach of copyright laws is illegal in almost all jurisdictions, and offenders can be prosecuted.
In any case, I've collected several proxies from around the net and gathered them here. If you can access the main RARBG site at www.rarbg.org, then try one of these. At the time I wrote this piece, all links have been tested to be working.
Latest List of RARBG Proxies (Updates and additions: 28th March 2022)
---
What is RARBG
RARBG is simply a service that holds index files for torrents. These files aren't of any use except to link various peer devices that carry components of the real files. Because of this, the sites aren't really violating any copyright laws per-se.
All you need is to download the .torrent file from a site like RARBG and load it into a torrent client. The torrent client then searches for peers that have the file and will start downloading bits of it. Those bits will eventually combine to become the complete file.
Where is RARBG Blocked?
As of now, RARBG is blocked in 16 countries around the world including the United Kingdom, India, Australia, and Denmark (see the full list of RARBG blocking countries here). However, even if your country is not on that list there may be times when you can't access the site for various reasons.
Before you panic, make sure that RARBG isn't down at the time you are trying to load it. To check its status, you can visit any of the down detectors available on the Internet and test the URL you're trying to reach. Downinspector and IsItDown are some popular choices.
If the site is working, then somehow you must be getting blocked from reaching it. That's where RARBG proxies and RARBG mirrors come in handy. Where some ISPs might block only certain URLs, they are seldom able to block all mirrors and proxies.
You Can Get RARBG Unblocked
If you find that RARBG is up and you still can't access it, fret not. You can get RARBG unblocked with a few simple steps – all you need to do is change your DNS provider. By default, most people will use a DNS that is pre-set by your ISP, but this can be changed easily and for free.
As an alternative, I recommend you use either Google or Cloudflare DNS. These are provided by the companies for free and anyone can make use of them.
To change your DNS;
Go to your network settings and click on 'Network Connections'
Right-click on the connection you're using for Internet access and select 'Properties'
Select 'Internet Protocol Version 4 (TCP/IPv4) and click 'Properties'
On the lower part of the window, select 'Use the following DNS server addresses
To change your DNS settings you will need to enter two of them. If you'd like to use Google DNS then enter 8.8.8.8 and 8.8.4.4. If you'd prefer Cloudflare then enter 1.1.1.1 and 1.0.0.1.
---
Using RARBG for Downloads
RARBG is popular because of the very user-friendly way in which it was designed. It allows users to search for and rapidly scan many torrent files to ensure that those are the ones they are looking for. Honestly, the system is super simple and there are lots of helpful parts in the navigation screens.
1. Finding Torrent Files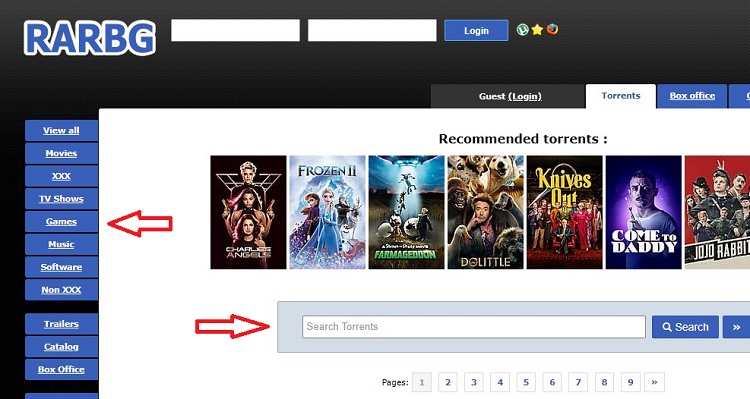 On the left navigation menu are the broad categories of files that RARBG has. Use this combined with the search bar to look for what you want. The search function has an advanced feature that also lets you search within specific categories.
2. Understanding the Torrent Lists
In your browsing or search result screen, you'll notice a long list of titles and other assorted information. Hovering your mouse over a title will bring up a main feature image of that title. The other important information you need to look at is S and L, which represents Seeders and Leechers.
Seeders are the number of people who are still sharing that file. Leechers are the number of people trying to download the file. The more Seeders there are, the faster your download is likely to go. The more Leechers there are, the chances are your download will take a longer time.
3. Starting Your Torrent Download
Clicking on any of the titles in the browsing list will bring you to the specific page for that torrent. Here, if you're sure this is the torrent that you want, click on the small magnet icon (1) located near the title.
If you're unsure, below that (See 2 in the screenshot above) is a list of possible alternatives that you can browse and choose from. In any case, once you click on the magnet icon, your Torrent client should load and start downloading the title immediately.
---
Is RARBG Legal?
The dispute over the legality of torrent sites like RARBG has been ongoing for a long time. Many companies and organizations label sites like this as responsible for multiple counts of copyright infringement.
Success in bringing down sites like RARBG and ThePiratePay have been mixed since even if the sites go down, there have been proxies and mirrors of them springing up here and there. Legally known as file sharing, the legality of torrenting varies very widely.
Germany, for example, takes a very staunch stand that any form of file sharing is illegal. It imposes fines of EUR1,000 or more per file downloaded in this manner. In Malaysia, the government has ordered ISPs to block access to file-sharing sites but has not made file-sharing itself illegal.
Disclaimer: HideMyTraffic neither condones nor encourages the sharing, seeding, distributing, downloading, or peering of copyrighted material. Breach of copyright laws is illegal in almost all jurisdictions and offenders can be prosecuted.
---
Protect Your Torrent Downloads with a VPN
The best way to ensure your safety when downloading torrents is by using VPN services. VPNs protect your connection to the Internet by connecting you with a secure server and encrypting all your data traffic.
This means that anything you download (or upload) is private to you and even your ISP will not know what data you are transferring. Do be warned though that not all VPNs allow P2P activities on their servers. Some like NordVPN do and have specially optimized servers for P2P users.
Conclusion: Always Be Aware of Internet Monitoring
Just because you can access a site doesn't mean that what you're doing is allowed in your jurisdiction. This fact simply attests to the growing infringement upon our personal privacy that countries are imposing on their citizens.
If you're out of your home country and are not sure of the laws regarding file sharing or P2P where you are you should be even more cautious. My recommendation is to always use a good, reputable VPN service no matter what you're doing.
---
Also Read;
---
Frequently Asked Questions
Is RARBG safe to use?
The site itself is safe to use, but be aware that sites like RARBG often have numerous popup ads which can be annoying. Torrenting, however, may be illegal depending on what country you reside in or what files you are sharing.
What are seeders and leechers?
Seeders are users who are actively sharing the file they have downloaded, while leechers are those downloading that file. Each torrent can have multiple seeders and leechers.
How do I download movies from uTorrent to my computer?
uTorrent is a torrent client and can be used to download files via a torrent. Once you've loaded the torrent, it will download the files directly to the location on your device specified in your uTorrent settings.
Where I can download free movies?
Torrent sites like RARBG and The Pirate Bay often have a lot of movies you can choose from. To download them, install a torrent client like BitComet or uTorrent and click on the magnet link on the torrent site.
Is uTorrent App illegal?
The app itself is not illegal, but the action of downloading a torrent may be illegal in some jurisdictions.