What is RitaVPN?
RitaVPN is a security product of Hong Kong-registered Weikawen Technology Limited. The company was founded in 2017 and to date has covered various areas of business from WAN optimization all the way to online gaming.
As for RitaVPN itself, mention of this VPN service seems to only have surfaced sometime late in 2019. This means that essentially, it's been in the business for a few short months. In an industry that plays highly on trust, can these new players like RitaVPN win a foothold for long enough to earn a chance at spreading their wings?
Anonymity and Security
RitaVPN is Based in Hong Kong
The thought of Hong Kong brings to me mixed emotions at present. I remember it fondly as the land of shopping and mouth-watering foods, especially their roast goose. Unfortunately, more than half a year of unrest in the city has turned those pleasant thoughts into scenes of petrol bombs and water cannon.
Perhaps it is symbolic that a Hong Kong-based VPN service provider has now emerged to offer anonymity and privacy services to a populace facing ever increasing police scrutiny.
Hong Kong is a Special Administrative Region of China and being managed under the One Country, Two Systems principle. This means that it sees significant benefits away from the draconian laws and rule of the mainland.
The region currently has no data retention laws and no legal stand towards VPN service providers. This is an important distinction from mainland laws and helps services like RitaVPN protect its customers well.
No Logging, No Censorship
Although there is limited information on the RitaVPN website, queries to them have gotten quick responses. On logging, we were informed that RitaVPN does not log user activity – inclusive of sites visited, DNS lookups, emails, or the like.
The only logs which the company keeps are access attempts to our servers, which makes sense since they must look towards their own security as well. The company has a policy against censorship and will not provide information on customers to third parties nor can they be compelled by law to do so.
Secure Service on High Encryption
In my trial of RitaVPN there was some concern due to the little information that is found in the application itself. On the website though, RitaVPN claims to employ AES-256 encryption and the OpenVPN protocol.
This seems to be a fixed thing and there is no way to either adjust encryption levels nor any means to opt for a different protocol. Although OpenVPN is one of the most popular and powerful communication protocols existing today, some users might like to opt for others from time to time.
It is unusual to see a service provider offering zero options in this regard. However, tests showed that RitaVPN is secure, with no webRTC leaks or IP leaks at all.
The VPN scene has been heating up over the past few years and we're seeing an influx of new brands and names coming in. Industry veterans like NordVPN and ExpressVPN have thus far solidified and extended their gains, leaving some room at the lower levels for new players.
---
Connectivity and Features
The RitaVPN Network is Still Compact
At this point of time, RitaVPN runs around 100 servers in 17 countries. While that might not seem like a lot, it is a decent start for a new player barely a few months in the market. So far their security has been solid and they offer useable speeds (see our Speed Tests later).
These servers are spread evenly across the globe, covering most major areas such as the Americas, Europe, and Australasia. The only place missing a connection is the African sub-continent, but that has never really been much of a focus for VPN providers anyway.
If things go well, the network will grow, but for now, it is what it is.
Minimalist Application
Following that theme on few choices, the Windows app itself is very simple. There is the option to choose what servers you wish to connect to, along with a few basic settings and profile adjustment areas.
For those who are used to 'Western' developed apps, you might have a bit of difficulty navigating your way around the app due to naming systems. The feeling is that many functions were not translated by native English language speakers.
For example, connection to a VPN server is labelled as 'Acceleration', while instead of standard Yes/No options you get Yes/Cancel instead. It isn't a major issue, but something that might take some time to get used to.
There Are Seriously No Frills
If you've tried out a few VPN services recently, you may notice that most of them come chock-a-block with additional features aside from the core VPN service. This might take the form of ad blockers, anti-virus, white listers, or anything else associated with security.
I've never been a fan of those and felt that most VPN providers should focus on they key business and not compete with Internet Security software. RitaVPN for some reason, has done exactly that – focused on the VPN service. Perhaps it might be since the service is new, but I'm hoping they will not add on the bulk unnecessarily.
---
RitaVPN Speed Test – How Fast is it?
Speed tests are always the most popular part of my reviews since they offer users a glimpse into what they can expect if buying in to the service. Each of my speed tests per location is run two – once with the VPN on and once with it off, to servers in the same country.
This will give you an idea of any differences in speed and latency when turning on the VPN service. As a note, my physical location is in Malaysia, so that needs to be factored in as well.
US Speed Test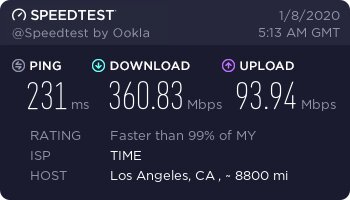 Speeds to a US-based server while connected to RitaVPN were pretty bad. Yes, I acknowledge that the distance from where I am to the US is far, but without a VPN I'm able to get over 360Mbps. Having that drop to a mere 4.5Mbps is simply terrible and barely enough for streaming video.
EU Speed Test
Speeds in the EU region were markedly better. Although these speeds are lower that what many top VPN service providers offer, you also have to remember that RitaVPN has barely been in operation for a few months.
Africa Speed Test
This speed test was omitted due to the lack of a Africa-base server for RitaVPN. Users should refer to the EU speed test for an idea of regional speeds here.
Asia Speed Test
My normal speed test for Asia is Singapore, but for some reason during testing the connection to that server was on the outs. As such I opted for the next best thing – Hong Kong, especially good since that's the home base for this provider.
Speeds here were pretty decent as well and in fact, fairly uniform with results from the EU region. Strangely enough the latency was a little higher than I expected.
Australia Speed Test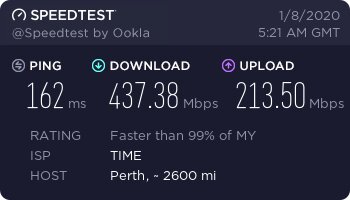 Here again we encountered quite uniform results from RitaVPN which in my mind is something that shows great promise. Many VPN providers have a huge server spread that offers extremely varying results. The only other two I know of with such consistent service are ExpressVPN and NordVPN.
Speed Test Conclusion and Final Thoughts
By now I can already hear the gripe from you guys: It's too slow, there aren't enough servers, and so on. While to some extent I may agree with you, I do have to repeat again that for a start, these results show great promise.
In fact as it is, they are already better than many of the other smaller players in the market, some of which have been around for a far longer period of time. My gut feel is that these speeds will increase as they grow.
As a side note, many smaller VPNs start out, well, small and tend to grow quickly. I'll re-visit RitaVPN after some time to keep you guys updated if there's any progress with them or not.
---
Streaming and File Sharing with RitaVPN
Can RitaVPN Handle Netflix?
Technically, yes. I tried the US Netflix server they have and managed to continue watching Republic of Doyle from where I left off the last time. Then I watched five straight episodes of it and woke up late today.
However, these are limited regions that this will benefit you in since RitaVPN is still limited to a handful of countries. Again, this is an issue that needs time to resolve.
P2P Works on RitaVPN
The graph above shows two points in time when running BitTorrent. (A) is when RitaVPN was turned on, and (B) where it is turned off. As you might note, without the VPN on there is a significant spike in speed, but that is to be expected. The key area to focus on is (A) which proves that routing P2P traffic through the app works.
Speeds might not be the best, but the key thing is that it works, right?
---
Pricing and Licensing: How Much to Pay for RitaVPN
Before I begin discussing how much RitaVPN is charging for their service, as a point of note, I'd like to remind everyone that running a VPN service isn't cheap at all. Service providers must pay for server placements, equipment, bandwidth, R&D costs, and so much more.
Also, it isn't like many regular businesses where the owner can set up a small-scale operation and grow from there. VPN users need large, secure networks to play with, or likely the product won't sell. As of launch RitaVPN has acceptable basics in place.
Having said that, I do find RitaVPN's pricing a little unusual. Unlike many VPN service providers I've seen, it charges fairly reasonable rates for users who want to pay for the service on a month to month basis.
The norm I see for monthly VPN payments is usually between $10 to $12, with steep discounts going to those who sign up for annual, bi-annual or longer plans. RitaVPN only charges $6.99 for their 1-month plan. For annual plans though the savings aren't fantastic and in fact, more costly on a monthly basis than what many top tiered providers charge.
---
Conclusion: Should I Get RitaVPN?
There is no denying that RitaVPN is a new kid on the block. Yet even so, it has established a basic, functional network of servers that offers decent speeds, secure connections, and good global nodes. All of this at a very decent pricing structure as well.
I would say that this is a good start to their efforts and with a bit of help, they might be on their way to establishing a foothold in this very challenging industry.
RitaVPN Review
Pros
Works with Netflix US
Multi-platform apps
Strong security
P2P on all servers
Cons
Slow US server speeds
Limited network
Still new
Summary
RitaVPN may be new and offer a limited server network, but what works so far shows great promise. New service providers pop up all the time and not many of them can reach these levels of performance after a few short months.