If you're all about soccer, LiveSoccerTV is the one to watch out for. This globally-loved sport harbors the world's most marketable leagues. From the much-celebrated World Cup, EPL to La Liga, from Serie A to Bundesliga, the soccer leagues have garnered loads of fans worldwide.
In the past, we plan our daily schedule surrounding the TV. You don't want to go out at certain times to catch up on something interesting on your cable TV. Well, times have changed. Technology caught up and facilitated recording TV shows, so you heave a sigh of relief as you become flexible in moving around while catching up on your shows later.
Then, streaming came along and revolutionized the way we watch shows. You can now watch anything online, live or recorded, and on the go. The usual forms of streaming content include movies, TV shows, podcasts, webcasts, and music videos. Many platforms have emerged that facilitate content streaming.
Stream Soccer With NordVPN
NordVPN helps you unblock any website online and access all sports streaming channels.
What is LiveSoccerTV?
While most tune in to watch live soccer matches on cable or satellite TV networks, a significant portion of viewers leans towards online streaming services. After all, they are cheaper than cable or satellite TV networks; you don't need such premium services to get everything about soccer.
Emerging online streaming platforms can now afford comprehensive online sports coverage with commentary, football guides, a current soccer schedule, news-related websites, and streaming of matches.
LiveSoccerTV is not a streaming platform per se. It is one of the most popular and trusted soccer guide platforms available. LiveSoccerTV provides a comprehensive take on anything soccer-related.
Almost any major league you can think of is here with frequent broadcast updates and news (MLS, EPL, Champions League, Europa League, La Liga, League Cup, Serie A, Bundesliga, Primeira Liga, and more).
Also, you can find relevant information such as live matches and notification updates with a lot of crucial information that is rare to find all in one place on the internet – channel listings, live football scores, fixtures, results, league standings, upcoming match previews, news, highlights, and featured stories. LiveSoccerTV does not broadcast the said events, as they link you to the official broadcasters.
LiveSoccerTV Mobile App
The LiveSoccerTV app is available for iOS and Android. Again, the app does not stream but offers detailed soccer coverage, including the official broadcast listings for the match. Also, get current live scores, match stats, commentary, and notifications of your favorite teams.
App Features:
Official live video and audio stream links by region for each match.
Local channel listings by team, day, or competition.
Local broadcast providers, listed by competition and channel.
Team fixtures, league standings, and top scorers.
Results, match stats, game lineups, and live match commentary.
Highlights, viral content, and editorials.
Teams kick-off reminders with local broadcast info.
Sync match's schedule with your device's calendar.
Hide scores feature to watch later.
Multi-language support (English, Dutch, French, Italian, German, Spanish, Portuguese (Brazil) and Portuguese (Portugal), and Turkish.
Ad-free option.
Why LiveSoccerTV?
LiveSoccerTV is cross-platform; you can access it from different devices. It is optimized for almost all devices, and you can view the content seamlessly. Instead of scouring the internet for crucial game information all over the place, you can get them all via one spot – LiveSoccerTV; this saves a lot of time.
If you're a hard-core soccer fan, you'll love that LiveSoccerTV covers everything about the match and major events brilliantly. You'll even find information on lesser-known leagues and competitions. The multi-language support is a class of its own; accessing LiveSoccerTV in multiple languages attracts people across the globe.
Also, the LiveSoccerTV app integrates with your calendar. Hence, you'll receive an update on your favorite teams, so you don't have to keep checking in the app. You can manually add matches to your calendar too.
How to Use LiveSoccerTV?
LiveSoccerTV sports a straightforward interface with easy navigation. The menus are easy to decipher, and everything is where they are supposed to be. However, there are some ads on this website. Hence, turn on your ad-blocker. Also, have your antivirus on. You never know what's in these ads.
The interface exudes a clean and sleek look. You can immediately tell that the website is focused more on content than functionality. The bulk of the website goes to the ongoing football fixtures across various leagues, listed vertically. I liked the daily tabs at the top, where you choose the day to see the matches.
Also, the upcoming top matches at the right are positioned correctly, as this is important information. As you scroll down, you'll come across a news section. I am drawn to this section most as I want to know what's trending and the highlights. What's great is that the news here is never stale; you always get the most current updates.
Let's return to the top and dive into the header menu items:
Soccer Matches
Hovering your mouse over the 'Matches' tab displays a monthly calendar. You can click the day you want to see what matches are in play; same as maneuvering through the daily tabs, both allow you to search for the games by day and month. LiveSoccerTV makes it easy for you to locate the game you want.
Ongoing Competitions
When you hover your mouse over the 'Competitions' tab, you'll see the leagues displayed by countries, namely 'United States', 'Europe', 'North, Central, & South America'. Click 'All Competitions' will bring you to a list of soccer competitions by region (Europe, N/C America, S. America, Asia, Africa, and World).
Soccer Team Information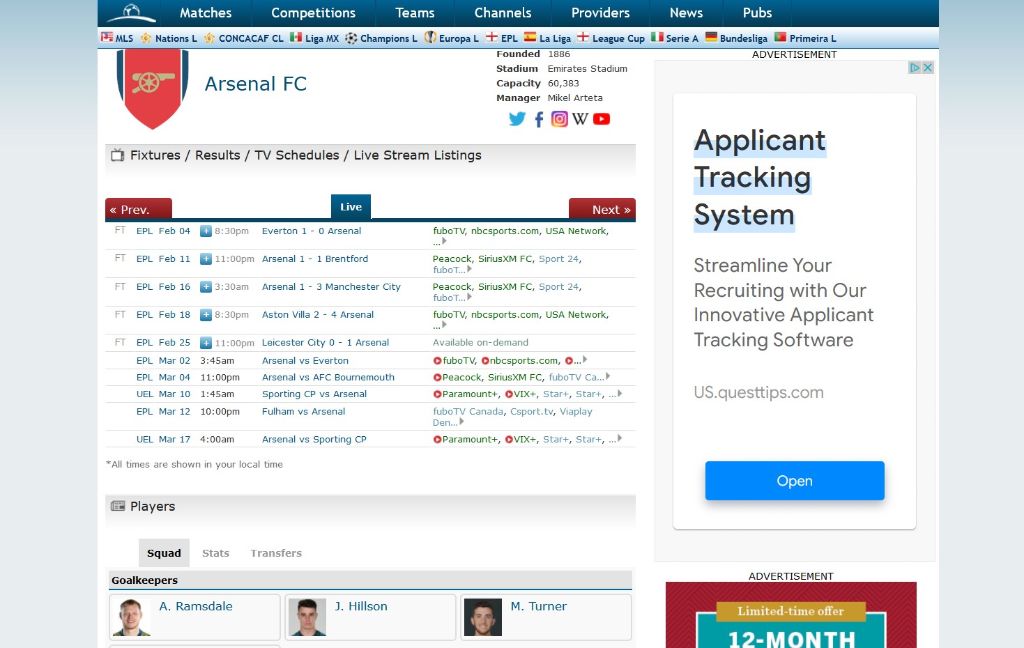 Bring your mouse over the 'Teams' tab, and you'll see the teams in Europe and the United States. Click the team you want, and the related fixtures, results, TV schedules, and live stream listings appear. The schedule of the games of the team you selected is listed clearly and shown in the local time.
The players' information is at the bottom. Click the player to learn more about him. Or scroll down to a list of news related to the team. I would say that LiveSoccerTV has done an excellent job grouping all relevant information by a team in one place.
Soccer Streaming Channels
Hovering your mouse over the 'Channels' tab gives you the channels available in the US. Click 'All Channels' will bring you to a list of live football TV and online streaming channels. There are the ANT1 Satellite, beIN SPORTS, CBS, DAZN, ESPN, ESPN+, FOX Network, Fox Soccer Plus, Fox Sports, FuboTV, NBC, Paramount+, Peacock, and more.
When you click the channel you want, you'll go to a page within LiveSoccerTV with detailed information about the channel, and the available soccer schedule.
Streaming, Cable and Other Service Providers
When you hover your mouse over the 'Providers' tab, you'll see a window with a list of live streaming/OTT, satellite, and cable providers. You also can find your provider by keying in your zip number. Clicking on a provider brings you to a page within LiveSoccerTV containing detailed information about the provider itself and the soccer schedule.
All the Top Soccer News
The 'News' tab is self-explanatory. You'll find in this section loads of frequently updated news. I find the news format easy to read and follow. You'll find this 'News' section time-consuming as it is comprehensive and detailed.
Soccer Pub Locations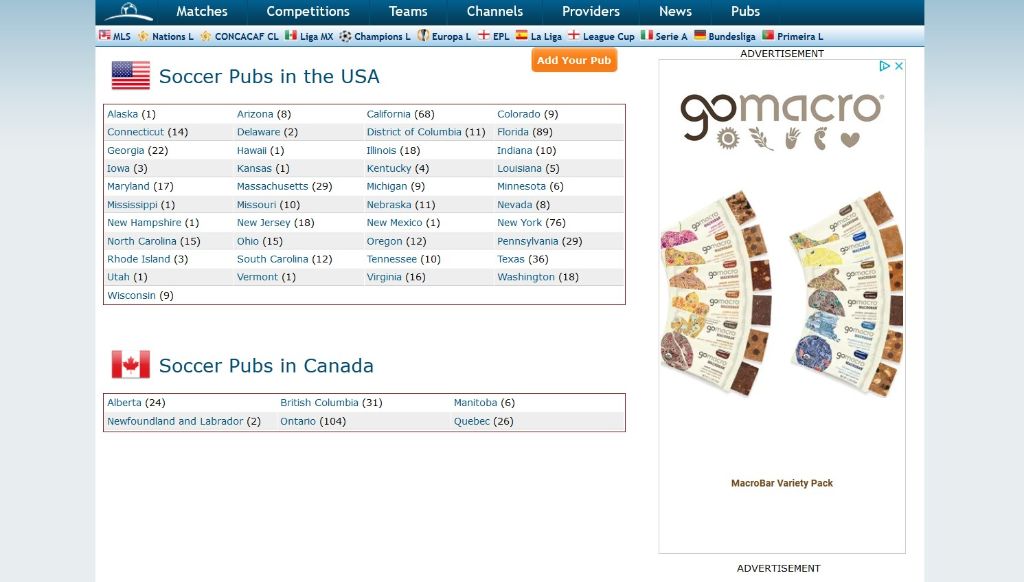 Soccer pubs are where fans gather to cheer for their teams. Be it clinking beer mugs to chugging them down to snacking to eating your meals while enjoying the 'soccer' atmosphere, soccer pubs are popular, especially during 'intense' matches.
Hence, it is no surprise that LiveSoccerTV dedicated a section to help you locate soccer pubs in the US and Canada. Click the state to reveal a list of available soccer pubs with locations.
Is LiveSoccerTV Legal?
LiveSoccerTV is not a streaming platform. They provide the official broadcast listings of soccer matches. All links go to top sports broadcasters. LiveSoccerTV states that they do not offer to stream matches per se. The website is overall legit.
However, they have issued a disclaimer that since the links are to other websites, they resume no control over the content and other goods/services. As such, they bear no responsibility for them.
LiveSoccerTV gathers your information during the forum registration, Contact Us, and other feedback forms. They justify doing so to serve you with information tailored to you. Also, they may use cookies and tracking links on its site for performance tracking.
Although they claim not to share your personal information with others, they have a disclaimer stating that they will disclose your information to only responsible third parties, if needed.
Hence, it is best that when you use LiveSoccerTV, practice digital safe hygiene methods to safeguard yourself and your information. Always use an ad-blocker, antivirus, and VPN to ensure privacy and security.
Is LiveSoccerTV Worth the Price?
I can safely say that LiveSoccerTV is a soccer fan's dream come true. You get comprehensive coverage of everything in the world of soccer. When you wish to watch and stream the matches, you'll be directed to the broadcasters, where there's a payment involved.
Regardless of which league or team you follow, you'll get relevant in-depth information and valuable news stories. The wealth of information available is astounding; there is no dearth of content here. A few minutes on this website is enough to get any soccer fan hooked.
Also Read;