Free VPN services have grown in popularity thanks to increasing threats against our online privacy. Unfortunately, just like in the case of using pirated software, users often do not fully understand the risks of what they seek.
Using free VPN services (which are legal, by the way) could expose users to higher levels of danger than using hacked or cracked software. It is important to note that there are various kinds of free VPN services and the distinction is important.
Still, there are viable VPN service providers there which provide some form of free services;
Top 5 Free VPN Services
1. Hotspot Shield
Website: https://www.hotspotshield.com
Hotspot Shield was first released way back in 2005 and has survived admirably through the years. Today it offers both free and paid services. The free service limits your bandwidth to 500MB per day which is one of the highest limits we've seen among free providers.
A daily limit means that you can pace your usage through an entire month without having to worry about hitting your quota just 3 days in. Also, at this daily rate, you're getting around 15GB per month on average.
Unfortunately, the free service also has ads and you can't make use of Hotspot Shield's entire global network of servers. You are also limited in the number of devices you can connect and don't get access to tech support in case you need help.
Their premium service removes those restrictions and will set you back $2.99 per month if you sign up for a 3-year plan.
2. TunnelBear
Website: https://www.tunnelbear.com
TunnelBear offers perhaps the least amount of data on their free account as anyone is the market. 500MB per month isn't enough to fit a gnat through and I can guarantee you'll be facepalming in frustration within the first few hours of using their free service.
There is a way to worm around this quote though since they offer users who tweet about their service a bump up with an additional 1GB of bandwidth. I'm not sure how often you can exploit this promo but I'm pretty sure you'll get sick of Tweeting for bandwidth very quickly.
However, they do have a decent reputation in the market, and opting for their paid service will open a larger network of servers you can use. Opting for their annual plan works to around $4.99 per month based on annual billing.
One more thing to take note of is that Tunnelbear was bought by McAfee in 2018, so their integrity might become a little suspect.
3. Hide.me
Website: https://hide.me
Hide.me is another free VPN provider that certainly doesn't believe in modesty. I've typically found that any VPN service provider which includes the word 'fastest' in their marketing spiel, generally isn't. The free option for Hide.me comes with 2GB of data and allows a single device to connect to any of five locations.
The limitations are serious and real but offer VPN novices a good opportunity to test out what the experience of using a VPN is like. If you get tired of those restrictions and feel the need to choose Hide.me as your provider of choice, their Premium paid plan starts from $5.41 per month.
Moving to that gives you unlimited bandwidth and increases the number of servers you can connect to. You also have the option to change your mind since there is a 30-day money-back guarantee that comes with their paid plans.
4. ProtonVPN
Website: https://protonvpn.com/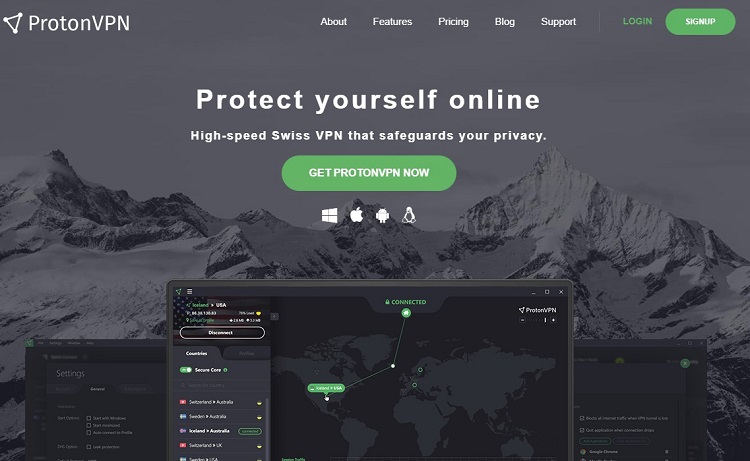 ProtonVPN has a bit of a strange free VPN service model as it not just limits what countries you can connect to, but your actual bandwidth as well. This is vaguely stated as being capable of 'Medium' which can depend very much on perspective.
Their plans then scale up into the paid region, with an increase in fees resulting in 'faster' speeds, support for more devices, and access to what they call 'Plus Servers'. While this may seem well and good, the disturbing thing is that it seems more technical jargon than making any real sense.
The overall feeling is one of a lack of transparency, and once a VPN service fails to inspire or loses that trust, its days seem numbered. At the highest tier, ProtonVPN can set you back as much as $24 per month which is a whopping fee that is likely the highest in the market for a shared commercial VPN.
5. Windscribe
Website: https://windscribe.com/
Using the free version of Windscribe gives you access to around ten VPN servers. These are located mostly in the US or Europe and do not cover the Australasia region. 10GB per month of bandwidth isn't enough to cover a regular connection, but it could be useful in a pinch if you just want to cover sensitive situations.
They have a range of apps that you can install on quite a number of devices. This includes desktop client applications for Windows, Mac, or Linux. Aside from that, you can opt for a browser extension on either Chrome, Firefox, or Opera. If you're using Windscribe on mobile, they have mobile apps for iOS and Android. Other devices covered include some TVs as well as routers based on either DD-WRT or Tomato firmware.
If 10GB per month of bandwidth isn't enough for you then you need to look towards their Pro plan which is billed either monthly or yearly. Yearly plans offer the greatest savings, working out to a rate of roughly $4.08 per month.
---
---
Types of Free VPN
VPN services take a great deal of capital expenditure not just to roll out but to maintain and operate. There is no possibility that a company will spend huge amounts of money needed for hardware, software, and technical expertise just to give away a free service.
Let's consider the free VPNs on the market today. There are two main types of free VPN services, unlimited and limited.
Unlimited Free VPN
When companies splash out huge amounts of cash on infrastructure and equipment, they need to recoup it from somewhere. By offering you a free, unlimited service, they have reduced their main source of potential revenue to zero.
This means that they will lose money not just on their investment but operate at an ongoing deficit. To offset this, those companies need to earn money from another source. Some of the ways they can earn money are by inserting ads or even selling your data.
There is also a chance that free VPN service providers make use of your bandwidth to 'piggyback' other users' connections, saving them cost but eating up your bandwidth.
One possible example of this would be ThunderVPN. We've reviewed this service before and found much to be desired in their operations. Not only does the company make a ton of false claims, but it liberally copies content from other sources and releases as little information about the company behind it as possible. These are all big red flags that should warn users to stay away from the service.
Always be cautious of any VPN provider that claims 'free, unlimited' services.
Limited Free VPNs
You will also find many other VPN service providers that offer you limited access to their service for free. These usually don't charge you fees but impose crippling restrictions that will ultimately limit the usefulness of the freebie.
Typically, they will limit what servers you can connect to, the time you can spend connected, or most typically the amount of data that you can transmit through the service. The reason why they do this is to try and encourage you to sign on for their paid services.
Personally, I dislike this method of baiting users. Even if you were to only sign on to test the service with a view to signing on as a paying subscriber, limited access will not allow you to fully test their service and make a good decision.
They also can be used as a sort of 'sandbox' which allows users who are new to VPN services to experiment and discover their own needs. There are some legitimately decent VPN providers who work this sales model.
What do the Experts Think About Free VPNs?
We asked Larry Trowell, Principal Consultant at Synopsys for his opinion on free VPN services and what he said was sobering;
"The injection of ads and the sale of private data are points in which these free services may not obscure their user's identities. Many free VPN applications may not be actively, intentionally collecting your information.
However, then again, you may be installing malware on your devices by downloading free VPN applications with little or no actual intended benefit. In some cases, a free VPN could act as little more than a man-in-the-middle (MITM) attack, attempting to trick users into installing a malicious certificate so that an attacker can skim passwords and/or other private transactional data."
According to Aaron Zander, Head of IT at HackerOne, free VPNs present many issues around privacy, security, and more. From some companies offering VPNs for teens and abusing the developer/ enterprise processes to get valuable insight on kids, to ones that basically sell all of your traffic to whoever wants it, others snoop on your information and use it against you.
Aside from privacy issues, Zander also commented that free VPNs have even been used to install malware, report data about you to your hostile government, and more.
Verdict: The Free VPN Model is Flawed
Certainly, I can understand that there are people who may not be able to afford premium VPN services or simply want to use them in limited circumstances. VPNs aren't for everyone after all. However, as you can see, most of these free VPN services are relying on a low-performing free service to bait users into signing up for their paid services.
Even without a certificate, it's still possible for a VPN to alter any non-HTTPS webpages accessed by inserting a JavaScript keylogger into a page so that information entered on the site can be captured by an attacker. This may not necessarily be the intention of the free service provider. You see, a number of free VPN services use what is known as bandwidth piggybacking to use an open server to convey user traffic. It is possible that the provider of this open server has intentionally left ports open with the intention of attacking unsuspecting users.
Personally, I feel as if the top-tier VPNs in the market that don't do this are much more affordable and offer far superior services. Take for example NordVPN or Surfshark. I've reviewed both services and found them to be excellent and much cheaper than what is on offer by these free VPN services.
NordVPN costs $3.49 per month for 3-year subscriptions, while Surfshark is only $1.99 per month on a 2-year plan. Both have free trial periods as well, so why rely on a free service when you can test, then sign up for great VPNs at low prices?
Comparatively, these two offer much larger and faster networks of VPN servers combined with a better price and excellent market reputation compared to any of the free VPN service providers.