VPN Free Trials allow you to test them out yourself at no cost. However, only a few VPNs offer a long enough 100% free trial. Because of that, it can be a challenge to know which will best suit your needs. Otherwise, you risk ending up with a long-term subscription and a hopeless VPN service.
Given the VPN free trial limitations, several workarounds exist. They either come in the form of a limited free VPN service, a short free trial, or a guaranteed refund within a specific timeframe. Many prefer the last option because you get to give the VPN's full features a thorough spin for a longer time.
Having reviewed dozens of VPN brands over the years, we're intimately familiar with the best of them.
Best VPN Free Trial Top Choices
1. NordVPN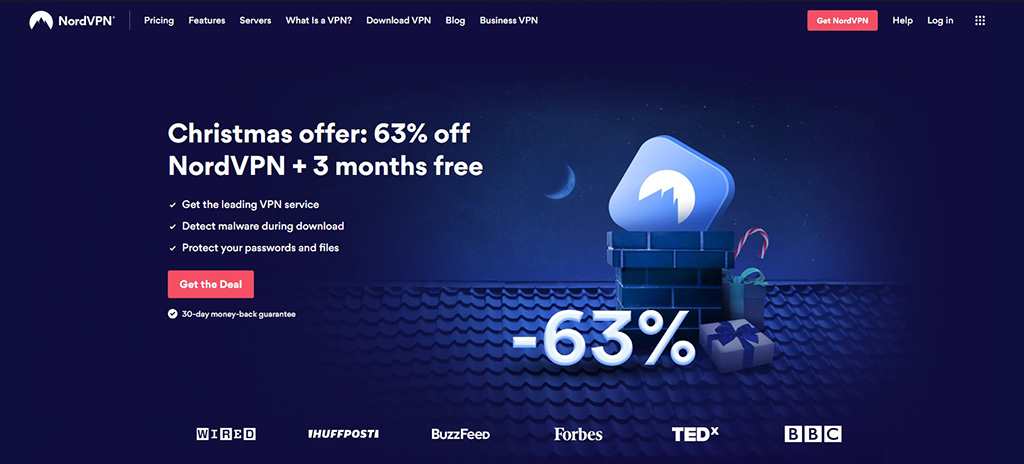 Launched in 2012, NordVPN is one of the biggest consumer VPN brands in the market. They are known for their forward-looking technology and strict no-logs policy (independent audits carried out by PwC). NordVPN is in privacy-friendly Panama, a country not part of the Five Eyes or Fourteen Eyes alliances, so there are no worries about data retention obligations.
Why NordVPN?
An impressive network of 5421 ultra-fast servers in 59 countries gets NordVPN on a solid footing. These servers are secured with top-notch encryption and offer blazing speeds. NordVPN stands out due to its combination of bulletproof security, fast connection speed, and unlimited bandwidth. Hence, you'll have no issues with streaming and torrenting with NordVPN.
Also, security features such as double VPN encryption, which provides an extra layer of protection, automatic kill switch, DNS, and IP leak protection are among the few that give you peace of mind when online. Seek help from them 24/7 via email or live chat. Also, their Help Centre is impressive.
How to Get NordVPN's Free Trial?
The Google Play Store offers a free 7-day NordVPN trial for Android users; this free trial depends on Google Play Store's terms of service. Contact Google Play Store directly to initiate the cancellation to avoid being charged when the trial expires.
Alternatively, NordVPN offers a 30-day money-back guarantee. Sign up for a plan, and download and install the NordVPN app on your device. Take it for a spin (there are no limitations), and cancel your subscription within 30 days to get your money back.
2. Surfshark
Surfshark is a newcomer to the VPN scene, established in 2018. Despite being a newbie, they are making waves in the VPN market with their commendable all-around VPN offerings. Surshark abides by its no-log policy (independently audited by Cure53). However, there has been some reorganization within Surfshark that raised eyebrows.
If you signed with Surshark before 1st October 2021, your contract is with Surfshark Ltd, established in the privacy-friendly British Virgin Islands. All new or renewed contracts after this date are with Surfshark B.V. in the Netherlands.
Why Surfshark?
Surfshark's network of over 3200 servers in 100 countries impresses. As such, you enjoy multiple high-connectivity options. Surfshark is one of the few VPNs allowing unlimited simultaneous connections per account. That makes it an excellent cost-saver.
You get 256-bit encryption, split tunneling, a kill switch, leak protection, and the Camouflage Mode (make your connectivity look like a regular internet connection by removing any VPN traces).
The CleanWeb suite is nifty in blocking ads, trackers, and malware. Also, the Whitelister helps decide which traffic you want to hide or reveal. Surfshark is available 24/7; email them, have a live chat, or check out their comprehensive knowledge base.
How to Get Surfshark's Free Trial?
Surfshark offers a free VPN trial for seven days for Android, iOS, and macOS platforms. Download the Surfshark app from the Google Play Store or Apple App store. Once you launch the app, click "Start free trial" and create an account.
Select the 12-month option. Once your trial subscription from the app is active, use it on all other devices, regardless of the operating system.
Or you can leverage Surfshark's 30-day money-back guarantee. Sign up for any plan, make the payment, and feel free to test it out for 30 days. If you want to terminate the service, ensure you do so within 30 days of your purchase to get a full refund.
3. ExpressVPN
Established in 2009, ExpressVPN is the frontrunner when it comes to VPNs. Based in the British Virgin Islands with no data retention laws, they take pride in their strict zero-logs policy, as attested to by Cure53 and PwC.
They are not part of the 5/9/14 Eyes Alliances. ExpressVPN shines in its in-house development, as evident in its new superfast Lightway protocol for a speedier and better VPN experience.
Why ExpressVPN?
With over 3000 servers across 94 countries, you'd have no problem overcoming geo-restrictions to access almost anything you want online. The upgraded 10Gbps servers make for faster and more reliable connections. The brand offers seamless access to streaming services, torrenting, and gaming.
Its split tunneling feature allows you to decide which traffic gets encrypted through the VPN. Also, you get 256-bit AES encryption, an automatic kill switch, DNS, and IPv6 leak protection.
ExpressVPN is one of the few VPN services that consistently bypass the Great Firewall of China. Contact them through email, live chat, or check out their knowledge base, if you're adventurous.
How to Get ExpressVPN's Free Trial?
ExpressVPN provides a 7-day free trial on iOS and Android devices. Download and install the ExpressVPN app from either Google Play or the App Store. Select the plan, complete the setup, and all is done. To avoid being charged after the seven days end, ensure to cancel within the said period.
If you need more time, look into their risk-free 30-day money-back guarantee. Sign up for a plan and pay upfront. You will get your full refund if you cancel within 30 days. A simple request via their live chat can get the job done swiftly.
4. CyberGhost
Based in Romania and outside the 5/9/14-Eyes Alliance, CyberGhost abides by a strict no-logs policy, as confirmed by Deloitte in 2022. CyberGhost is beginner-friendly, and its Windows client is feature-packed and powerful.
Why CyberGhost?
With more than 9,308 VPN servers in over 91 countries, CyberGhost possesses one of the largest consumer VPN networks in the market. They claim to give you the highest possible speeds with unlimited bandwidth and traffic. CyberGhost's dedicated streaming servers facilitate easy bypassing of geo-blocks and streaming.
A worthy note to highlight is that CyberGhost emphasizes transparency. They were the first in the VPN industry to publish a Transparency Report in 2011 and continue to do so. Such reports help the public know how CyberGhost is safeguarding the data.
CyberGhost offers AES 256-bit encryption, an automatic kill switch, and DNS and IP leak protection. Contact their 24/7 support team via email, live chat, or peruse their comprehensive knowledge base.
How to Get CyberGhost's Free Trial?
CyberGhost offers a 100% free trial with unlimited features on Windows and macOS (24 hours), Android (3 days), and iOS (7 days). You don't need a credit card for Windows and macOS, but one is necessary if applying on Android or iOS (although you won't need to pay anything upfront).
They have a no-questions-asked money-back guarantee. If you opt for the lowest 1-month plan, you get a 14-day money-back guarantee, but if you need more, you opt for the 6-month or 2-year plans that will get you a 45-day money-back guarantee.
Note: If your subscriptions are through the App Store or PlayStore, you'll need to handle your refund through Google or Apple, NOT CyberGhost
5. IPVanish
Founded in 2012 and based in the US, IPVanish performs well with its robust collection of server locations and excellent customizability. That said, there are concerns regarding it being in the US (part of 5/9/14-Eyes Alliance) and the logging controversy that occurred several years ago. IPVanish confirmed that their technology and no-log policy were audited and certified by Leviathan.
Why IPVanish?
Equipped with more than 2,000 servers across over 75 locations, you have decently good coverage to help with geo-blocking. IPVanish claims to own its infrastructure, so they have control over the servers. With no data transfer caps, you get to enjoy blazing speeds. IPVanish is also known for affording customizable server connection options.
There's no limitation on simultaneous connections, so use IPVanish on as many devices as you want. Hence, IPVanish suits large families. Their 24/7 customer support is through phone, email, and live chat.
How to Get IPVanish's Free Trial?
Like most others, IPVanish offers a 7-day free trial for iOS and Android devices. Download and install the app and create an account. Then, activate IPVanish to begin the trial. Cancel your subscription before the end of the seventh to avoid being charged. You will have to do so via Google PlayStore or Apple Store.
Or you can check out their 30-day money-back guarantee on the yearly or 2-year plan. The guarantee is not available for monthly plan subscribers. Canceling from the website gets your refund automatically processed within three business days.
6. Atlas VPN
Launched in 2019 and based in the US, Atlas VPN is a freemium VPN service. They became part of Nord Security in 2021. While relatively new to the VPN scene, Atlas VPN is an up-and-coming VPN that's lean on price yet delivers.
Why Atlas VPN?
Atlas VPN began with over 750 global premium servers (including ultra-secure Privacy Pro and streaming servers). The servers deliver blazing speeds, thanks to the new WireGuard protocol. Its SafeSwap, a unique privacy feature developed in-house, affords you multiple IP addresses that rotate as you connect to a single VPN server; this makes it hard to trace back to you.
Atlas VPN uses AES-256 and ChaCha20-Poly1305 encryption and IPSec/IKEv2 and WireGuard protocols to forward your data. Hence, security and privacy are no joke to them. The Data Breach Monitor, a built-in feature monitors for any leaks in data breaches. Also, the Network Kill Switch and SafeBrowse protect you from entering potentially dangerous websites.
With all these goodies and unlimited simultaneous devices connection at a low price, AtlasVPN is a value-for-money option.
How to Get Atlas VPN's Free Trial?
You can check out Atlas VPN's free version by downloading it from either the Apple App store, Google Play store, or their website. Install and launch the app, log in, and you're all set. However, this free version comes with limited features and functions. The premium version offers a lot more goodies for a minimal price.
You can sign up for Atlas VPN's free 7-day trial for premium features via Google Play Store and Apple App Store. To avoid being charged, cancel before the seven days are up through Google Play Store or Apple App Store. Or, you can opt for their risk-free 30-day money-back guarantee after you purchase a subscription. You can get a full refund within 30 days of cancellation.
7. ProtonVPN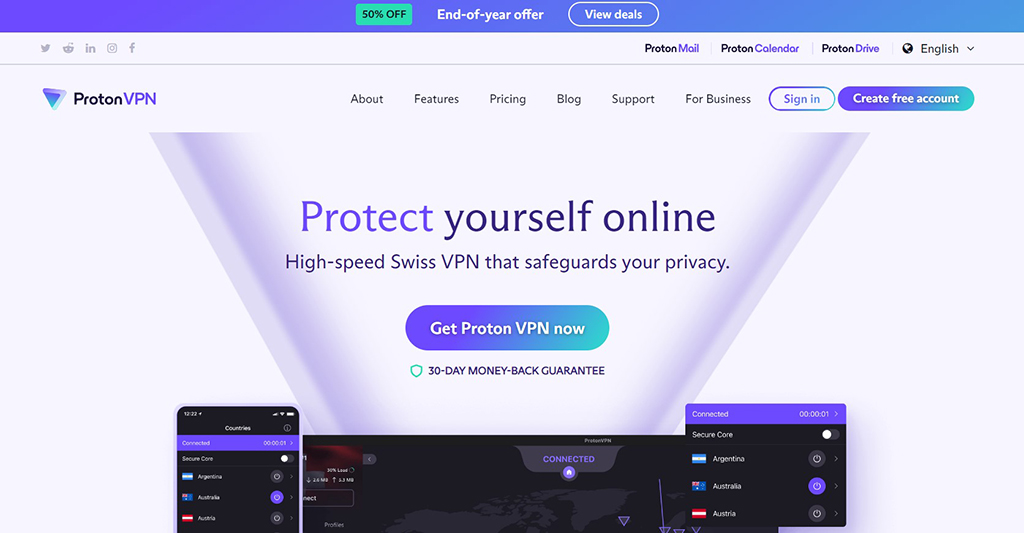 Headquartered in Geneva, Switzerland, ProtonVPN was founded in 2014 and supported by FONGIT (a non-profit foundation financed by the Swiss Federal Commission for Technology and Innovation for the public good), and the European Commission. Starting from their secure email, ProtonMail, they have expanded to be a VPN service provider.
Why ProtonVPN?
Being based in Switzerland is a solid plus point for ProtonVPN, as they are ferocious when safeguarding privacy. With 1,904 servers across 67 countries, they abide by a strict no-logs policy.
ProtonVPN claims that their VPN Accelerator increases speeds by 400%, so no worries about lagging connection speeds when streaming (also thanks to the WireGuard protocol). However, security is where this VPN shines.
ProtonVPN's apps are open-source and audited. Their Secure Core architecture routes your traffic via multiple servers before leaving their network, making it hard for others to track you. Its Stealth feature is unique and helps bypass most firewalls. Strong encryption with AES-256, key exchange through 4096-bit RSA, and HMAC with SHA384 for message authentication are available.
While the free plan only allows one device connection, the Plus plan allows up to ten devices. Although there's no live chat, their knowledge base is comprehensive.
How to Get ProtonVPN's Free Trial?
With the Proton VPN free plan, you get limited access and restricted functions. Sign up for a free account and complete the verification to activate your free plan. Their 7-day free trial is part of the free plan.
You do not need to provide any payment details and worry about getting charged after the seven days are up. Also, you have full access to their Plus plan for the first seven days of your free subscription.
All their paid plans come with a 30-day money-back guarantee. You will have to sign up and pay for a plan. Then cancel within 30 days from the initial purchase to qualify for a full refund.
What Makes a Good VPN Free Trial?
The purpose of a VPN free trial is so you can test all the features that the VPN has to offer. Look for one that allows you to try everything you need, including all their functions, connection speeds and reliability, streaming capabilities, and others. Also, ensure the duration given is a reasonable amount of time, enough for you to test everything.
Risk-free for Consumers
The free trial should have no strings attached and be risk-free. I don't recommend going for restricted free trials or the free-forever plans. They usually do not give you an accurate picture of how effective the VPN is.
In most cases, it is best to leverage the money-back guarantee option. Although you pay upfront, you get longer to test everything about the VPN. If you feel the VPN isn't right, request a cancellation within the stipulated time to claim your refund.
Here's a short checklist if you need more help;
VPN Free Trial Checklist
Is the VPN brand well-known and reputable?
What platforms are the free trial available on?
Is upfront payment necessary?
Do you need to provide credit card information?
How will you cancel the free trial and avoid credit card charges?
If your answer to any of the questions above troubles you, consider another brand.
Final Thoughts – Choose Your VPN Brand Carefully
There are thousands of VPN brands in the market, many of which offer a "100% free" service. Most of these are either unusable or dangerous to your privacy and security. Always ensure that you opt for a reputable VPN brand.
Many major VPN service providers will offer you a free trial that allows you to experience everything they have to offer. That way, you can choose based on your experience and decide if it suits you. Use that opportunity and take one of these brands for a spin now!
Frequently Asked Questions on VPN Free Trials