If there's one thing the Amazon Firestick is known for, it is the wide range of free apps. Whether you're looking for some TV series, Live Channels, or movies, there's a Firestick app for everything! Hence, it's impossible to download every single app available. 
To help you narrow down the options, below I've rounded up some of the best free apps for Firestick so you can get the most out of the device.
---
1. Kodi
Kodi is one of the best free apps for Firestick as it allows you to watch and stream any content such as movies, TV Shows, Live TV, and even under the sports or kids category. In other words, it's a popular streaming player that doesn't require a subscription.
Yes, you won't have to pay a single dime as it is 100% free to download on your Firestick. However, you must install a few Kodi addons (FOC) to stream the content from popular streaming sites such as Hulu and Netflix. 
2. Plex
Another one of the best free apps for Firestick is Plex. Aside from being a streaming player from online streaming sites or Live TV, you can also stream from your media libraries, such as music, movies, and TV shows. 
Plex takes it up a notch by organizing your content, making it easier for you to find what you're looking for. Plex will also provide recommendations based on your media library on the home screen.
3. Tubi
Tubi is a free video streaming service offering more than 20,000 videos, making it one of the best Firestick apps that are entirely free. 
One of the significant downsides is that there are ads that play every 12 to 15 minutes. However, it's worth going through the ads since you can find movies or TV shows under any genre. Besides that, Tubi doesn't offer much live TV or sports content either.
Regarding updated content, Tubi lags slightly, so you can't expect fresh movies or TV shows once released.
4. IMDb TV
IMDb (Internet Movie Database) will be your best bet if you prefer to watch popular movies and TV shows. IMDb TV has everything you need for information about movies, directors, actors, actresses, etc. 
The plus side of IMDb TV is that despite having ads, it doesn't display them as often as other free streaming services.
5. Cinema APK 
For those who are looking for the best free apps that offer up-to-date content, Cinema APK is one of them. You won't have any problem searching recent content as it will all be uploaded once available. 
The overall interface of the Cinema APK is suitable for most TV screens, and your Firestick is no exception.
6. Nova TV
Nova TV's user interface lets you personalize according to your liking and isn't that complicated to navigate around using your Firestick remote. You can view both new and old content as it's updated regularly. 
Nova TV is known to include HD (High Definition) options as soon as possible for users to enjoy streaming them easily.
7. CBS Sports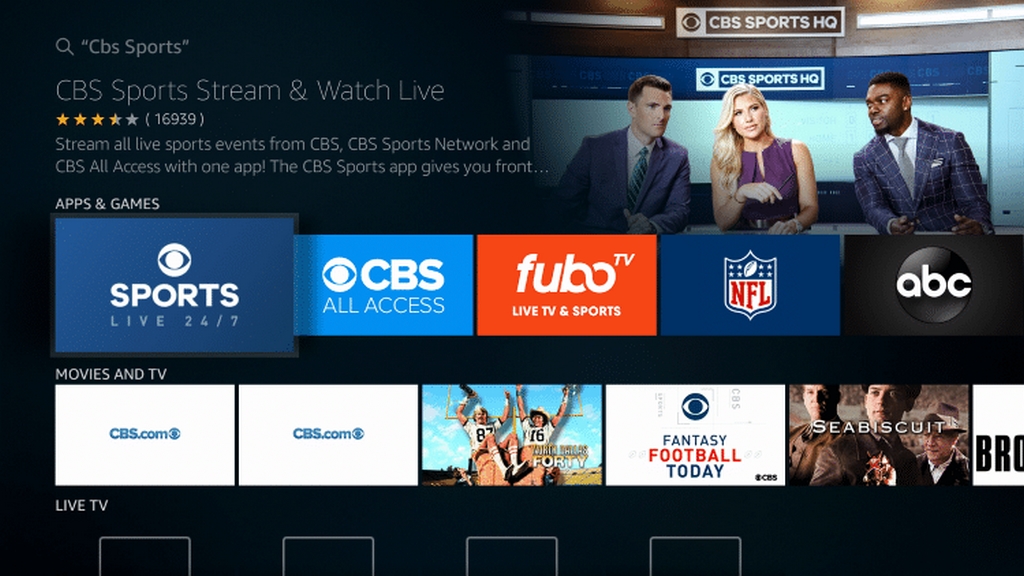 Avid sports fans will love CBS Sports, one of the best free apps for Firestick, when you're interested in all things sports. You can watch all of them for free, from live video coverage to sporting events. 
8. HD Streamz 
HD Streamz has plenty of satellite channels you can access via your Firestick for free. There are free satellite channels from countries such as the UK USA, to name a few. 
9. Redbox TV 
Redbox TV is one of the best free apps for Firestick, which offers many free satellite TV channels. The user interface makes it easy for you to navigate using your Firestick remote. 
You can select the countries you want to view the available TV channels, such as Canada, the UK, and the USA. If there's a channel you frequently watch, you can favorite it.
10. Fast Task Killer
Is your Firestick slowing down all of a sudden? When your Firestick device has too many apps running in the background, it slows down the RAM. This causes buffering and slows down the overall performance.
Task Killer is one of the best free apps for Firestick when you need to speed things up. It'll help to free up some space in your Firestick's RAM by clearing the cache and killing the active apps.
The only catch is that it isn't officially sanctioned, so you'll need to go grab a copy of the app via Downloader.
11. Crackle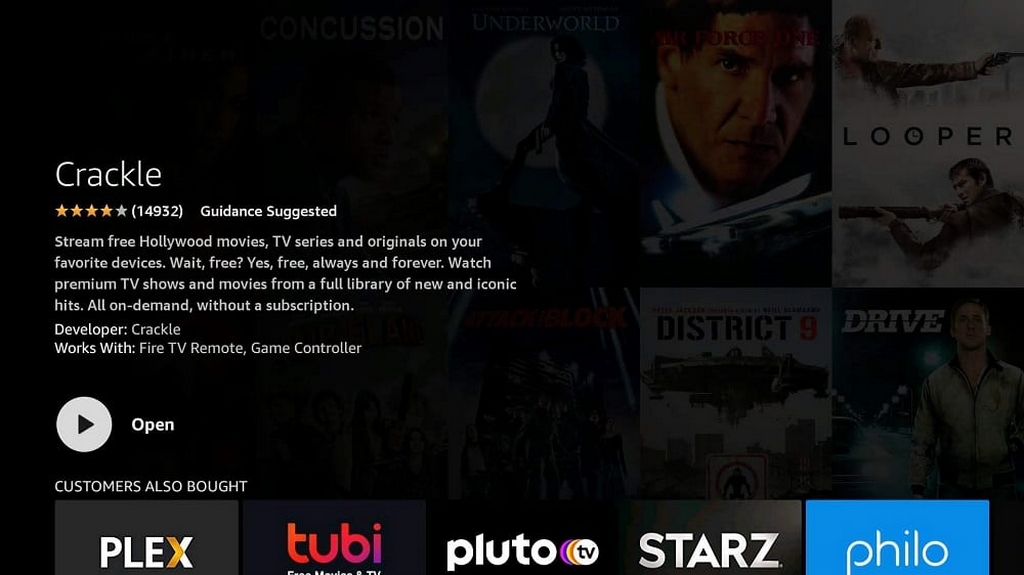 Do you happen to have young kids in your family? Crackle is a free streaming service with a Parental Control function that filters the content based on age. This is one of the main reasons why it's one of the best free apps for Firestick when kids are involved.
You can stream popular TV shows and movies on Crackle on your Firestick. However, you need to have an account to access the content. Don't worry; it's also free. Search for Crackle on the Firestick app home.
12. Spotify for Firestick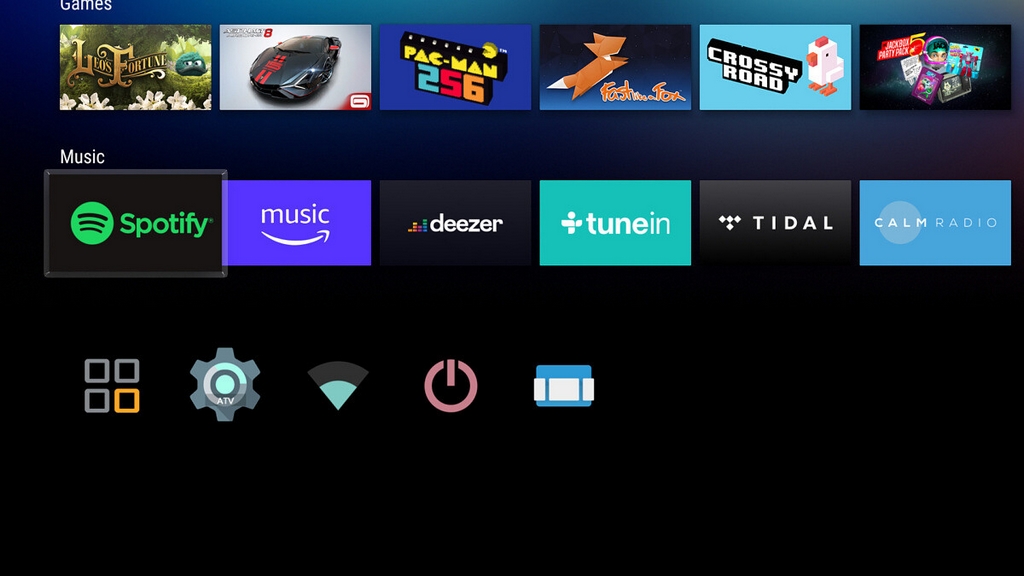 Music lovers would probably know of Spotify. If you're looking for the best online music streaming free apps for Firestick, Spotify works just as it should on all Firestick devices.
All you need to do is sign in using your Spotify account, which you can create for free.
13. PopcornFlix
Don't mind watching your favorite TV Shows and movies without HD quality? PopcornFlix is where you can find 100% free content, but some of them may not offer HD streaming. 
However, this free streaming service is available in selected regions (around 60) on the Amazon Appstore. Hence, you'll have to check whether you can find it on your Firestick device.
14. XUMO 
On XUMO, you can stream more than 190 channels on your Firestick under various categories such as entertainment, news, sports, etc. The best part is that you're not required to have an account – you can access the entire content for free without login in. 
Although on your Firestick, you'll be faced with various ads displayed between streaming. Be warned that many countries block XUMO, and you'll likely need a good VPN to access the great content here (I recommend NordVPN).
15. KlowdTV 
Owned by Herring Networks Inc, installing KlowdTV on your Firestick device is free. You can find more than 120 live channels, such as Nasa TV, EuroNews, Court TV, etc. Other than that, you can also stream content within 720p or 1080p without any buffering. 
16. Antstream 
Those who frequently game would probably be looking at installing the best free apps for Firestick. Antstream is where you can stream more than 1000 exciting arcade games like Space Invaders, Metal Slug, and Bubble Trouble.
Plus, you can find games that specifically work with the Firestick remote.
17. EarthCam 
Looking for something unique? How about having the ability to watch scenic webcams with your Firestick? Yup, EarthCam is one of the best free apps for Firestick that shows various locations, such as Times Square and Budapest, to name a few. 
18. TikTok 
Are you a regular user of TikTok? It's without a question one of the best free apps for Firestick. Millions of users are using TikTok, and you can install it for free on your Firestick device. 
19. Mouse Toggle 
It can get annoying navigating TV screens when using any Firestick apps. To make it easier, you can download the Mouse Toggle, which lets you use a mouse pointer while navigating. Unfortunately it's another app that you'll have to grab via Downloader.
20. VRV 
Owned by Crunchyroll, VRV is one of the best free apps for Firestick when you have kids. It's an entertainment platform offering various cartoons, anime, video games, science fiction, etc. Most of the content is free, so your kids will never get bored.
VRV is another service that's often geo-blocked. Again, a good VPN will help with this. (I recommend NordVPN).
21. Amazon Silk Browser 
Most Firestick users favor the Silk Browser over other available browsers as it works best with Amazon Fire devices. Not only can you stream on the browser, but it'll also save your passwords. 
---
How to Install NordVPN on Firestick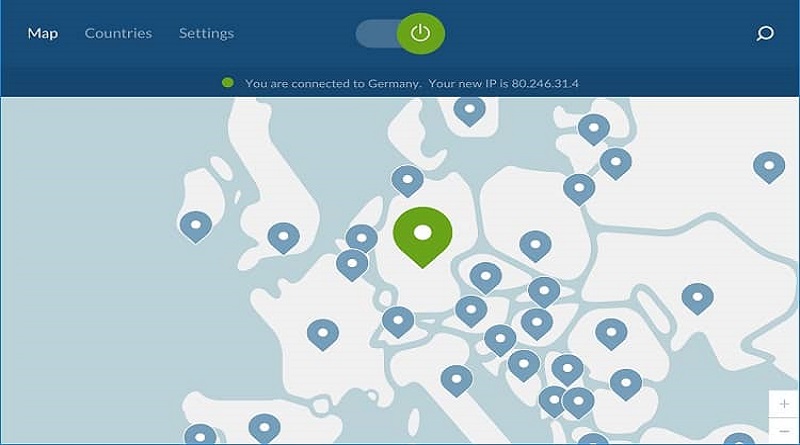 Firestick has a few VPN apps, but NordVPN is one of the best VPN service providers. If you're cautious about the security while streaming on your Firestick, you should install NordVPN. Below is an essential guide on how to install NordVPN:
Step 1: Purchase a NordVPN subscription
First and foremost, you'll need an existing subscription. Once you've bought your NordVPN subscription, you can proceed to search for the NordVPN app in the App Store and install it. 
Step 2: Log in to your NordVPN account
After successfully installing the app onto your Firestick device, you may log in by heading over to "Settings" -> "Applications" -> "Manage" -> 'NordVPN.
Step 3: Connect to your server
Once you've successfully logged in to your account, you may browse through the available virtual private network servers with just one click. Then, you can stream content on your Firestick securely. 
---
Wrapping It All Up
It's a given – the Amazon Firestick has fantastic potential to be your handy streaming device for many years to come. With these impressive best free apps for Firestick, it's safe to conclude that it's worth the investment.
Also Read;