Surfshark is a relatively new service that emerged sometime in 2018. It's come a long way since then and today, I consider it one of the best value-packed VPN services available. The service is run out of the British Virgin Islands (BVI), offers extensive privacy and security features, and constantly introduces new innovations.
The features it has to offer are hidden underneath the smooth veneer of a very simple and easy-to-use interface. From a consumer point of view, it also ticks a lot of the right boxes in meeting demand, from everything to Netflix access all the way to bypassing the Great Firewall of China.
I'm a long-time Surfshark user and it remains one of my favorites still today. My review covers everything I've learned about Surfshakr over the past four years.
Surfshark Privacy and Security
Based in the British Virgin Islands
Surfshark is the second BVI-based VPN company I've come across, the first being the well-known ExpressVPN. This is excellent since the location is a haven for companies that don't want to keep user data.
BVI doesn't require companies that operate there to retain such data and as such, Surfshark users can be confident that the company isn't likely to retain theirs. This mirrors the Surfshark no-logs policy. Remember, always doubt VPN companies that are based in countries that have laws enforcing data retention.
Just the Right Protocols
While there are some VPN providers who seem to delight in offering many different types of protocols, I sometimes find it a little odd. Quite a few protocols are not in demand due to some weaknesses or others and ultimately, only a few are regularly chosen.
Of those, Surfshark has wisely decided to only implement a strategic few. These are well-chosen, the two key ones being OpenVPN and IKEv2/IPSec. OpenVPN is popular due to it being open-source and readily cross-platform compatible, while IKEv2 is fast, but more usually used on mobile networks.
The third choice of protocol seems to be targeted specifically at mainland China users and is known as Showdowsocks. Unfortunately, I couldn't test if this could allow China users to circumvent the Great Firewall, but the Shadowsocks protocol is known for allowing that.
Surfshark Encrypts at 256-bit
There is only one level of encryption supported by Surfshark; AES-256-GCM. This level of encryption is very specific and widely used since it is both efficient and strong. The decision to employ this mode of encryption was a good one since it is capable enough to not require users to fiddle with the encryption level and simply run at a full 256-bit rate.

No DNS or WebRTC Leaks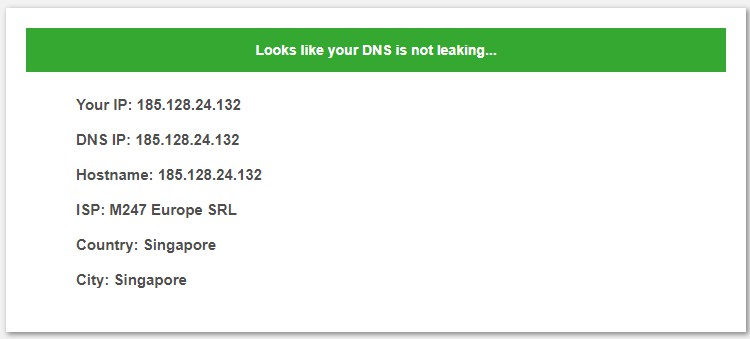 There are a fair set of VPN users who get concerned about their IPs leaking and such. That's why DNS and WebRTC leak tests are usually part of our standard repertoire. I'm happy to report that Surfshark passes these tests with flying colours and there are no leaks in the boat.
---
Surfshark is Easily Accessible
It is normal for good VPN service providers to have multiple apps and configurations for most devices and yes, Surfshark has this too. In fact, although I normally only use it on my desktop, laptop, or mobile devices I recently decided to install it on my LG smart TV.
The reason I wanted to do so was so that I could watch my Netflix US content there as well. Technically, you can install the VPN on your router – but that would slow down your connection. So, I only needed it to work on my TV.
Surfshark has something that it calls SmartDNS which helps you bypass geo-blocks without needing to do a full VPN service. All I needed to do was to enable it on my Surfshark account, copy an IP address, and set that up on my TV's WiFi. I was streaming Netflix smoothly in no time at all.
Expanding Network
Having been with Surfshark for just around a year now, I can see that their presence overall has improved. In under a year, they've added over 500 servers for a now-total of over 1,300 in over 60 countries. This is the kind of expansion that signals a VPN service that's doing well.
---
You can also use Surfshark with other non-mainstream devices such as PlayStation, FireTV, and more.
Surfshark Speed Test Results
When I first heard of this VPN service provider and read some initial comments about the speed I was, to begin with, quite skeptical. Signing up for and running it turned me into a true believer and I do believe I will stay on as a customer.
For those who've read my VPN reviews, you may know that I often get disappointed with many VPN services simply because I have a relatively high-speed line. This usually gets slowed down by a lot via VPN services.
The theoretical maximum of my line is 500Mbps, but the actual speed usually hovers around between 350 Mbps to 400Mbps;
Taking that into account, I ran speed tests on Surfshark while connected to various servers around the world.
US Speed Test
North America is literally on the other side of the world from where I am. Because of that, it is usually one of the locations where I encounter the highest ping rate as well as the slowest speeds. Of course, there are some closer places that perform worse due to other reasons, but the US stress test is usually a good indicator of the quality of service for me.
As you can see from the results, speed tests while connected to a US-based Surfshark VPN server were astounding.
Europe Speed Test
Surfshark speeds from Europe were just as good as their US-based servers. I tested from a variety of EU locations and many performed similarly.
Asia Speed Test
The closest location to me physically is Singapore and the connection here was simply mind-boggling. The excellent speed combined with a very low latency means that I can actually stay on Surfshark's Singapore server and not feel much of a difference at all.
Australia Speed Test
The land down under was also in decent shape and I would happily use this as well. Interestingly, although latency was lower than the US and EU servers, so too were the speeds of my connection here.
Africa Speed Test
Perhaps the only black spot on their record is in Africa. Unfortunately, many of my VPNs face similar issues and I've yet to find one which performs to an acceptable level in this region. The speeds offer barely enough to surf the net and was a painful experience.
Multihop Available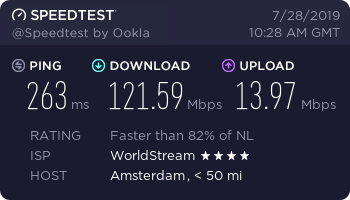 For the more paranoid among us, Surfshark also supports multihop, meaning they route your connection through two different servers. Normally this would result in further degradation of speed, but impressively, Surfshark managed to handle it very well.
There are a limited number of pre-configured multip hops available, so you can choose from only a set number. I tested the Netherlands-Singapore link and it was very fast.
Surfshark WireGuard Speed (2021 Update)
Surfshark has recently implemented the long-awaited WireGuard protocol for their service. This next-gen communications protocol has been under development for a while now and I'm beginning to see it spread to more VPN service providers.
So far, the most prominent use of it has been NordLynx, an adaptation of WireGuard that NordVPN has done. Now Surfshark is implementing it "as is" so we can see a clear performance comparison:
Surfshark
(OpenVPN)
Surfshark
(WireGuard)
NordVPN
(NordLynx)
US Server
122 Mbps
175 Mbps
178 Mbps
UK Server
136 Mbps
179 Mbps
187 Mbps
Asia Server
201 Mbps
244 Mbps
225 Mbps
Australia Server
120 Mbps
248 Mbps
232 Mbps
Africa Server
4 Mbps
168 Mbps
198 Mbps
*only download speeds listed
As you can see, Surfshark's inclusion of WireGuard has brought it clearly back into the game and has leveled speeds across the globe by a lot. Of course, that hasn't affected latency so that factor still needs to be taken into consideration.
If you're like to check out WireGuard on Surfshark now, head over to their site and sign up for an account.
Torrents Possible but Not Great
Torrenting is one of the key things I look out for in VPNs because I do a lot of it. Unfortunately, P2P isn't exactly great with Surfshark even though they claim to offer "top-notch P2P speeds". Apparently, they have a handful of dedicated P2P servers in certain locations you can choose from.
The connections to these are ultimately routed through their Netherlands or Canada servers. That results in everyone who is torrenting having their traffic flow through only two countries, and the speed tells.
Attempting to download 10 highly seeded files, I was stuck at download averages of between 4 Mbps to 7 Mbps all the way. Without a VPN my speeds are usually in the 25 Mbps to 30 Mbps region.
Disclaimer: HideMyTraffic neither condones nor encourages the sharing, seeding, distributing, downloading, or peering of copyrighted material. Breach of copyright laws is illegal in almost all jurisdictions and offenders can be prosecuted.
Surfshark Speed Test: Final Thoughts & Conclusions
While I was gushing over the Surfshark download speed results, I nevertheless did notice that in some cases, upstream was quite slow. This seemed pretty unusual, but in my case, it isn't something I care overly much about.
If you do a lot of uploading though you might need to exercise caution about which Surfshark servers you connect to. In today's age of Cloud storage where data is often flowing two ways, it may benefit to keep a closer eye on upstream speed as well.
---
Surfshark Works Well for Streaming
Most popular streaming services worked well on Surfshark but of course, the most focus goes to Netflix. I ran an extended burn-in test on Netflix and ran it overnight for a few days. Over the course of that period, there was only one instance of a disconnect.
The usage experience was very smooth even considering that I was connecting to a US-based server for Surfshark. All movies on Netflix US managed to play fine with minimal lag for buffering. There were no instances of Netflix detecting proxy / VPN usage and kicking us off.
Recently, Surfshark has been expanding its Netflix support and it now supports 16 different libraries including the US region. The latest addition to their repertoire has been supporting Norwegian content on Netflix.
---
Weak Customer Support
As with any service, customer support was on trial. Given their newness, I decided to lob the support staff and easy ball but was surprised at both how fast the chat request was answered, as well as the outcome. My query to the support staff was about their VPN protocols, asking how come IKEv2 was selected on my app.
The response from Surfshark was that the app auto-selected the protocol based on my network, choosing the best for me. That was something new since their documentation states that IKEv2 is the default protocol for everyone.
I shudder to think what would happen if I asked something more complex.
---
Surfshark Plans and Pricing

Having run the gauntlet with many VPN services, I have to say that there are general trends you can observe in the business. Mainly, it's all about long-term business and they offer steep discounts to discourage customers from choosing short-term plans such as monthly or even yearly payments.
Surfshark is similar in that sense, but I feel that a two-year sign-up isn't unreasonable for this type of service. Paying only $2.21 per month isn't a lot and is by far the cheapest VPN I have seen at this level of performance. Don't forget that you can also connect to Surfshark with an unlimited number of devices.
This goes doubly so since the recent hike in prices that NordVPN has undergone.
Their monthly rate is on par with the industry average, so the two-year deal is the way to go! You can pay via credit card, PayPal, Google Pay, Alipay, or even using some forms of cryptocurrency including Bitcoin.
According to a sales query I made, plans renew at the same prices as you sign on with. However, if their sales support is anything like their technical support, I am not too sure that's what is going to happen, so just in case, I turned off my auto renewal.
---
Verdict: Great Speed, Great Features, Great Price!
Yes, there were several hiccups along the way during my assessment of Surfshark. Poor P2P performance and under-skilled customer support among them. However, let's recap the good parts and remember that these are the core of any high-quality VPN service.
Surfshark offers good connection protocols at high levels of encryption. It does this while having servers that are able to support very fast speeds in many locations around the world. There are also unique features that make it appeal to a wider audience, such as the Shadowsocks protocol and of course, multihop VPN connections.
I've been using SurfShark for around four years now and with the exception of a few hiccups now and then the experience is pretty seamless. Over this period, I've also seen them grow their network and improve services over time.
When using a VPN you want to find one that's good enough that you will forget its presence – just like SurfShark. For them, if you combine all of that with the crazy price it's going for (again, only $1.99 per month) that is an offer that is extremely hard to beat. I say go for it!
Surfshark Review Summary
Pros
No logging
Extremely fast
Multi-hop available
Unlimited connections
Great value for money
Cons
Netflix encounters slight lags
Few dedicated P2P servers
Summary
Surfshark may be the new kid on the block where VPNs are concerned but it is surely showing its teeth. This provider simply ticks all the right boxes when it comes to performance and does so without breaking the bank. Highly recommended.