Ivacy has been on the market for some time now and is a Singapore-headquartered VPN service provider. This fact alone is kind of a conundrum since the island-state is know for both its advanced Information Technology infrastructure as well as draconian censorship laws.
Nevertheless, using Ivacy was a rather new experience. This is one of the VPN services which had things I both loved and others which annoyed or frustrated me no end at the same time. Impressively, it was able to offer relatively solid performance at the same time.
Note: This review was conducted using a complimentary one-month Ivacy account. It does not affect the scoring or the review itself in any way.
How Secure is Ivacy?
The core of any VPN service is privacy and security, and this publicly presents itself in the protocols and encryption that is can use. Ivacy, although claiming to support high levels of encryption doesn't exactly do wonders to reinforce this thought.
What Encryption Levels Does Ivacy Have?
According to their documentation, Ivacy claims that they support various encryption levels ranging from none all the way to AES 256-bit. However, I couldn't find any option in their applications which would allow you to select the encryption level.
In fact, there is no indication at all that there is any encryption. At this point I also discovered that their documentation / knowledge base online is pretty much ineffective. Many of the articles are out of date and in some cases, simply incorrect.
For example, in searching for how to adjust encryption levels the only thing I found was an article stating that you can and giving instructions how – with options that don't exist in the app.
Ultimately it took a quick run with Glasswire to check that the encryption was at least working.
Limited Protocols Available
Ivacy supports OpenVPN (TCP and UDP), L2TP, and IKEv2. In their Windows app, IKEv2 is labelled as simply IKEV and OpenVPN is labelled only as TCP and UDP. For those who have used VPNs before this might be fine, but new VPN users could get a little confused.
---
How Fast Is Ivacy?
To be honest, I was not sure what to expect before testing Ivacy since I had not heard much about it. Regardless, the same speed tests applied to it as with all other VPNs. For Ivacy, I decided to test them based on the IKEv2 protocol since that's worked well for me so far.
First off was my baseline speed test. My physical location is in Malaysia and I have a maximum theoretical line speed of 500Mbps on my connection. Usually I get between 300Mbps to 350Mbps, but this was a good day and my speeds surged to 460Mbps.
Ivacy US Server Speed
Normally, speeds to US-based servers are the slowest for me since it is probably the furthest location possible. As an indication of this, the distance from Malaysia to Seattle is almost 13,000 km.
On this day I was able to hit around 82Mbps down and 9Mbps up. Not the fastest times in the world but still pretty good considering it was a US-based server. These speeds are more than enough the stream movies with. Ping values were good (considering how far away I am from the US) and I noted an overhead of only a few ms.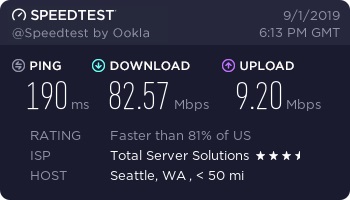 Ivacy Singapore Server Speed
Singapore is the holy grail of VPN server locations for me as it usually offers the fastest connection. In this case I managed to get almost 150Mbps download speed, which was good, but also less than what I was expecting.
Nevertheless, you can do almost anything at these speeds and the ping was a very respectable 10ms.
Ivacy UK Server Speed
When the speed test meter started crawling above 100Mbp on the UK server, my eyebrows did raise a little. Often I do not get very good results for EU-based servers from where I am and 128Mbps is considered way above average from here.
Ivacy South Africa Server Speed
South Africa was not expected to do well since none of the VPNs I have tested have ever managed to hit good results. 23Mbs is still usable – barely, if you desperately need to use an Africa-based server for some reason.
Ivacy Australia Server Speed
Australia normally will return speed test results similar to those I get from Singapore-based servers. Some manage to do better but those are rare occurrences. To achieve around 150Mbps download speeds from the Australasia region is considered pretty good.
Thoughts on Ivacy Speeds
Having gotten such a great baseline speed I was expecting more of Ivacy, to be honest. Still, you have to take into account that these are consumer-grade shared line VPN services and there will be some limitations to the maximum speeds you can achieve.
---
Torrenting on Ivacy
I must admit that I am often very finicky with torrenting on VPN services because I torrent a lot. To date, few VPN services have satisfied me fully in this regard. Sadly, Ivacy isn't one of them. They have several dedicated P2P servers for torrenting on but only in a handful of countries.
If you are in the Asia region the situation is particularly bad since the closest P2P capable server is in Pakistan. In fact, despite a comprehensive 'connect for' list in their app, you won't know where to connect to torrent unless you do a bit of digging.
They have a list of P2P-capable servers buried in their knowledge base under the strange title of "How to turbo charge your VPN speed". If you're in Europe or the US some of these servers might be fine. Otherwise you might just be SOL.
I tried torrenting on a non-P2P server and it will not work. Switching to the closest P2P server to me, speeds were still pretty much intolerable. If you look at the speed graph below, you can see where my torrent speed dropped sharply where I connected to Ivacy for P2P.

---
Ivacy Has Been Endorsed by Gamers
Although it's clear that professional gamers accept sponsorship from companies because of their high profile, they are also first and foremost gamers. This means they tend to use the products of the companies they are sponsored by.
In the case of Ivacy, they've gotten endorsed by GamersOrigin, a rather significant group large enough to field seven teams and has 23 pro players. Their usual routine is on popular games like Street Fighter, League of Legends, StarCraft II, and Fortnite, so if you game and need a VPN while you're at it, Ivacy might be a good choice.
---
Does Ivacy Work With Netflix?
Yes, Ivacy can run not just Netflix but also other streaming services. I have tried and gotten so many results from VPNs on Netflix that I seriously didn't know what to expect from Ivacy. That it managed to run with Netflix on the first try was quite a happy thing. I ran 'Royal Pains' while connected with Ivacy and it did work.
In fact, the Ivacy app for Windows has a very nice option for you to connect to server for video streaming and the app will present a list of video streaming sites it can automatically launch in your browser for you. Not only that, the app will even politely ask you if the connection worked!
In fact, over the course of more than a week, Ivacy managed to connect well to Netflix most of the time. Yes – most – because there were occasions when Netflix caught the VPN usage and booted me off.
This happened a couple of times but normally I was able to reconnect fairly quickly. If you're expecting a completely seamless Netflix viewing experience with Ivacy, you'll be disappointed. However, it is workable and fairly painlessly so.
See our list of Best VPNs for Netflix
---
User Experience
Despite a rather sleek looking Windows app, I feel as though the sliding menus are more irritating that should be. There are a ton of options which are, to be frank, too gimmicky. For example, 'Secure Download' and 'Unblocking' – these are all options which any VPN connection should have by default and not need their own special menus.
The Ivacy app also can't be closed without disconnecting the VPN service first which is a little user unfriendly. The whole experience was compounded by a rather useless knowledge base which either doesn't have much information or contains too much that is outdated. Many articles are from years ago and do not seem to ever have been updated.
How Much Does Ivacy Cost?

Ivacy prices are as low as $2.25 per month on their 2-year plan. It is perhaps on of the handful of Netflix-capable VPN services that come in at this price. There are cheaper ones in the market but to be honest, the ultra-budget-friendly VPNs are usually terrible.
This may not be the perfect VPN service, but those prices definitely make it a serious contender in the field. If you haven't gotten a VPN service yet, try this one out before they decide to increase their prices!
---
Conclusion: Perhaps, Maybe
There are some things that Ivacy does well and others that need far more improvement. The overall feeling is of a service that has been around for some time and is showing its age. The disconnect between application features and information provided is very bad.
There are a couple of things to recommend for Ivacy though. The first is that for overcoming geo-blocking on streaming services such as BBC iPlayer or Netflix, it does a pretty good job. The few hiccups I encountered with streaming are found on most VPN services and are unavoidable.
The second is that Ivacy has decent speeds. In terms of raw performance I would say that it is faster than many other popular-name VPNs which I have tried and can even match the speeds of top dogs like Surfshark and NordVPN in a pinch.
Finally, combine that with their pricing and Ivacy can be considered a pretty sweet deal. There are not many VPNs of this caliber which clock in at this price. If you're looking for a basic everyday VPN and don't do much torrenting then Ivacy may be a good choice for you.
Ivacy Review Summary
Pros
Great value for money
Decent video streaming capability
Fast and secure service
Access over 1,000 servers
Cons
Intermittent Netflix disconnect
Windows app effects a little annoying
Outdated online support documentation
Summary
Ivacy is one of those relatively unknown (when compared to some big names) services that surpass expectations. It isn't the best or greatest but offers extremely well-rounded performance at an excellent price point.