NordVPN and ExpressVPN are two titans that often come head-to-head. Both have carved out a reputation for robust security and impressive performance. Having tested these brands for years, it's time for a NordVPN vs ExpressVPN head-to-head comparison of their most prominent features.
When safeguarding your online privacy, choosing the best VPN service is crucial. Both VPN brands have earned a reputation for providing excellent security and performance, but which one is the best fit for you?
As you navigate the digital world, the features of your chosen VPN can significantly impact your online experience. Let's compare what NordVPN and ExpressVPN have to offer.
How We Compare NordVPN vs ExpressVPN
Our key objective for this article is to provide you with an in-depth analysis and comparison of these leading VPN providers. By evaluating key aspects such as speed, security, privacy, Netflix streaming capabilities, features, ease of use, customer support, and pricing, we will help you decide and select the VPN that best suits your needs.
The main areas we look at are;
Speed
Security
Privacy
Netflix Streaming
Features
Ease of Use
Customer Support
Pricing
Each section will provide an enhanced overview of how NordVPN and ExpressVPN compare. With this information at hand, you can make an educated decision based on your priorities and preferences.
1. Speed
NordVPN is known for its high-speed servers, especially when connected to nearby locations. This makes it a great choice for activities that require a lot of bandwidth, such as streaming HD content or online gaming.
ExpressVPN, however, is often praised for its consistently fast and reliable connections, regardless of the server location. This means you can expect a smooth and speedy connection if you connect to a server in your own country or halfway around the world.
It's important to note that while both NordVPN and ExpressVPN offer fast speeds, the actual performance can vary depending on various factors, including your location, the server location, and your internet service provider.
However, the general observation in performance is that NordVPN will almost always consistently outperform ExpressVPN in pure speed.
Speed Test Results
Test Platform and Parameters
Device: AMD 5800X Desktop
Router: Asus AX86U
Base Internet Speed: 500 Mbps fiber
Physical Location: Malaysia
NordVPN Protocol: NordLynx
ExpressVPN Protocol: Lightway
2. Security
NordVPN and ExpressVPN offer top-tier measures to protect your online activities. NordVPN uses AES-256 encryption, the same standard many governments use worldwide. This ensures your data is secure, whether browsing the web or conducting online transactions.
NordVPN also offers two kill switches: an internet kill switch that blocks all internet traffic if the VPN connection drops and an app kill switch that closes specific apps if the VPN connection is interrupted.
ExpressVPN stands out in its Network Lock feature. This is essentially a kill switch that blocks all internet traffic if the VPN connection is disrupted. This feature ensures that your data is never exposed, even if there's a problem with your VPN connection.
In addition to these security measures, ExpressVPN runs its own private, encrypted DNS on each server. This means that your DNS requests – the process of translating a domain name into an IP address – are handled by ExpressVPN itself rather than a third-party DNS provider.
Privacy
| | | |
| --- | --- | --- |
| | NordVPN | ExpressVPN |
| Jurisdiction | Panama | British Virgin Islands |
| Logs Policy | Strict no-logs policy | Strict no-logs policy |
| Anonymous Payments | Multi-cryptocurrency | Bitcoin |
| Audits | Audited by Deloitte | Audited by Cure53 |
| | Visit NordVPN | Visit ExpressVPN |
NordVPN is based in Panama, a country known for its privacy-friendly laws. This means that NordVPN is not required to keep logs of user activity, which is confirmed by its strict no-logs policy. This policy ensures that your online activities remain private and cannot be handed over to any third parties, even if they request it.
ExpressVPN, on the other hand, is headquartered in the British Virgin Islands, another location outside the jurisdiction of data retention laws. Like NordVPN, ExpressVPN follows a strict no-logs policy, ensuring that your online activities are not tracked or recorded. This means that even if a third party were to request user data, ExpressVPN would have nothing to hand over.
Where ExpressVPN takes privacy a step further is with its TrustedServer Technology. This technology ensures that all data is wiped with every server reboot. Because ExpressVPN's servers run on RAM, all information is wiped whenever a server is restarted. This means no user data is ever stored on a hard drive, further enhancing user privacy.
Netflix Streaming
Media streaming platforms like Netflix and Hulu don't like VPN connections, but NordVPN and ExpressVPN don't seem to have issues connecting. Additionally, the excellent speeds of these services make them ideal for streaming HD or even 4K media.
ExpressVPN is known for its fast speeds and ability to unblock a massive range of region-locked streaming services. It has been slightly less consistent with BBC iPlayer recently but works very well with Netflix and Hulu.
On the other hand, NordVPN is also known for its fast speeds and its ability to unblock geo-restricted services from abroad. I'm a Netflix fan, and my go-to VPN for streaming is NordVPN. So far, it has let me access all regions without any problems.
I strongly feel that both VPNs are up to the streaming challenge. You'll find they unlock almost all platforms you can imagine. If they can't, I also can't imagine another brand being able to handle it.
Features
| | | |
| --- | --- | --- |
| | NordVPN | ExpressVPN |
| Servers | Over 5,400 servers in 59 countries | Over 3,000 servers in 94 countries |
| Simultaneous Connections | Up to 6 devices | Up to 5 devices |
| Unique Features | Double VPNOnion Over VPNNordLynx ProtocolMeshnet | TrustedServer TechnologyOffers Split Tunneling |
| | Visit NordVPN | Visit ExpressVPN |
NordVPN and ExpressVPN offer many features, but they shine in different areas. NordVPN, with over 5,400 servers in 59 countries, outnumbers ExpressVPN's 3,000 servers. However, ExpressVPN covers a broader range of 94 countries compared to NordVPN's 59.
When it comes to simultaneous connections, NordVPN allows up to six devices, one more than ExpressVPN's five. NordVPN also stands out with its Double VPN and Onion Over VPN features for extra layers of security.
You also get access to the NordLynx protocol. That's a technology built around WireGuard, with an added customization layer by NordVPN. NordLynx combines the high-speed connection of WireGuard with the robust privacy and security features that NordVPN is known for.
Lastly, NordVPN offers its most unique feature; NordVPN Meshnet. This special technology allows devices to connect directly to each other for data transmission. This can increase speed and reliability, especially in poor internet infrastructure.
On the flip side, ExpressVPN offers a unique Split Tunneling feature, allowing selective use of VPN on specific apps. Another standout feature is its TrustedServer Technology. This technology ensures that all data is wiped with every server reboot.
Ease of Use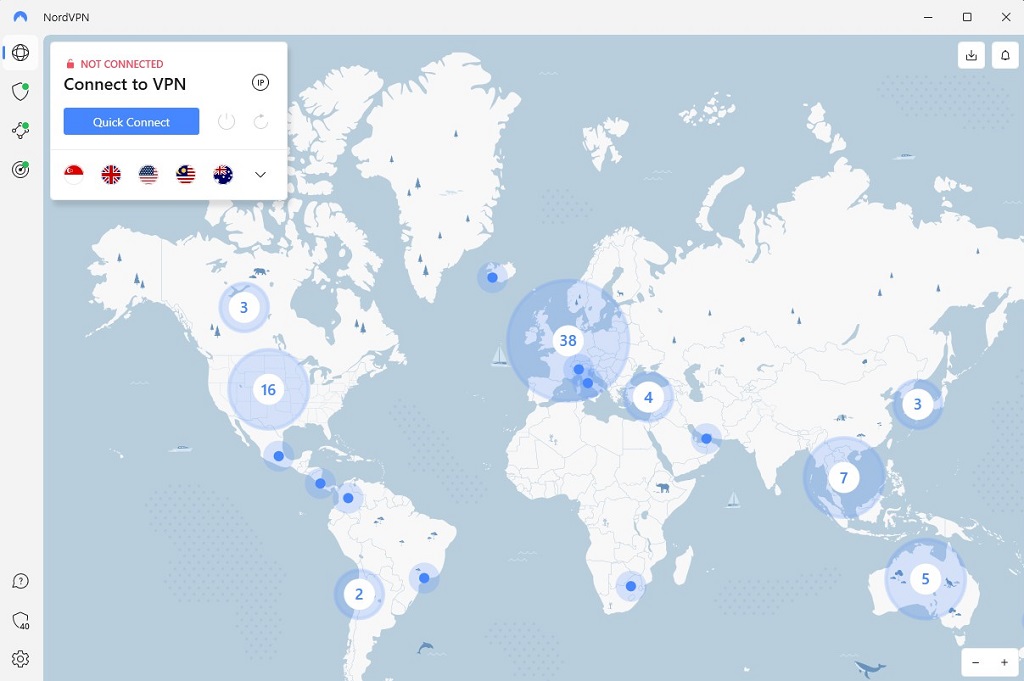 NordVPN and ExpressVPN offer user-friendly apps for various platforms, making it easy for users of all levels to secure online activities. NordVPN's apps feature a map-based design, allowing you to select servers by clicking on their location on a map.
ExpressVPN, on the other hand, offers a more traditional interface with a list of server locations you can scroll through. While it may not be as visually appealing as NordVPN's map-based design, it's easy to use. Simply select a server location from the list and click the connect button, and you're good to go.
Both NordVPN and ExpressVPN also provide detailed guides and tutorials on their websites. These resources can help you set up the VPN on your device, troubleshoot any issues you may encounter, and learn more about how to use the VPN to secure your online activities.
Customer Support
NordVPN
ExpressVPN
Support Channels
24/7 Customer support
Live chat and email
Support Ticket
24/7 Customer support
Live chat and email
Support Ticket
Knowledge Base
Knowledge base
Video guides
Video guides
Tutorials
Visit NordVPN
Visit ExpressVPN
Customer support is an essential aspect of any VPN service, and both NordVPN and ExpressVPN excel in this area. Both providers offer 24/7 customer support through live chat and email, ensuring that help is always available when you need it.
You can contact their support team for assistance if you're having trouble connecting to a server, experiencing slow speeds, or have questions about using a feature.
NordVPN's customer support is known for being helpful and efficient, providing detailed responses to queries. They also have a comprehensive knowledge base on their website, with articles and guides covering various topics.
Whether you're a new user looking for setup instructions or an experienced user troubleshooting a complex issue, you can find helpful information in NordVPN's knowledge base.
ExpressVPN also offers excellent customer support, with a team praised for its quick response times and expertise. Like NordVPN, ExpressVPN has an extensive library of guides and tutorials on its website.
These resources cover everything from basic setup instructions to advanced troubleshooting tips, making it easy for users of all levels to get the most out of their VPN service.
Plans and Pricing
NordVPN and ExpressVPN offer different plans to suit different budgets. Both encourage long-term subscriptions by offering steep discounts on extended plans. NordVPN offers the most significant price cuts on its 2-year plan.
ExpressVPN, on the other hand, offers monthly, six-month, and yearly plans. While ExpressVPN's prices are generally higher than NordVPN's, they reflect the team's dedication toward consistent service levels.
Both NordVPN and ExpressVPN offer a 30-day money-back guarantee. This allows you to try out their service risk-free and request a refund if unsatisfied. This shows confidence in their services and provides peace of mind for new users.
The Winner is … NordVPN!
NordVPN and ExpressVPN are top-tier VPN services that balance security, privacy, speed, and ease of use. NordVPN stands out with its unique security features, extensive server network, and affordable pricing, making it an excellent choice for users who prioritize security and value for money.
ExpressVPN, on the other hand, impresses with its consistently fast speeds, advanced privacy features, and user-friendly interface, making it an excellent choice for users who prioritize speed and ease of use.
While both are excellent propositions, I much prefer the lower cost of NordVPN and higher speeds. Unless you have a niche use case that somehow requires ExpressVPN, my years of experience with NordVPN tells me to advise you to sign up for their 2-year plan.