Amazon.com serves 300 million active customers, so it's unsurprising that cybercriminals target them. Amazon scams are increasingly common, and knowing how they work is essential to avoid losing money.
No website is safe from scammers, but Amazon's popularity takes things to a new level. Indeed, that popularity helps make Amazon customers the ideal target for scammers. Yet, eCommerce is part and parcel of our lives, so what can we do to protect ourselves?
The saying "prevention is better than cure" is relevant here as it applies to learning to recognize and identify common Amazon scams before it is too late. If you scrutinize further, you'll notice similar traits in these scams.
Hence, spot these red flags to prevent yourself from becoming a victim.
1. Amazon Sellers Requesting for Off-Platform Payment
Con artists create a product listing and sometimes even include seemingly genuine reviews. Some offer extra discounts or freebies if you pay via a third-party payment provider like PayPal, Western Union, and others. Their objective is to entice you to pay for your goods outside Amazon's secure platform.
Once you decide to make payment, you will neither receive the products nor see your money. The 'sellers' erase their accounts soon afterward, and Amazon cannot help you much since you made the payment outside its platform. Remember, legit Amazon sellers will never ask you to make payments outside Amazon's platform.
2. Unauthorized Purchase/Fake Invoice
You receive a phone call or an email with an invoice stating you made an expensive purchase. The scammer usually justifies that since the transaction involves a large amount, you'll have to confirm or cancel the order (usually by clicking a link or calling to provide your payment details). The objective is to create fake invoices/emails supposedly from Amazon to extort your payment details.
Once you give in, the scammer makes more unauthorized payments in your name. Hence, before you follow through with their steps, investigate further. Look for typos, grammatical errors, or formatting issues; these are tell-tale signs of fraud. Also, log in to your Amazon account and check if you made any such purchases from the 'Orders' section. If none, you can confidently dismiss all these approaches as they are confirmed scams.
3. Fake Notifications of Suspicious Amazon Account Activity
Caption: Always treat any emails from Amazon cautiously (Source: The Sun UK).
Phone scammers want to create a sense of urgency, so you take action fast without thinking twice. A common scam is to call and inform you of some suspicious activity on your Amazon account. They claim that they're Amazon's security representative, and there's an issue with your account, so it is frozen. They tell you that unless you do something fast, you won't be able to use your Amazon account.
They either request your login or payment information upfront or provide a link to click. If you take action to 'rectify' the so-called issue, you go straight to scammers and fall into their trap. Giving up your personal information or clicking any provided link (which could initiate malware download) suffices for the scammer to have a field day.
Amazon will not notify you of a locked or suspended account through a text message or request your personal information via emails, texts, or calls. Ignore communications like this, and never respond directly or click on any links in the text or email. Remember to use Amazon's official app or website to verify.
4. Amazon Gift Card Scam
Swindlers create a scenario that makes you want to act urgently. The same applies to Amazon gift card scams. They contact you asking for help by impersonating your colleagues, boss, or family members. Since there is an urgent sale and they forgot their wallets, they seek your help to make an immediate purchase on Amazon for them through gift cards.
Once you provide the gift card numbers to them, the fraudsters instantly redeem the gift coupons, rendering the gift cards useless. No matter what urgent scenario the fraudsters paint, the goal is to get you to buy and share the gift card numbers and vanish without a trace.
No legitimate sale or transaction on Amazon requires you to pay with gift cards. If anyone claiming to be from Amazon asks you to purchase gift cards or share gift card numbers, it's a scam (Amazon will not ask you to buy a gift card). Hence, if you receive a request to purchase gift cards and share the numbers, be wary unless you are 100% sure of the request's credibility.
5. Fake Amazon Order Confirmation Notifications
Upon making an Amazon purchase, you receive an order email confirmation (the usual practice). However, crooks take advantage of this by sending fake confirmation notifications of items you did not order. Since you may have just made an order, you think it is legit. The crooks prey on your fear that there is a problem with your order.
As such, you will do what it takes to rectify the issue and follow through with what they ask. You usually click a link to a fake Amazon login web page. Once you log in, the fraudster commits identity theft and takes control of your Amazon account.
Hence, always carefully review every email from Amazon before you do anything. Go to your Amazon account, check your orders, and compare if the items, pricing, and delivery details match. If not, warning bells ring. Ignore the crook's advances.
6. Fake Tech Support Scams from Amazon Posers
Impostors pose as Amazon tech-support representatives contact you concerning a technical issue with your account. You get worried as it means you cannot purchase unless the issue is resolved. Chances are, you are not tech-savvy, so you obey and follow their instructions.
Once you give in, they ask for anything they want, such as your login details to get into your account or install malicious software, all supposedly to fix the issue. Some convince the victim to grant remote access to the device to resolve the problem. Whichever way it is, the door opens wide for the fraudster to wreak havoc on your Amazon account and also all your other accounts.
To avoid this, be alert when receiving unsolicited tech advice, especially when installing software on your device. Also, be doubly alert when you sense the person pressuring you to do something. Amazon will neither request that you download or install any software nor request payment for customer service support. Contact Amazon directly to confirm.
7. "You Won a Prize!" Amazon Scams
Who would not be excited when they realized they had won a prize? However, before you get hyped up, hold your horses and check if it is a legitimate win. Scammers love to construct messages to create a sense of urgency in you to act; they usually contain negative news like suspicious activity in your account, a problem with delivery, and others.
However, winning a prize or lottery is preying on your excitement to claim the winnings without further thought. In the form of a text message, pop-up, or email, you'll have to click a link to redeem your prize or pay for shipping to receive the prize. The scammers want to secure your personal or payment details. If you give in, you either have malware injected into your device or have your personal/financial information stolen.
8. Brushing
Have you received a package from Amazon you never ordered? While you won't think much of it since you get freebies, you should because you may be a brushing scam victim. Scammers take this as an unearned review to improve their sales statistics, probably to cheat more in the future. They are usually inexpensive small items with no return address on the package.
You may think this quite a harmless stunt, but since the scammers have your address, you have suffered a data breach that exposed your personal information. Aside from your name and address, other details, such as your social security number, bank account information, usernames, and passwords, could be stolen.
If you experience brushing often, you should contact Amazon to report the incident. Also, look into your Amazon account and others too. Change all your accounts' passwords.
9. Fake Amazon Job Offer Scams
Nowadays, jobs are scarce. Hence, scammers resort to posting fake employment ad listings on Amazon. They are usually laden with benefits to entice you to apply. These scammers will call you, stating that you are successfully shortlisted, which makes you ecstatic. However, you'll need to pay an upfront processing fee to proceed.
Feeling over the moon, you give your personal and financial information. Once done, you'll never hear from them again. If the advertised job is at Amazon, go to the job openings at Amazon.com. Do not give any of your details through unsecured channels. Also, if a job listing is legit, there is no upfront processing fee.
10. Fake Amazon Website
Scammers create multiple websites that imitate the Amazon site. These various pharming sites are so similar to the real deal that many are duped into using them and making purchases. Both your personal and financial information is at risk. These fake websites are also embedded into links in the scam emails and text messages sent to you.
Hence, before transacting, check the URL address properly. If you look closer, there are subtle differences in the URL addresses – numbers, letterings, or words. Legitimate Amazon websites have the same format throughout. Websites with differing formats are usually scams.
11. Amazon Prime Day Scams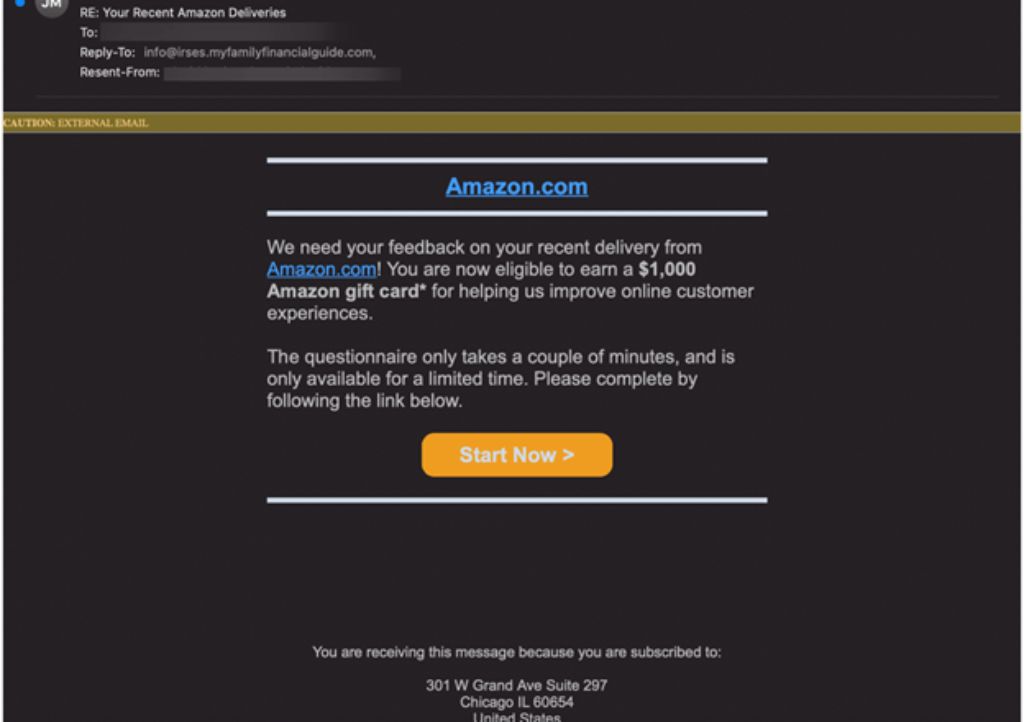 Prime Day is Amazon's annual two-day deal event exclusively for Prime members. With over 150 million paid Prime members globally, you can envision the sales madness during the said period. Most will be saving up to make many purchases during these two days. Hence, it is no surprise that scammers leverage this excitement.
Scammers create fake promotions and send them out around Prime Day, posing to be from Amazon. Because Prime members expect to receive such promotions from Amazon around Prime Day, they will think nothing of it and gladly click the links in the texts or emails. Little do they know that they go to credential-harvesting websites that steal their personal and payment information.
Be on the alert, especially nearing Prime Day. Such ad deals need to be verified before you click anything.
12. The Refund From Amazon Scam
Fraudsters contact you, posing as Amazon representatives, claiming you have a refund pending from Amazon for wrongful charges. Naturally, you want your money back fast, so you follow the given instructions, which usually involve calling a number. A phony Amazon representative explains the issue further, but you'll need to allow the caller to remote access your device.
Once you comply, the fraudster hacks into your device, and you suffer a data breach. Do not simply comply with any calls supposedly from Amazon. Be vigilant and do not call the numbers or click any links as instructed. Verify via Amazon's official website or call Amazon directly to check further.
How to Protect Yourself and Avoid Amazon Scams
Stay Safe Online with NordPass
NordPass helps you generate and remember strong, complex passwords. It fills them in automatically when needed so you don't have to deal with password headaches, ever again!
There will be no shortage of scams. Technology has made it easy for us. However, the same applies to scammers. It does not mean you cannot shop online anymore. You can, but just be cautious. This article is to furnish you with the necessary, so you can arm yourself to better know and protect yourself.
Exercise caution to avoid scams by following the below tips:
Do not make payments outside the Amazon ecosystem.
Do not simply click any suspicious links. Inspect links by hovering over them and looking for anything unusual.
Always verify your orders by logging in to your Amazon account via the official website or app.
Do not give your personal and payment information via phone, email, or others.
Whenever in doubt, always contact Amazon directly through the Amazon app or website to verify.
Be on the alert whenever you feel pressured into doing something.
Be suspicious of any messages requesting your information and investigate.
Regularly change your Amazon password, and always use a strong and unique password.
Be wary about attachments (they could be malware-infected).
Enable Two-Step Verification for your Amazon account.
Scan emails/text messages for typos and grammatical errors.
Check the sender's email address to see if it's legitimate.
Check all links to see if they are legitimate Amazon websites.
Be cautious, especially when it seems too good to be true (suspicious bargains).
Do not use Amazon gift cards as currency for others; they are for making purchases directly on the Amazon website. Never give the gift card code to others.
Use a reliable antivirus and Virtual Private Network (VPN) to safeguard yourself.
What to Do If you Fall Prey to an Amazon Scam
I hope you never become a victim of an Amazon scam. However, if you do, here is what you can do:
Report to Amazon any suspicious communications, including emails, phone calls, or text messages.
Also, report to the Federal Trade Commission (FTC).
If you received unsolicited packages you did not order and are not gifts, report it immediately.
Immediately cease all communications with the fraudster.
Contact your financial institutions and inform them that your accounts may be compromised.
Change your Amazon password to another strong and unique one.
Document the scam and keep all proof.
Continue to monitor your credit and financial transactions for any suspicious activities.
Avoid Amazon Scams by Staying Aware of Scam Tactics
Do not jump the gun and close your Amazon account. Scams are everywhere and are part of everyday participation in eCommerce. Amazon's just one of the many targeted platforms.
Be alert and keep a watchful eye on anything devious and suspicious. Scammers have a pattern in the way they carry out their schemes. Hence, look out for such tell-tale signs in Amazon scams to stay ahead of these fraudsters so you never fall prey to them.
Also read;