The NHL is the world's premier professional ice hockey league and one of the major professional sports leagues in the United States and Canada. If you're a fan of the sport like me, I'd love to share some of the best places to watch free NHL live streams.
Signing up for a subscription on ESPN+ or NHL Live is expensive. Although the quality is assured, and they don't bombard you with ads, not everyone can afford those prices. That's why there are so many free alternatives available.
Watch Free NHL Streams with a VPN

Use a VPN to unblock all free NHL streams on any site in complete safety. We recommend using NordVPN as a fast, private, cost-effective option and offering over 3,000 server connections. Click here to visit NordVPN.
Here are my top NHL streaming picks;
Best Free NHL Streaming Websites
1. NHLBite
NHLBite is an online platform that offers live streaming of all NHL games and related content online. It is free to use and does not require registration or login details. So, if you want to watch your favorite team play, this will be paradise.
This site has origins as a Reddit NHL stream. Don't worry; you don't need a Reddit membership to stream NHL Live. It's dressed up as a regular sports channel and even comes with nicely tabled game schedules.
Since it's a regular website, you can watch NHL Ice Hockey Live Stream on NHLBite on your PC, laptop, or smartphone by simply opening the website in your browser. Next, click the play button on any ongoing game to start streaming.
NHLBite is legitimately my top choice of NHL streaming site. It doesn't give off that cheesy feeling when you visit a less-than-legitimate website. The interface is clean and quite minimalistic too.
Visit NHLBite
2. NHL LIve Stream
NHL Live Stream is a website that lets you stream NHL games for free. The strangest thing about this website is how similar it looks to NHLBite. I'd suspect they simply mirror services if I didn't know better.
Yet website design apart, NHL Live Stream is very simple to use. Loading the page will simply present you with a long list of NHL matches. You'll see the teams scheduled to play and a date and time when. Ongoing games are marked "LIVE" in bright red font.
I love how professional this website feels, and it's impressive they can afford to broadcast the games in HD. Each NHL stream also has multiple channels if some go down during the game. Even more remarkable is that most streams here don't get flooded with ads.
Like most sports streams, NHL Live Stream offers more than just hockey (despite the name). You can also watch NBA, UFC, and NFL streams. Give this streaming website a go; you won't regret it.
Visit NHL Live Stream
3. NHL66
NHL66 is a live streaming service that lets you watch NHL games, including the Stanley Cup Final, on your favorite devices. From your phone to your tablet to your desktop computer, there are plenty of ways to stream NHL games with NHL66.
However, like many integrated streaming services, there's a chance that some channels might go down. Here's where you'll see the main advantage of NHL66. It offers incredible support (for a free streaming service), including a dedicated YouTube channel with tutorials, reviews, and more.
Amazingly, their tutorials even teach you how to remove ads on the streams and value-added information like the ranking system on their collection of streams. There's a pay-to-view system in place for those who prefer a more streamlined experience if you want.
NHL66 is unlike most other streaming channels on this list since it's the only hardcore NHL streaming platform dedicated to this league alone. Oh, and there's live chat, too, to discuss games with fellow NHL enthusiasts.
Visit NHL66
4. Buffstreams
Buffstreams shouldn't come across as a stranger to regular sports streaming fans. It's a comprehensive live sports streaming website that covers so much more than just the NFL. You get access to soccer, baseball, NBA, and much more.
Despite the diversity, Buffstreams offers one of the best collections of hockey streams out there, with plenty of links to watch the NHL Ice Hockey Live Stream games. The stream quality is also pretty decent despite forcing videos to open in a new window.
Be warned that antivirus apps may throw up warning signs when you open any live streams via Buffstreams. I didn't notice anything untoward except for that warning, though. It's likely just caused by some of the website's scripts for video.
Even though the site offers many sports steams, I somehow feel they could offer a better user experience. Having so many windows pop open just to watch an NHL game isn't my idea of fun. Still, if all else fails, this site is a viable option.
Visit Buffstreams
5. FirstRow Sports
FirstRow Sports offers an excellent selection of different leagues and competitions, so you can always find your favorite game to watch online. The site has been online for many years now, so I can say that it's a pretty reliable platform.
I recommend this website to anyone who wants to watch their favorite team playing online without paying fees. The site offers decent quality video streaming for most NHL matches, but the overall design leaves much to be desired.
It gives the impression of the atypical shady-looking website ripping off NHL streams to broadcast free – Yet, it works. A word of caution, though, before you visit this website. It loads tons of popup ads that crash the user experience.
FirstRow Sports wouldn't be my first choice if I had better options. There's a good reason why it's ranked number five on this list. Still, for the desperate, it's an old, reliable brand where I see many new sites crash and burn.
Visit Firstrow Sports
---
How to Watch NHL Playoffs Without Cable
Using a VPN with NHL streaming websites is an excellent way to avoid paying hefty cable fees. After all, VPN subscriptions mainly cost only a small monthly fee of a few dollars. Combine that with a free NHL streaming website, and watching the playoffs will be a dream come true.
Here's how it can happen;
Step 1: Choose a VPN Provider
The first step is to choose a VPN provider that offers fast and reliable servers in the country where the NHL playoffs are broadcast. Some popular VPN providers include ExpressVPN, NordVPN, and Surfshark.
Step 2: Sign up and Download the VPN Software
Once you have chosen a VPN provider, sign up for their service and download their software on your device. Be sure to install the VPN on all devices you plan to use to watch the NHL playoffs. We recommend NordVPN as the perfect price match that offers the smoothest streaming experience.
Step 3: Connect to a server
After installing the VPN software, connect to a server in the country where the NHL playoffs are being broadcasted. For example, connect to a US-based server if you want to watch the NHL playoffs in the United States.
Step 4: Connect to a Free NHL Streaming Website
Next, join one of the free NHL streaming websites listed above. While there are many others, we're rounded up the ones that are safest and provide an excellent streaming experience. All of them stream the entire NHL Playoff season.
Note: Some streaming services may require a credit card with a US billing address, so you may need to use a virtual credit card or ask a friend in the US to use their card for you.
What Are NHL Streaming Sites?
The NHL is a professional league full of talented athletes who can perform amazing feats on the ice. And if you live in Canada or the United States, chances are you'll be able to catch some games on television. But what if you don't have cable TV? Or what if you want to watch a game while traveling abroad?
That's where NHL streaming sites come in handy. They allow you to watch live or recorded video content from your computer or mobile device without subscribing to cable or satellite TV services. You can also use these sites to watch replays of past games and highlights from recent matches.
Watching the NHL Playoffs In-Person (With Tickets)
If you're a hockey fan, there's nothing quite like experiencing the excitement of the NHL playoffs in person. Attending a game in person allows you to feel the crowd's energy, see the players up close, and be part of the action.
It's a vastly different experience from watching the NHL playoffs online, be it on a streaming site or cable channels. The process (and price) is also, naturally, vastly different.
---
Are NHL Streaming Sites Safe?
NHL streaming sites are safe if you take the proper precautions. The most considerable risk is that these sites may be illegal in your country. While this may seem like a big deal, it is quite rare for anyone to get into trouble using these sites because of how easy it is to hide your identity.
All you need is to use a VPN. The VPN will hide your device identity but may also allow you to access more NHL streams than you might otherwise. Many excellent VPN brands in the market cost just a few dollars monthly.
My top pick is NordVPN (see my NordVPN Review), thanks to its good balance of the price (Just $3.99/mo – get the deal here) versus performance. I ran all of the streams above with NordVPN active, and the experience was perfect. There was no excessive buffering or lag that was noticeable.
For the curious, here's a speed test result I obtained with NordVPN when using the NordLynx protocol;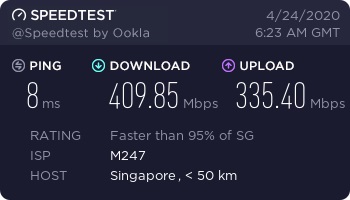 ---
Also Read:
---
Final Thoughts on Watching NHL Live Streams for Free
Watching NHL games online is a great way to enjoy the game, even if you don't have cable. If you live in an area that doesn't get NHL coverage or want to watch your favorite team on a streaming service, this guide can help you find free and legal ways to stream NHL games online.
Watching a free NHL stream may not be the best experience, but it's an affordable way to access a favorite sport. Dedicated sports cable channels can quickly charge anything from $50/mo onwards, which is insane. personally, we much prefer to use NHLBite. It's simply too good to miss.