For fans eager to stream NHL games, time is of the essence. For the real aficionados, skip the dud sites and pirated streams since most have horrible video quality. If you're broke, well, I guess some of those free streams aren't too bad on occasion.
Either way, this list has cobbled together all the best sites to watch NHL streams that we can think of. Whether following your favorite team's season journey or not missing a single playoff game, this is the right place to find a reliable NHL live stream that meets the needs of every modern hockey fan. 
Whether you're a die-hard fan of Marchand's Bruins or Stamkos's Lightning, here are our top NHL live streaming sites, both premium and free. That'll ensure you're always just a click away from the heart of the NHL action.
1. NHL.tv: The Official Service to Stream NHL (Premium)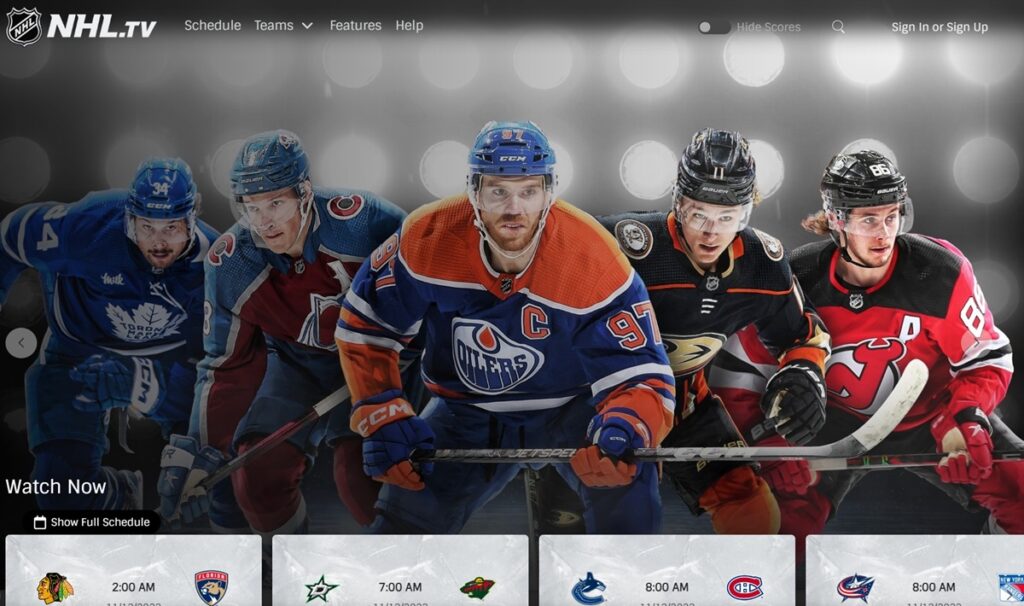 For the ultimate NHL live stream experience, NHL.tv stands out as the go-to choice for die-hard hockey fans. As the official streaming service of the NHL, it offers an unparalleled view into the world of professional hockey. Subscribers gain exclusive access to live games, including out-of-market matches, which is a boon for those following teams not based in their region.
Want to catch Connor McDavid's lightning speed or Auston Matthews' precision shots? NHL.tv brings these moments straight to your screen. It's like having a virtual seat in iconic rinks like Madison Square Garden or the Bell Centre, but from the comfort of your home.
Beyond live games, NHL.tv excels in delivering a rich array of on-demand content, from classic games to in-depth analysis and highlights. The service offers various subscription models, catering to both seasonal viewers and those who prefer a game-by-game approach. Flexibility is key, with options to subscribe to all league games or just follow a specific team.
The platform's compatibility with a wide range of devices, including smartphones, tablets, and smart TVs, ensures you can enjoy games whether you're at home or on the go. With its comprehensive coverage and high-quality streams, NHL.tv is a top-tier choice for fans seeking an immersive NHL live stream experience.
Visit NHL.tv
2. YouTube TV: Versatile Streaming with NHL Coverage (Premium)
YouTube TV has emerged as a powerhouse in the world of live streaming, offering a wealth of content that caters to a broad audience, including NHL enthusiasts. It even includes channels like the NHL Network, ESPN, and regional sports networks.
The comprehensive coverage ensures that you won't miss anything from regular season games to intense playoff matchups. The platform's integration of traditional TV with the flexibility of streaming creates a seamless experience for viewers.
One of the standout features of YouTube TV is its cloud-based DVR service. This functionality allows NHL fans to record their favorite games and watch them at their convenience, a feature that's invaluable for those who can't always catch NHL live games.
Visit YouTube TV
3. Fubo TV: Tailored for the Ultimate NHL Fan (Premium)
What sets Fubo TV apart is an impressive array of channels that cater to NHL fans. This platform is perfect for those who want comprehensive coverage of ice hockey and other various sports.
NHL game streams on Fubo TVs are broadcast in crisp, clear quality. This exceptional quality of NHL streams makes it feel like you're right in the arena. Additionally, Fubo TV's user interface is easy to navigate, making finding anything from live NHL games to highlights simple.
However, it's important to note that Fubo TV's specialization in sports comes with a higher price tag. While it offers unparalleled access to various sports channels, including those broadcasting NHL games, the cost can be steep for those only interested in ice hockey.
Visit Fubo TV
4. Sling TV: NHL Live Streams on a Budget (Premium)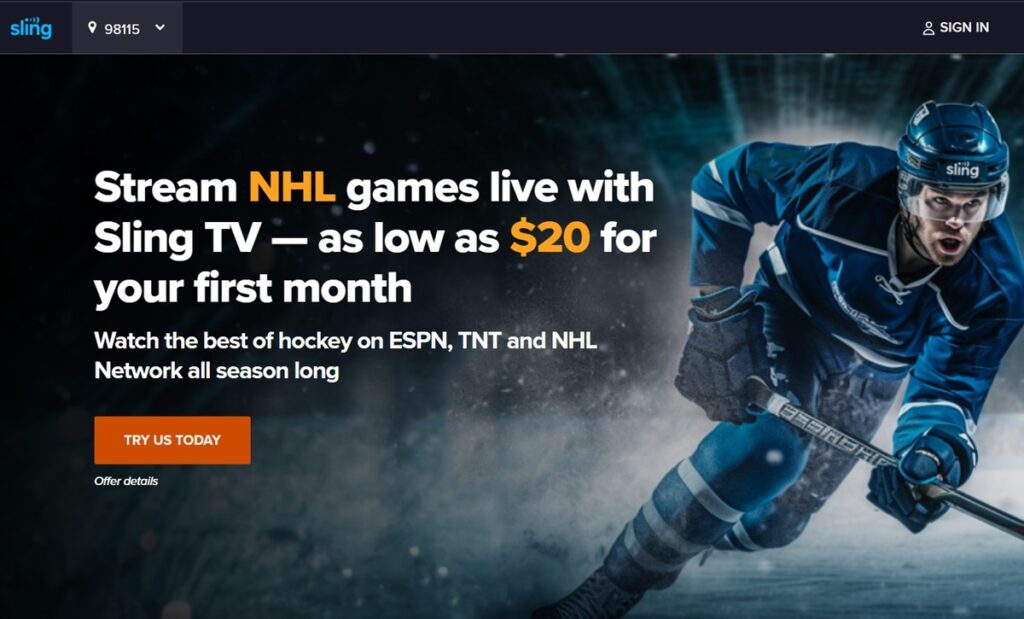 Sling TV stands out in the streaming world and is particularly appealing to NHL fans. If you want a mix of affordability and flexibility, this is the place to watch NHL games. They offer a la carte package options, so you can choose precisely the channels you want.
This ability to tailor your subscription means you don't pay for unnecessary channels. For NHL enthusiasts it's an opportunity to access every NHL game stream at a lower cost than many comprehensive streaming services.
The downside is that Sling TV may not provide as comprehensive an NHL experience as some of the more specialized or expensive services. We far prefer the official NHL channel for streaming NHL, especially if you're a hardcore ice hockey fan.
Visit Sling TV
5. DirecTV Stream: Premium NHL Streams (Premium)
DirecTV Stream offers a comprehensive package that is particularly appealing to NHL fans. Known for its extensive channel line-up you get full access to NHL game streams. A mix of regional sports networks and other channels ensures you catch every NHL game.
The features and high-quality streams that DirecTV Stream provides offer a premium viewing experience for NHL fans. You also get a unique remote with voice command capabilities. That means using voice search to find the precise NHL game stream you want.
However, the breadth and quality of DirecTV Stream come at a higher cost than other NHL streaming services. This may be a significant consideration for those on a tight budget or viewers only interested in NHL content.
Visit DirecTV Stream
Important Note
www.hidemytraffic.com
 does not host, offer, or provide copyrighted video streams or downloads. All content and information available on this website are purely for informational purposes.
6. NHLBite (Free)
NHLBite is an online platform that offers NHL live stream games and related content online. It is free to use and does not require registration or login details. So, if you want to watch your favorite team play, this will be paradise.
Whether you want to watch Pastrnak's Bruins at the TD Garden or feel the energy of the Amalie Arena, NHLBite brings the NHL world right to your fingertips.
This site has origins as a Reddit NHL stream. Don't worry; you don't need a Reddit membership to stream NHL Live. It's dressed up like a regular sports channel and has nicely tabled game schedules.
Since it's a regular website, you can watch NHL Ice Hockey Live Stream on NHLBite on your PC, laptop, or smartphone by simply opening the website in your browser. Next, click the play button on any ongoing game to start streaming.
NHLBite is legitimately my top choice where free NHL streaming is concerned. It doesn't give off that cheesy feeling when you visit a less-than-legitimate website. The interface is clean and quite minimalistic too.
Visit NHLBite (Reddit NHL Streams)
7. NHL Live Stream (Free)
NHL Live Stream is a website that lets you stream NHL free. The strangest thing about this website is how similar it looks to NHLBite. I'd suspect they simply mirror services if I didn't know better.
Yet website design apart, NHL Live Stream is very simple to use. Loading the page will simply present you with a long list of NHL matches. You'll see the teams scheduled to play and a date and time when. Ongoing games are marked "LIVE" in bright red font.
I love how professional this website feels, and it's impressive they can afford to broadcast the games in HD. Each NHL stream also has multiple channels if some go down during the game. Even more remarkable is that most streams here don't get flooded with ads.
Like most sports streams, NHL Live Stream offers more than just hockey (despite the name). You can also watch NBA, UFC, and NFL streams. Give this streaming website a go; you won't regret it.
Visit NHL Live Stream
8. NHL66 (Free)
NHL66 is a live streaming service that lets you watch NHL games, including the Stanley Cup Final, on your favorite devices. From your phone to your tablet to your desktop computer, there are plenty of ways to access NHL streaming with NHL66.
If you want to catch Aleksander Barkov of the Panthers or David Pastrnak of the Bruins, NHL66 is the place to be. You'll catch ace players as they make the rounds from Staples Center in LA to Scotiabank Saddledome in Calgary, home of the Calgary Flames.
However, like many integrated streaming services, there's a chance that some channels on NHL66 might go down. Here's where you'll see the main advantage of this site. It offers incredible support (for a free streaming service), including a dedicated YouTube channel with tutorials, reviews, and more.
Amazingly, their tutorials even teach you how to remove ads on the streams and value-added information like the ranking system on their collection of streams. There's a pay-to-view system in place for those who prefer a more streamlined experience if you want.
NHL66 is unlike most other streaming channels on this list since it's the only hardcore NHL streaming platform dedicated to this league alone. Oh, and there's live chat, too, to discuss games with fellow NHL enthusiasts.
Visit NHL66
9. Buffstreams NHL (Free)
Buffstreams shouldn't come across as a stranger to regular sports streaming fans. It's a comprehensive live sports streaming website covering much more than just the NHL. You get access to soccer, baseball, NBA, and much more.
Despite the diversity, Buffstreams offers one of the best collections of hockey streams out there, with plenty of links to watch NHL hockey live. The stream quality is also pretty decent despite forcing videos to open in a new window.
Be warned that antivirus apps may throw up warning signs when you open any live streams via Buffstreams. I didn't notice anything untoward except for that warning, though. It's likely just caused by some of the website's scripts for video.
Even though the site offers many sports steams, I somehow feel they could offer a better user experience. Having so many windows pop open just to watch an NHL game isn't my idea of fun. Still, if all else fails, this site is a viable option.
Visit Buffstreams NHL Channel
10. FirstRow Sports (Free)
FirstRow Sports offers an excellent selection of different leagues and competitions, so you can always find your favorite game to watch online. The site has been online for many years now, so I can say that it's a pretty reliable platform.
I recommend this website to anyone who wants to watch their favorite team playing online without paying fees. The site offers decent-quality video streaming for most NHL matches, but the overall design leaves much to be desired.
It gives the impression of the atypical shady-looking website ripping off NHL streams to broadcast free – Yet it works. A word of caution, though, before you visit this website. It loads tons of popup ads that crash the user experience.
FirstRow Sports wouldn't be my first choice if I had better options. There's a good reason why it's ranked number five on this list. Still, for the desperate, it's an old, reliable brand where I see many new sites crash and burn.
Visit Firstrow Sports
How to Stream NHL Games With a VPN
Watching NHL live streams can sometimes be challenging due to regional blackouts and geographical restrictions. A Virtual Private Network (VPN) can be a valuable tool in these situations, allowing fans to bypass these limitations.
A VPN works by routing your internet connection through a server in a location of your choice. This process masks your actual IP address, making it appear as though you are accessing the internet from a different location.
For NHL fans, this means you can appear to be in a region where a game is not blacked out, or in a country where a particular streaming service is available.
Here's a simple guide to using a VPN for NHL streaming:
Choose a Reliable VPN Service: Look for a VPN that offers fast connection speeds and servers in multiple locations, ensuring smooth streaming.
Install the VPN Software: After subscribing, download and install the VPN software on your device.
Connect to a Server: Open the VPN application and connect to a server in the desired location. If you're trying to avoid NHL blackouts, select a server where the game is available.
Access the Streaming Service: Once connected, open your NHL streaming service. It should now provide access as if you were in the selected server's location.
Best VPN for Streaming NHL Hockey
What Are NHL Streaming Sites?
The NHL is a professional league full of talented athletes who can perform amazing feats on the ice. And if you live in Canada or the United States, chances are you'll be able to catch some games on television. But what if you don't have cable TV? Or what if you want to watch a game while traveling abroad?
That's where NHL live stream sites come in handy. They allow you to watch live or recorded video content from your computer or mobile device without subscribing to c
Is Streaming NHL Games Live Safe?
Streaming NHL games online can be safe, provided you choose the right platforms and take the necessary precautions. Official and reputable services like NHL.tv, YouTube TV, Fubo TV, Sling TV, and DirecTV Stream are generally secure and legal, ensuring a safe streaming experience.
However, caution is advised when using free streaming sites. These sites may pose risks such as malware, phishing attempts, and intrusive ads. To enhance safety, use reliable antivirus software, avoid clicking on suspicious links, and consider employing a secure VPN service.
Always prioritize legitimate and recognized streaming services for a secure and enjoyable NHL viewing experience.
Final Thoughts
Exploring the realm of NHL live streaming brings hockey fans a plethora of options, from the exclusive, in-depth coverage of NHL.tv to the diverse and flexible offerings of services like YouTube TV, Fubo TV, Sling TV, and DirecTV Stream.
For those seeking free alternatives, platforms like NHLBite, NHL Live Stream, NHL66, Buffstreams, and FirstRow Sports provide varied experiences catering to different preferences.
Remember, using a VPN can further enhance access to these streams, especially in regions facing blackouts or restrictions. With these options, every fan can find a suitable way to enjoy the thrill of streaming NHL games.