The world of anime has evolved from ninjas, and pirates, to what it is today. Although there are still ninjas and pirates now, there are so many genres of anime that it is hard to keep up. Each genre focuses on a demographic type. That said, no matter the genre, anime appeals to audiences of all ages due to its consistent take on pairing male protagonists with cool and cute anime girls.
Yes, adorable, cute, and stylish anime girls are the soul of otaku culture. They inspire fanmade artwork, cosplay, and merchandise. Each anime has a fan service in the form of cute anime girl characters who are so memorable. Of course, they support the plot and showcase flowery character dynamics. Whatever it is, both their unique and intriguing character dynamics and visuals are what appeals.
Cute anime girls come in all personalities – shy, childish, insecure, short-tempered, quirky, clumsy, socially awkward nerd, and more. Each anime girl is amplified with the cutest features. Here are the 12 cutest anime girls you can watch online.
Stream Anime With NordVPN
NordVPN helps you unblock streaming websites by allowing you to connect to secure servers. Catch all the best anime girls online with a VPN.
1. Kanna Kamui (Miss Kobayashi's Dragon Maid)
Kanna Kamui (カンナカムイ), aka Kanna Kobayashi, is one of the leading characters in Miss Kobayashi's Dragon Maid (2017). The story revolves around an office worker, Kobayashi, who stumbled upon Tohru, a dragon that can transform into a humanoid girl. Tohru then stays with Kobayashi and becomes her maid. However, Tohru's presence attracts other dragons, and mythical beings, one of them being Kanna.
Kanna is a 300-year-old female dragon (9 years old in the human registry) exiled from her world due to her pranks. She sports the cutest form as a 120cm little girl with white-lavender hair in pigtails and blue eyes. Kanna can transform into a 10m feathered white dragon. Definitely a top pick as one of the cutest anime girls around.
Although Kanna is soft-spoken and quiet, she is emotionally driven, given her sudden outbursts. She does not trust easily but can get possessive when she has developed an attachment. Kanna generates and manipulates electricity. However, she would need to absorb mana from her surroundings by plugging her tail into a wall socket (I found this hilarious).
Kanna strikes me as a petite little girl who manages to display her emotions via such cute minute expressions. Watch Kanna Kamui in Miss Kobayashi's Dragon Maid on Netflix, Crunchyroll, Funimation, Zoro.to, or VRV.
2. Kaori Miyazono (Your Lie In April)
Kaori Miyazono (かをり) is the main protagonist of Shigatsu wa Kimi no Uso (Your Lie in April), an anime aired in 2014. The story begins with a 14-year-old piano prodigy Kōsei Arima who lost the ability to play the piano after his mother passed away. He then meets Kaori Miyazono, a 14-year-old violinist whose playing style reflects her free-spirited personality. She helps Kōsei regain his confidence in playing the piano.
Kaori's blonde and wavy hair reaches down her waist. Featuring lovely pale indigo eyes, she always carries her violin with her pink suitcase. Her personality is reflected clearly through her violin-playing style. She emphasizes emotions and artistry over music technicalities. While some would opine that she is rebellious in nature, others praise her playing skills.
Hit with a grave illness, Kaori still manages an independent and strong-willed personality. Despite her condition, she offers support, exuding kindness and empathy to others through her music. Although she can be unpredictable and short-tempered, she is sweet-natured. Hence, Kaori triggers heartfelt emotions in people and fans alike.
Watch Kaori Miyazono in Your Lie in April on Crunchyroll, VRV, Funimation, itvX, or Hulu.
3. Sakura Kinomoto (Cardcaptor Sakura)
Sakura Kinomoto (木之本 桜) is the heroine of Clamp's manga series Cardcaptor Sakura and its anime adaptation. The story revolves around Sakura, who discovers magical powers after accidentally freeing a set of magical cards into the world. However, she must retrieve them all to prevent catastrophe. Each card grants different magical powers.
Sakura grew from an elementary student to a super-cute 14-year-old anime girl in the Clear Card Arc storyline. Unlike most anime characters, Sakura sports short brown hair with two raised partings and beautiful emerald eyes. A cheerful and energetic personality, Sakura stuns with her cute and stretched-out catchphrase 'Hoeh!' whenever in shock or fear.
She is athletic, and although naïve, clumsy, and dense, she can sometimes be perceptive. I typically liked her optimistic and outgoing character, which makes her easy-going with everyone. Despite her fear of ghosts and sweet disposition, Sakura has a frightening vicious temper. Her innate magical powers grow as she battles and captures more Cards.
Sakura has the potential to be supremely powerful as you see her navigate through the Cards in the Cardcaptor Sakura anime series. Watch Sakura Kinomoto in Cardcaptor Sakura on Netflix, Crunchyroll, Prime Video, VRV, Funimation, or TubiTV.
4. Yui Hirasawa (K-On!)
Yui Hirasawa (平沢ゆい) is the main protagonist in K-On! and the lead guitarist and vocalist of the band Ho-kago Tea Time. K-On! is about several high school girls trying to save their school's Light Music Club from being disbanded. From having no clue about music and the instruments, Yui works hard to become an excellent guitar player. The group persevered, practiced, and performed.
Yui is slightly below the average height of 5'1″, with brown eyes, and has thick medium brown hair, accessorized with two yellow pins. Being air-headed, she thought 'light' music was 'easy' music (which tickled me), so she fearlessly picked up music thinking it was easy as pie. The 15-year-old loves sweets and does not gain weight no matter how much she devours them (I am envious).
Like many anime girls, Yui is all about physical contact; she likes hugging and holding hands. Although she does not do well in her studies, she excels when she focuses on learning something. Yui is different in an unorthodox way, as she picks things up based on intuition. Her antics are funny, accentuated by her clumsiness.
Watch Yui Hirasawa in K-ON! On Prime Video, Apple TV, Yidio, HiDive, or Funimation.
5. Kaguya Shinomiya (Kaguya-sama: Love Is War)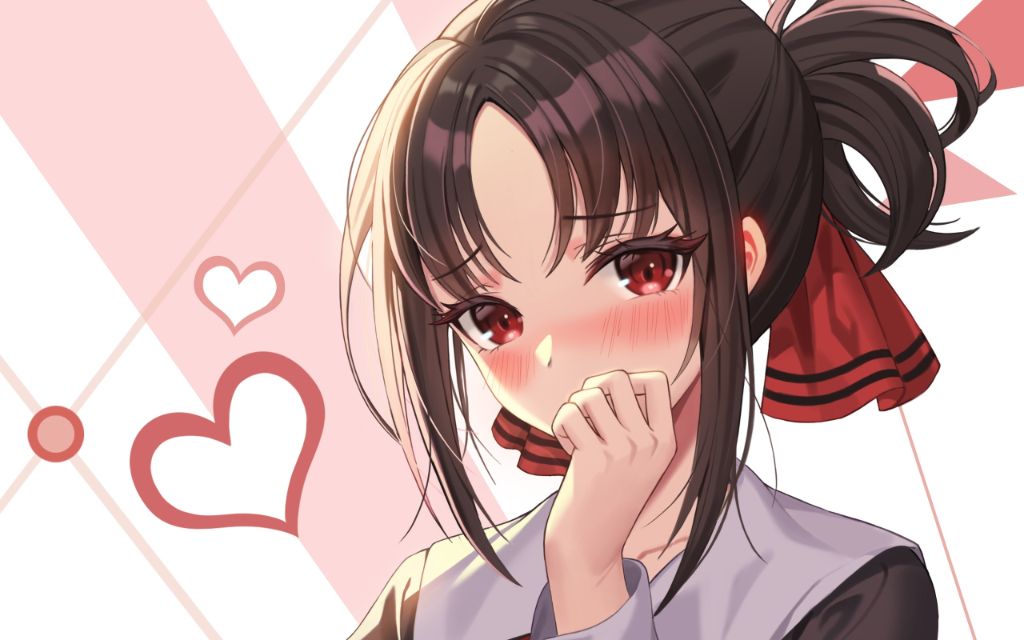 Kaguya-sama: Love Is War is a romantic comedy manga series that surrounds student council president Miyuki Shirogane and vice president Kaguya Shinomiya. They soon developed feelings for one another. However, neither is willing to take that first step to confess. Watching their many schemes to outwit each other in showing signs of affection is entertaining.
Kaguya Shinomiya (しのみや かぐや) is fair-skinned and beautiful with long black hair tied by a black-red ribbon. She sports large, almond-shaped red eyes and exudes an icy aura around her. A stunning beauty, the 18-year-old is seen as arrogant and depicts an unattainable ice princess. Due to her family's high expectations of her, she feels immense pressure not to fall short of them.
As such, she suffers from mood swings, resulting in different distinct pseudo-personalities. However, joining the student council has opened her to many new things. She begins to become more cheerful, brighter, livelier, and cuter.
Watch Kaguya Shinomiya in Kaguya-sama: Love Is War on Hulu, Funimation, VRV, or Crunchyroll.
6. Marin Kitagawa (My Dress Up Darling)
Marin Kitagawa (喜き多た川がわ 海夢まりん) is the female lead in the Sono Bisque Doll wa Koi wo suru series (My Dress Up Darling). The 2022 anime series begins with Wakana Gojo's passion for crafting hina dolls. However, he hides such talents due to social trauma. Marin enters the picture and encourages him to create cosplay costumes. With Marin's unwavering support, Wakana begins to have more confidence, and their friendship blossoms.
Another of our top picks as one of the best anime girls, Marin's eyes are naturally dark brown. However, she wears dark pink contacts when she isn't cosplaying. The 15-year-old is blonde with hair reaching her rear. Bangs cover most of her forehead and eyebrows. Donning multiple silver ear piercings, she is a total fashionista.
A highly-principled girl, Marin is earnest and confronts people, when she needs to. She is friendly, kind, and not judgemental. Despite her carefree attitude, she can be particular, bold, and thoughtful of others. Marin can be a scatterbrain with an impulsive side to her. I find her adorable when she becomes embarrassed about the tiniest things while unaffected by other urgent matters.
Watch Marin Kitagawa in My Dress Up Darling on Prime Video, Crunchyroll, Funimation, Zoro.to, or VRV.
7. Miku Nakano (The Quintessential Quintuplets)
Miku Nakano (なかの みく) is one of the quintuplet sisters, along with Ichika, Nino, Yotsuba, and Itsuki Nakano in 5-toubun no Hanayome (The Quintessential Quintuplets). The 2019 anime series revolves around the daily life of a high school student Futaro Uesugi. He becomes the private tutor for the identical quintuplets but with varying personalities each.
Futaro develops relationships with each of them. Miku is 17 years old and the third eldest of the siblings. She is one of his love interests and rightly earns her place as one of the cutest anime girls online. Being rather emotionless, Miku sports medium-length red hair with dark blue eyes. You'll notice a set of wireless headphones, her accessory with a triangle-shaped logo on the ear cups.
At first glance, Miku is a shy adolescent girl. Being introverted, she struggles to communicate with others. Throughout the series, she navigates her feelings for Futaro and conflicts with her sisters. Breaking out of her shell, she develops self-sense and individuality. Miku finds literature interesting; her reading passion is central to shaping her identity.
I like that Miku is multi-dimensional. Her quiet determination, intermixed with a tinge of vulnerability, makes her appealing. Watch Miku Nakano in The Quintessential Quintuplets) on Prime Video, Zoro.to, Crunchyroll, Funimation, or VRV.
8. Nezuko Kamado (Demon Slayer)
Nezuko Kamado (かまど ねずこ), the younger sister of Tanjiro Kamado, is a demon in Demon Slayer: Kimetsu no Yaiba anime series. The anime follows Tanjiro, who strives to become a demon slayer after his family was slaughtered, and Nezuko turned into a demon. He wants to help his sister revert to human again and avenge the death of his family.
Nezuko is a petite 14-year-old with fair skin and long, black, wavy hair. Soft-looking with pale pink eyes, she is a great beauty. She dons a small pink ribbon on the left side and a notable bamboo muzzle secured around her jaw with a strip of red cloth. She transforms in battles, featuring a bigger, taller, and more curvaceous body, with hair reaching her feet. The bamboo muzzle comes off.
As a human, Nezuko is a kind, thoughtful and caring girl. She is protective, brazen, and bold when fighting. Although a demon, she retains her human emotions. However, she rarely speaks and stutters when she does. I find Nezuko's willpower astounding and praiseworthy, clearly shown in her personality. Watch Nezuko Kamado in Demon Slayer on Netflix, Hulu, Crunchyroll, or Funimation.
9. Kosaki Onodera (Nisekoi)
A 2014 romantic comedy anime series, Nisekoi revolves around high school students Raku Ichijo and Chitoge Kirisaki. Due to their families' wishes, both must be in a relationship to maintain peace. However, they hate one another, and Raku has a crush on Kosaki Onodera. Things become complicated when Raku realizes his feelings for both girls.
Kosaki is a 15-year-old, fair-skinned teen with shoulder-length dark-brown hair and brown eyes. She has her school uniform on most of the time. She isn't impulsive and thinks carefully before acting. Slightly timid, Kosaki is discreet in the way she carries herself.
Being insecure, she often second-guesses herself. However, as the series progresses, she starts to overcome her timidness and matures into a strong woman. Exuding a sweet personality, I always liked Kosaki as an innocent and shy maiden. Watch Kosaki Onodera in Nisekoi on Hulu, Crunchyroll, Funimation, or VRV.
10. Yukino Yukinoshita (My Teen Romantic Comedy SNAFU)
Yukino Yukinoshita (雪ノ下 雪乃) is the heroine of My Teen Romantic Comedy SNAFU anime series. As a 16-year-old, Yukino has fair skin, long black hair, and an Ahoge atop her head. Her pair of large, piercing blue eyes are striking.
A 2013 comedy-drama anime series based on 'My Youth Romantic Comedy Is Wrong, as I Expected', the light novel series by Wataru Watari, My Teen Romantic Comedy SNAFU, talks about teenagers trying to fit in at Soubu High School. Hachiman Hikigaya, Yukino Yukinoshita, and Yui Yuigahama are loners. They are forced into forming the Soubu High School Service Club. Coincidentally, a car accident in the past links them.
Clad mainly in her school uniform, Yukino is seen by many as haughty. She thinks she is exceptional and must help the less fortunate. Yukino is competitive, very clever, and talented. However, she can be blunt and upfront without consideration. Unable to better articulate her feelings, I still find her relatable as a genuine character.
That said, her icy exterior slowly fades, and she evolves to be kinder and more compassionate, although in her twisted way. Watch Yukino Yukinoshita in My Teen Romantic Comedy SNAFU) on HIDIVE, Crunchyroll, VRV, or Apple TV.
11. Haruhi Suzumiya (The Melancholy of Haruhi Suzumiya)
Haruhi Suzumiya (涼宮ハルヒ) is the titular heroine of 2006 The Melancholy of Haruhi Suzumiya series. The anime is about Kyon, a student at North High School, and Haruhi Suzumiya, an eccentric schoolgirl who seeks supernatural phenomena and figures. They form a club called the 'SOS Brigade', and soon Haruhi is seen as a threat to the universe due to her reality-warping powers.
Haruhi features big brown eyes and brown hair with a pale skin tone. Being eccentric, she believes she is to live an extraordinary life. As such, the 15-year-old engages in deviant behavior when bored. She loves being at the center of attention. It is no wonder she can be bossy and blunt too. She gets angry when things don't go her way.
Although energetic and bright, Haruhi oscillates between melancholy and optimism, making her unpredictable. She channels her boundless energy through paranormal means. Being a cutie, I find it hard to see her in the light of an overbearing and intimidating person. However, with Kyon, she learned to improve and be more stable. Watch Haruhi Suzumiya in The Melancholy of Haruhi Suzumiya on Funimation, Crunchyroll, VRV, or Zoro.to.
12. Usagi Tsukino (Sailor Moon)
Perhaps the anime series that pioneered the rest, the 1992 Sailor Moon anime series, focuses on the adventures of a schoolgirl named Usagi Tsukino. She is the reincarnation of Princess Serenity and transforms into the eponymous character, Sailor Guardian of love and justice: Sailor Moon. She is tasked to find the magical artifact – 'Legendary Silver Crystal' as she leads the Sailor Soldiers in battle.
At 14, Sailor Moon has blue eyes and long blonde hair, wearing it in odango. She usually wears a blue middle-school sailor uniform with a pair of red short-heeled and knee-high boots. Upon gaining the Moon Cosmic Power, Makeup, her choker turned red with a yellow heart at the center.
Sailor Moon is one of those anime girls that cry easily and is emotional. Although immature, she sees the good in people, even her enemies. The sweet girl believes that everyone deserves to love and be loved. She is cute, pure, reliable, kind, and courageous. Some may find her air-headedness a little annoying. However, her other praiseworthy traits overshadow this tiny negativity.
The success of Sailor Moon proves that people want to see capable heroines who are cute. Watch Usagi Tsukino in Sailor Moon (Crystal) on Hulu, Crunchyroll, or Netflix.
Are You Now Overwhelmed by These 12 Cute Anime Girls?
Anime has garnered a fan base regardless of age. And most of the time, we find ourselves more enamored by anime girls than the male protagonists. Somehow, these little cuties are hard to resist and so memorable that they leave an imprint in the hearts of many.
Remember, if you can't access any of the sites we've listed above, they may be blocked in your country. To bypass those blocks, use a reliable VPN service like NordVPN, available for a low monthly price.
Also Read;