If you need some humor to drive away difficulties that life can sometimes throw at you, going for Adam Sandler movies on Netflix is the right trick. The actor's name is ubiquitous with laughter and humor, representing the best of all time happy Americana.
Born in 1966, Adam Sandler is a much-loved American comedian, actor, and filmmaker; he was on Saturday Night Live for five years before reaching stardom in Hollywood.  He's also one of my most beloved TV icons and his movies are aplenty on Netflix – my favorite combination.
---
Use a VPN to Get Full Netflix Access
Before you begin, be aware that Netflix blocks content depending on where you are located. Not all titles may be in your region. If you click one of the links below and get an error message saying "We're sorry, this video is not available" then you need a VPN.
The reason for this is due to licensing agreements between Netflix and other companies that own the rights to shows and movies. These companies have exclusive agreements with different countries, meaning that they can only be viewed in certain regions.
All you need to do is sign up for a VPN service (I highly recommend NordVPN), install the app, and connect to a US server. Then launch your browser and head to the movie you want to watch. It works like magic.
---
---
1. Click (2006)
IMDB Score: 6.4
Rotten Tomatoes Score: 34%
Genre: Comedy, Drama, Fantasy
Actors: Adam Sandler, Kate Beckinsale, Christopher Walken
Director: Frank Coraci
Click is a comedy film with all the right ingredients; everything clicks! The movie is a total of everything that Adam Sandler has been doing. You will get some comedy scenes laced with emotional maturity and sweet romance. Sandler plays the role of a workaholic architect, Michael Newman. Michael is often bullied by his boss so much that he prioritizes work over his family; this frustrates his wife, Donna.
One day, he came across Morty, a scientist, who offered him a free universal remote control. He soon learns that the remote is magical and can control reality. Michael starts to have fun with it; he rewinds and fasts forwards to various parts of his life. Little did he know that complication was about to knock at his door.
Watch Click on Netflix.
2. Murder Mystery (2019)
IMDB Score: 6
Rotten Tomatoes Score: 45%
Genre: Action, Comedy, Crime
Actors: Adam Sandler, Jennifer Aniston, Luke Evans
Director: Kyle Newacheck
Murder Mystery is a mystery-comedy movie that puts together two very talented actors – Sandler and Aniston, who exude perfect and winning chemistry. The couple is magical to look at as you follow this movie of a working-class New York married couple that accidentally stumbled on a 'stylish' murder mystery.
Nick Splitz (Sandler), a New York police officer with his wife, Audrey (Aniston) found themselves on a yacht after accepting an invitation from the billionaire Charles Cavendish. There was to be a wedding of his uncle, Malcolm Quince, and his former fiancée Suzi Nakamura. But, before Malcolm could sign his new will, where all his inheritance goes to Suzi, the lights went out, and Malcolm was stabbed and murdered.
Watch Murder Mystery on Netflix.
3. Spanglish (2004)
IMDB Score: 6.4
Rotten Tomatoes Score: 54%
Genre: Comedy, Drama, Romance
Actors: Adam Sandler, Téa Leoni, Paz Vega
Director: James L. Brooks
Spanglish is a romantic comedy-drama film that makes a noteworthy depiction of Adam Sandler playing the role that all his characters were striving to be one day. He plays John Claskys, the head of his family, and has a wife, Deborah, and two children. He is a successful chef and sports an easy-going personality. As such, his wife bullies him often. 
In comes Flor, the Mexican mother who joined the family as a housekeeper with her daughter Cristina. However, Flor decided to leave as she could not take the weird and awkward Claskys family dynamics. However, John convinced her to stay, and she enrolled herself in an English course to improve her communication with the Claskys.
Watch Spanglish on Netflix.
4. Billy Madison (1995)
IMDB Score: 6.3
Rotten Tomatoes Score: 41%
Genre: Comedy
Actors: Adam Sandler, Darren McGavin, Bridgette Wilson-Sampras
Director: Tamra Davis
One of Sandler's first movies is this highly infectious Billy Madison. You catch him doing his usual signature goofy voices and performances. Also, you will feel the enjoyment and fun exuding from his character as he plays this immature and highly unaware character. Yes, Billy Madison is a dimwit, childish, and thoroughly spoiled 27-year-old heir to the Madison Hotels, founded by his father, the retiring tycoon Brian Madison. 
Billy continues to wreak havoc around him until one fine day when he messes up his father's dinner with his associates; this leads Brian to change his mind and leave the hotel's management to Eric Gordon, the devious executive VP. Regretting his actions and knowing how cruel Eric can be, Billy compromises with his father – Billy must complete and pass all twelve grades of school in a stipulated time.
Watch Billy Madison on Netflix.
5. Big Daddy (1999)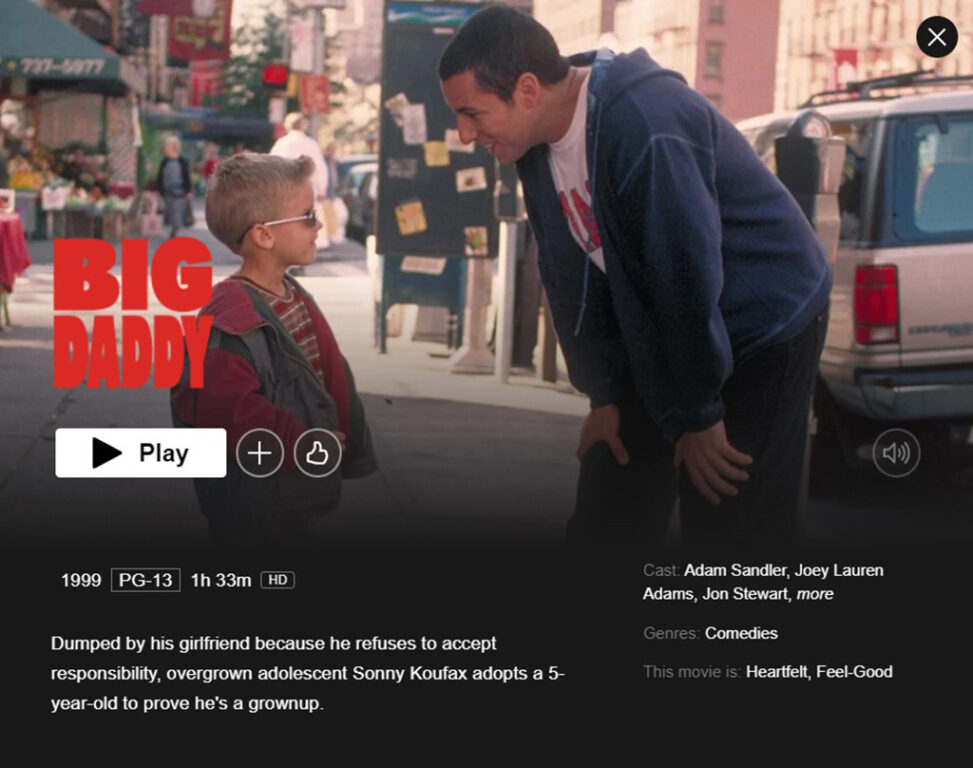 IMDB Score: 6.4
Rotten Tomatoes Score: 39%
Genre: Comedy, Drama
Actors: Adam Sandler, Jon Stewart, Joey Lauren Adams
Director: Dennis Dugan
In Big Daddy, you get a taste of Adam Sandler breaking out of his cocoon of a man-child character. You are probably used to seeing Sandler play the role of a man-child, but in this movie, you get a taste of Sandler being a father to a child instead. In a way, Big Daddy paves the way for Sandler in his future roles. 
Sonny Koufax (Sandler) is a slacker in his thirties. He works as a toll booth attendant. One morning he wakes up to be greeted by the sight of a five-year-old, Julian, at his front door. A note stated that Kevin's friend is the child's biological father. Unfortunately, Kevin was overseas. Sonny then 'adopts' Julian to win back his girlfriend, but things soon turn topsy turvy.
Watch Big Daddy on Netflix.
6. The Week Of (2018)
IMDB Score: 5.2
Rotten Tomatoes Score: 26%
Genre: Comedy
Actors: Adam Sandler, Chris Rock, Steve Buscemi
Director: Robert Smigel
The Week Of is the fourth collaboration between Sandler and Netflix. This movie showcases the essence of the older Sandler. Again, he has progressed to play a good ol' dad wanting to do only his best for his daughter. Playing Kenny Lustig, Sandler portrays a not so well-off construction worker. His daughter Sarah intends to marry Tyler, the son of Kirby Cortice (Chris Rock), a very wealthy doctor.
However, Kenny wants to pay for everything, and both Kenny and Kirby, with very opposing personalities, make the affair more difficult. Issues after issues kept rolling in for the week leading to the wedding. Despite the many persistent problems, Kenny still refuses help from Kirby, making matters worse.
Watch The Week of on Netflix.
7. 50 First Dates (2004)
IMDB Score: 6.8
Rotten Tomatoes Score: 45%
Genre: Comedy, Drama, Romance
Actors: Adam Sandler, Drew Barrymore, Rob Schneider
Director: Peter Segal
A thoroughbred romance comedy film that showcases Sandler in his most raw form; 50 First Dates is one of those romantic movies of Sandler's. Henry Roth (Sandler), a marine veterinarian who shirks from commitment, falls for a teacher named Lucy (Barrymore). He works at Sea Life Park on Oahu. 
However, Lucy has short-term memory loss, a condition causing her to forget everything a day later. So, despite having every day reset for Lucy, Henry pushes on to keep getting her to fall for him again. Their chemistry is undeniable, especially when Lucy falls in love 50 times.
Watch 50 First Dates on Netflix.
8. Happy Gilmore (1996)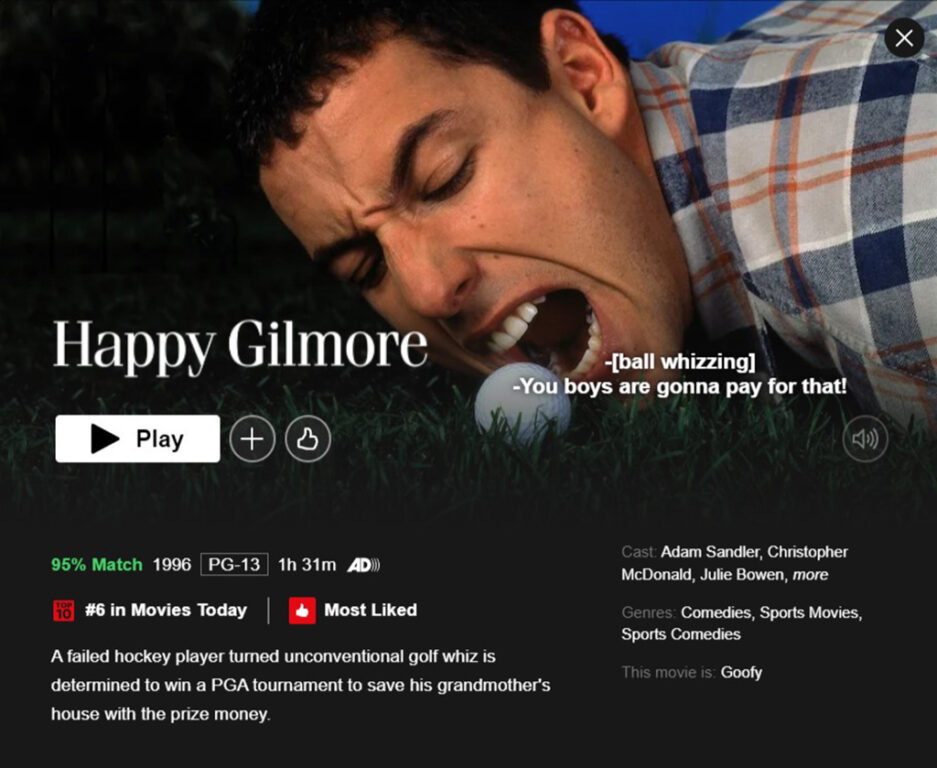 IMDB Score: 7
Rotten Tomatoes Score: 61%
Genre: Comedy, Sport
Actors: Adam Sandler, Christopher McDonald, Julie Bowen
Director: Dennis Dugan
Happy Gilmore is the sports comedy movie that launched it all for Sandler. This movie formulated the quirky man-child character that Sandler plays so well. The role of Happy Gilmore displayed the comedic traits that defined him as an actor. He lashes out his comedic rage as a short-tempered and unsuccessful ice hockey player. 
He then finds himself in a fix where he needs money to help with his grandmother's problematic situation. Despite being a failure in ice hockey, he excelled in the long-drive golf games. He then enrolled himself in tournaments to make quick money, and his unorthodox moves and slapshot-style swing ultimately won him a spot on the professional golf tour.
Watch Happy Gilmore on Netflix.
9. The Longest Yard (2005)
IMDB Score: 6.4
Rotten Tomatoes Score: 31%
Genre: Comedy, Crime, Sport
Actors: Adam Sandler, Burt Reynolds, Chris Rock
Director: Peter Segal
The Longest Yard is a classic remake of a Burt Reynolds's movie. Adam Sandler plays a sarcastic, hard-partying, and washed-up former professional quarterback, Paul Crewe. He was sent on federal probation for five years due to being accused of shaving points. He then caused a scene while drunk driving resulting in an accident. Paul was sentenced to several years in prison.
An avid football fan, the warden Rudolph Hazen proposes to use Paul to assemble and coach a football team consisting of his correctional officers to help gain him some brownie points for future state elections. Paul was also tasked to form another team of prison inmates to battle against the corrections officers.
Watch The Longest Yard on Netflix.
10. Anger Management (2003)
IMDB Score: 6.2
Rotten Tomatoes Score: 42%
Genre: Comedy
Actors: Adam Sandler, Jack Nicholson, Marisa Tomei
Director: Peter Segal
Quite the direct opposite of Happy Gilmore, Sandler here plays the role of a man thoroughly suppressing himself – a ticking time bomb in Anger Management. Dave Buznik (Sandler), a secretary, was bullied and humiliated when young; this left a bad taste in his mouth even as he matured into an adult. On a flight, Dave was provoked and completely lost control. 
He created a scene and was to undergo anger management treatment under Dr. Buddy Rydell (Nicholson), a renowned therapist. Rydell keeps poking him, trying to get him to blow. He executes round-the-clock therapy to the extent of staying with Dave. Soon, Dave learns that anger must be controlled but not be a doormat to others.
Watch Anger Management on Netflix.
---
Also, Read;
---
Conclusion
Adam Sandler will surely keep you in high spirits when you watch all his hilarious moves. So, check out the list above, as these Adam Sandler movies on Netflix are truly classic in their own right. You will not be disappointed.