Get ready for some jam-packed fast and furious action, because this weekend, you will be in front of your TV, enjoying a marathon of non-stop live-action and attention-grabbing moments in all these superb car movies. Look no further than Netflix, as they will never disappoint you.
Before we begin, though, you should be aware that not all of these titles will be in your Netflix library. Netflix geoblocks content in various regions. If you want to access all the best Car Movies on Netflix you need to sign up for a VPN and connect to a US server.
I highly recommend NordVPN since it's affordable and works fine with Netflix. A subscription will only cost you $3.99/mo, much less than paying for premium cable channels.
---
1. Fast & Furious Presents: Hobbs & Shaw (2019)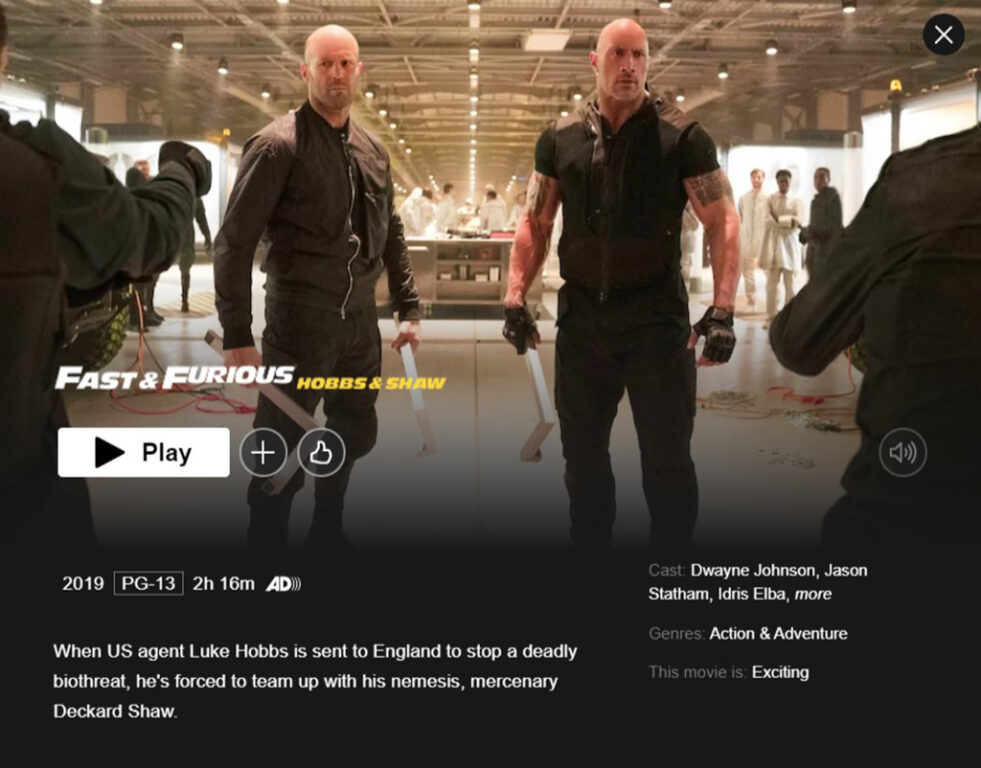 IMDB Score: 6.5
Rotten Tomatoes Score: 67%
Genre: Action, Adventure, Thriller
Actors: Dwayne Johnson, Jason Statham, Idris Elba
Director: David Leitch
Fast & Furious Presents: Hobbs & Shaw is the ninth installment of the Fast & Furious franchise and also a spin-off after the 2017 events of The Fate of the Furious. It's a classic among the best car movies on Netflix.
You'll be glad to know that Dwayne Johnson and Jason Statham reprise their roles as Luke Hobbs and Deckard Shaw. The story unfolds two years after their confrontation against cyberterrorist Cipher.
Luke Hobbs, the law-abiding officer, and Deckard Shaw, the infamous outcast, form an unlikely alliance to track down a virus that threatens humanity's survival. (Watch Fast & Furious Presents: Hobbs & Shaw on Netflix)
2. Death Race (2018)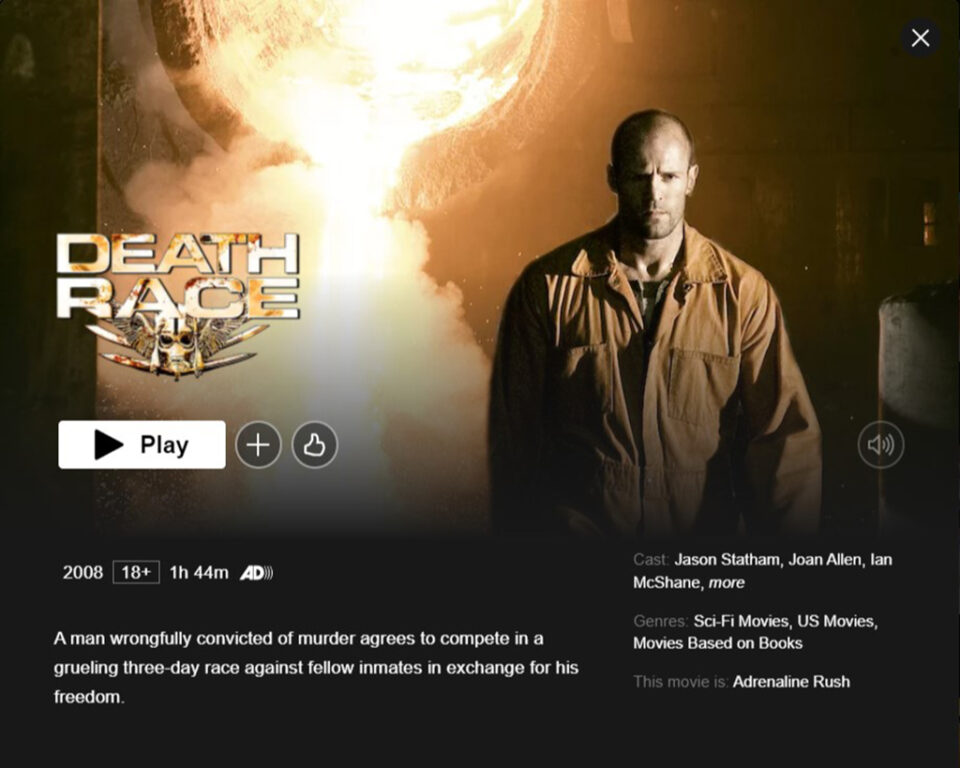 IMDB Score: 6.4
Rotten Tomatoes Score: 42%
Genre: Action, Sci-Fi, Thriller
Actors: Jason Statham, Joan Allen, Tyrese Gibson
Director: Paul W.S. Anderson
Death Race is a dystopian action thriller movie that stars the British hunk Jason Statham. It was intended to be the prequel to the 1975 film Death Race 2000. Jensen Ames, accused of killing his wife, found himself in the Terminal Island Penitentiary, a notorious prison.
The warden, Claire Hennessey forces Jensen into a combat race which earns the winner the coveted freedom. (Watch Death Race on Netflix).
3. Drive (2011)
IMDB Score: 7.8
Rotten Tomatoes Score: 93%
Genre: Action, Drama
Actors: Ryan Gosling, Carey Mulligan, Bryan Cranston
Director: Nicolas Winding Refn
Drive, an action drama film is based on James Sallis's 2005 novel. Ryan Gosling plays the role of an unnamed Hollywood stunt driver, the Driver, who has a soft spot for his neighbor, Irene, and her son. He moonlights as a criminal-for-hire getaway driver while working as a mechanic, a stunt double, and a stunt driver in Los Angeles.
Things started to turn haywire when Irene's husband, Standard Gabriel was released from prison. With well-meant intentions to help Irene, he finds himself entangled dangerously in a million-dollar heist that endangers literally everyone involved. (Watch Drive on Netflix).
4. Need For Speed (2014)
IMDB Score: 6.4
Rotten Tomatoes Score: 22%
Genre: Action, Crime, Thriller
Actors: Aaron Paul, Dominic Cooper, Imogen Poots
Director: Scott Waugh
Need for Speed is an action thriller movie adapted from the racing video game franchise by Electronic Arts. All about speed, this movie is about a street racer, Tobey Marshall. He is a former race car driver who manages his late father's garage. In order to make ends meet, he participated in street races.
Soon, things went down for him as he found himself setting off to avenge his friend's death by racing cross-country against the rival racer, Dino Brewster. (Watch Need for Speed on Netflix).
5. The Italian Job (2003)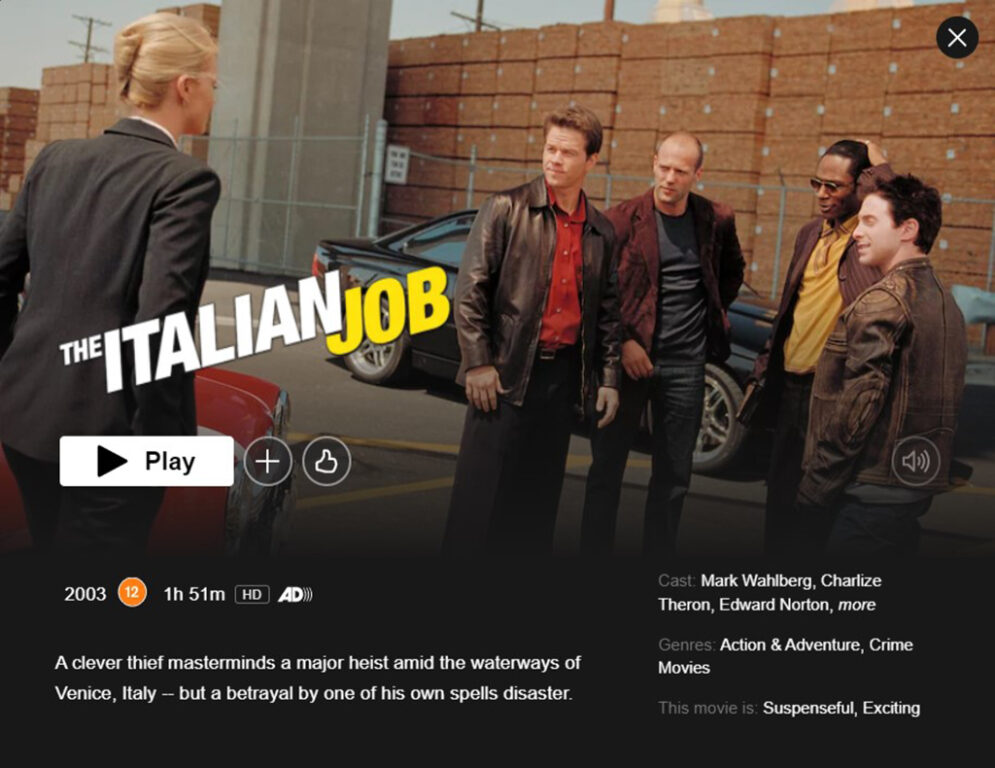 IMDB Score: 7.0
Rotten Tomatoes Score: 73%
Genre: Action, Crime, Thriller
Actors: Donald Sutherland, Mark Wahlberg, Edward Norton
Director: F. Gary Gray
The Italian Job, the ever-popular heist action film, filled with star-studded actors is a remake of the 1969 British film. A highly skilled and diverse team was assembled by a professional safecracker that consisted of Charlie Croker (professional fixer), Lyle (computer expert), Handsome Rob (the wheelman), Steve (the inside man), and Left Ear (explosives expert). Their goal was to steal $35 million worth of gold bullion in Venice, guarded by Italian gangsters.
They pulled it off successfully but were double-crossed by Steve. A year later, Charlie sets off to gather the team and bring in Stella, a private safe expert to seek revenge against Steve. (Watch The Italian Job on Netflix).
6. Baby Driver (2017)
IMDB Score: 7.6
Rotten Tomatoes Score: 92%
Genre: Action, Crime, Drama
Actors: Ansel Elgort, Jon Bernthal, Jon Hamm
Director: Edgar Wright
In Baby Driver, a getaway driver in Atlanta, named Baby searches for freedom from a life of crime. He survived a car crash when young, leaving him to suffer from tinnitus. Soothing himself with music, he ferries robbers and answers to a criminal mastermind Doc.
Having stolen a car that kept Doc's stolen goods, he had no choice but to work for Doc. (Watch Baby Driver on Netflix).
7. Rush (2013)
IMDB Score: 8.1
Rotten Tomatoes Score: 89%
Genre: Action, Biography, Drama
Actors: Daniel Brühl, Chris Hemsworth, Olivia Wilde
Director: Ron Howard
Rush depicts the rivalry between Formula One rivals James Hunt and Niki Lauda. It is a biographical film centered on the 1976 Formula One motor-racing season, detailing the story of James Hunt, a rash and self-confident racer, and Niki Lauda, the more cool technical genius who focuses more on precision and calculations.
Hunt wins the 1970 Formula Three race in London which caused Lauda to seek ways to make a comeback in the next race. (Watch Rush on Netflix).
8. Transporter 3 (2008)
IMDB Score: 6.0
Rotten Tomatoes Score: 40%
Genre: Action, Crime, Thriller
Actors: Jason Statham, Robert Knepper, Natalya Rudakova
Director: Olivier Megaton
Transporter 3, an English-language French action-thriller movie is the third and final installment in the trilogy of the Transporter franchise. The story continues with Frank Martin, a professional 'transporter' who delivers packages without question.
Filled with non-stop action scenes, you will see Frank's life turned chaotic one night, as an Audi crashed into his home, revealing a woman in the back seat. (Watch Transporter 3 on Netflix).
9. The Fast and the Furious (2001)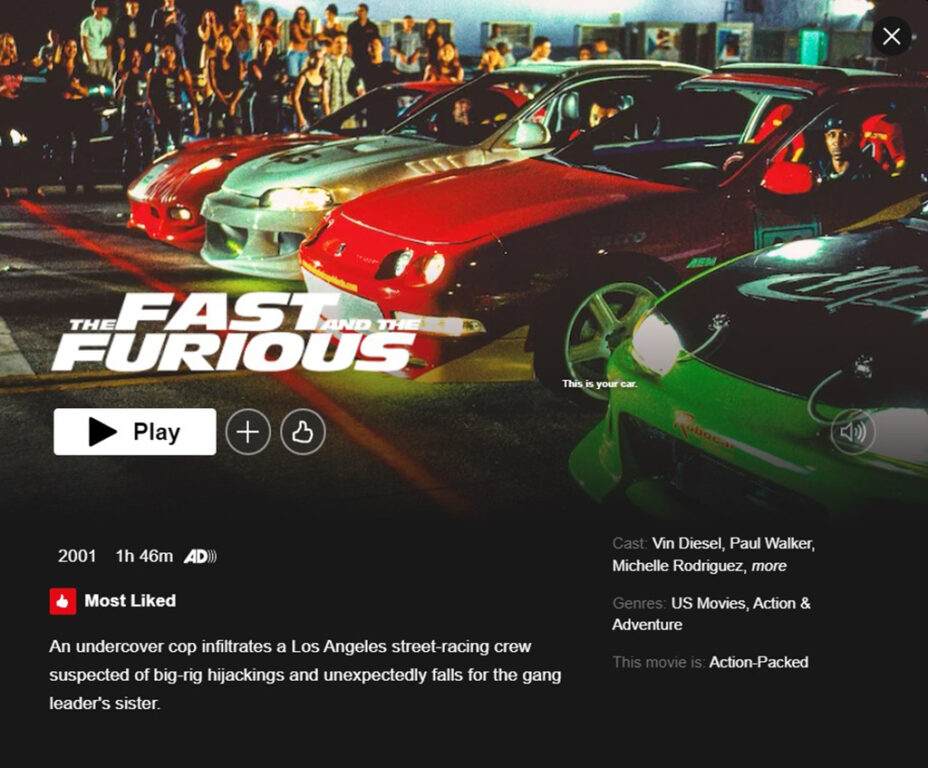 IMDB Score: 6.8
Rotten Tomatoes Score: 28%
Genre: Action, Crime, Thriller
Actors: Vin Diesel, Paul Walker, Michelle Rodriguez
Director: Rob Cohen
You have never really watched a true car movie until you have watched The Fast and the Furious movie. This is the first installment of a series of jam-packed action films, revolving around street racing, heists, and spies. Los Angeles Police Department (LAPD) police officer Brian O'Conner moves in as an undercover and gets himself involved with Mia, the sister of the highly skilled street racer Dominic Toretto.
The original Fast and Furious is another classic of best car movies on Netflix with O'Conner becoming enamored with the world of cars and street racing that he starts to question where his true loyalty lies. (Watch The Fast and the Furious on Netflix)
10. Wheelman (2017)
IMDB Score: 6.4
Rotten Tomatoes Score: 88%
Genre: Action, Crime, Thriller
Actors: Frank Grillo, Caitlin Carmichael, Garret Dillahunt
Director: Jeremy Rush
Wheelman is all about hard-core action when a getaway driver is betrayed when a bank robbery went wrong. Knowing that not only his life but his family's, are hanging by a thin thread, he races against time to track who double-crossed him. (Watch Wheelman on Netflix).
11. Mad Max: Fury Road (2015)
IMDB Score: 8.1
Rotten Tomatoes Score: 97%
Genre: Action, Adventure, Sci-Fi
Actors: Tom Hardy, Charlize Theron, Nicholas Hoult
Director: George Miller
Mad Max: Fury Road is an Australian post-apocalyptic action movie that is the fourth installment of the Mad Max franchise. When the world has become a pure desert wasteland due to warfare over resources, a woman with a group of diverse people fights against a tyrannical ruler in search of her homeland.
A slightly different spin on the usual movies, but Mad Max: Fury Road is still a movie worth watching. (Watch Mad Max: Fury Road on Netflix).
12. The Transporter Refueled (2018)
IMDB Score: 5.1
Rotten Tomatoes Score: 15%
Genre: Action, Thriller
Actors: Ed Skrien, Loan Chabanol, Ray Stevenson
Director: Camille Delamarre
Be amazed at the action sequences in this action thriller movie, The Transporter Refuelled. It is the fourth movie in the Transporter franchise, a reboot of the series. Although you won't be able to catch glimpses of Jason Statham here, you get to feast your eyes on Ed Skrein who replaces him in the role of Frank Martin.
He finds himself in a fix, being mixed up in a revenge plot against a Russian kingpin; this is further exacerbated during a bank robbery that resulted in Martin's father being kidnapped. (Watch The Transporter Refueled on Netflix).
13. Initial D (2005)
IMDB Score: 6.3
Rotten Tomatoes Score: 33%
Genre: Action, Comedy, Drama
Actors: Jay Chou, Anthony Chau-Sang Wong, Edison Chen
Director: Andrew Lau, Alan Mak, Ralph Rieckermann
Initial D, a classic tale on its own, is a film adaptation of the Japanese Initial D manga series. See Jay Chou as he takes up the main role of Takumi Fujiwara in his film acting debut. A high school student, Takumi has much experience in driving as he delivers tofu to resorts in his father's Toyota Sprinter Trueno AE86.
After an unexpected win against a street racer, Takeshi Nakazato of the NightKids, Takumi is catapulted into the limelight in his AE86. Honing his racing skills, Takumi finds himself in a whirlwind of unexpected events. (Watch Initial D on Netflix).
14. Lost Bullet (2020)
IMDB Score: 6.3
Rotten Tomatoes Score: 75%
Genre: Action, Crime, Thriller
Actors: Alban Lenoir, Nicolas Duvauchelle, Ramzy Bedia
Director: Guillaume Pierret
An entertaining French action thriller, Lost Bullet is a French action thriller movie about a delinquent, turned police mechanic, Lino. He is forced to seek ways to defend his innocence when his mentor was taken down for good by dirty cops.
The movie opens with Lino driving straight into a jewelry store in his Renault Clio only to backfire on him. This is one of the best car movies on Netflix and packed with tons of amazing stunts and practical effects. (Watch Lost Bullet on Netflix).
15. Back to the Future (1985)
IMDB Score: 8.5
Rotten Tomatoes Score: 96%
Genre: Action, Comedy, Sci-Fi
Actors: Michael J. Fox, Christopher Llyod, Lea Thompson
Director: Robert Zemeckis
A true classic on its own, take a step into the past in this science fiction movie, Back to the Future. The plot revolves around Marty McFly, a teenager who was accidentally blasted back into time to 1955 through a time-traveling DeLorean automobile.
Invented by the unique and eccentric scientist Doctor Emmett "Doc" Brown, the time-changing automobile causes Marty to be stuck in the past while creating havoc in his existence as he accidentally gets entangled in his parents' meet-up. (Watch Back to the Future on Netflix).
---
Also, Read;
---
Conclusion
If you're a hard-core car movie fan, get your engines revving with these non-stop action car scenes in the movies above. You'll find it truly hard to leave your seat even to take a quick visit to the toilet, they are that good!