Understanding your network's performance and health is crucial to effective system management. Network monitoring tools enable you to scrutinize every nook and cranny of your infrastructure, identifying potential issues before they become full-blown problems.
From free options perfect for small businesses to comprehensive paid solutions for enterprise-level organizations, you've got plenty of options.
Best Network Monitoring Tools Quick Overview
SolarWinds Network Performance Monitor: Its intelligent alert system and comprehensive monitoring tools make SolarWinds NPM stand out. The auto-discovery feature also eases the initial setup and enables effective network mapping and recognition of devices.
Zabbix: As an open-source tool, Zabbix has the backing of a community of developers constantly working on its improvement. Its versatility is another strong point, with a range of pre-built templates for different devices and a robust alerting system.
Nagios XI: Nagios XI stands out due to its flexibility, offering both free and paid versions suitable for different network sizes. It's also extensible through numerous plugins, offering customized functionality based on user requirements.
PRTG Network Monitor: PRTG's primary strength lies in its ease of use. The tool's user-friendly and intuitive interface makes it a go-to choice for many network administrators, regardless of their skill level.
Datadog: With over 400 built-in integrations, Datadog stands out for its compatibility with a wide array of platforms and services. Its AI-powered advanced alert system also sets it apart.
Wireshark: As a free, open-source tool, Wireshark offers in-depth packet analysis and visualization, making it an excellent tool for detailed troubleshooting.
Atera: Atera's all-in-one IT management platform stands out due to its comprehensive monitoring capabilities. It integrates well with other third-party applications enhancing its overall functionality.
ManageEngine OpManager: Its detailed reporting capability and real-time network monitoring make OpManager a versatile choice. Its free version that supports up to 10 devices makes it ideal for small businesses or networks.
Icinga: Icinga stands out with its modular design that allows for a high level of customization, suiting specific network monitoring needs. Its detailed reporting capability is another unique feature.
NetworkMiner: NetworkMiner is unique for its security-focused features, particularly for incident response. It provides detailed network information, supporting various protocols for comprehensive analysis.
Pandora FMS: Its unified approach to network monitoring and robust reporting system make Pandora FMS unique. Its scalability also makes it suitable for any network size.
Spiceworks Network Monitor: Being a free tool, Spiceworks provides real-time monitoring and alerting, making it a cost-effective solution. Its user-friendly interface and strong community support also stand out.
LogicMonitor: LogicMonitor's cloud-based platform and comprehensive technology coverage are its unique selling points. The pre-configured integrations with popular third-party tools enhance its functionality.
Dynatrace: Dynatrace stands out with its AI-powered, automated network monitoring solution. It offers real-time visibility into all aspects of your network, making it highly effective for large, dynamic networks.
Zenoss: Zenoss stands out with its single platform that monitors everything from applications to networking. Its event management capabilities and service impact analysis are additional unique points.
In this comprehensive guide, you will get acquainted with 15 of the best network monitoring tools (both free and paid) available to you right now.
Network Safety Starts at Home
While goings about business, don't forget to protect your personal devices and home network. VPNs are simple tools that encrypt your data and safeguard your digital privacy. Sign up for one of the best VPNs now.
1. SolarWinds Network Performance Monitor (Paid)
Intelligent alerts
Network Insight feature
Auto-discovery and mapping
Customizable dashboards
SolarWinds is a well-known powerful, and affordable IT management software provider. The company was established in 1999 and has built its reputation around making IT look easy through its wide range of software, which provides solutions for network management, systems management, IT security, database management, IT helpdesk, and cloud services.
Why We Recommend SolarWinds Network Performance Monitor
Starting with a robust paid solution, SolarWinds Network Performance Monitor (NPM) is your ideal tool for comprehensive network monitoring. It offers in-depth performance analysis and provides auto-discovery, intelligent alerts, and network insights for your routers, switches, and firewalls.
NPM's intuitive dashboard lets you quickly detect, diagnose, and resolve network performance issues. Despite its extensive suite of features, it remains user-friendly and customizable. Although it comes with a cost, the investment pays off significantly for larger organizations.
Price
SolarWinds Network Performance Monitor: The pricing for SolarWinds NPM starts at $2,995. The cost can increase depending on additional modules and features you want to include.
Pros
Comprehensive suite of monitoring tools.
Intelligent alert system proactively identifies potential issues.
User-friendly, customizable interface.
Auto-discovery allows easy device mapping.
Offers network insights for various equipment such as routers, switches, and firewalls.
Cons
Advanced feature set comes with a high price tag.
Complex and time-consuming setup.
Some features require additional plug-ins.
2. Zabbix (Free)
Open-source
Variety of pre-built templates
Robust alerting system
Visualisation capabilities
Zabbix is an open-source tool developed by Alexei Vladishev. It was initially released in 2001, and the Zabbix team has maintained its dedication to providing businesses of all sizes with scalable and efficient network monitoring solutions. The team's goal is to make robust and user-friendly software.
Why We Recommend Zabbix
If you're looking for a free, open-source network monitoring tool, Zabbix could be a fantastic choice. It provides real-time network monitoring, offers numerous pre-built templates for different devices, and lets you set up alerts to warn you of network issues.
Zabbix's customizable dashboard and extensive feature set, from detailed metrics to insightful reports, are quite surprising, considering it's a free tool. It can monitor the state of your networks, servers, applications, and databases, making it an all-around solution for small to medium-sized enterprises.
Pros
Open-source and continually improved.
Versatile range of pre-built templates.
Robust alerting system.
Real-time network monitoring.
Detailed metrics and insightful reports.
Cons
Significant learning curve.
Technical expertise is required.
Support relies heavily on forums.
Price
Being an open-source tool, Zabbix is free to use. However, if you need professional support, they offer four levels of technical support starting at €5,000 per year.
3. Nagios XI (Free/Paid)
Customizable dashboards
Comprehensive reporting
Extensibility with plugins
Auto-discovery and mapping
Nagios Enterprises is the organization behind Nagios XI, founded by Ethan Galstad. Nagios has established itself as an industry leader in IT infrastructure monitoring with several products, making it one of the most recognized names in open-source network monitoring.
Why We Recommend Nagios XI
Nagios XI caters to those who want a free solution and require advanced features. The free version, Nagios Core, offers adequate functionality for small networks. Nagios XI (paid) would be better for large-scale and complex networks.
You can monitor system metrics, network protocols, applications, services, servers, and network infrastructure with Nagios. Its comprehensive alerting system keeps you up-to-date with any potential issues.
Pros
Offers flexibility with free and paid versions.
Comprehensive monitoring capabilities.
Extensive alerting system.
Scheduling of regular reports.
Extensible through plugins.
Cons
Steep learning curve.
Poor user interface.
Complex configuration.
Price
Nagios XI operates on a tiered pricing model, with the standard edition at $1,995 and the enterprise edition at $3,495.
4. PRTG Network Monitor (Free/Paid)
User-friendly interface
Customizable dashboards
Broad range of sensors
Flexible alerting system
Paessler AG, the company behind PRTG Network Monitor, was founded in 1997 in Nuremberg, Germany. Their philosophy revolves around simplifying the life of network administrators through intuitive and easy-to-use monitoring solutions.
Why We Recommend PRTG Network Monitor
PRTG Network Monitor is another dual-purpose tool offering free and paid versions. The free version allows monitoring up to 100 sensors for smaller networks. For larger enterprises, the paid version comes into play.
PRTG provides an easy-to-use interface, comprehensive reporting, and a customizable dashboard. With this tool, you can monitor various aspects of your network, like bandwidth usage, server performance, and uptime/downtime.
Pros
Easy-to-use and intuitive interface.
Comprehensive reporting capabilities.
Customizable dashboard.
The free is suitable for smaller networks.
Can monitor various network aspects.
Cons
Free version is limited in capacity.
Some complex advanced features.
Dedicated hardware may be required.
Price
PRTG offers a tiered pricing model based on the number of sensors you need. Pricing starts at $1,750 for 500 sensors and goes up to $15,500 for unlimited sensors. There's also a free version for up to 100 sensors.
5. Datadog (Paid)
Over 400 integrations
AI-powered alerting
Real-time visibility
Collaborative problem-solving
Founded in 2010 by Olivier Pomel and Alexis Lê-Quôc, Datadog is a monitoring service for cloud-scale applications, bringing together data from servers, databases, tools, and services to present a unified view of an entire stack. The company has seen rapid growth due to its emphasis on real-time data analytics and integration capabilities.
Why We Recommend Datadog
Datadog is a cloud-based monitoring service focusing on logging, performance metrics, and event aggregation. It has over 400 built-in integrations for various services and platforms, making it a versatile network monitoring tool.
Datadog's advanced AI-powered alerts, detailed insights, and analytics empower you to tackle network problems before they escalate. While it is a paid service, it's worth investing in businesses that rely heavily on cloud-based solutions.
Pros
Over 400 built-in integrations.
AI-powered alert system.
Cloud-based.
Real-time performance metrics.
Event aggregation.
Cons
Costly for small businesses.
Unsuitable for simple networks.
Steep learning curve.
Price
Datadog's network performance monitoring pricing starts at $5 per host per month when paid annually. They also offer a free trial.
6. Wireshark (Free)
In-depth packet analysis
Open-source
Flexible filtering options
Supports various network types
Wireshark was initially released in 1998 under the name Ethereal, with the primary developer being Gerald Combs. As an open-source tool, its development has collaborated with networking experts worldwide, committed to providing a premier network protocol analyzer.
Why We Recommend Wireshark
Wireshark is a free open-source packet analyzer that allows you to understand what's happening in your network at a microscopic level. It's a perfect tool for troubleshooting, network analysis, and software and protocol development.
While it may not offer the vast array of features other tools provide, it excels in its specific area. It's the go-to option for IT professionals looking deep into their network traffic.
Pros
Free, open-source tool.
In-depth traffic analysis.
Can read live data.
Highly flexible filtering.
Supports decryption for many protocols.
Cons
Steep learning curve.
No alerts or notifications.
Depends on community support.
Price
As an open-source tool, Wireshark is free to download and use.
7. Atera (Paid)
Robust alerting system
Auto-discovery of network devices
Third-party integrations
All-in-one IT management platform
Atera was founded in 2011 by Gil Pekelman and Sharon Peer. The company is known for its IT management software platform that combines RMM, PSA, and Remote Access into one powerful solution.
Why We Recommend Atera
Atera is a comprehensive IT management platform offering network monitoring as part of its package. It's an all-in-one tool for IT professionals and MSPs (Managed Service Providers).
Atera shines with its robust alerting system, automatic discovery of network devices, real-time monitoring, and detailed reports. It also integrates seamlessly with third-party applications like TeamViewer and Splashtop, which enhances its capabilities.
Pros
Robust alerting system.
Automatically network discovery.
Provides real-time monitoring.
Works with third-party apps.
All-in-one IT management platform.
Cons
Pricey for smaller businesses.
Overwhelming user interface.
Unsuitable for simple networks.
Price
Atera operates on a subscription model. Their pricing starts at $79 per technician per month when billed annually.
8. ManageEngine OpManager (Free/Paid)
Real-time network monitoring
Customizable alerts
Detailed reporting
Broad range of network device support
ManageEngine is a division of Zoho Corporation, an IT management software provider established in 2001. ManageEngine offers a comprehensive suite of IT management software focusing on simplicity, affordability, and strong performance.
Why We Recommend ManageEngine OpManager
ManageEngine OpManager is a versatile network management software. The free version supports up to 10 devices – perfect for small business networks. For large-scale networks, you'd need the paid version.
OpManager lets you monitor your network in real-time, track performance, and manage fault and availability. It provides customizable dashboards, intelligent alerting, and comprehensive reporting, making it a practical choice for businesses of all sizes.
Pros
Real-time network monitoring.
Intelligent and customizable alerts.
Detailed reporting.
Supports a broad range of network devices.
Free version is ideal for smaller businesses.
Cons
Complex user interface.
Free version is quite limited.
Slow technical support.
Price
OpManager's pricing starts at $245 for up to 10 devices. They also offer a free version for monitoring up to three devices.
9. Icinga (Free)
Open-source
Modular design
Robust alerting systems
Detailed reporting
Icinga is an open-source network monitoring tool developed by the Icinga Project. It was forked from Nagios and has since evolved with a focus on offering a more user-friendly, extensible, and flexible solution.
Why We Recommend Icinga
Icinga is a free and open-source computer system and network monitoring application. It keeps an inventory of your entire infrastructure and informs you about any issue that could potentially lead to a system failure.
One of the key strengths of Icinga is its flexibility. Its modular design lets you choose and configure different components based on your needs. Furthermore, its robust alerting system and detailed reporting make it an excellent choice for cost-effective monitoring.
Pros
Free and open-source tool.
Modular design.
Robust alerting systems.
Maintains infrastructure inventory.
Detailed reporting.
Cons
Steep learning curve.
Relies heavily on community support.
Complex setup and configuration.
Price
Icinga is an open-source tool and is free to use. They do offer paid support plans, and you'd need to contact them directly for a quote.
10. NetworkMiner (Free)
Passive network monitoring
Detailed network information
User-friendly interface
Security-focused features
Developed by Erik Hjelmvik at Netresec, NetworkMiner has become a popular network forensic analysis tool. Netresec, a Swedish network security company, focuses on developing software for network forensics and network traffic analysis.
Why We Recommend NetworkMiner
NetworkMiner is a free network forensic analysis tool (NFAT) that can detect operating systems, sessions, hostnames, open ports, and more without putting any traffic on the network. It's excellent for security monitoring and incident response.
Although it may not provide comprehensive network monitoring, NetworkMiner is ideal for IT professionals who need an effective tool for network security.
Pros
Free and doesn't stress networks.
Excellent for incident response.
Provides detailed network information.
Supports various network protocols.
User-friendly interface.
Cons
No alerts or notifications.
Pro version is expensive.
Community support is limited.
Price
The basic version of NetworkMiner is free. The professional version includes additional features and is available for $900.
11. Pandora FMS (Free/Paid)
Unified network monitoring
Real-time monitoring and alerting
Broad device and protocol support
Scalable
Pandora FMS is developed by Ártica Soluciones Tecnológicas, a Spanish company founded in 2005. The company is focused on creating versatile and scalable monitoring solutions for businesses of various sizes.
Why We Recommend Pandora FMS
Pandora FMS (Flexible Monitoring System) is a flexible and highly scalable monitoring system ready for large environments. It uses agents for local monitoring and can do several kinds of remote network monitoring (SNMP v3, TCP checks, remote WMI probes…) Agents work on any version of Windows and Unix.
The combination of a free version suitable for small environments and a complete paid solution for large networks makes Pandora FMS a flexible option for businesses of all sizes.
Pros
Unified approach to network monitoring.
Real-time monitoring and alerting.
Supports various devices and protocols.
Robust reporting system.
Scales well.
Cons
Free version is highly limited.
Complex setup and configuration.
Price
Pandora FMS offers various editions, including a free version. For enterprise edition pricing, you would need to contact them directly.
12. LogicMonitor (Paid)
Cloud-based
Comprehensive technology coverage
Powerful alerting capabilities
Pre-configured third-party integrations
LogicMonitor was founded in 2007 by Steve Francis. The company has rapidly grown into a leading SaaS-based IT infrastructure monitoring and observability platform provider for enterprises worldwide.
Why We Recommend LogicMonitor
LogicMonitor is a fully automated, cloud-based network monitoring tool designed for enterprises. It provides comprehensive coverage, intelligent alerting, forecasting, and customizable dashboards for real-time network performance tracking.
Although it is a paid tool, LogicMonitor's scalability, automation, and integration capabilities justify its price tag, particularly for large organizations with complex networks.
Pros
Cloud-based platform.
Comprehensive coverage.
Powerful alerting capabilities.
Customizable dashboards.
Pre-configured integrations with third-party tools.
Cons
No free version.
Complex for new users.
Needs always-on Internet.
Price
LogicMonitor operates on a subscription-based model, but they do not list their pricing publicly. You would need to contact them directly for a quote.
13. Dynatrace (Paid)
AI-powered automated monitoring
Real-time network visibility
Customizable dashboards
Third-party integrations
Dynatrace was founded in 2005 and has grown into a globally recognized digital performance management company. The company is known for its advanced application performance management tools that leverage artificial intelligence for IT operations.
Why We Recommend Dynatrace
Dynatrace offers AI-powered, full-stack, automated performance management. It's a powerful tool for large businesses and enterprises. It offers real-time updates and proactive problem detection.
With features like automatic discovery, topology visualization, and AI-powered answers, Dynatrace lets you resolve complex performance issues more swiftly than traditional network monitoring tools.
Pros
Full-Stack monitoring capabilities.
AI auto-detects performance issues.
Real user monitoring.
Intuitive and user-friendly.
Integrates well with other tools and platforms.
Cons
Expensive.
Limited customization.
Price
Dynatrace operates on a subscription-based model with pricing starting at $21 per month per 8GB host. They also offer a free trial.
14. Spiceworks Network Monitor (Free)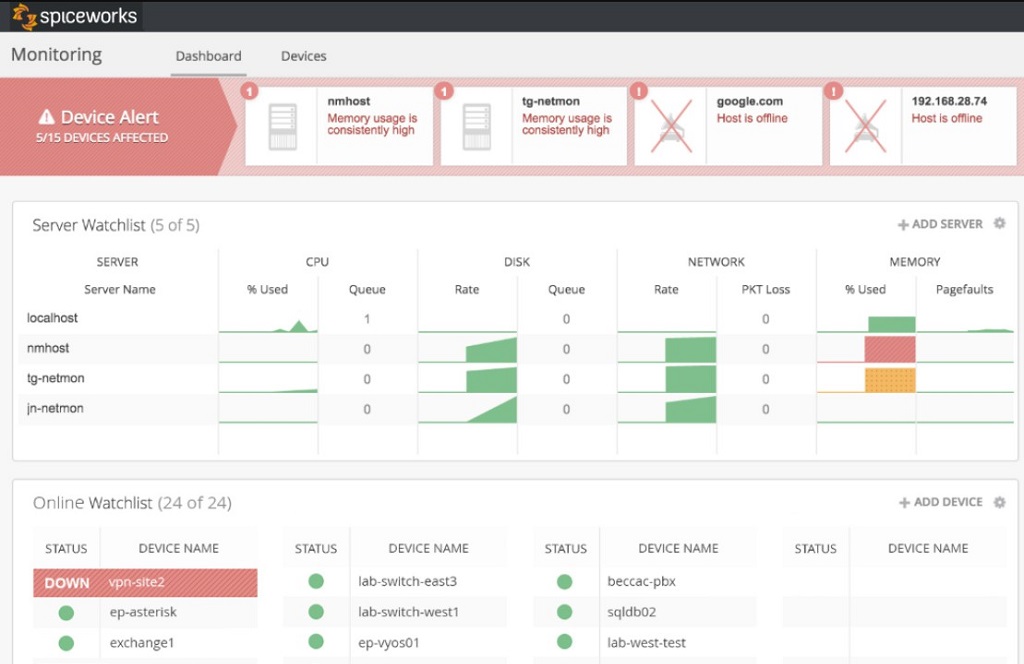 Free to use
Real-time monitoring and alerting
Wide range of device support
Strong community support
Spiceworks is a professional network for the information technology (IT) industry founded in 2006. The company helps people in the IT industry to connect with each other, share knowledge and experiences, and find potential job opportunities.
Why We Recommend Spiceworks Network Monitor
Spiceworks Network Monitor is a free tool perfect for small to medium-sized businesses. It allows you to monitor and receive alerts on all the network's crucial parameters, like server CPU, memory utilization, disk capacity, and more.
Spiceworks offers a user-friendly interface, real-time monitoring, and alerting, making it a great tool for businesses on a budget.
Pros
Free to use.
Real-time monitoring and alerting.
Simple user interface.
Supports a wide range of network devices.
Strong community support.
Cons
May not be suitable for complex networks.
App is Ad-driven.
Lacks some customization options.
Price
Spiceworks Network Monitor is completely free to use.
15. Zenoss (Free/Paid)
Single platform for comprehensive monitoring
Event management capabilities
Service impact analysis
Detailed reporting and analytics
Zenoss, Inc., the company behind Zenoss, was founded in 2005. The company provides IT monitoring software designed to manage the complexity and dynamism of modern IT environments, offering solutions for hybrid IT monitoring, cloud monitoring, and IT service analytics.
Why We Recommend Zenoss
Zenoss offers a free version called Zenoss Community Edition, which gives you a taste of Zenoss's monitoring capabilities. Zenoss Service Dynamics, the paid version, is available for more advanced features and scalability.
With Zenoss, you can track performance metrics, receive detailed reports, and get alerts about potential issues on your network.
Pros
Highly versatile solution.
Robust event management capabilities.
Offers service impact analysis.
In-depth network performance insights.
Extremely scalable.
Cons
Complex initial setup and config.
Can be overwhelming for new users.
High cost of the paid version.
Price
Zenoss offers a free, open-source version and a paid version, Zenoss Cloud, which operates on a subscription-based model. You would need to contact them directly for a quote.
What Are Network Monitoring Tools?
Network monitoring tools are essentially your eyes and ears within your network. As an IT professional or network administrator, you're tasked with ensuring that your network – the lifeblood of your organization – is running smoothly, securely, and efficiently. This is where network monitoring tools come into play.
These tools continuously observe your network for any problems or anomalies. They track a wide range of data, including traffic, bandwidth usage, and other performance indicators. If a server goes down, a sudden spike in traffic occurs, or any other issue arises, your network monitoring tool alerts you. This allows you to address the problem quickly, often before it impacts your users or business operations.
But network monitoring tools aren't just about problem detection. They also provide valuable insights into your network's overall health and performance. They can help you identify trends, spot potential bottlenecks, and plan for capacity upgrades. In other words, they give you the information you need to make informed decisions about your network.
Moreover, many network monitoring tools offer features like automated troubleshooting, detailed reporting, and even predictive analytics. This means they can not only detect problems but also help you solve them and prevent them from happening in the first place.
How to Choose The Best Network Monitoring Tool
Choosing the right network monitoring tool for your organization is no simple task. With numerous options available, each with unique features and capabilities, it's essential to consider various factors before deciding. Here's a step-by-step guide to help you make an informed choice.
Understand Your Needs
First and foremost, you need to define your monitoring needs. What are the key elements of your network that you need to monitor? This could range from servers, devices, applications, and bandwidth to specific network protocols. Make a list of your key requirements.
The size of your network plays a significant role in choosing a network monitoring tool. Free tools might be adequate for small networks but may not scale well for more extensive networks with hundreds of devices. On the other hand, large-scale enterprise tools might be overkill (and too expensive) for small businesses.
Consider Your Budget
While free tools can be attractive, they often lack some of the advanced features, scalability, and support of paid tools. It's important to consider how much you're willing to spend on a network monitoring tool. Remember that investing in a good tool can save you money in the long run by reducing downtime and improving productivity.
What Deployment Options Are Necessary?
Do you prefer a cloud-based monitoring solution or an on-premise one? Cloud-based solutions offer easy scalability and remote accessibility, but some organizations might choose on-premise solutions due to data security and control considerations.
The ability to monitor your network in real time and receive alerts when something goes wrong is critical. Ensure the tool provides real-time monitoring and a robust alerting system that can notify you via email, SMS, or other means when a potential issue is detected.
How Much Customization Do You Need?
Every network is unique, so having a tool that can be customized to meet your specific needs is advantageous. Look for tools that allow you to create custom dashboards, set personalized alerts, and generate reports focusing on the data most relevant to your organization.
Technical Skill Required
An intuitive, user-friendly interface can distinguish between a tool that's a pleasure to use and a constant struggle. Check out the tool's interface before making a decision. Is it intuitive and easy to navigate? Can you easily find the information you need?
The Best Network Monitoring Tool Fits Your Needs
Free tools can offer a good starting point, especially if you're on a tight budget or just starting. However, paid tools often provide more comprehensive features and better support, which can be invaluable as your network grows and your needs become more complex.
Remember, the "best" tool doesn't necessarily have the most features or the highest price tag. It's the one that fits your specific needs and circumstances. Consider your budget, your technical expertise, the size and complexity of your network, and the level of support you might need.
Take the time to try a few options before making your decision. Many paid tools offer free trials, so you can understand how they work before committing.