TorrentGalaxy.buzz, or simply TorrentGalaxy, has rapidly gained prominence, presenting itself as a potential successor to the throne previously held by giants like ThePirateBay and RARBG. 
This platform, renowned for its vast library and innovative features, offers more than just torrent downloads. It uniquely bridges the gap between torrenting and streaming, catering to the evolving needs of digital content consumers.
What is TorrentGalaxy?
TorrentGalaxy is a notable standout in the torrent tracker landscape, emerging from the ashes of ExtraTorrent's shutdown. Created by the former administrators of ExtraTorrent, it has filled the gap left by the closure of popular torrent sites like ExtraTorrent and RARBG.
As a public torrent tracker, TorrentGalaxy offers a diverse range of free content, including movies, TV shows, games, and software applications. Its expansive library and focus on indie content, combined with a user-friendly interface, set it apart.
What Makes TorrentGalaxy an Excellent RARBG Replacement?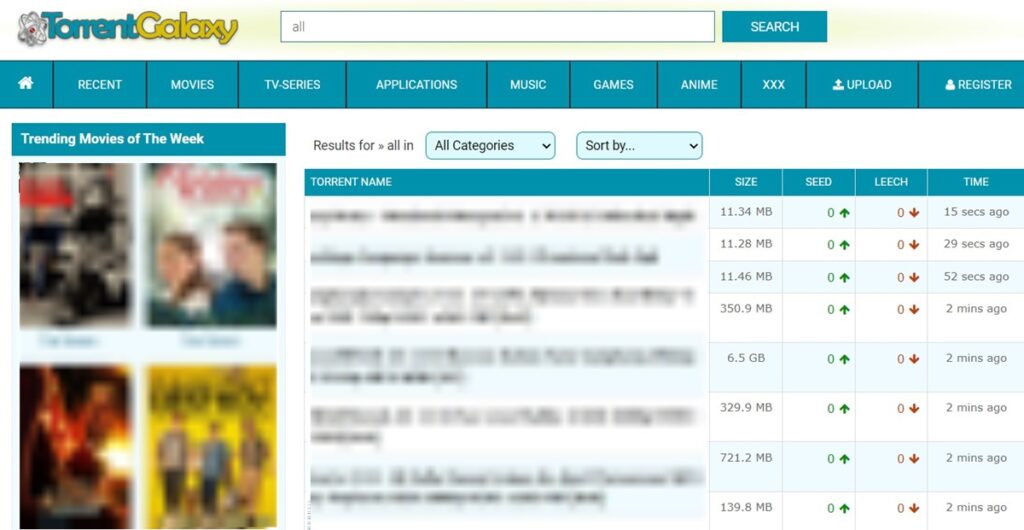 Following the shutdown of RARBG, TorrentGalaxy emerged as an exceptional alternative, rapidly gaining traction in the online torrenting community. This transition was facilitated by TorrentGalaxy's extensive library, brimming with a diverse array of movies, TV shows, and more.
TorrentGalaxy Content and Design
Torrent Galaxy offers immediate access to a multitude of torrents, assuming you have the necessary torrent client. Its broad category range, encompassing various file types, particularly highlights its commitment to diversity and accessibility in content offerings.
What truly elevates TorrentGalaxy above its peers is not just the sheer volume of its content. More important is its effective site design and usability. The site's design is intuitive and responsive, and it even performs well on mobile devices. However, I feel that the desktop experience is richer.
File Availability on TorrentGalaxy
A torrent tracker's success hinges significantly on its active community, and Torrent Galaxy excels in this aspect. Its vibrant community ensures a solid seeder-to-leecher ratio and verified torrents.
Don't be mistaken; that doesn't apply to every title. Many lemons on the site have zero seeders and leechers. This site isn't suitable for seeking out the rare and unusual for downloading.
Pros
Diverse content library
User-friendly interface
Community features
Verified torrents
Mobile optimized
Cons
Safety concerns
Annoying pop-up ads and redirects
Legal and ethical issues
ISP blocking
TorrentGalaxy Proxy and Mirror Sites
TorrentGalaxy, like many torrent sites, faces frequent blockages by internet service providers (ISPs) in various regions due to its nature. To circumvent these blockages and ensure continued accessibility, TorrentGalaxy has established several proxy and mirror sites.
These sites serve as alternative access points to the primary site, providing users uninterrupted access to its extensive content library. Do note that I've never had an issue accessing TorrentGalaxy's main site at https://torrentgalaxy.buzz/.
If you can't load the primary URL for TorrentGalaxy, check https://torrentgalaxy.pw/ before heading anywhere else. That page keeps track of the status of its various proxy and mirror sites and links to them directly.
When all else fails, you can try accessing the following TorrentGalaxy proxy and mirror links:
For those who can't access it via any links, you may be entirely blocked by your ISP. In that case, you may need a VPN to access the site and download torrents.
How to Unblock TorrentGalaxy With a VPN
Accessing TorrentGalaxy using a Virtual Private Network (VPN) can effectively bypass regional restrictions and maintain privacy. A VPN masks your IP address, encrypts your internet traffic, and routes it through a server in a location of your choice.
Here's how you can access TorrentGalaxy using a VPN:
Choose a Reliable VPN Service
Select a VPN known for its robust security features and no-logs policy. Look for a VPN with fast connection speeds to ensure smooth downloading and streaming.
Popular choices often include services like NordVPN, ExpressVPN, or CyberGhost, but many other reliable options are available.
Download and Install the VPN
After selecting a VPN, download and install it on your device. Most VPN services provide easy-to-use apps for various platforms, including Windows, macOS, iOS, and Android.
Connect to a VPN Server
Launch the VPN application and sign in. Choose a server in a country where TorrentGalaxy is not blocked. For instance, if you're in a country where TorrentGalaxy is inaccessible, you might connect to a server in a country with more lenient internet policies.
Access TorrentGalaxy
Once connected to the VPN server, open your web browser and go to the TorrentGalaxy website. The VPN should allow you to access the site as if browsing from the server's location.
With the VPN active, your browsing activity is encrypted, enhancing your privacy and security. This is particularly important when using torrent sites, as it helps protect your data from prying eyes.
Torrent With Your VPN Active
Remember that when you disconnect your VPN, your ISP can see your data. Always keep your VPN active when downloading torrents. Only disconnect the service once your torrent client is closed and no longer sharing files.
Is TorrentGalaxy Safe to Use?
When it comes to using TorrentGalaxy, or any torrent site for that matter, concerns about safety and security are paramount. The safety of this site can be assessed from two perspectives: the content's legitimacy and the site's security.
Legality of Content
TorrentGalaxy hosts a wide array of content, including movies, TV shows, games, and software. While it offers a variety of verified torrents, the risk of stumbling upon pirated or copyrighted material is high.
Downloading such content can lead to legal issues, depending on the laws in your region. Additionally, some torrents might contain malicious files that can harm your computer. Always exercise caution and use a reliable antivirus program.
Site Security
TorrentGalaxy, like many torrent sites, has faced security challenges. While some assessments have found it relatively safe, concerns about potential security vulnerabilities include missing security headers and the presence of 'unsafe-inline' keywords in content security policies.
Furthermore, the site has been flagged by some security services for potential risks. For example, I constantly encountered warning messages from my Kaspersky Antivirus when clicking on the links here.
Pop-up Ads and Redirects
A common issue with torrent sites, including TorrentGalaxy, is the prevalence of pop-up ads and redirects, some of which may lead to suspicious third-party sites. These ads can be intrusive and potentially risky, potentially exposing users to malware or phishing attempts.
Alternatives to TorrentGalaxy
While TorrentGalaxy is a popular choice for many users, several other torrent sites can serve as viable alternatives. Each of these sites has its own set of features and content libraries, making them worth considering:
1337x: Known for its user-friendly interface and a wide array of content, 1337x is a favorite among torrent users. It provides access to various media, including the latest movies and TV series.
YTS (YIFY): YTS is renowned for offering high-quality movies at smaller file sizes, making it ideal for users with limited bandwidth or storage. It's a great place to find the latest movies, although it primarily focuses on movies and lacks other types of content.
EZTV: If you're a TV show enthusiast, EZTV is your site. Specializing in TV shows, it offers a comprehensive catalog of current and classic shows.
Torrentz2: This is a unique option in the torrenting world, serving as a powerful meta-search engine that combines results from numerous torrent sites. Torrentz2 is particularly effective for finding rare or hard-to-find content, as it scours through multiple sources.
Final Thoughts
Its extensive library, community-driven features, and user-friendly interface make TorrentGalaxy a robust platform for digital content enthusiasts. However, as with all torrent sites, please remain cautious about the potential risks.
For those who find TorrentGalaxy not meeting their needs or facing accessibility issues, there are several viable alternatives, each with unique strengths. I especially love 1337x's diverse content and YTS for movies and TV shows.
As always, stay safe and happy torrenting.