If you're in the market for a time-sucking, mind-numbing, life-consuming distraction, don't get a dog—get a Facebook account. This social media website has been around since 2004, and it shows no signs of slowing down—or going away.
Facebook has been so successful that it owns several other social media outlets, including Instagram and WhatsApp. However, despite its popularity, there are plenty of reasons to delete your Facebook account permanently. Maybe you spend too much time on Facebook, or perhaps you hate how it sells your data to advertisers.
Whatever the reason, here's how to deactivate your Facebook account permanently.
Deleting Your Facebook Account Permanently Using a Web Browser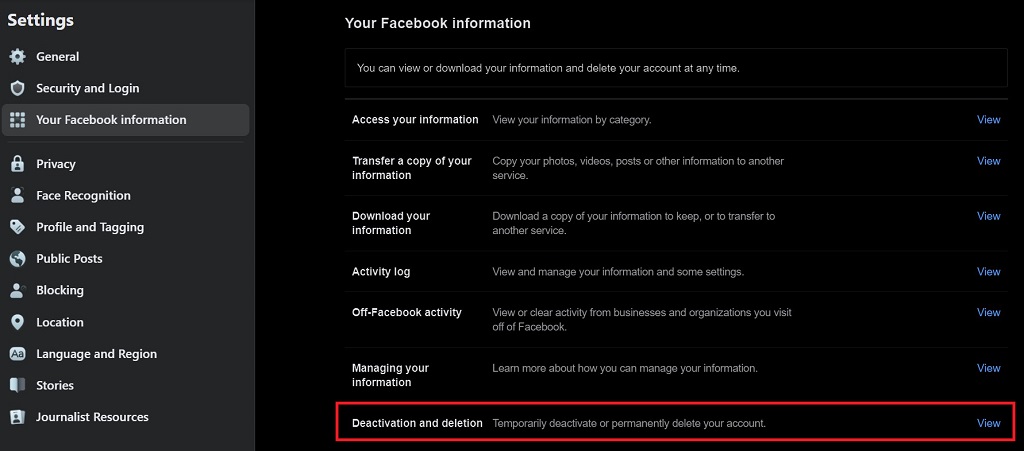 Before we begin, there's one crucial thing to note: deleting your Facebook account is not the same thing as deactivating it. Deactivating your Facebook account makes your profile invisible to other users.
It will stop those annoying notifications from popping up on your phone—but it won't actually remove anything from Facebook's servers or delete your account permanently. Everything will still be there when you decide (or are coerced) into reactivating the account again.
Deleting your Facebook account is permanent. There is no option for reactivation, so before taking any further steps, make absolutely sure this is what you want to do.
Now that we've warned you about what's about to happen, let's remove yourself from Facebook;
Open your Facebook page.
Click the downward-facing arrow on the top right-hand corner.
Select Settings & Privacy -> Settings.
Click on Your Facebook Information.
Click the View option next to Deactivation and Deletion.
From the next screen, select Delete Account and click Continue to Account Deletion.
Click Delete Account. You will need to re-enter your password to continue.
---
Deleting Your Facebook Account on Android
The process of deleting your Facebook account using an Android device is similar to using a web browser. The main difference is that you'll be using the Facebook App instead.
First, open the Facebook app and tap the menu button (three horizontal lines) in the screen's upper-right corner.
Scroll down and tap Settings & Privacy > Settings.
Tap Your Facebook Information in the left-hand column.
Tap Delete Your Account and Information.
After that, you'll be taken to the Delete Your Account page on facebook.com in your mobile browser (you may be asked to log in). Tap the Continue To Account Deletion button at the bottom of the screen.
Facebook will show you a list of all the information that it will delete if you go through this process. If you're ready to proceed with deleting your account, tap Delete Account again at the bottom of the screen.
Finally, enter your password and click Continue, then click Delete Account one more time.
---
Deleting Your Facebook Account on iPhone or iPad
To permanently delete your Facebook account, you need to open up the Facebook app on your iPhone and perform these steps:
Tap the More button at the bottom right.
Scroll down to the bottom of the list and tap Settings & Privacy.
Tap Settings.
Scroll down and tap Account Ownership and Control.
Tap Deactivation and Deletion.
Tap Permanently Delete Account and then tap Continue to Account Deletion.
Enter your password, tap Continue, and tap Delete Account.
---
Recovering a Deleted Facebook Account
Earlier I said that deleting a Facebook account is permanent. However, there is a caveat. If you change your mind, you can stop the process within 30 days of choosing to delete the account.
To stop Facebook from permanently removing your account, log into the account within those 30 days. Next, click on Cancel Deletion, and everything will be back to normal. You'll once again be a slave to this social media giant.
---
Deactivation: The Alternative to Deleting Your Facebook Account
If you want to take a break from social media and retain the option of returning to Facebook one day, deactivation may be a better option. Unlike account deletion, deactivation means that people can still send messages to you (though they'll get an automatic reply that says you won't see them until you reactivate).
However, no one will be able to view your profile or search for you. The critical difference between deactivating and deleting is that deleting is more permanent—once deleted, you generally can't restore the account.
Follow the steps outlined earlier under the "Deleting Your Facebook Account Permanently Using a Web Browser" section to deactivate your account. However, in step 6, select Deactivate Account instead of Delete Account.
---
Reasons Why You Should Delete Your Facebook Account
If you're on the fence about deleting your Facebook account, here are some reasons why it might be time to say goodbye:
Facebook is Designed to Suck Hours from Your Life
Facebook is an inherently addictive experience. Experts in human behavior designed the site, and they know precisely how to pull you in and keep you scrolling. They're willing to mess with your brain to keep you engaged.
Facebook Treats Users Like Guinea Pigs
Facebook has a history of conducting psychological experiments on its users without their knowledge or consent, demonstrating its lack of regard for people's privacy and autonomy.
It's Just a Digital Platform
The more time you spend on social media, the less time you spend interacting with real people face-to-face. It could deteriorate relationship skills and make it harder to build meaningful friendships. Studies have shown that this can increase feelings of loneliness and depression.
Politics and Misinformation Abound
Facebook isn't a fun place anymore. It's full of political debates and people arguing about everything from religion to gun control. These subjects don't belong on a social network. Even its ads have become unfairly used to skew political views.
Facebook Poses a Risk to Personal Data and Privacy
Facebook has had a torrid history with user data and privacy. From the Cambridge Analytica scandal to multiple data leaks, it poses a serious risk to its users. According to a former Facebook employee, growth is the social network's top priority. If that means collecting and sharing your data, they'll do it.
---
Tips on Improving Your Privacy and Safety on Facebook
If you still aren't convinced that you need to take urgent action, take some steps to improve your privacy and security on social media platforms. You can keep yourself safe while using your favorite social network by taking a few simple precautions.
Go through your friend list and delete anyone you don't know personally.
Make sure you check and delete any posts with your home address or phone number.
Consider deleting any posts that indicate when you're out of town (or at least be mindful of who you're sharing this information with).
Review your settings and make sure they align with how private you want to be—there are separate settings for apps, photos, personal information, tags and tags in pictures, etc.
Turn off location services on Facebook so that apps can't track where you are whenever you use them.
Have a separate account for your personal life and professional life.
Don't accept friend requests from strangers. If you don't know the person in real life, don't accept the friend request.
Stay cautious about clicking links posted by friends—they could be scams! Plenty of scams floating around Facebook tries convincing users to click a link.
Improve your password security. "Password" is far from ideal as a password. Make sure your password is robust and complex so others won't be able to guess it easily.
Lots of third-party services and apps interact with Facebook. Check to see which apps have access to your Facebook data.
---
Final Thoughts
While social media platforms like Facebook enabled us to connect with people on a whole new level, they have now become an addiction that is changing the way we think. The sad truth is social media puts you in a world of "like" and "share," which ironically can lead to self-esteem issues.
As you can see, you have a choice and it's not as hard as you think to delete your account for good. Just remember that once your account is gone, it's gone forever. You can't get it back, so if you think Facebook might be of value to you later in life then don't delete the account permanently.
As the expression goes, if something is worth doing then it's worth doing right. That doesn't mean deleting your account after reading this article, but it at least gives you something to think about before getting rid of your Facebook account.
---
Also Read;